Sports Salt Lake is wide open for your next sports event!
 As host of the 2002 Olympic Winter Games and America's choice to bid on a future Winter Olympics, we have a proud history of hosting year-round sporting events of all levels. Sports Salt Lake holds ongoing world-class events at Olympic venues. What's more, new state-of-the-art venues like the Salt Lake Regional Athletic Complex and Easton Salt Lake Archery Center, as well as the Salt Palace, Mountain America Expo Center, Utah Olympic Oval and others, welcome the likes of Premier SuperCopa tournaments, USA Archery, USA Volleyball and more. 
To complement these world-class facilities, Sports Salt Lake is a full-service sports authority. Its experienced staff partners with event planners and rights' holders to ensure event success. Developing dynamic bid packages. Partnering with local clubs. Executing powerful presentations. Whatever it takes to win your business. Once selected, our team works tirelessly to make each event a success for all involved, providing a full range of support services, assistance securing event volunteers, presenting community awareness campaigns and more. 

Picture: Regional Athletic Complex 
Spotlight Venues 
Acord Ice Center: 1 Ice sheet 
America First Field: 20,000 Professional Soccer Stadium 
Centennial Park: 8 Diamond fields 
Cottonwood Heights Recreation Center: Multi-sport field, courts, and pool 
Easton Archery Center: 3 Competition areas, 1 inside and 2 outside (2 acers) (NEW) 
Delta Center: 20,400 Seat arena 
Jon m Huntsman Center: 15,000-seat basketball arena 
Oquirrh Park Center: Aquatic Center 2 pools, diving  
Liberty Park: 16 Tennis courts, 4 volleyball courts, 1 basketball court, pool 
Maverik Center: 12,000 seat arena, Olympic Ice sheet 
Mountain America Expo Center: 243,000 sqft. Continuous multi-use space, 12,800 meeting space 
Rad Canyon BMX: 2 BMX courses, 1 inside and 1 outside 
Regional Athletic Complex: 16 multi-sport fields (NEW) 
Zions Bank Real Academy: 8 Soccer/multi-use fields (2 indoor fields) 
Salt Lake City Sports Complex: Multi-sport venue, pool, ice sheet 
Salt Lake County Ice Center: 1 Ice Sheet 
Salt Palace Convention Center: 515,000 sqft. Continuous multi-use space, 164,000 meeting space 
Smiths Ballpark: 15,500 Seat baseball park 
Sport City: 2 futsal fields, 2 basketball courts 
TopGolf: 102 Bays 
Utah Olympic Oval: 2 ice sheets, 1 Olympic speedskating oval 
Utah Olympic Oval: Multi-sport park/activity center 
Vans – Utah Sports Commission Skate Park: 1 Olympic skate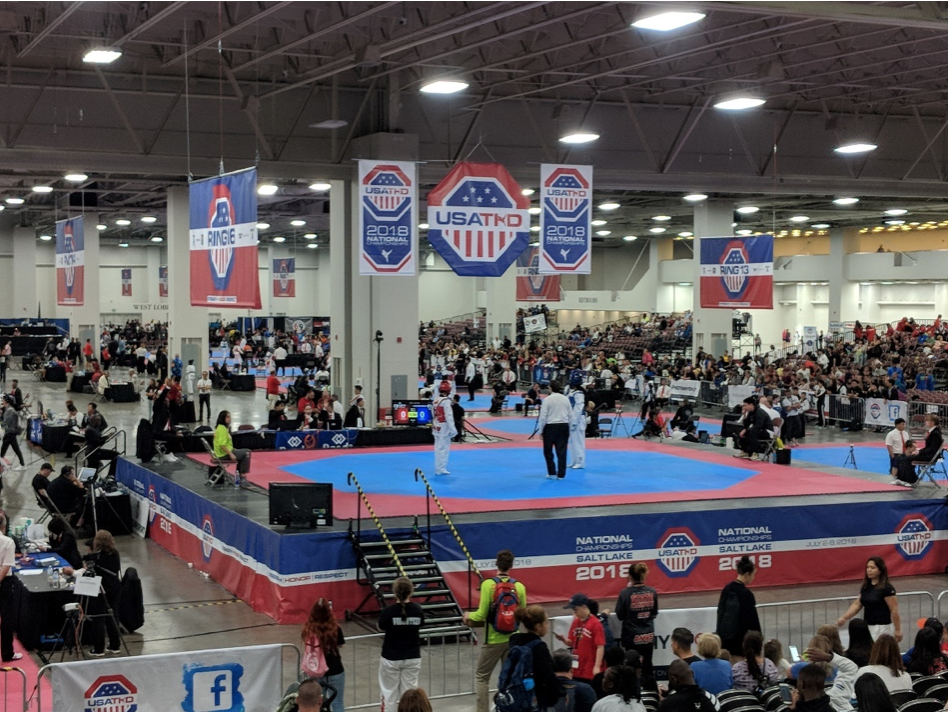 Picture: Salt Palace Convention Center