Our team at EventConnect is constantly updating the platform to give you and participants an enhanced sports tournament management experience. The following are some of the main upgrades to our software over the past month.
1. Condos and Vacation Rentals properties
EventConncect can now provide condos, and vacation rental properties in the accommodations feed. We've integrated with popular third-party vacation rental companies like Airbnb to provide the best accommodation experience for tournament participants. We can also connect event organizers with property managers to procure specialized inventory that suits the specific needs of your tournament.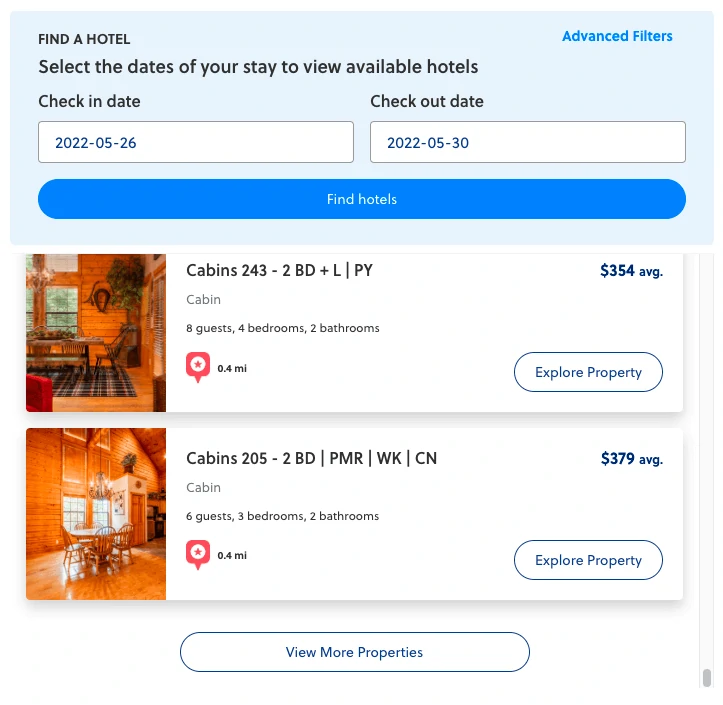 Ultimately, this allows you to offer unique housing options that drive increased revenue by significantly increasing the number of rooms booked per event.
2. Accommodation Check-In and Check-out customization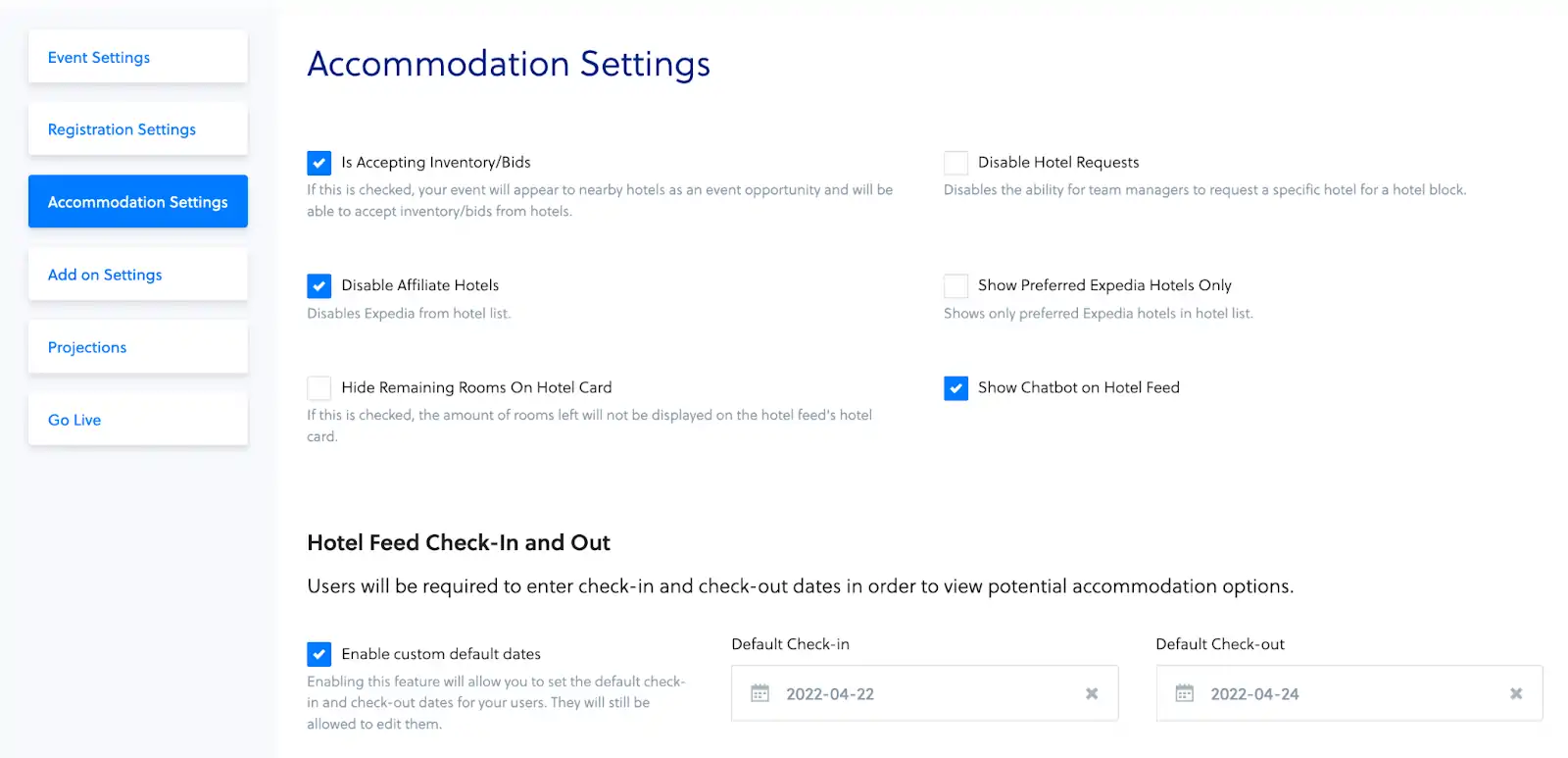 As our event owners continue to grow their events to become larger and more complex, we needed a way to customize the default check-in and check-out dates of the hotel feed's date range filter. 
Let's say that your event runs for a week, and you have hotel contracts that span that timeframe, but most teams will only be staying four nights from Thursday to Sunday; you can now set these dates as the default to make the booking experience easier for your teams, while still allowing each team to define their stay pattern as they see fit. This creates a streamlined experience and makes teams happier!
Event owners can set the default check-in and check-out value on an event's "Accommodation Settings" page. The "enable custom default dates" checkbox allows you to enable or disable the feature. It is disabled by default; however any default check-ins/outs added over the past week will remain unchanged.
We've also changed the way the hotel feed reacts to this setting. If defaults are disabled, the hotel feed is blurred and inaccessible until participants submit the check-in and check-out dates they would like hotel results to be filtered.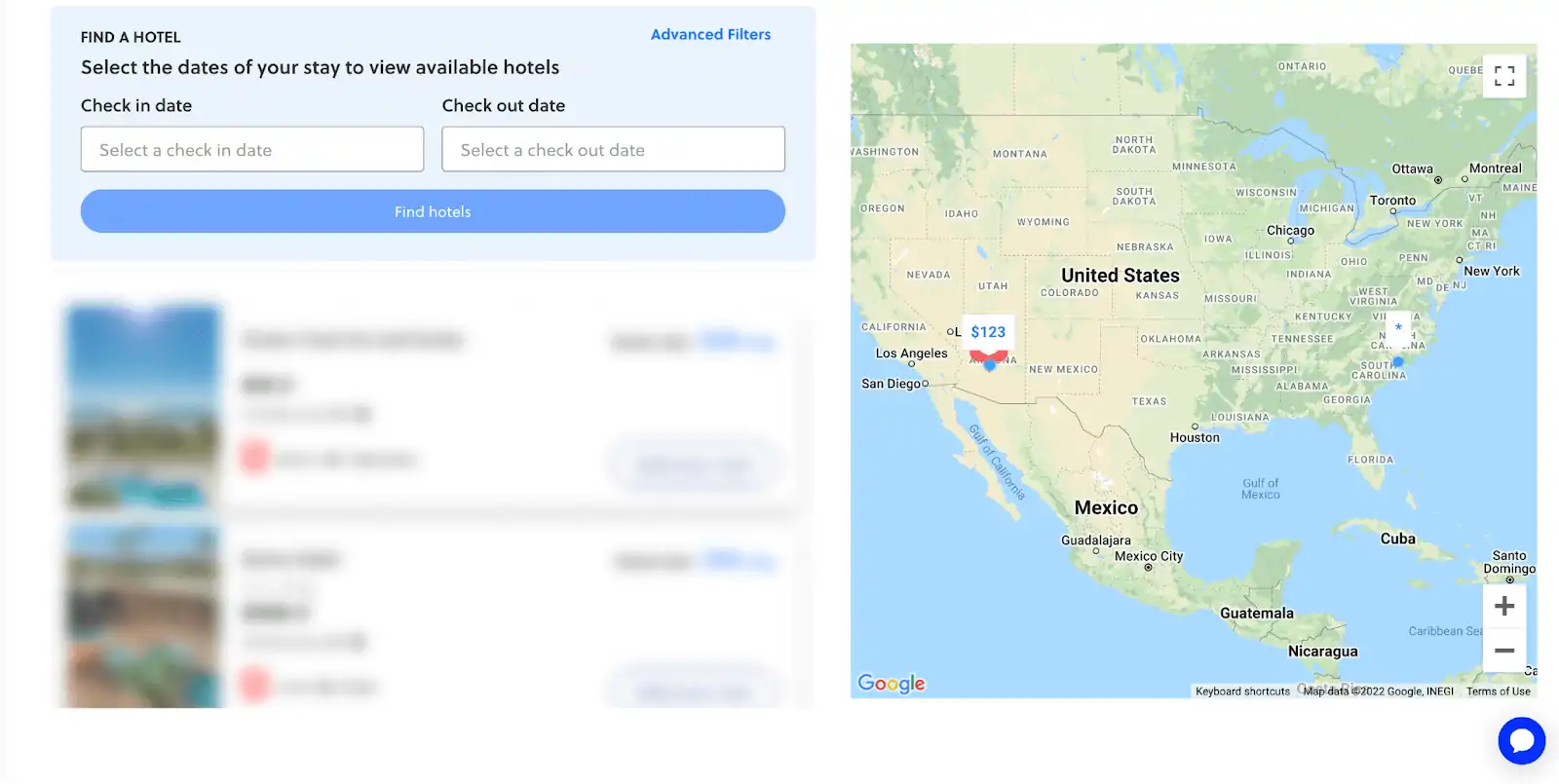 If the option is enabled, the default dates are auto-filled into the hotel feed's date range filter but are easily editable if required. We've also added a filter tally to display how many filter parameters have been applied.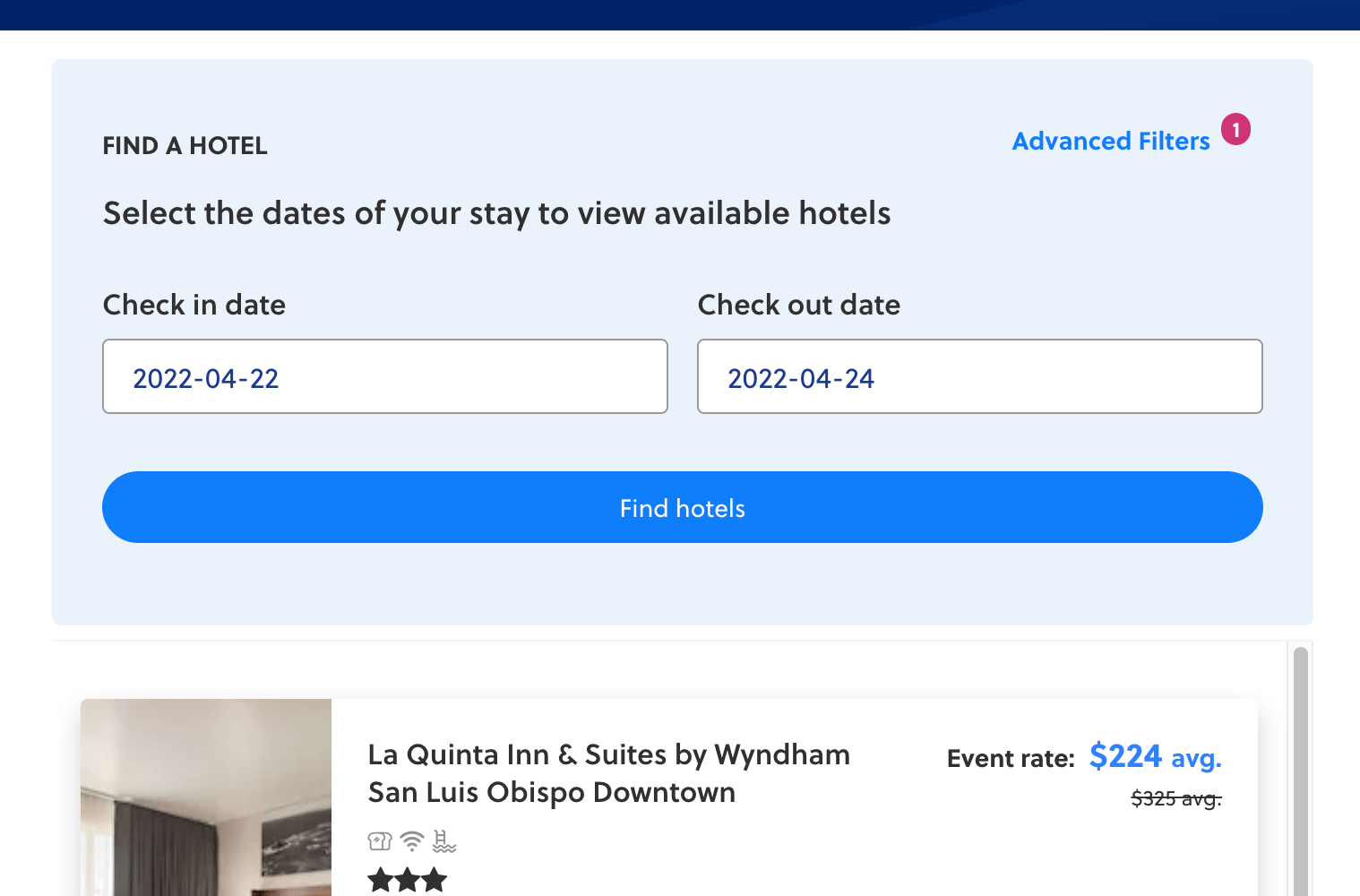 3. Game sheets: Updated Hockey Game Sheets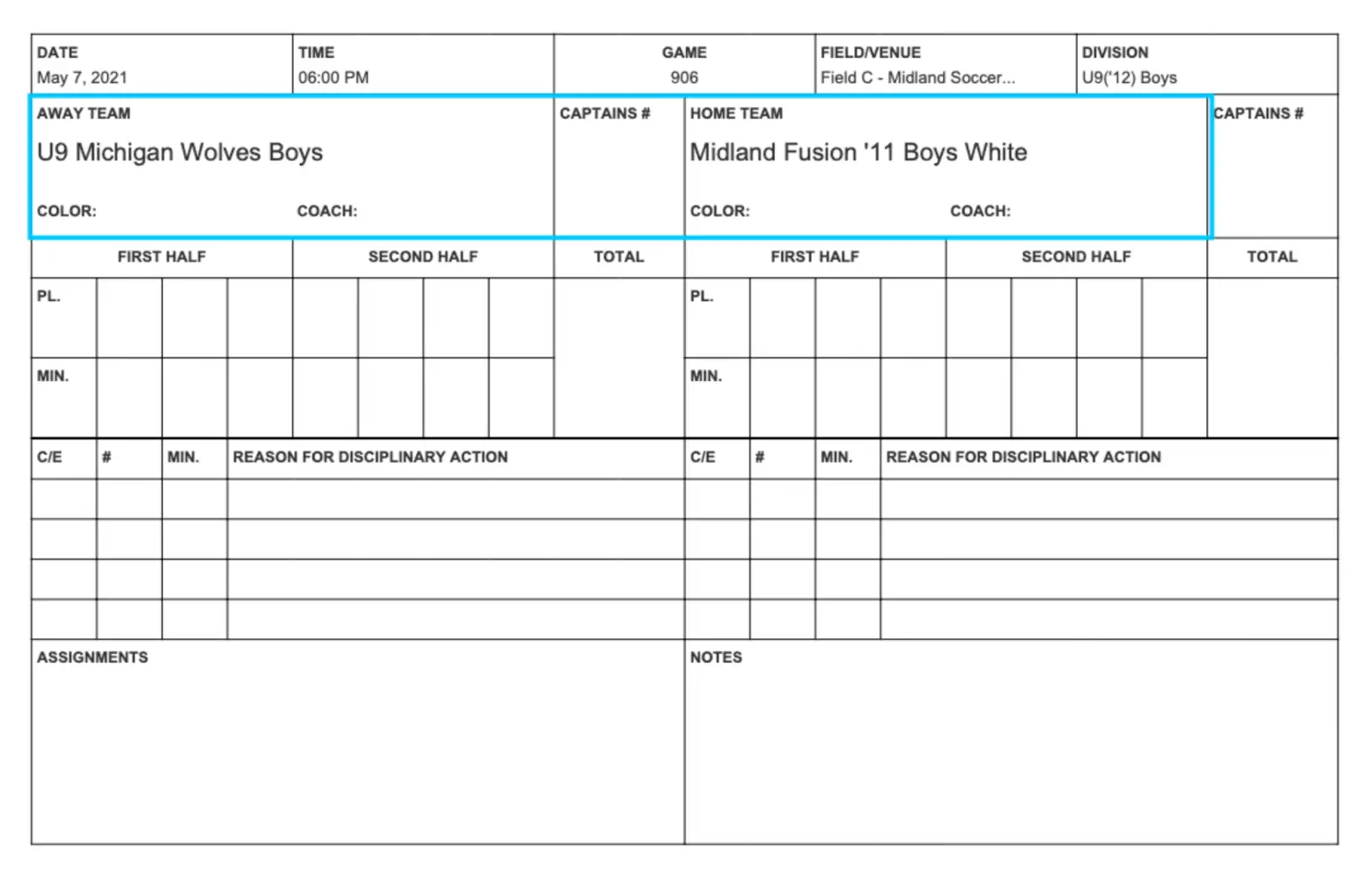 Our game sheet requests keep coming, and we are happy to provide all of the sports on our platform with a customized game sheet for their needs. If you require a custom game sheet format, please let us know, and we will get it into your EventConnect instance to create efficiencies!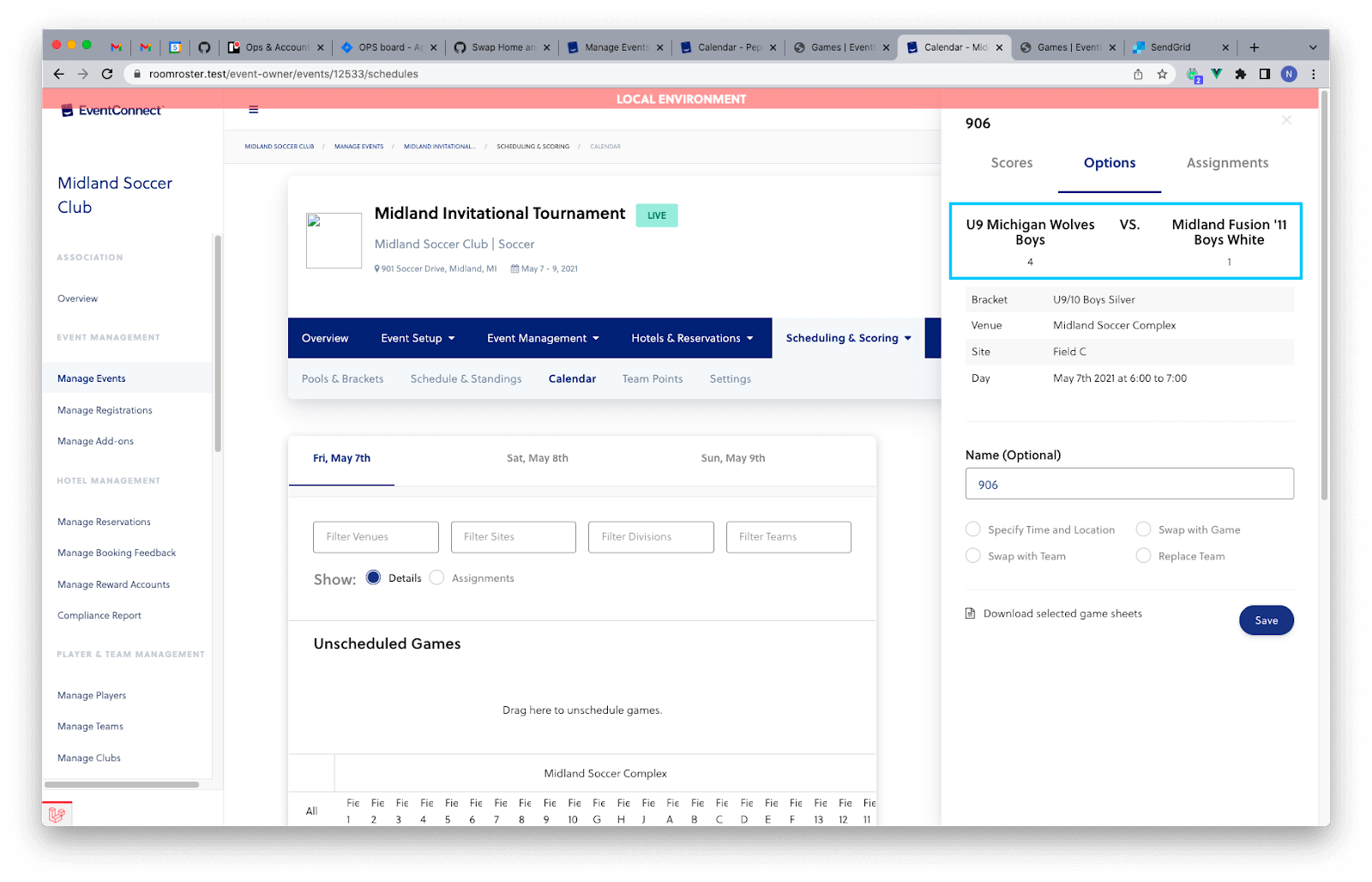 4. New Public Player Onboarding feature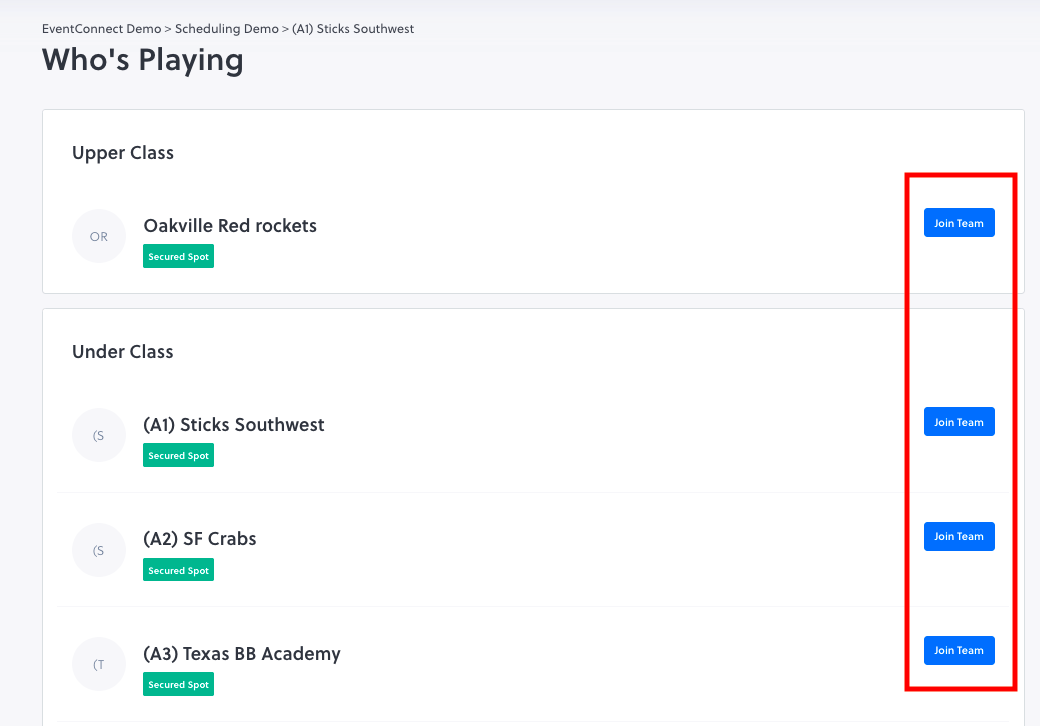 When you run significant events, you want to make sure that you can roster teams with players and do not have to rely on coaches to build the rosters for you. We have added a "Public Player Onboarding" feature so that anyone can join a team's roster via the "Who's Playing" page. This feature will help expedite the team rostering process and keep things easy to manage. It will also allow you to onboard and sell merchandise or tickets to all participants!
5. Update to show comp rooms on the reservation report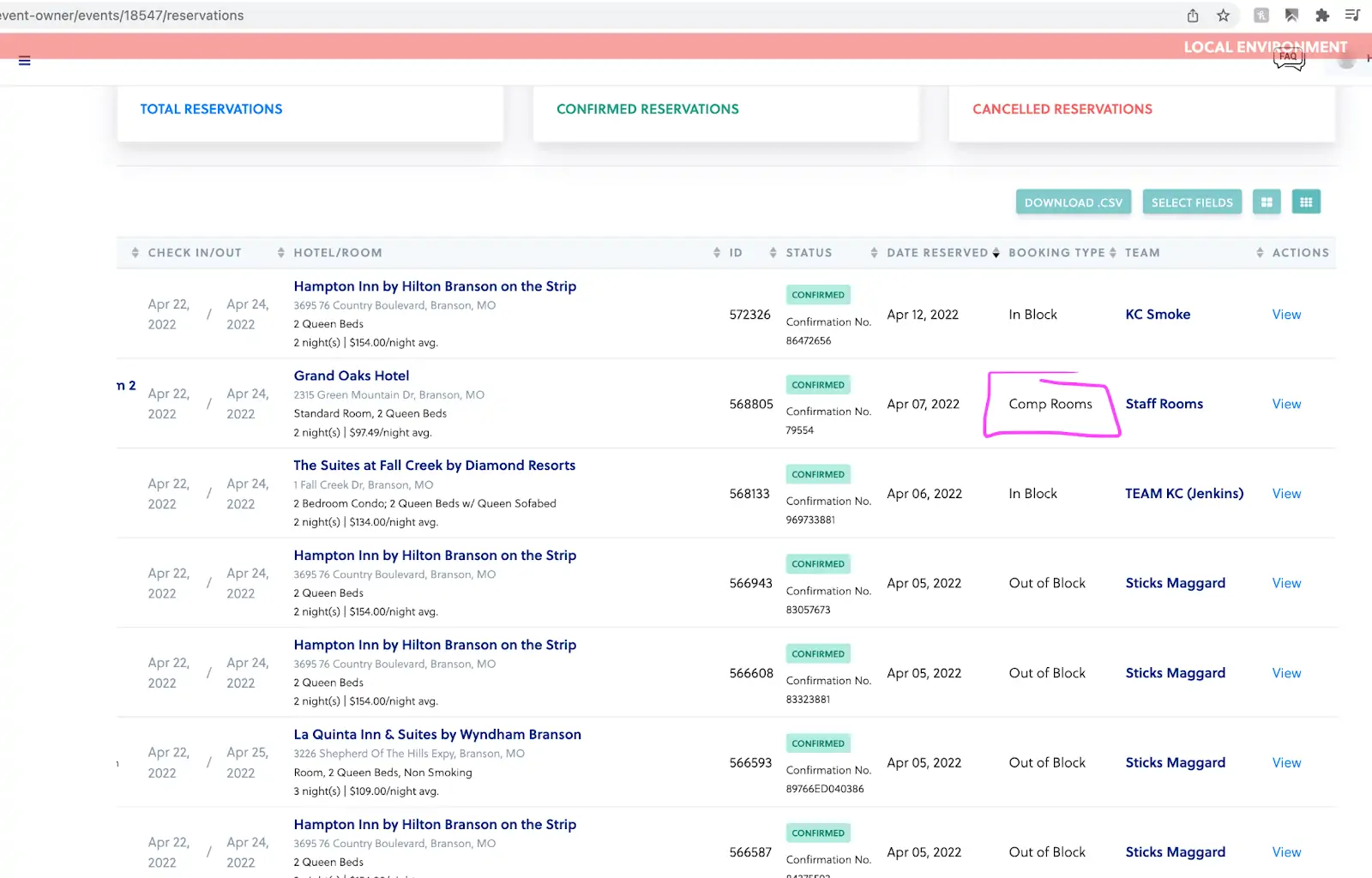 Finding comp rooms on reservation reports just became a lot easier. Managing comps is an ongoing process up until the event start date, and we want to make it easy to find that data any time you need it, anywhere in the system.
The "Booking Type" column on the reservation report now displays "Canceled" if the reservation is cancelled, "Comp Rooms"if any nights were comped, or "Upfront Comp" if an upfront comp was used.
6. Registration Report updated to split city and state into separate columns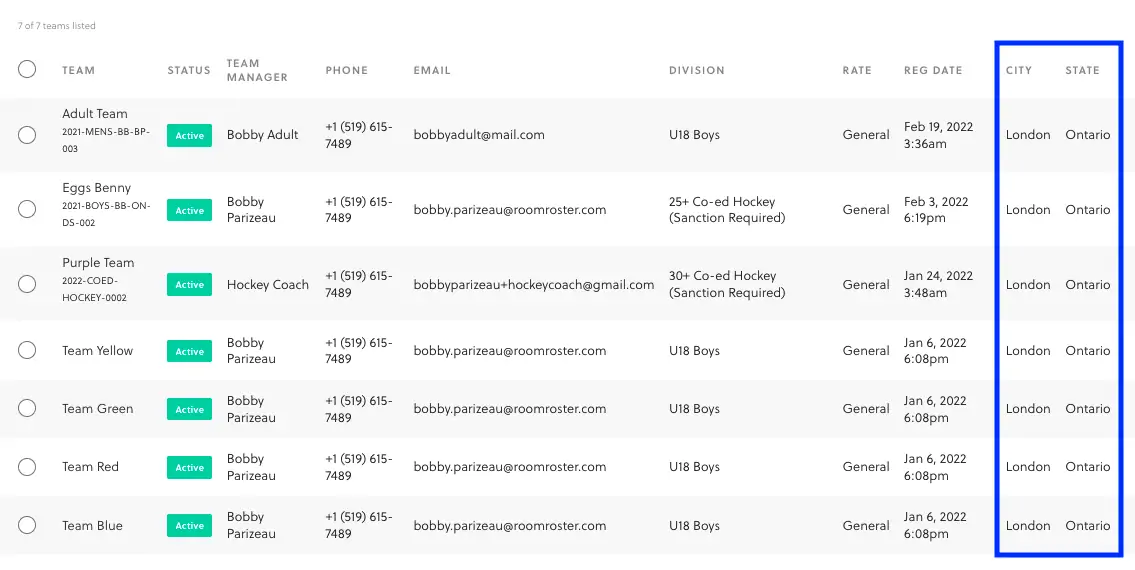 Initially, there was only one column for the city and state of participants who have registered for your event. They are split into two separate columns to keep your data more organized and straightforward to manage.
7. Update to Registration Report default columns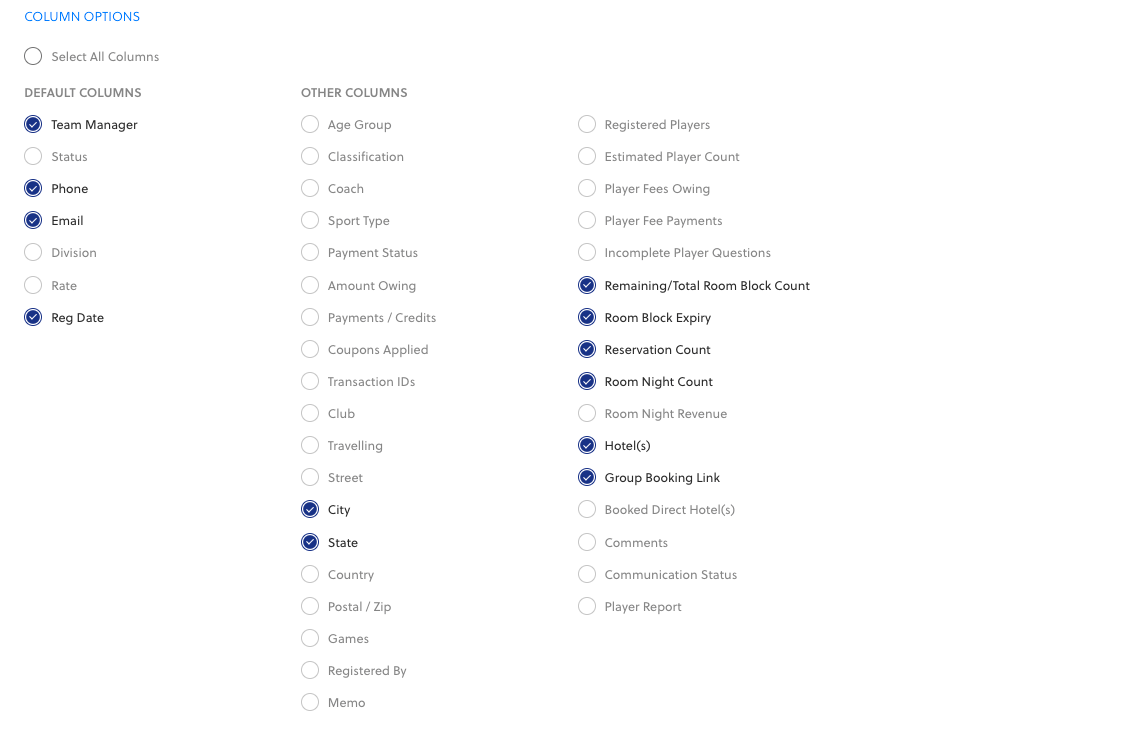 The event dashboard's Registration Report now includes new columns that are displayed by default, including:
Team Manager
Phone
Email
Reg Date
City
State
Remaining/Total Room Block Count
Room Block Expiry
Reservation Count
Room Night Count
Hotels
Group Booking Link
This new level of detail allows you quick access to key registration data.
8. Hotel Dashboard Onboarding updates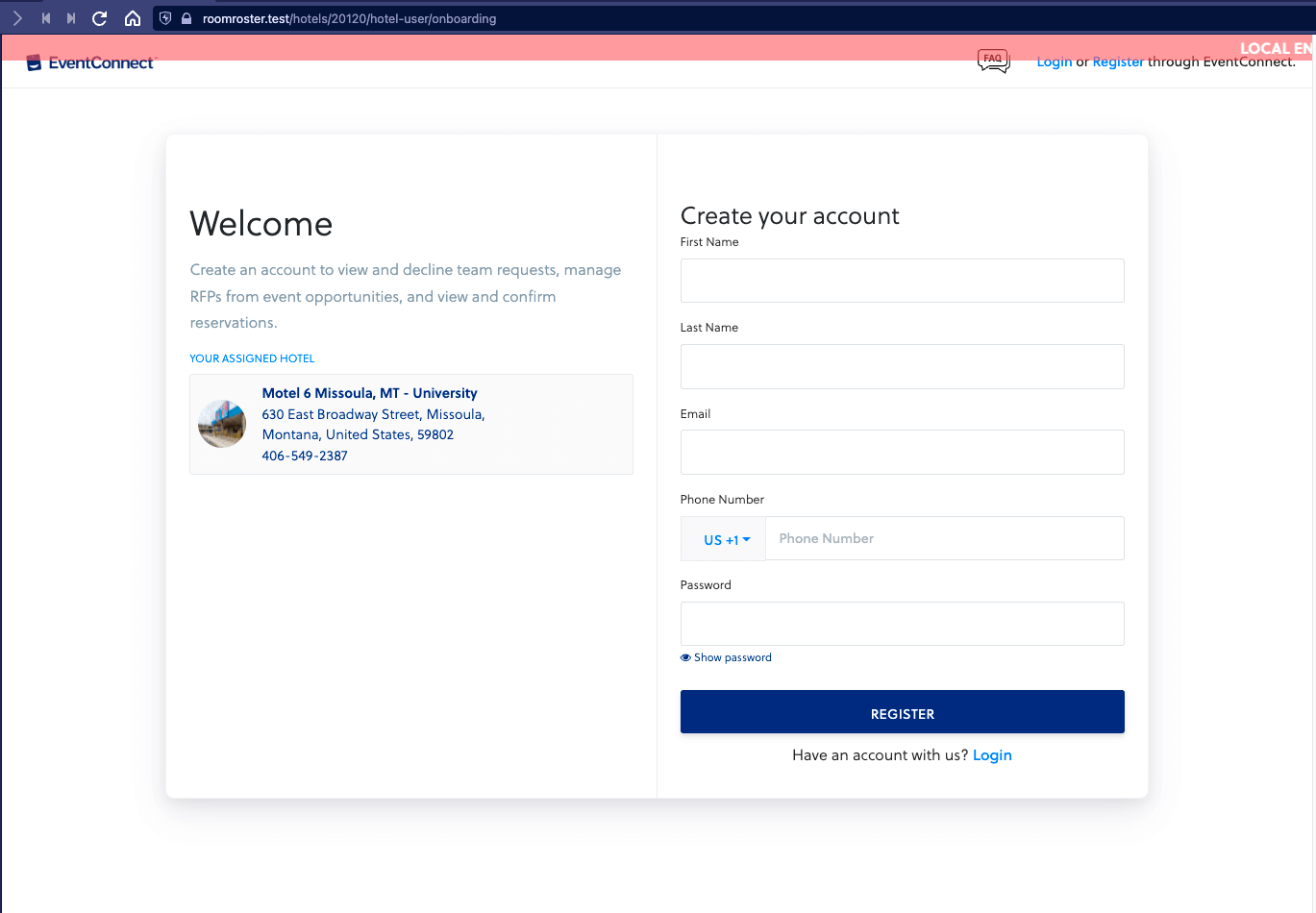 Responding to an RFP has become much more straightforward for our hotel partners. When an RFP is sent out to your hotels and chains, historically, the responding user needs to have an existing EventConnect account. With all the turnover we have experienced at the hotel property level, you can now share RFP email links with anyone at your hotel, regardless of whether they have an existing EventConnect account or not. Even new employees can respond to the RFPs before adding them to your account. 
9. Limited access toggle for hotel users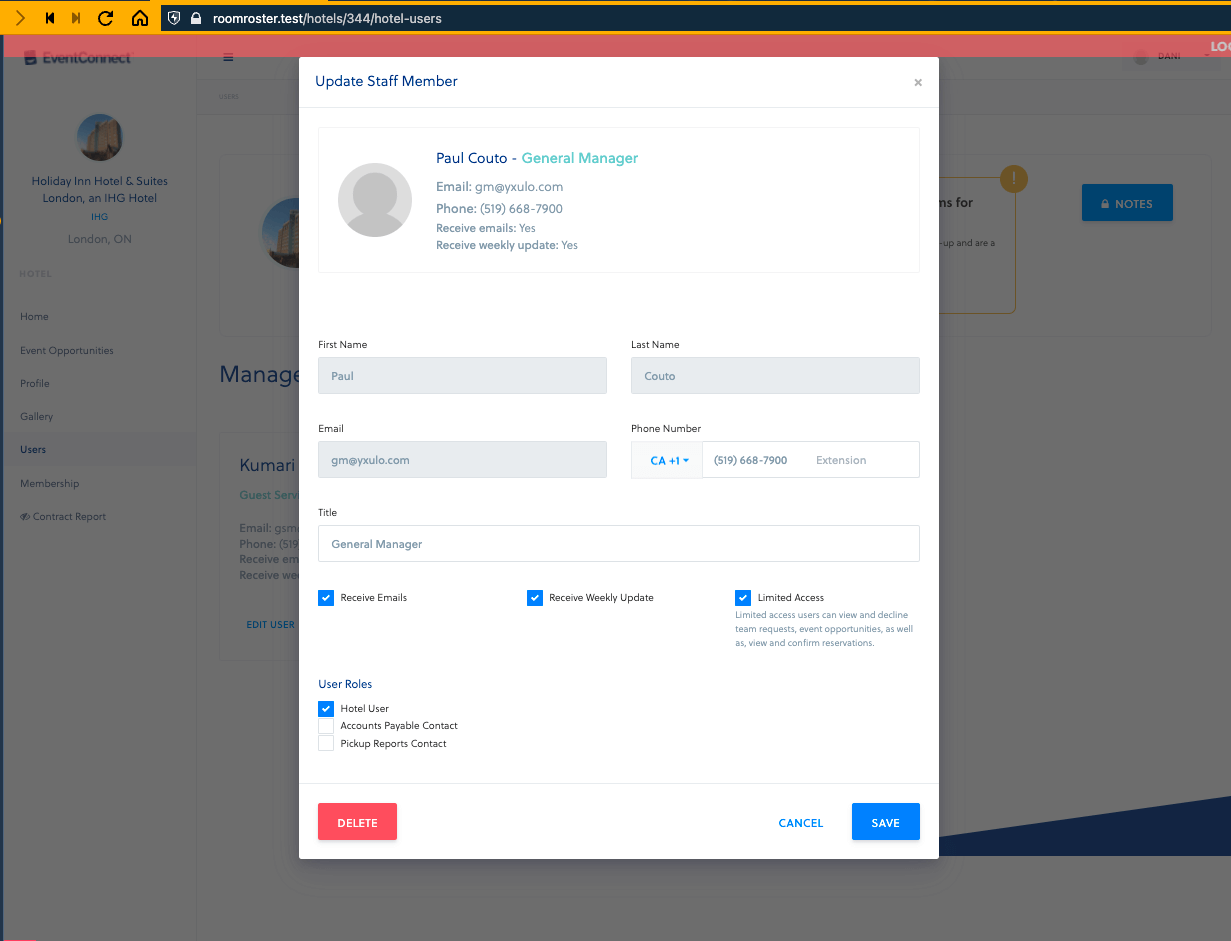 New employees will be automatically onboarded to Hotel Dashboards as limited-access users.
After creating the limited-access user, we email procurement staff and hotel admins to let them know a limited-access user has been added to the hotel. Existing hotel users with full access can then edit other user profiles on the dashboard to enable full access if they wish, for ultimate flexibility!
There is also validation to keep your data secure, so hotels must have at least one user with unlimited access when updating or deleting hotel users.
This update, when used, prevents "limited access" hotel users from viewing and declining room block requests (team requests), managing requests for proposals (event opportunities), viewing and confirming reservations, and viewing contracts.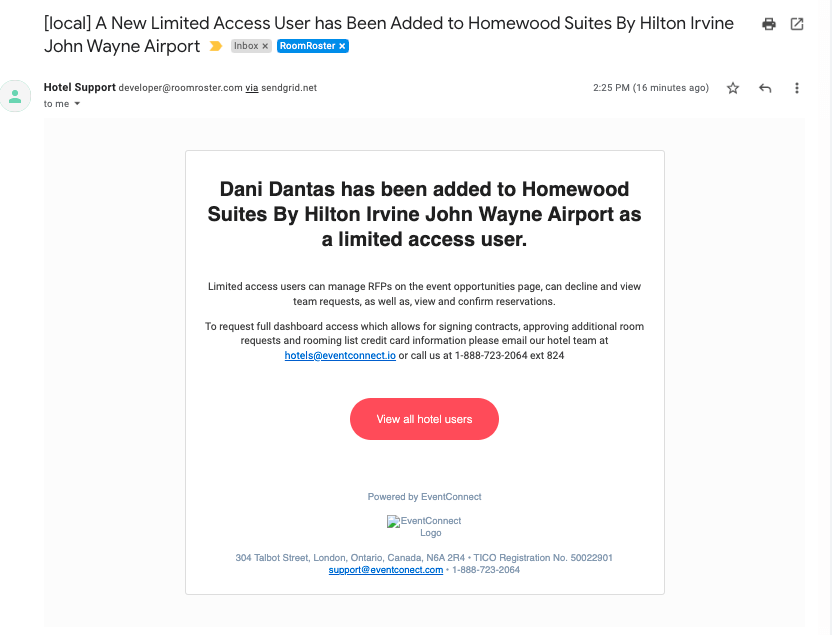 Wrapping up April's 2022 product updates
The EventConnect team is constantly working on improving our software to create a better experience for you and participants across the board. If you want to see how EventConnect can make managing tournaments pain-free, schedule a demo today or browse our features.