Our team at EventConnect is constantly updating the platform to provide our partners and their participants with a better sports tournament experience. Here are some of the main changes we've made to our software over the last month!
Jump to a specific product update:
1. Registration review and checkout upgrades
We always want to offer our partners and tournament participants the best possible experience. That's why we improved the registration review/checkout flow to allow users to review charges and enter coupons before they put in their credit card information.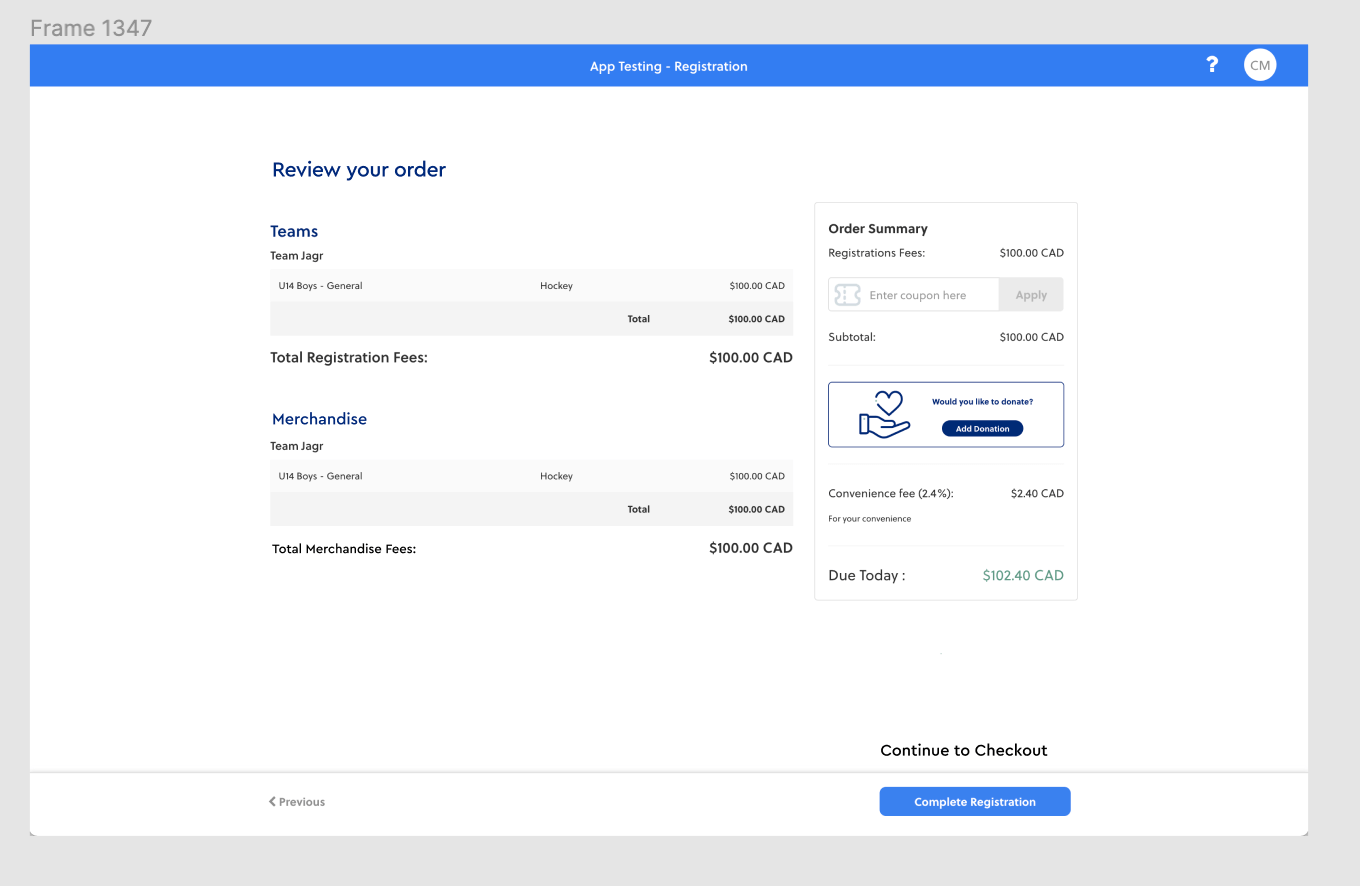 Participants can see how much they're paying before committing to entering their credit cards. This detail creates a better registration experience and helps our partners drive more revenue. Win-win!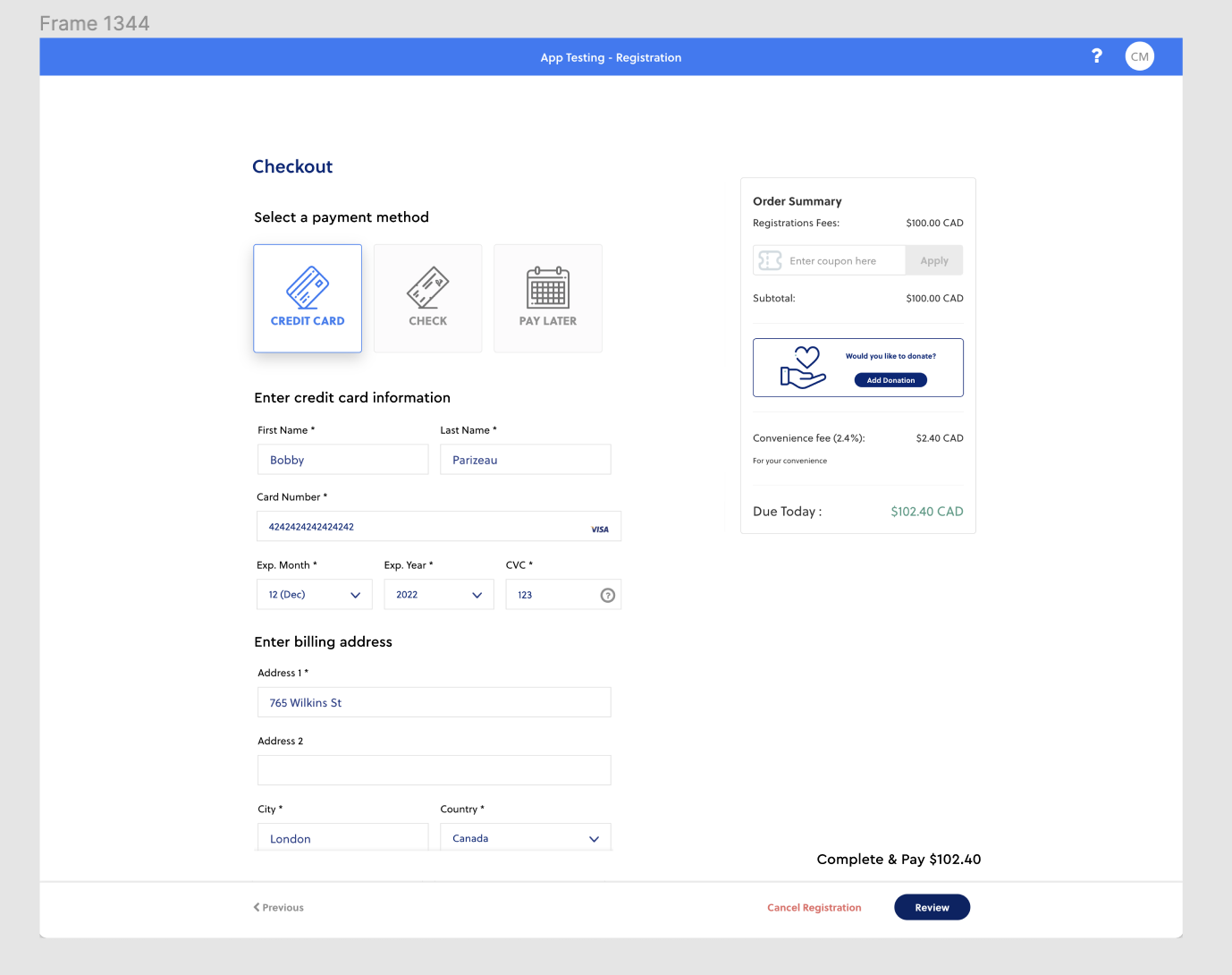 2. Mass edit and cancel comp reservations
If unexpected events come up or changes are needed, you can bulk edit comp reservations instead of manually going through them one by one. Event owners can now mass edit comp reservations from the event owner comp tool by selecting the reservations they'd like to edit and then clicking "Edit Reservations" on the bottom right. 
​​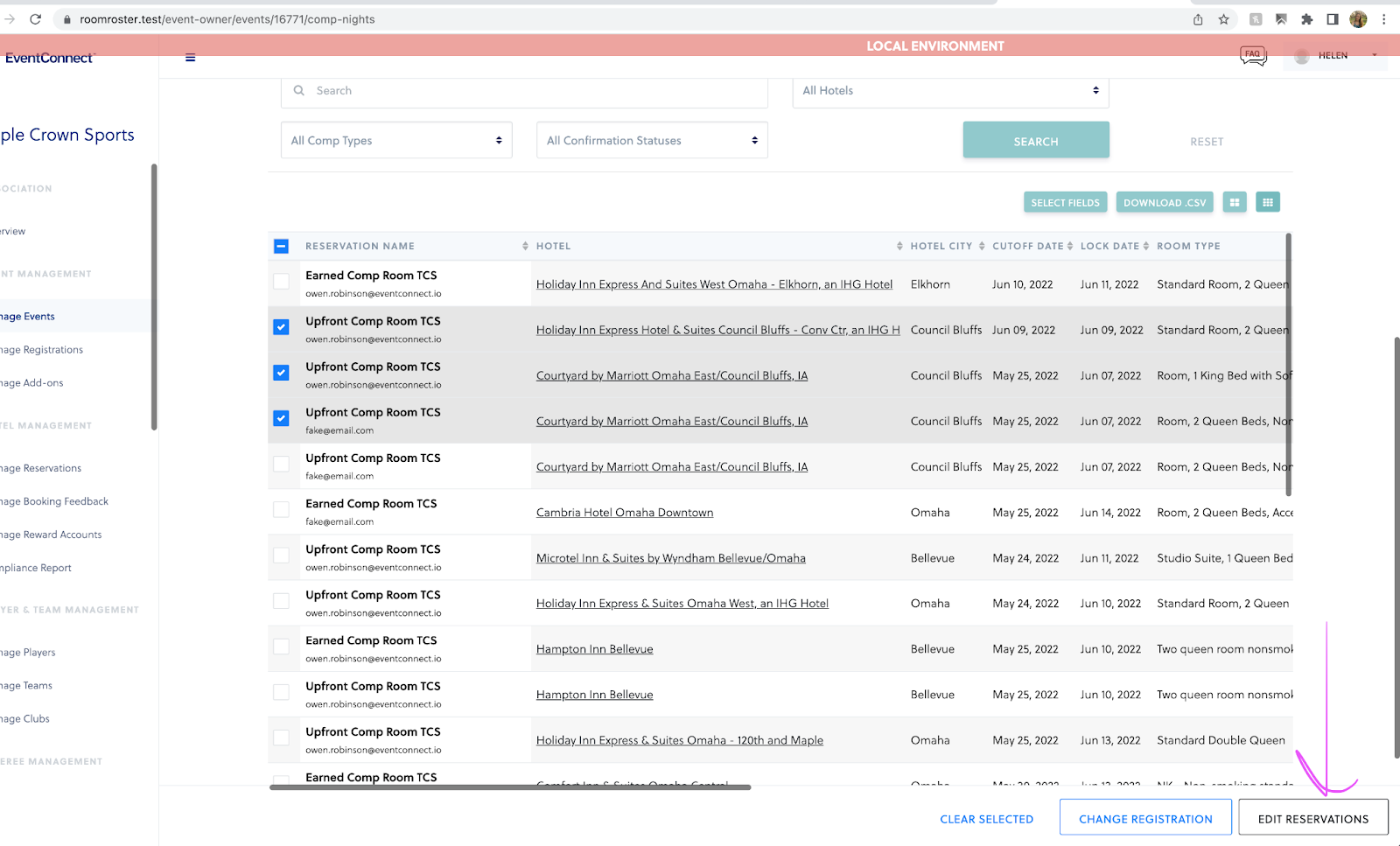 The table will only show those reservations (you don't have to scroll through reservations you don't need to edit) with the inputs pre-filled with current data. Simply hit save, and the reservations will reload with updated data!
3. New event filter for accommodation event Reservation Report
We've added a filter to the Reservation Report for accommodation events to filter which reservations were booked for which registration event. This filter makes managing and organizing hotel reservations for multiple registration events simpler.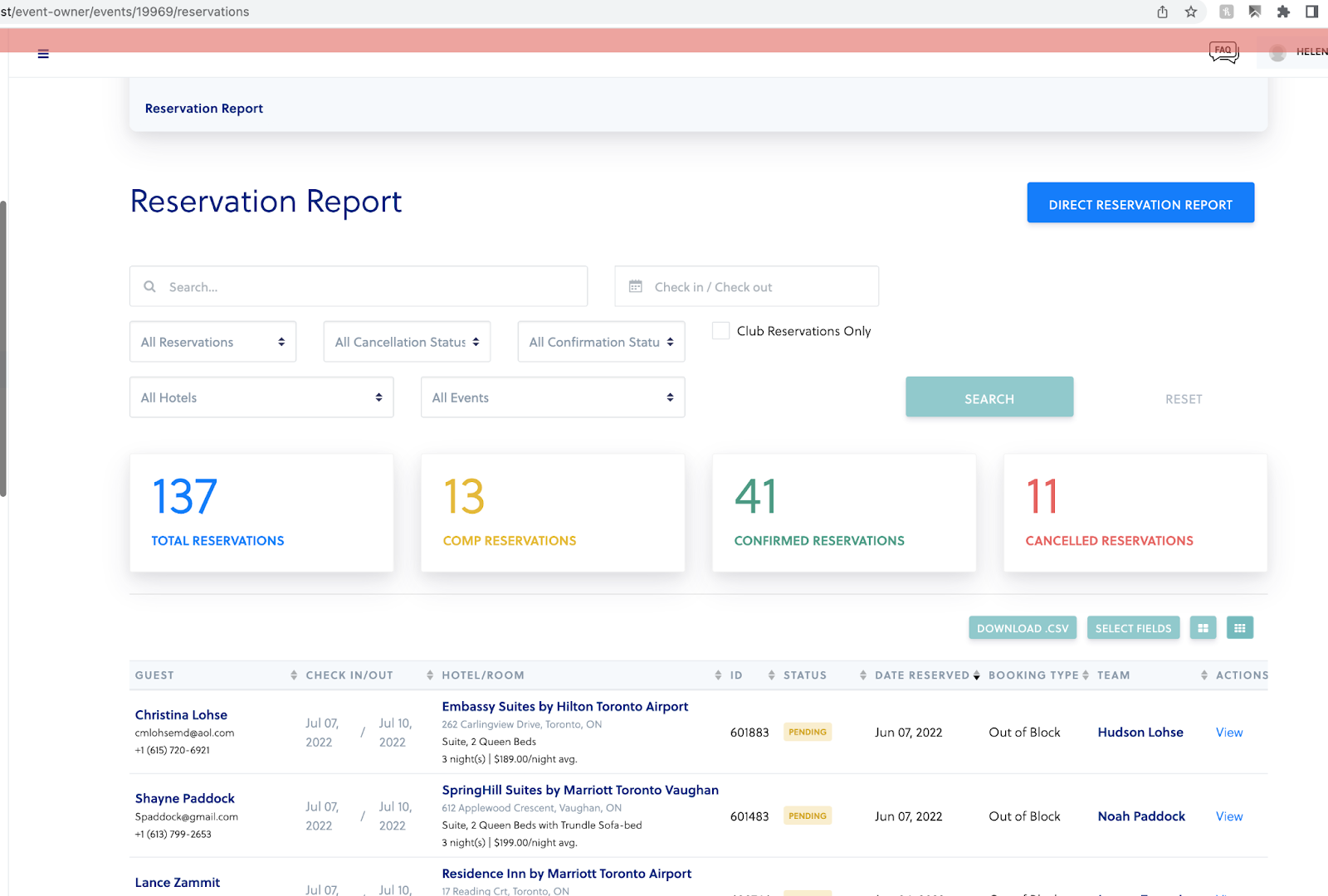 The filter allows partners to filter to just the accommodation event. The cards are updated to reflect the reservations within the filtered list. We also added a "Comp Reservations" card within the list (but the card only shows up if there are comped reservations).
4. Hotel reward account updates
We've added more details to the Hotel Reward Accounts page. Now, you can add and edit the Name, Email, Hotel Brand and Account Number of a reward account user.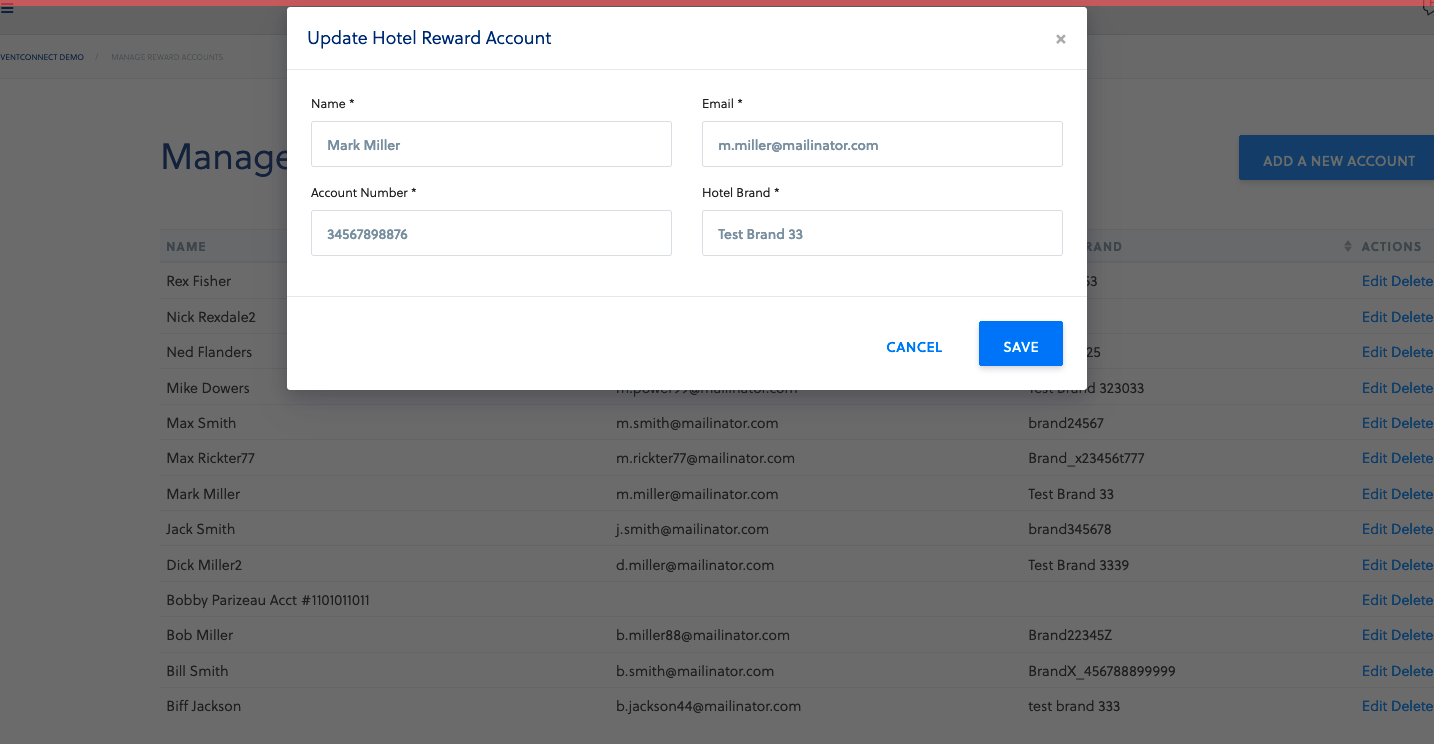 5. Event owner hotel contract page lock dates
Event owners asked us to see a lock date value in the Event Owner hotel contracts report for clarification and to know when hotel contracts would be final. What did we do? Create a lock date that now appears in the following places:
In the hotel contract report CSV export.
On each hotel contract card in the listing.
On the "View metrics" hotel contract page.

6. Feature: view sold-out merchandise
We've updated sold-out merchandise so that participants can still see the inventory and all the necessary details (like the description) even if it's unavailable. This option creates a better registration flow as participants know what's available to purchase later once it's in stock.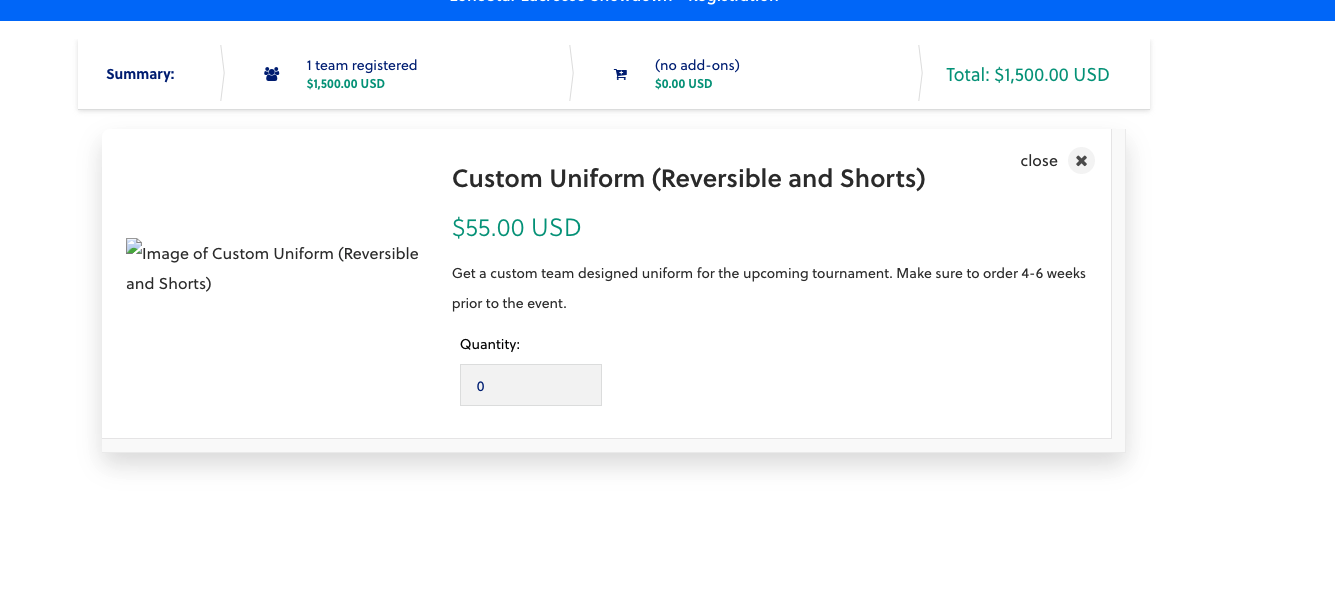 7. Division results and team points page update
Originally, the Team Points page was grouped by pools. To make scoring easier for event owners, we made a small update that lists all teams by division. You'll see the following data for each team:
W/L/T
Overtime and shootout W/L
Games Played
Games Remaining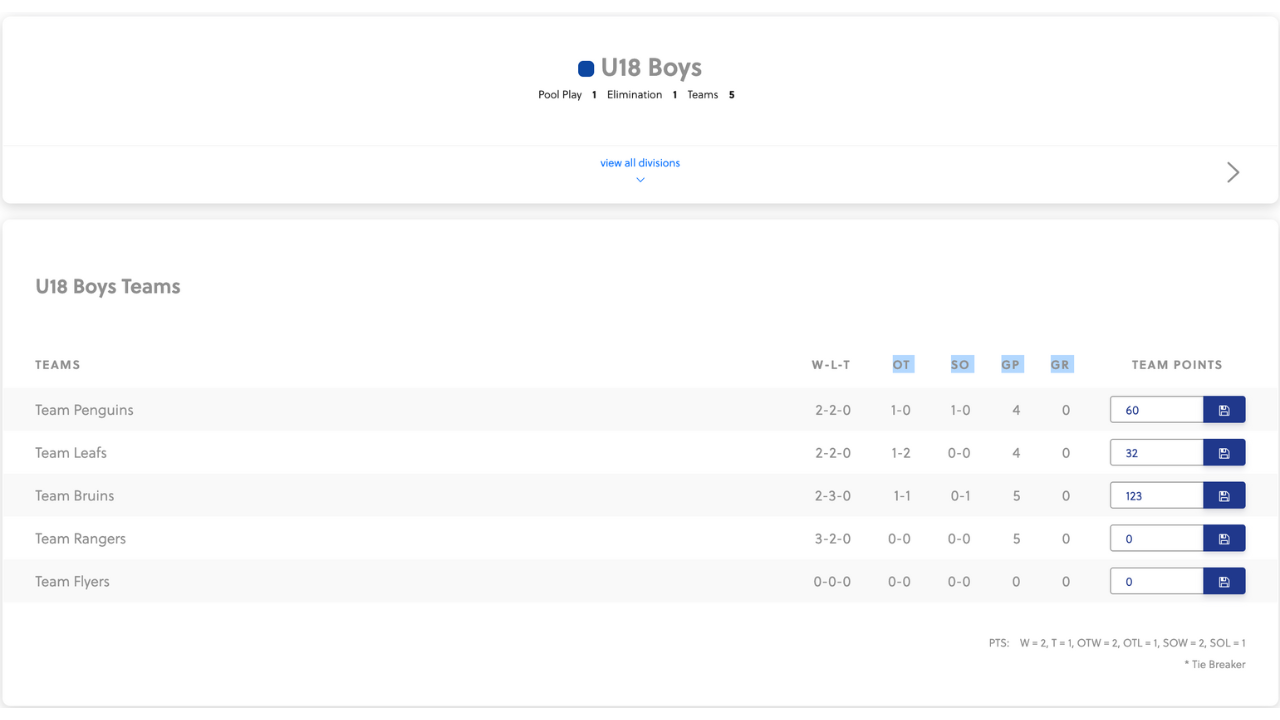 8. Expedia toggle requests
As an event owner, you may want to customize your hotel feed or encourage participants to book through contracted hotels. You can now disable affiliate hotel requests via the Accommodation Settings page "Disable Affiliate Hotel Requests" option.

9. Accommodation Event Overview – Registration Events List
Are you managing multiple registration events? No problem! Event owners will love that we added a list of registration events and a link to each event if the overview page is of an accommodation event. This clarity makes it easier to navigate your different events and their data.

10. RFP amenity select – 'Additional Cost' Options
When submitting an RFP, we give the hotel user four dropdown options for their different amenities: breakfast, wi-fi, pool, and parking. The problem is that many hotel users didn't understand these dropdowns let you select or type in the amenity, so they'd call us confused because all the pre-filled options are essentially "free" options.

In Breakfast, Wi-Fi, & Parking dropdowns (pool will be left out), there is now a final option at the bottom of the list called "Additional Cost – [Amenity], "so hotel users can select at least a "We're offering this but at cost" option.
11. Add a setting to redirect event pages to another event
Added a "Redirect Event" dropdown in the event settings form that allows admins to store a redirect on an event. They may choose to set up a redirect so that whenever a user visits an old event, our system will automatically redirect them to the selected event.

Wrapping up EventConnect's monthly product updates
The EventConnect team is constantly working on improving our software to create a better experience for you and participants across the board. If you want to see how EventConnect can make managing tournaments pain-free, schedule a demo today or browse our features.