Our team at EventConnect is constantly updating the platform to provide our partners and their participants with a better sports tournament experience. Here are some of the main changes we've made to our software over the last month!
Jump to a specific product update:
1. View the status and booking type of Room Block Reservations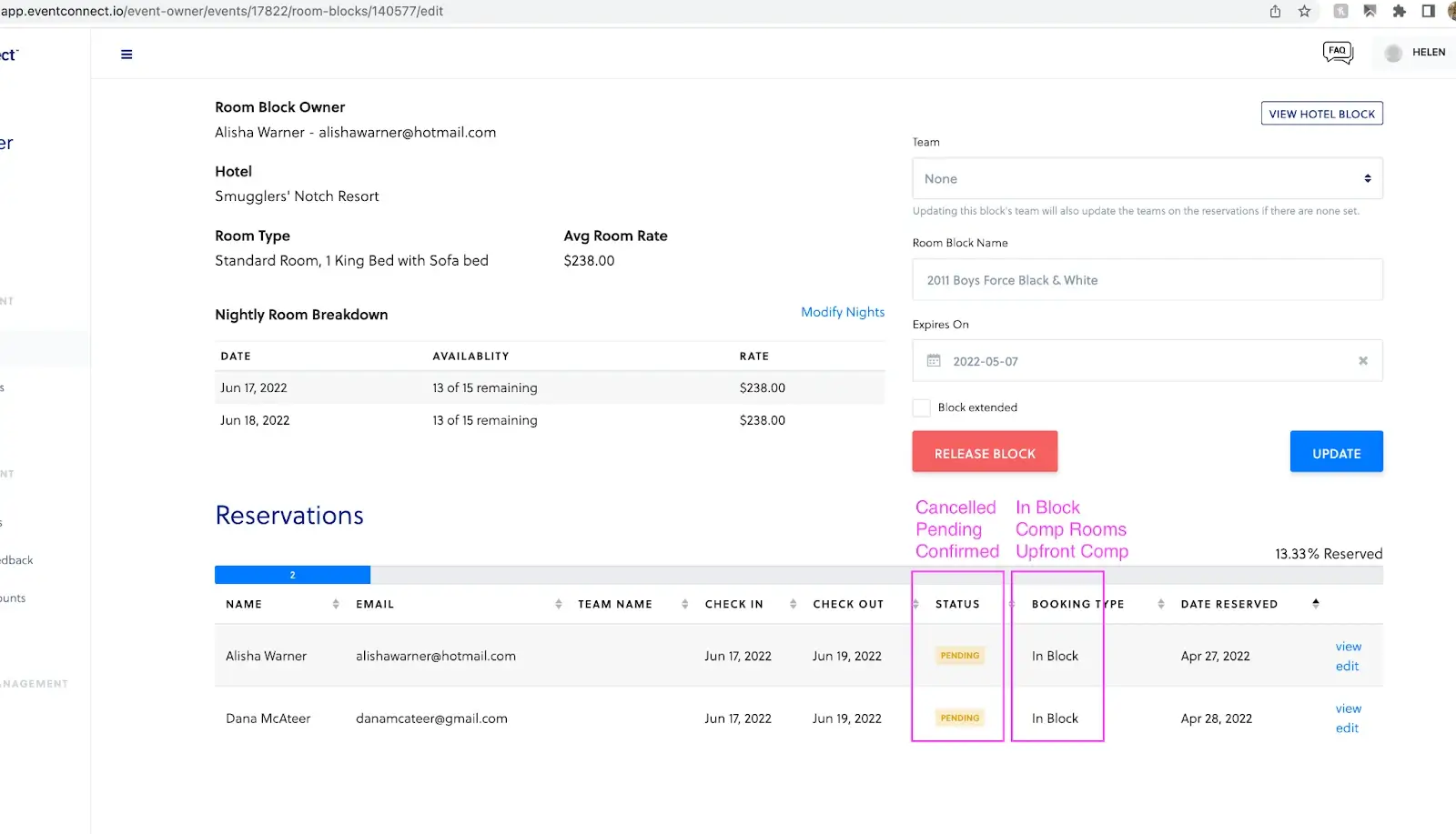 Organizers can now see if a reservation is an earned or up-front comp under the status column of the Room Block page. The booking type column defines the reservation status as cancelled, pending or confirmed.
2. NSOs are now notified when a recurring event's contract is "renewed" and sent for re-approval
Hotel National Sales Offices (NSOs) are now notified when an event owner with a recurring event sends a request to approve a renewed contract that was used previously.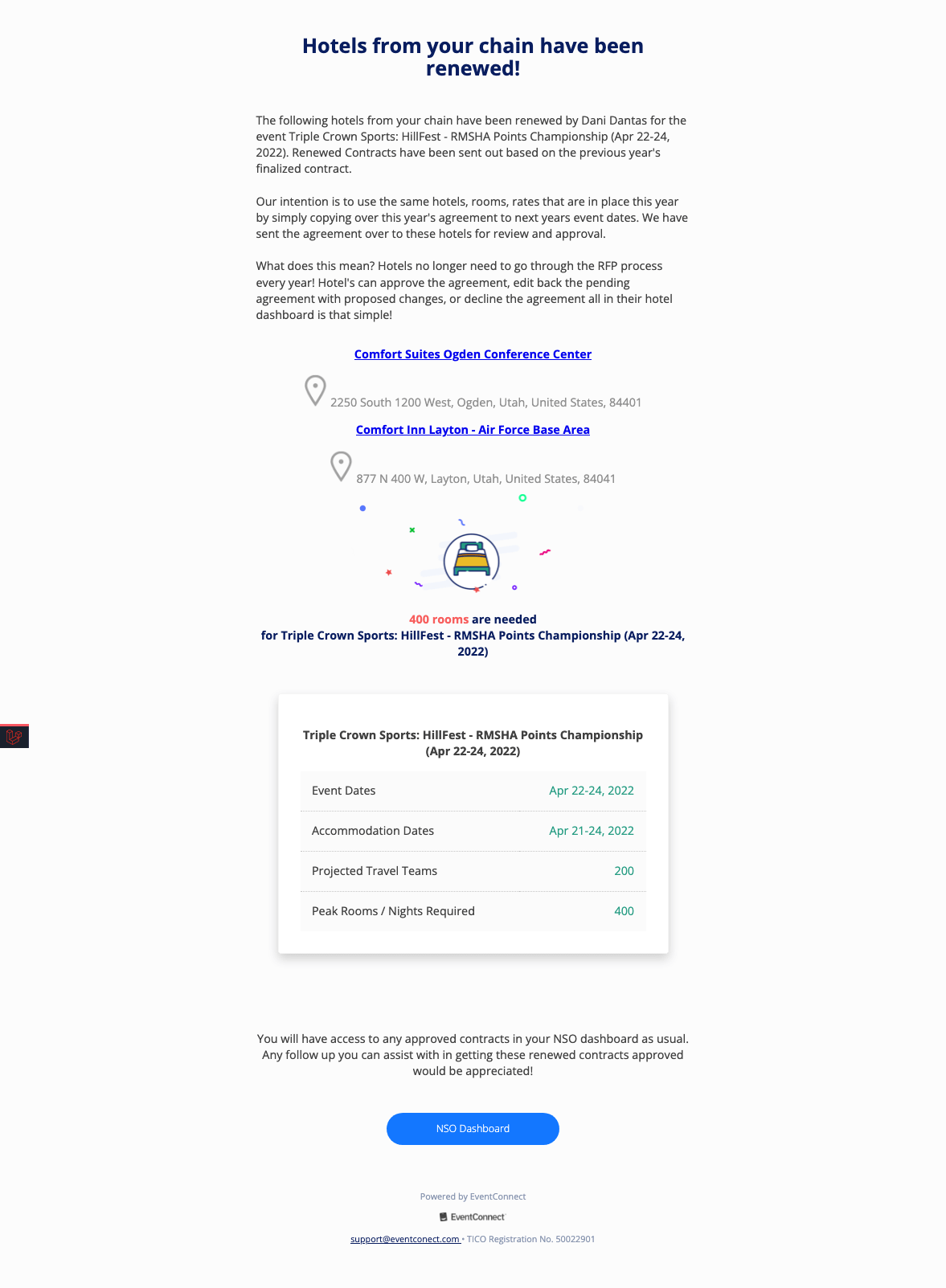 A toggle has been added to send renewal notifications to NSOs on the Contract Status update tool on the event owner Tournament Hotels page.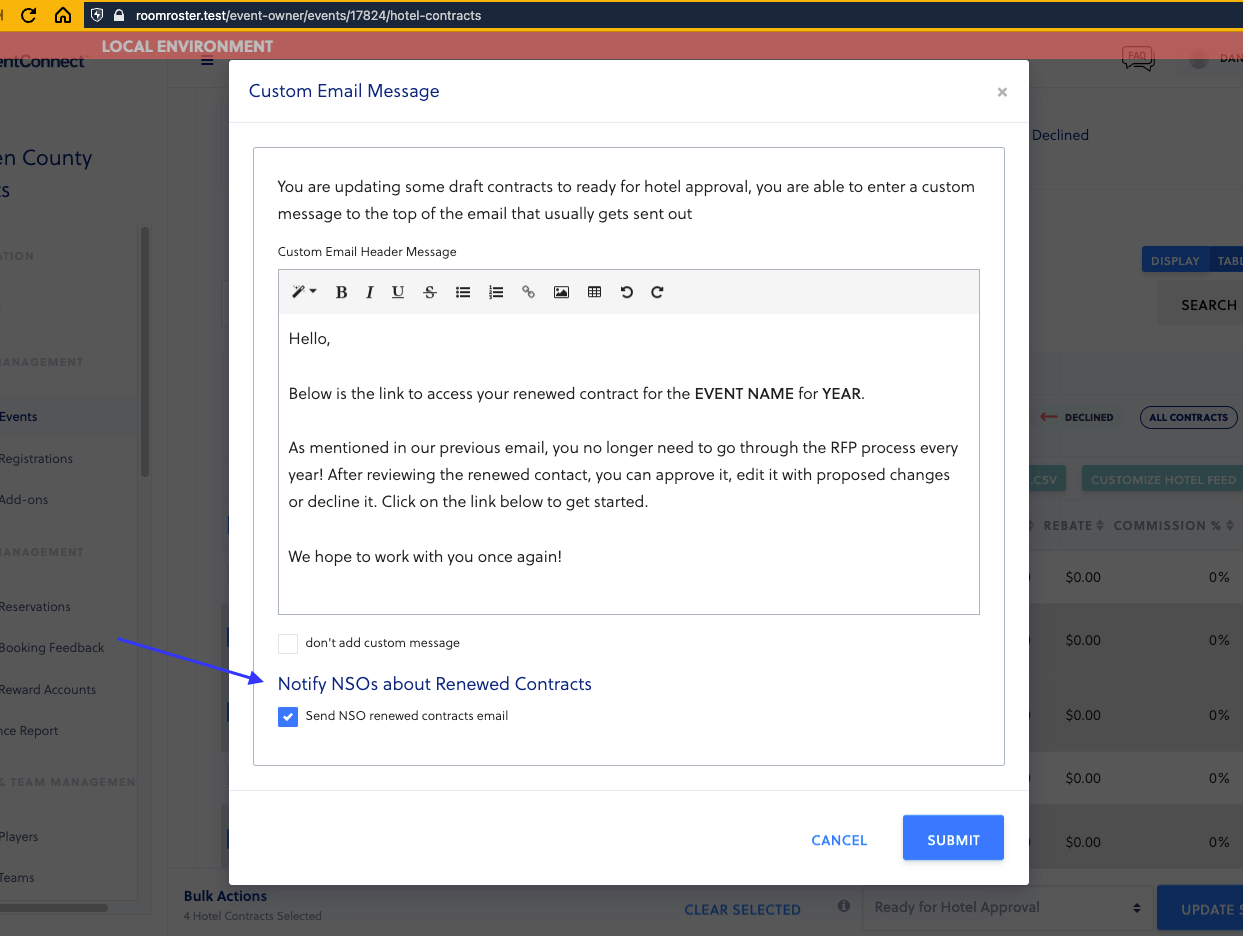 NSOs will also be notified about the renewed contract request when submitting for hotel approval. 
3. Filter Rooming List to Show Only Updated Reservations 
To support our hotel partners, we increased the functionality of hotel contract rooming lists to make managing the complexity of reservation updates easier.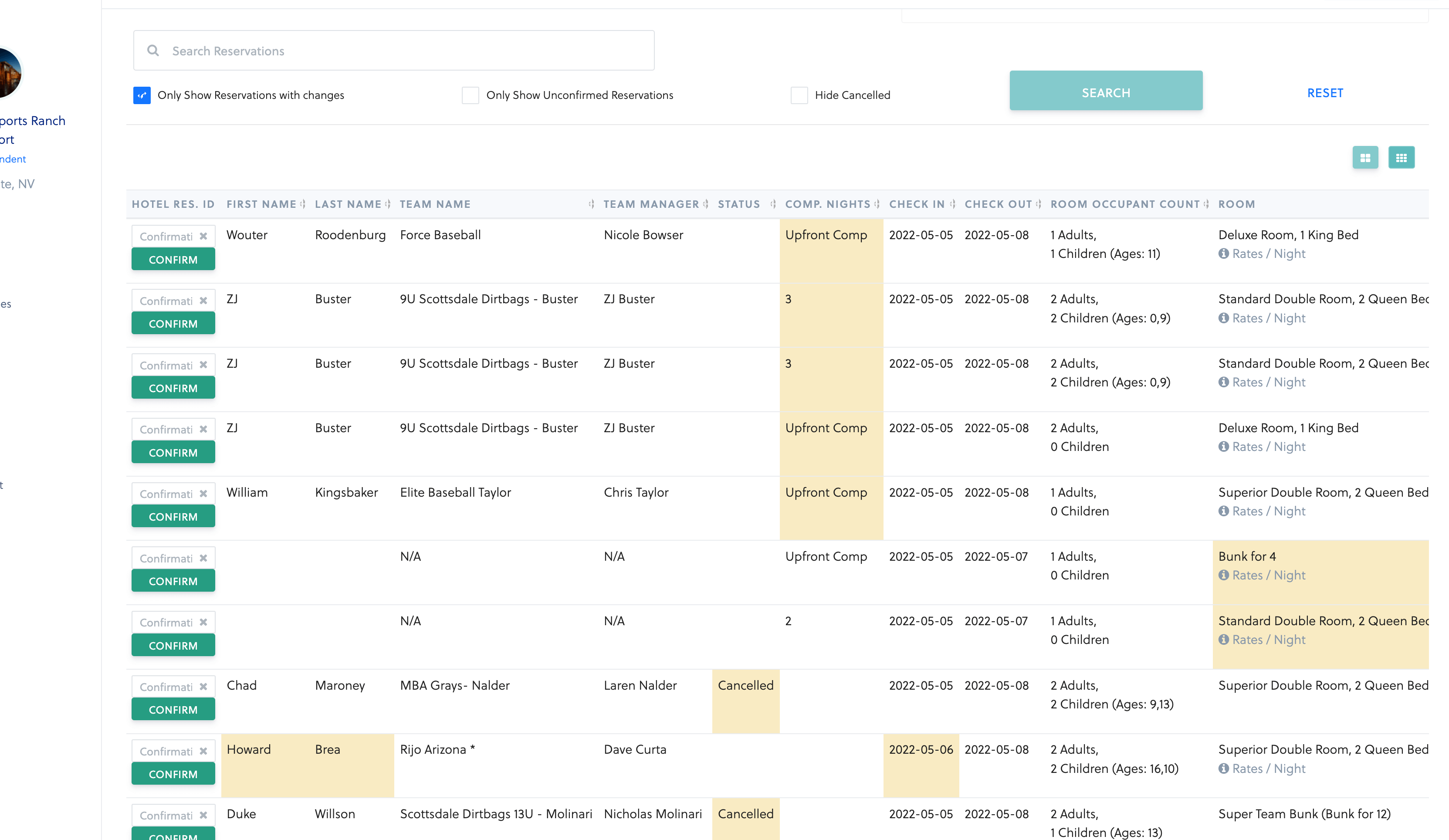 Rooming lists can now be filtered to display only reservations with unconfirmed updates, the staff member who had confirmed the update is always logged, and enhancements were added for room type and comp room specifics. 
4. Disable Requests on selected Preferred Hotels
As an event owner, you might want to encourage online travel agency bookings instead of contracting inventory directly from hotels. We are excited to release a new feature that allows you to customize your hotel feed from a selection of online travel agency-sourced hotels.  

The "Disable Contracted Hotel Requests" option on the Accommodation Settings page now only disables requests on contracted hotels. To disable affiliate hotels, go to the online hotels list and disable requests per hotel.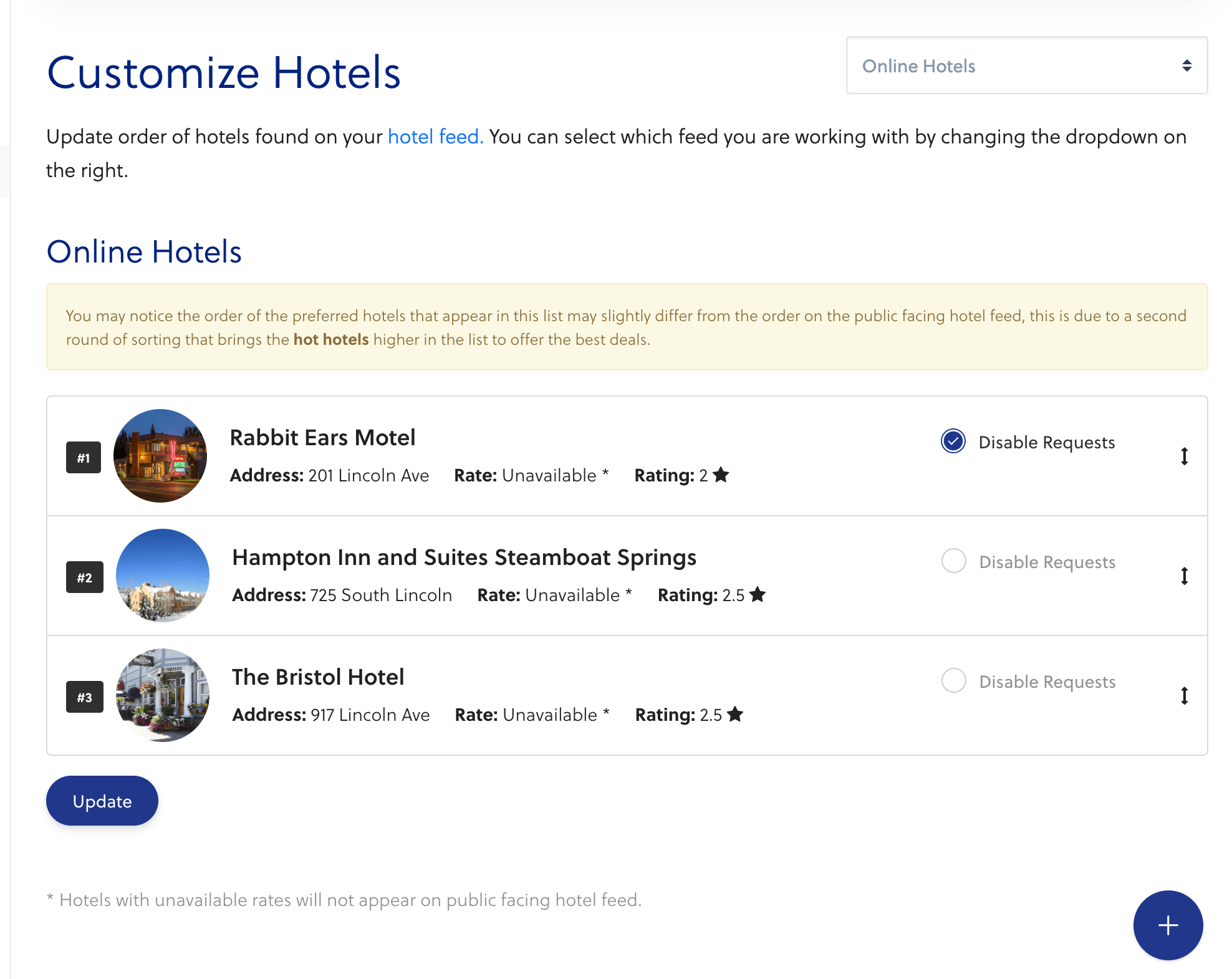 5. "Next Payment" Field Added to Sanction Reports
Our member registration feature has had so many new features that it requires a full news update (coming soon). The most recent update allows you to quickly view the most recent and the next sanction payment to be made as part of our automated payment scheduling feature. The last payment and next payment columns are hidden by default and must be enabled via the "Select Fields" menu.

The "Next Payment" column has been added to all sanction reports (team/player/referee) and shows when the payment is scheduled to be charged. If users or teams are not on a plan, or their plan has been fully paid or expired, the column displays as "N/A." 
6. Rooming List CSV Exports: Column Selection
Hoteliers! You can now export only the data that you wish to see. Our system now allows complete customization of your exported rooming list.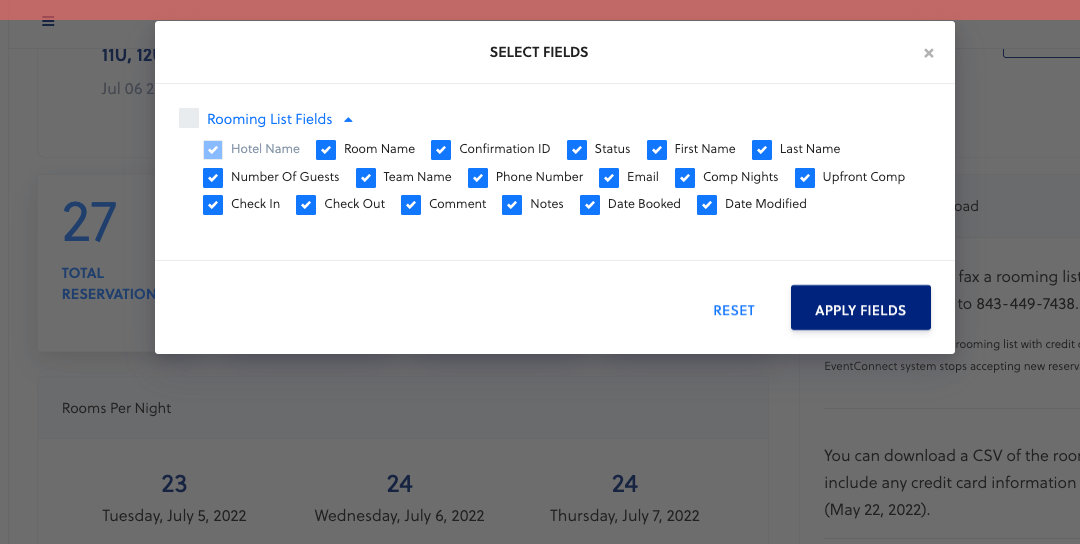 The new "select fields" button opens a menu which enables you to select the fields you want to include in your rooming list CSV export. Beside the "select fields" button is a tooltip that links to a document that outlines the fields and format that are required for Opera's PMS system. .
7. Allow Pending Rosters to Join Events
When you combine member management with tournament registration, you now have the power to create teams with pending rosters. This allows your teams to register for tournaments before their roster is approved. It's a fantastic feature to implement with early tournaments when the teams have not yet been finalized.

8. Move Multiple Teams to a New Division/Rate
We've added the ability for event owners to move multiple Teams to a new division or rate at once! From an event's Registration Report, select as many groups as you'd like, and then in the pop-up menu in the right-hand bottom corner of the screen, click the "Change Division" button.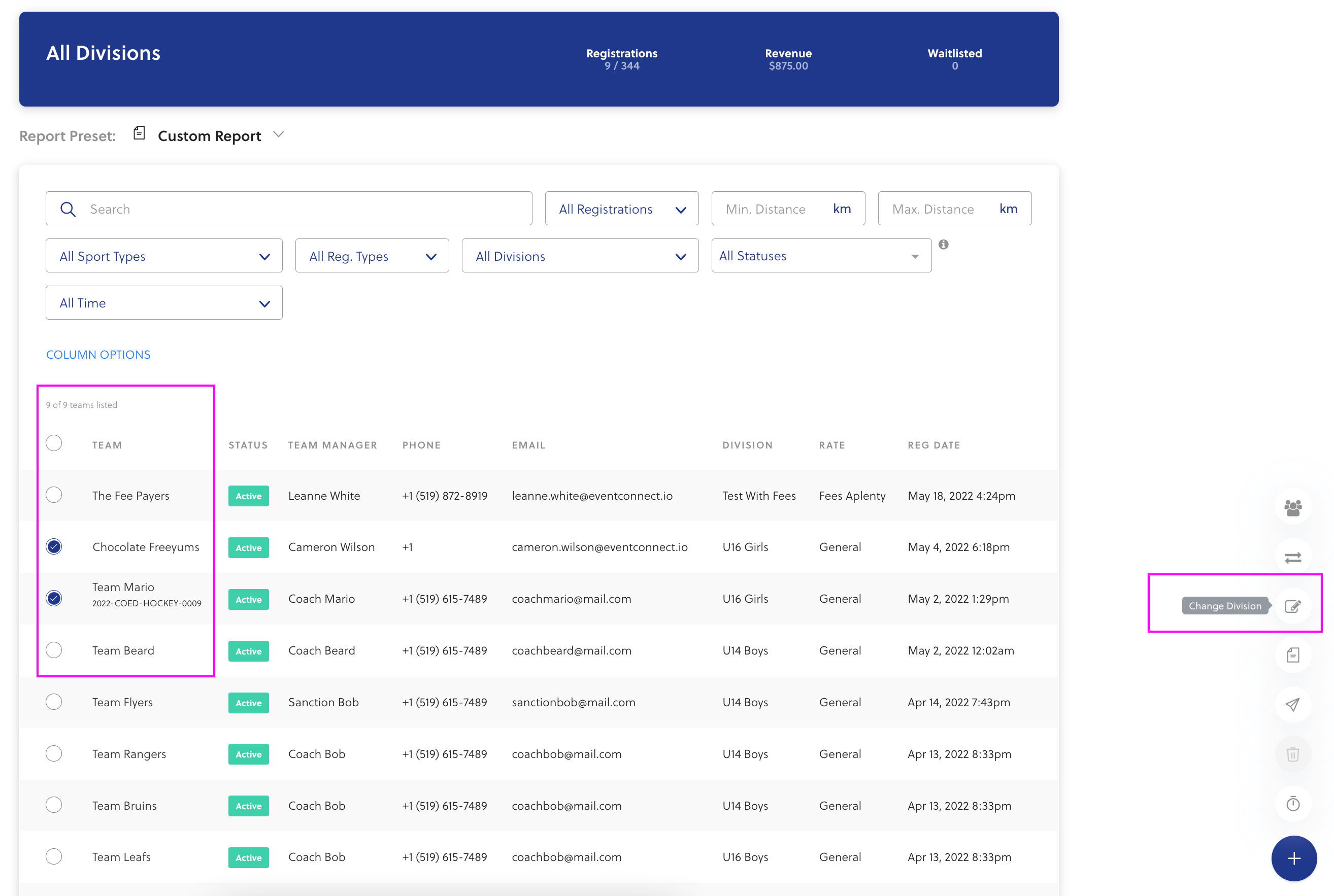 You'll be greeted with a new pop-up menu where you can select a new division or rate.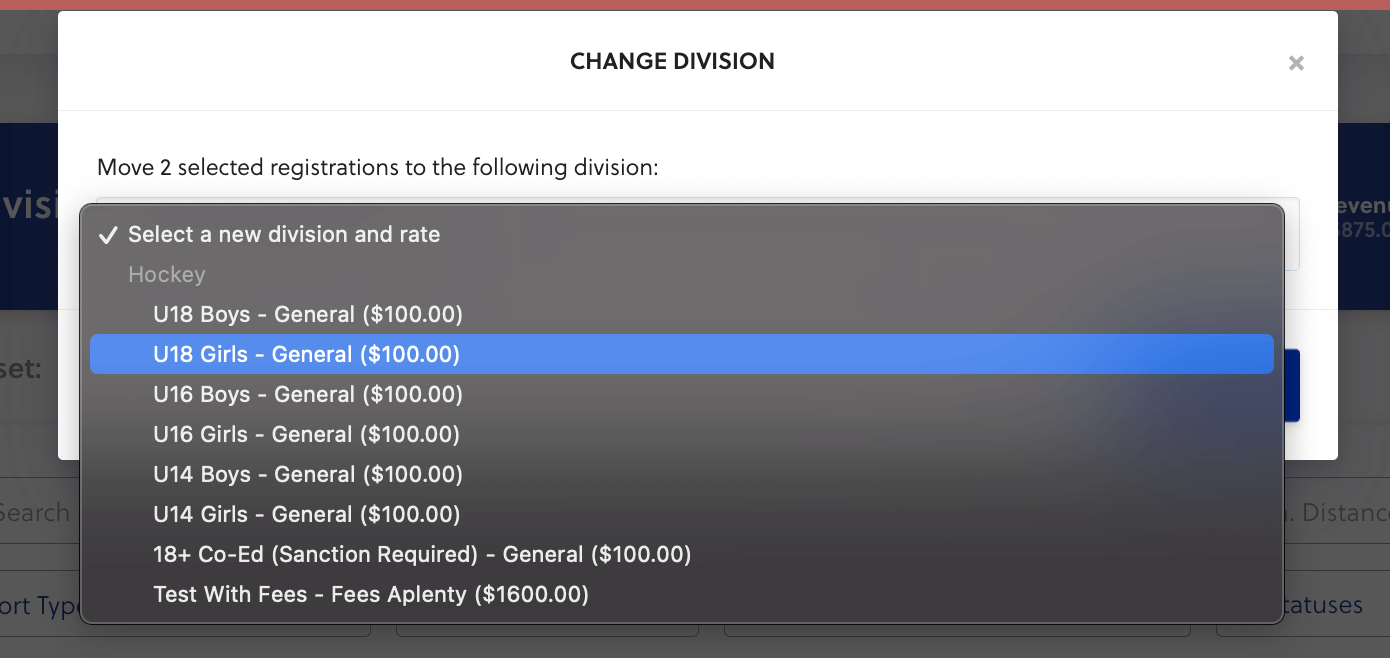 9. Disable Room Block Requests (RBRs) on a nightly basis
We've added the ability for hotel users to disable RBRs on specific contracted nights or shoulder nights.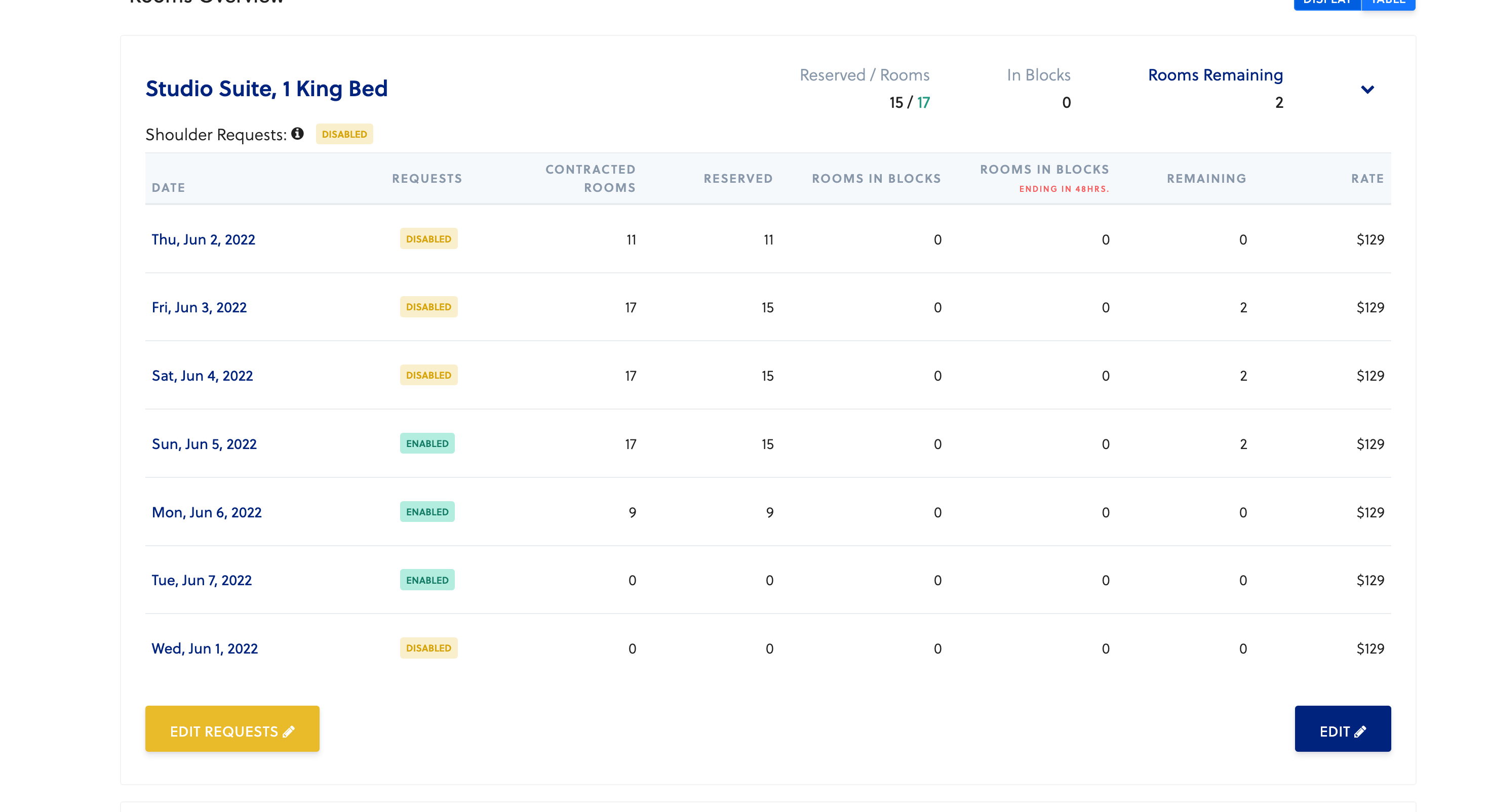 A note is created in the event contract each time requests are disabled or enabled. All room contracts that were previously disabled now have each night individually set to disabled as a result of this update.
10. Hotel Dashboard Reservations – earned comps
The hotel dashboard's rooming list now also displays the number of comp nights used per reservation.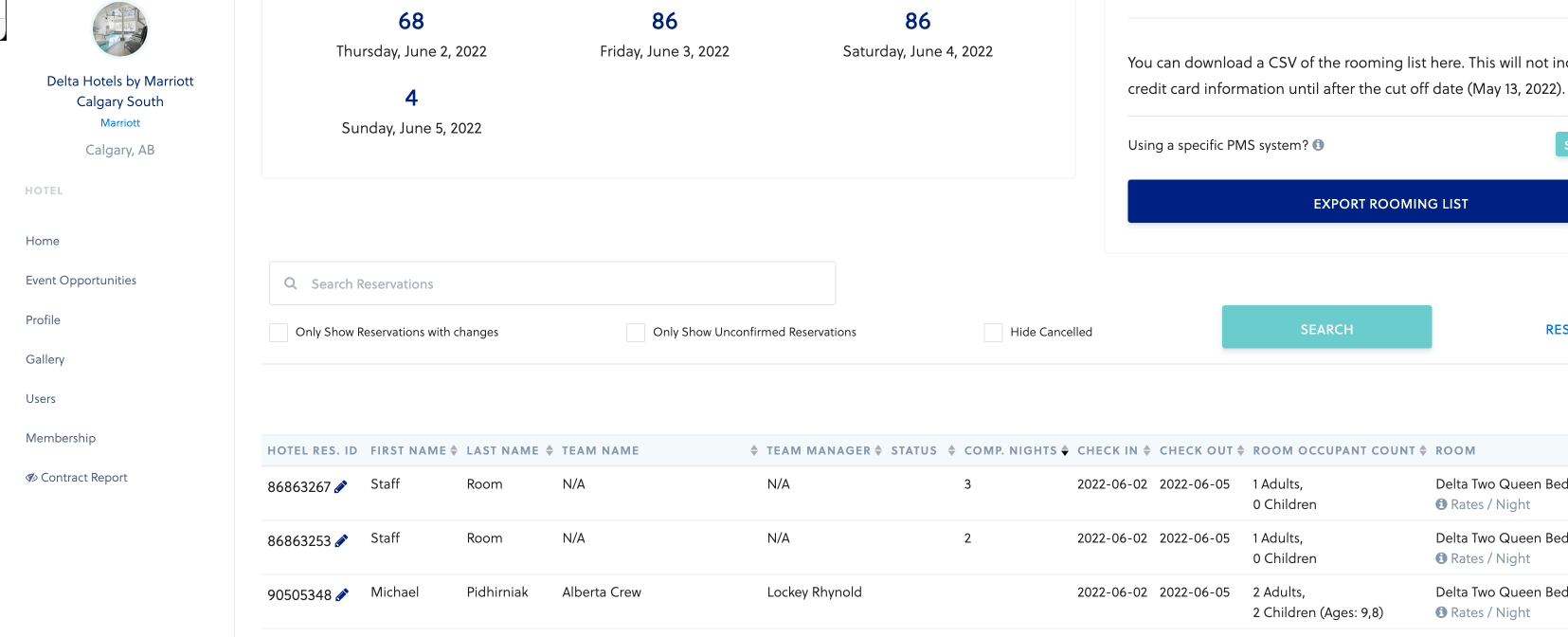 We have also added a dropdown filter to filter rooming lists by reservation type: paid, all comp reservations, only earned comps, or only upfront comps.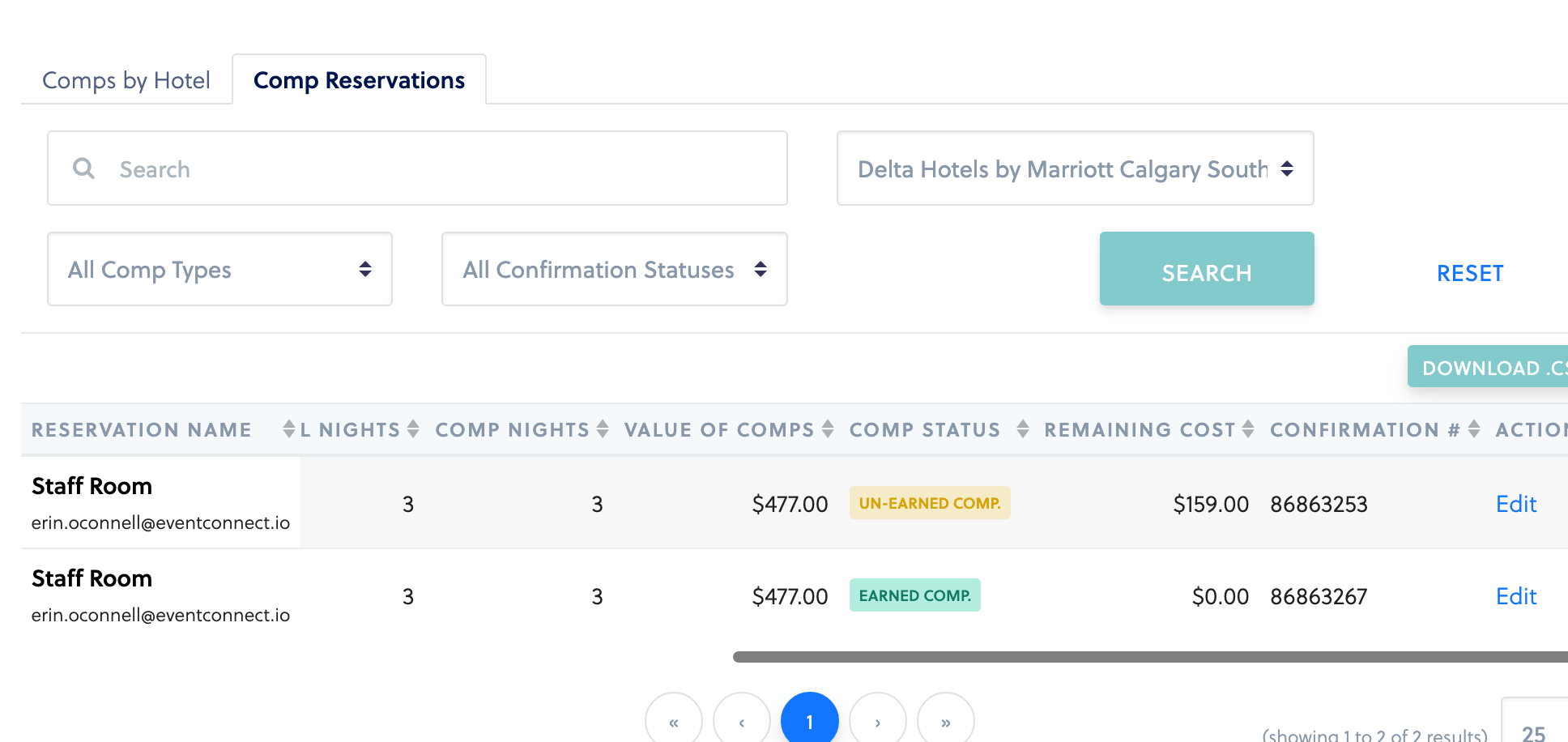 11. Ice Hockey Game sheets
Event owners can now download PDF format game sheets for ice hockey games preloaded with the names of each game's players, coaches, team managers, and referees which can easily be shared with participants!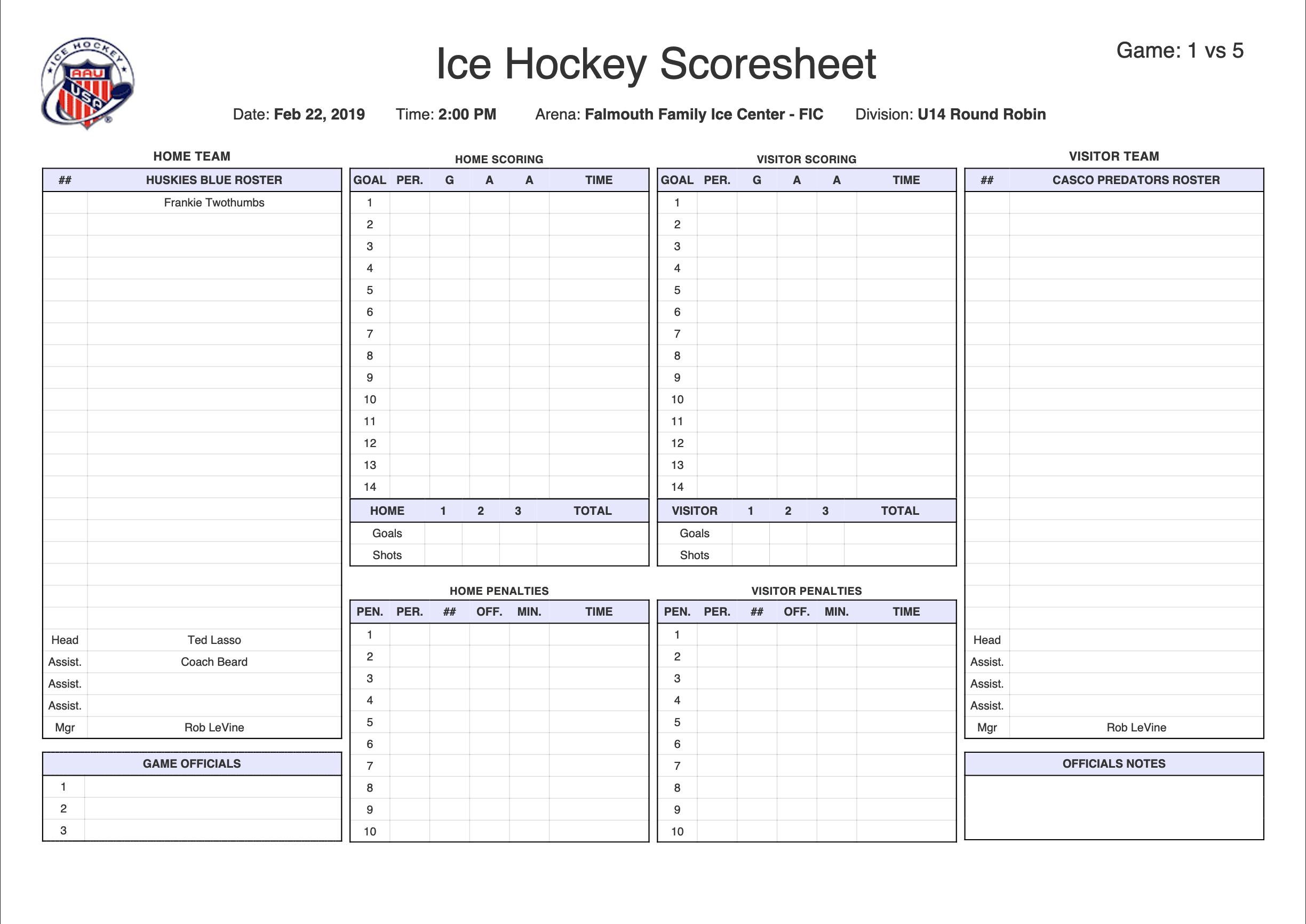 12. Team Manager Reservation Management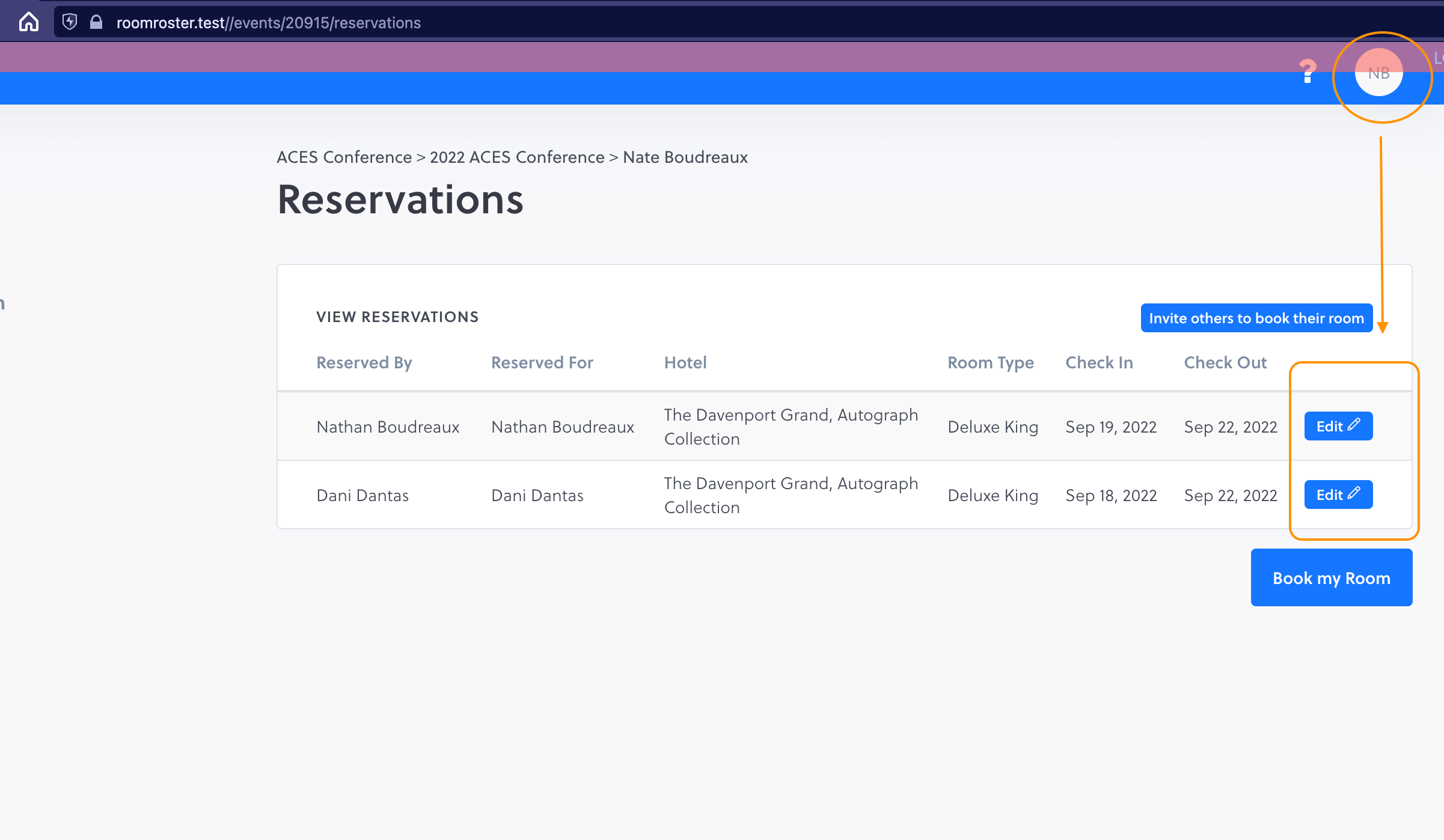 Team managers can now edit their players' reservations to adjust the check-in and check-out date, email, first and last name, or special room requests.
Wrapping up EventConnect's monthly product updates
The EventConnect team is constantly working on improving our software to create a better experience for you and participants across the board. If you want to see how EventConnect can make managing tournaments pain-free, schedule a demo today or browse our features.