Our team at EventConnect is constantly updating the platform to provide our partners and their participants with a better sports tournament experience. Here are some of the main changes we've made to our software over the last month!
Jump to a specific product update:
Event Owners can now create room blocks
We wanted to give event owners (not just team managers) and admins the ability to create room blocks with a specific amount per night, right from the event owner dashboard. Making a room block will allow event owners to ensure an entire team stays together, setting aside multiple rooms at no cost. This addition simplifies a team's accommodation needs, as players are located at the same hotel and ready to hit the field in the morning!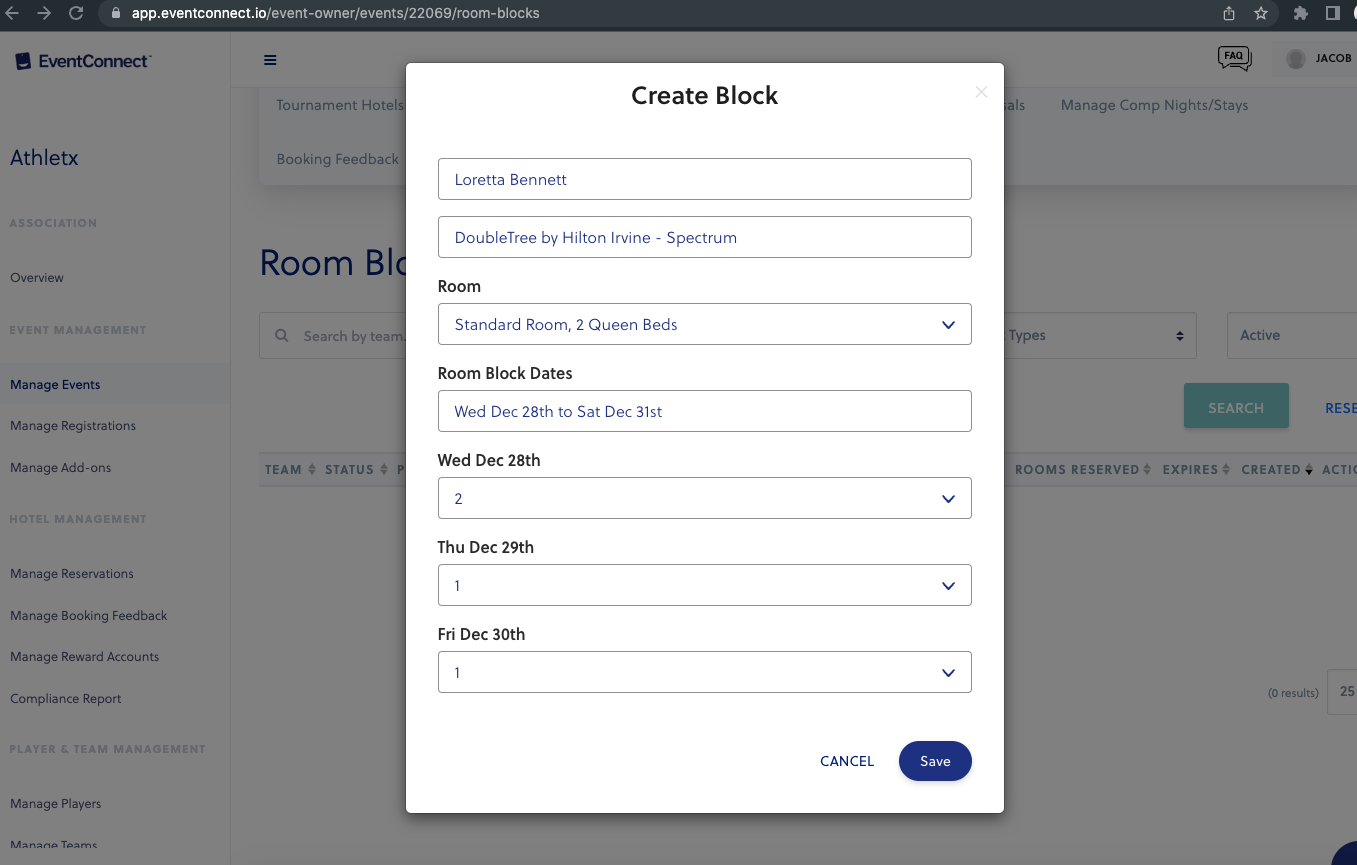 Along with this update, we've changed the "Create Room Blocks" modal on the event owner room blocks page.
After selecting a team, hotel, room, or room block date, instead of only showing one "Number of rooms" dropdown, we've created a dropdown for each of the nights specified in "Room block dates," minus the last date. 
So, for example, if room block dates are Jan 1, 2022-Jan 5, 2022, it will create a dropdown for Jan 1, Jan 2, Jan 3, and Jan 4. Each date will also show the maximum amount available for that night to block.
Coupon input during player onboarding
Our team has made many updates to coupon flexibility. The first is the ability for coupons during the player onboarding process to discount membership fees. This feature does not discount merchandise or convenience fees, however, and also shows membership fee credits listed in appropriate areas, such as the "Payments & Dues) tab.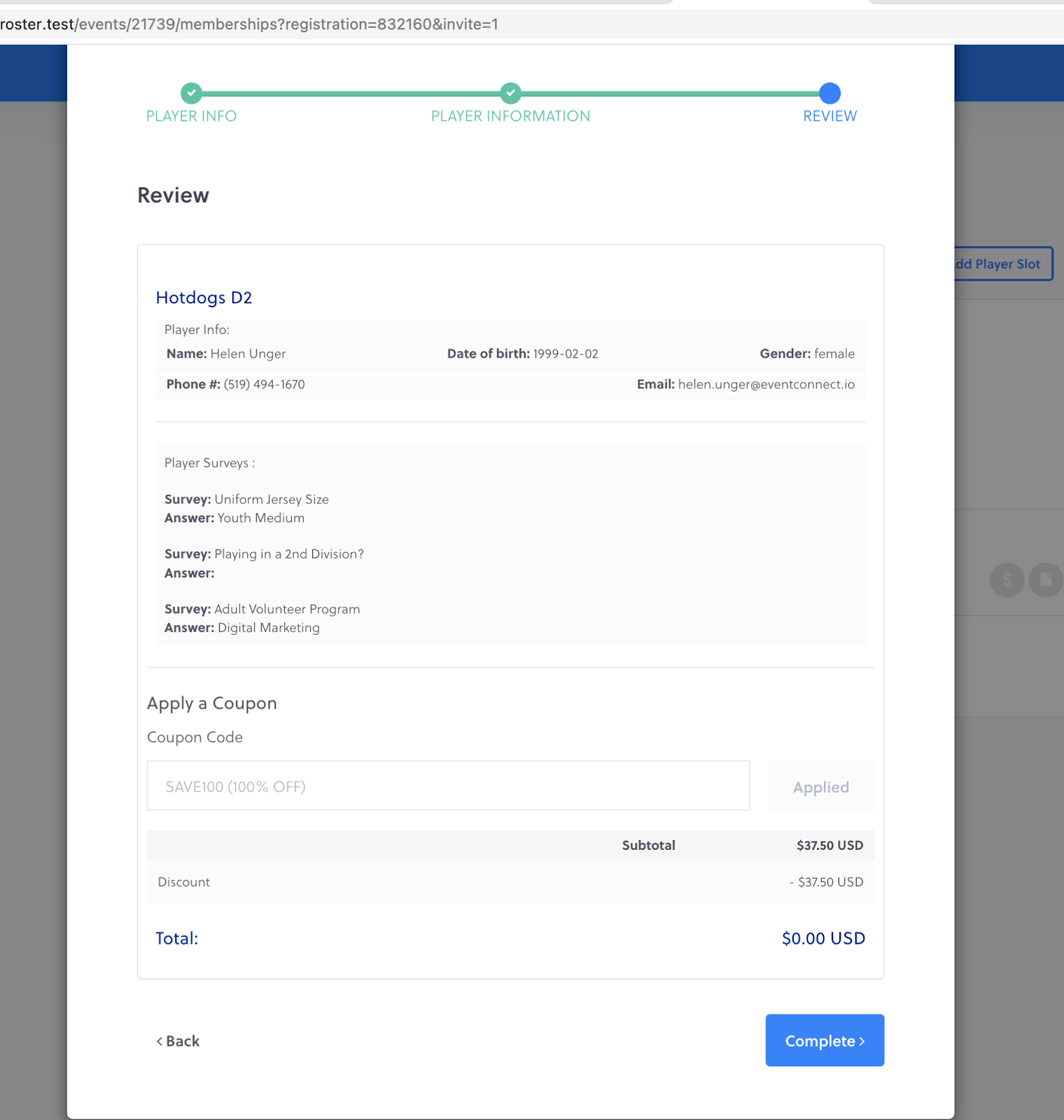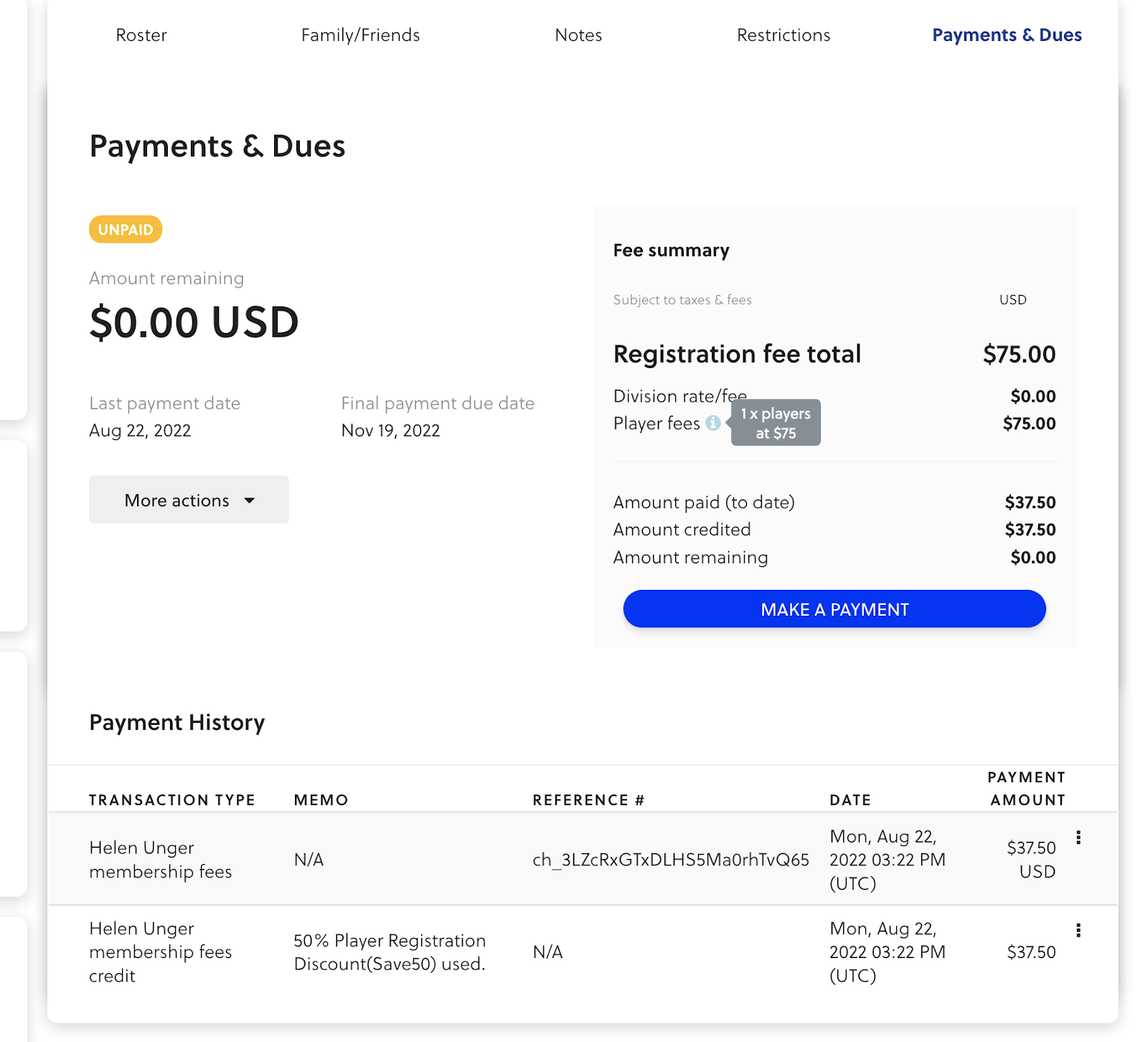 Apply coupons during the registration flow
When a team redeems a coupon during registration flow, it will continue to apply to the rate and membership fees. The priority will be the first registration rate, membership fees, the following registration, and so on.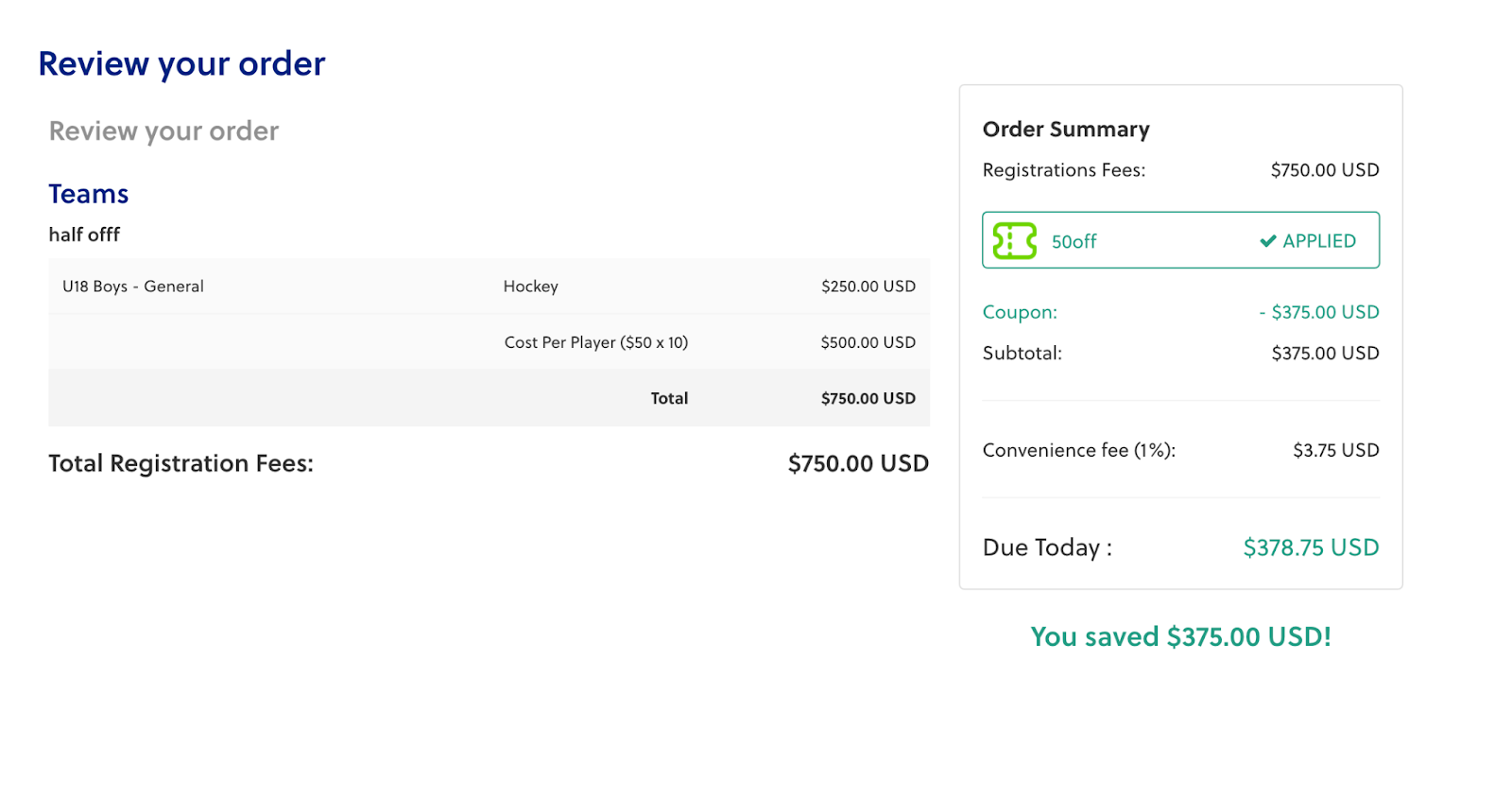 Coupons work in player slots modal
Registration coupons can now be used in the player slots modal when a team manager is required to pay fees on the team dashboard.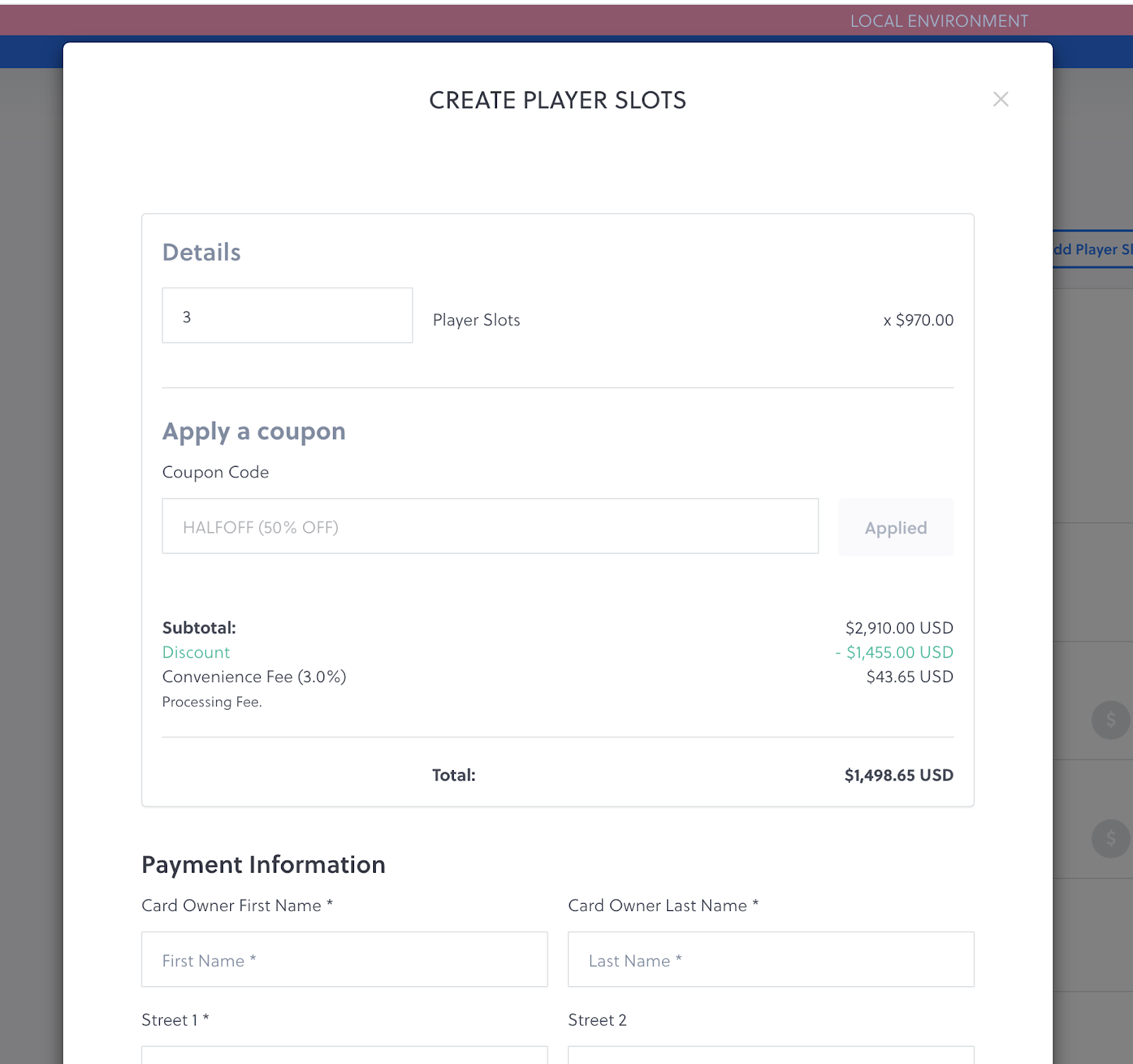 Apply coupons for remaining membership fees
Coupons entered on the remaining pay page also apply to all/selected membership fees on registration. If the coupon is of a dollar amount, the rate gets priority, and the remaining gets used for any selected membership fees.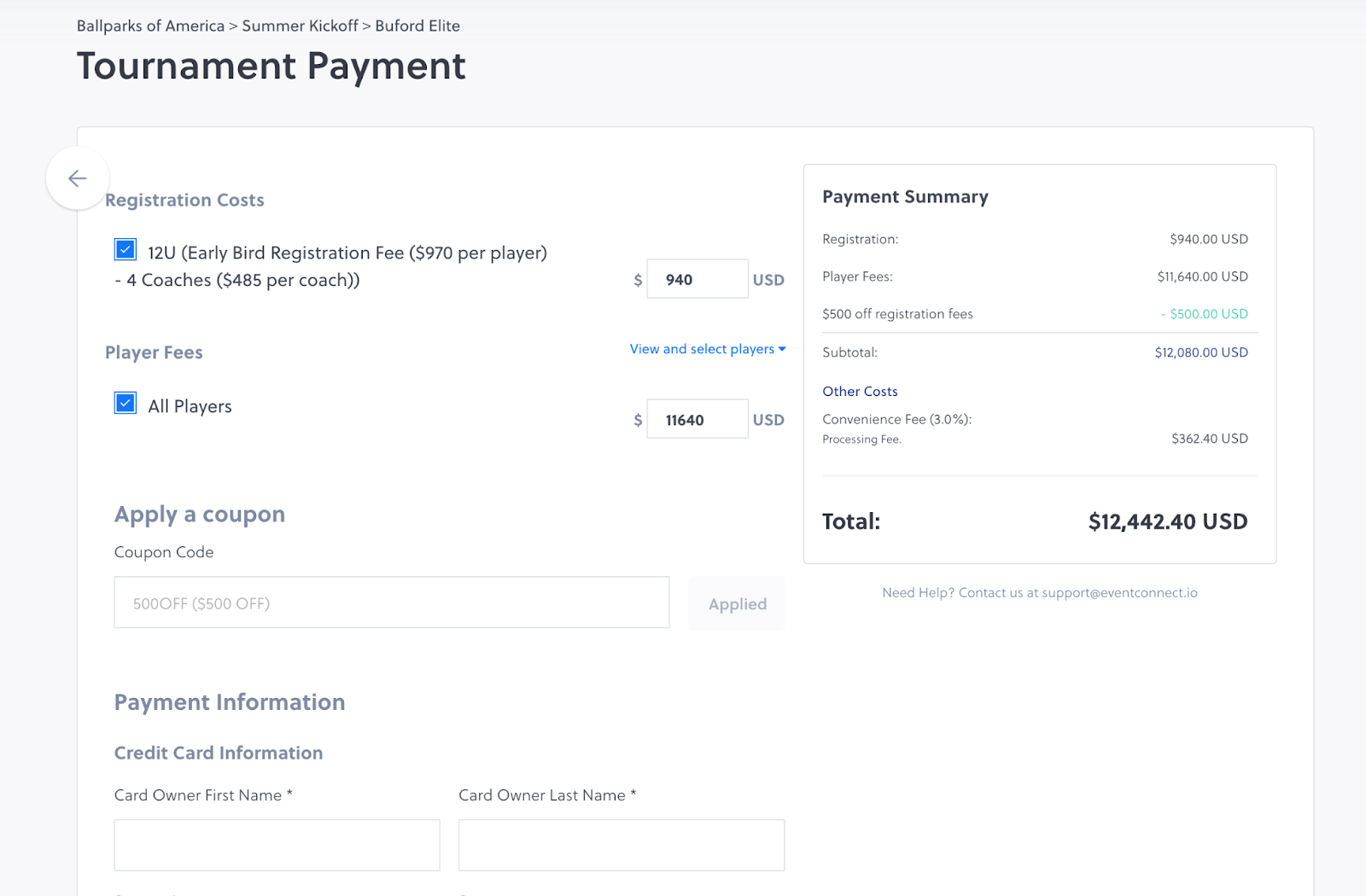 Disable manually adding team members to events
Some events have custom players questions and add-ons we want to market to players when they join a team. However, there are instances where coaches manually add in all these players through the team dashboard, which means they don't see either their custom questions or the add-ons. That means missed data and revenue!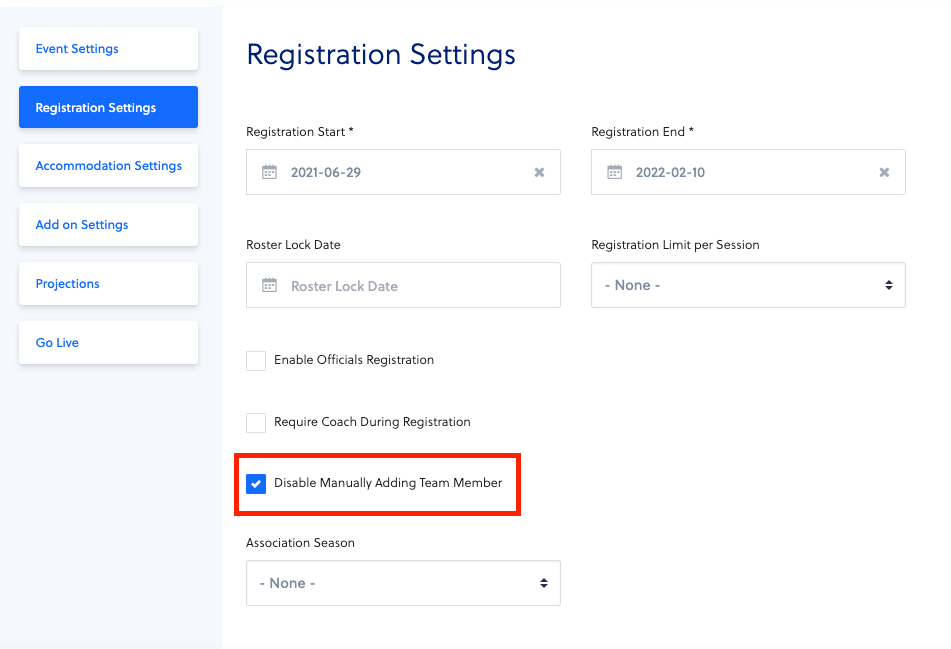 Now, you can force players to join through the invite link. In an event's registration, you will see a setting to disable coaches' ability to manually add team members and require them to use an invite link.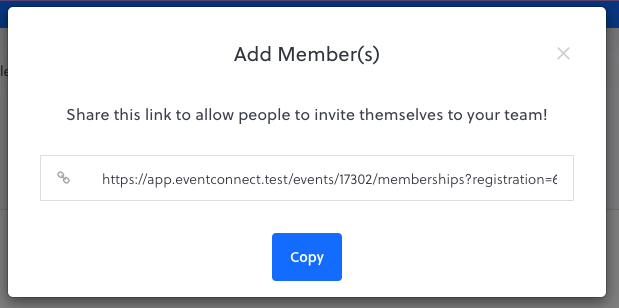 Coaches will have to share this link when adding members, meaning that partners don't miss out on any add-ons or merchandise sales and get the information they need from participants.
Add jersey numbers to participants/players
Event owners and team managers (or any person with permission to manage a team) can now edit or create new players and enter a jersey number that will show up next to their player label. This flexibility helps partners keep player data organized as they run their events. More updates on this feature are coming soon!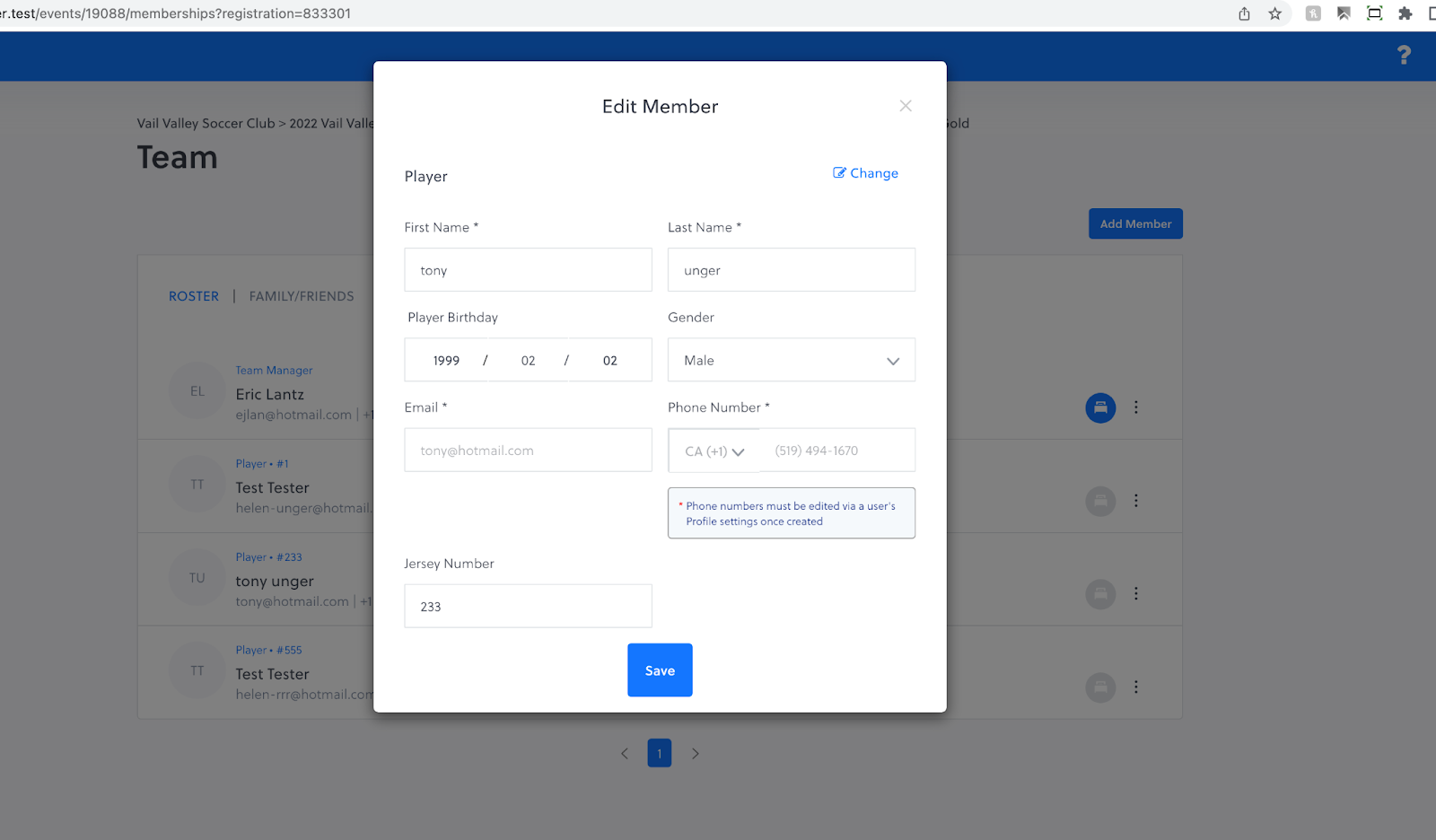 Open feed – option to extend search size
Our platform had a set radius for displaying additional inventory available to an event. This would cause problems when a hotel sells out in a specific city or market. We can now expand our search to bring in more hotels! 
The Open Hotel Feed now has an additional "Distance Radius" filter with the options of 25 miles, 50 miles (default), 70 miles, and 10 miles. This dropdown filter option will only show if there are no procured hotels.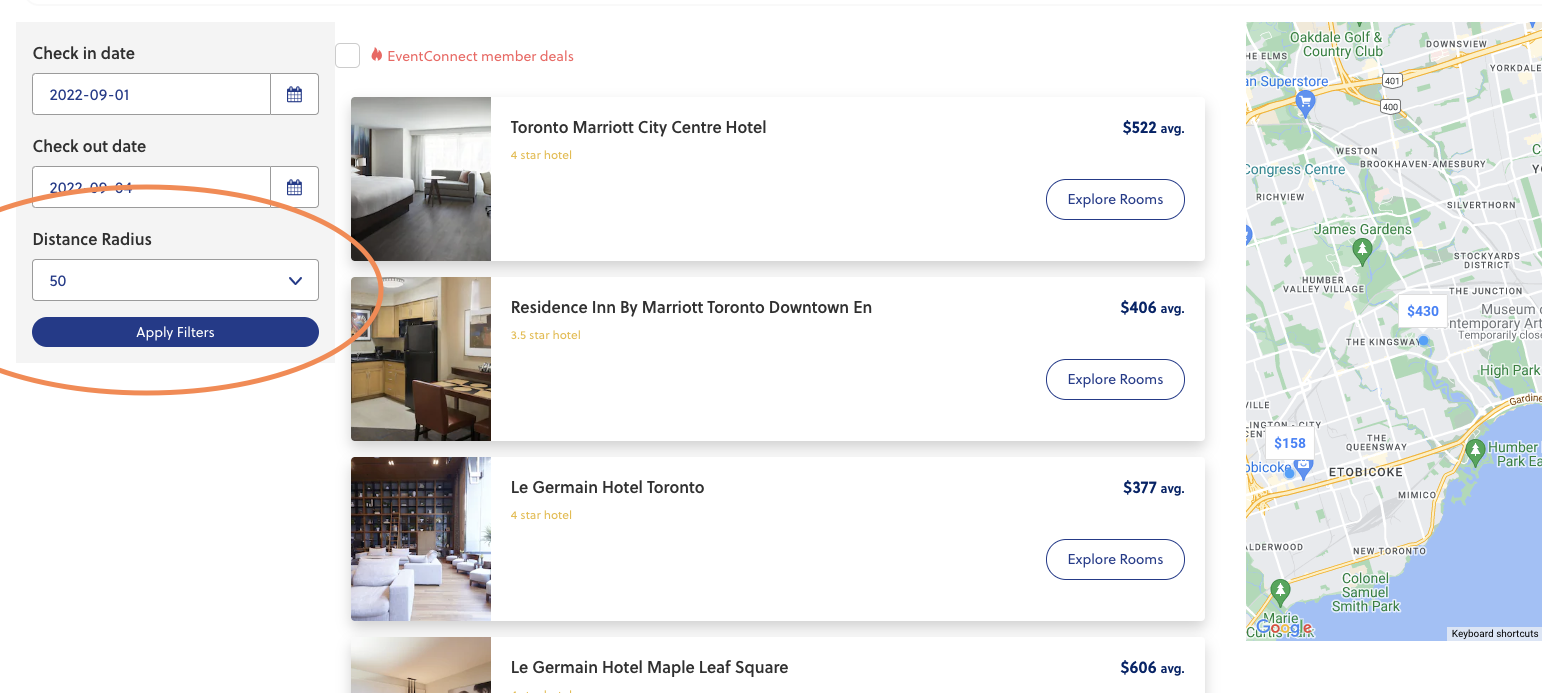 If participants need a room and there's nothing available nearby, they can still secure a hotel to make it in time!
Wrapping up EventConnect's monthly product updates
The EventConnect team is constantly working on improving our software to create a better experience for you and participants across the board. If you want to see how EventConnect can make managing tournaments pain-free, schedule a demo today or browse our features.