Our team at EventConnect is constantly updating the platform to provide our partners and their participants with a better sports tournament experience. Here are some of the main changes we've made to our software over the last month!
Jump to a specific product update:
1. Event bulletin board
Need to announce something to your participants? No problem. Event owners can now create, edit, and delete bulletin board posts. Use these to update players and families about venue or weather changes, directions, and important news. These posts will appear on all Team Dashboards and mobile app associated with the event and are ordered by the most recent.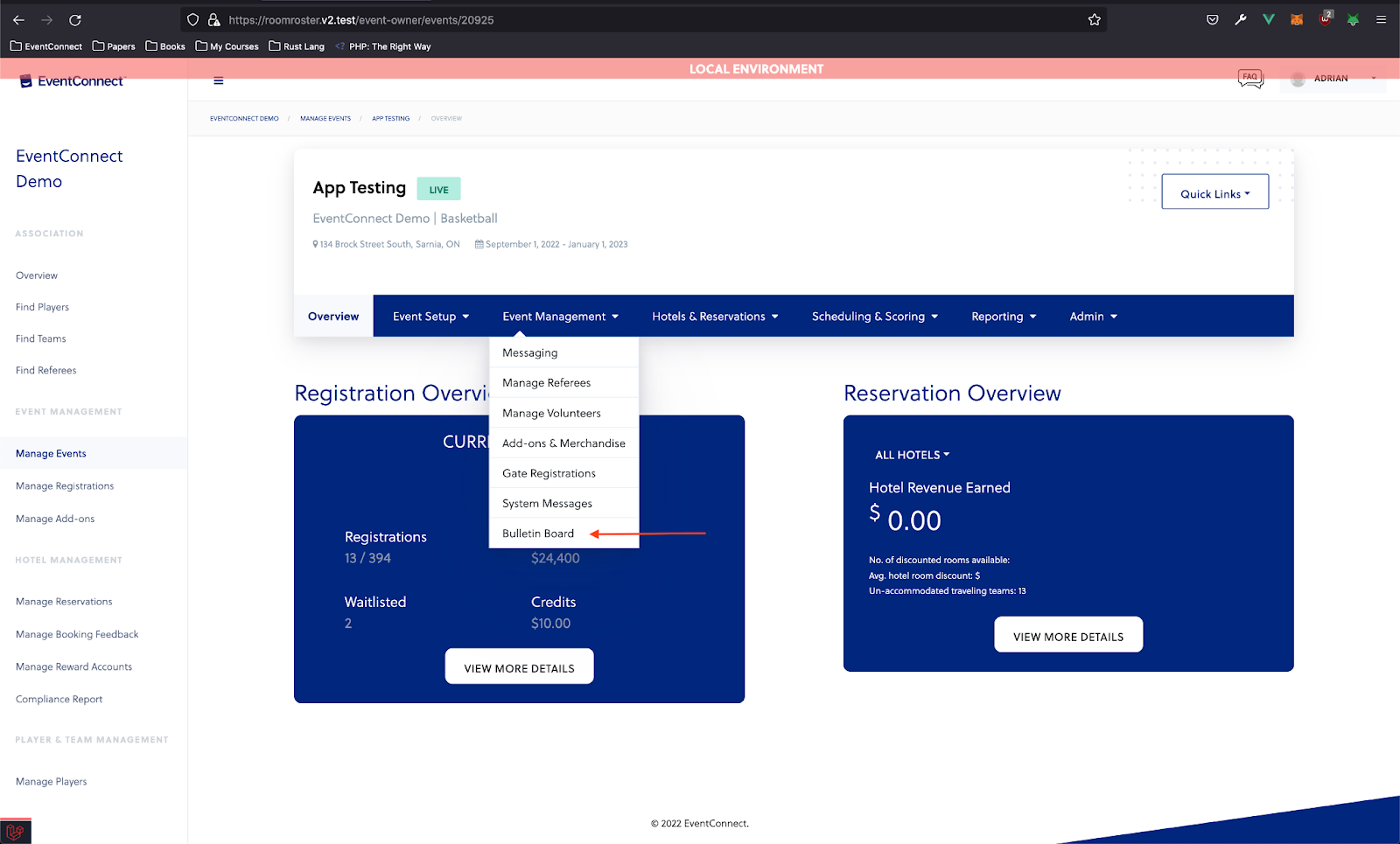 Clicking on the post preview will open a popup with the post's total content.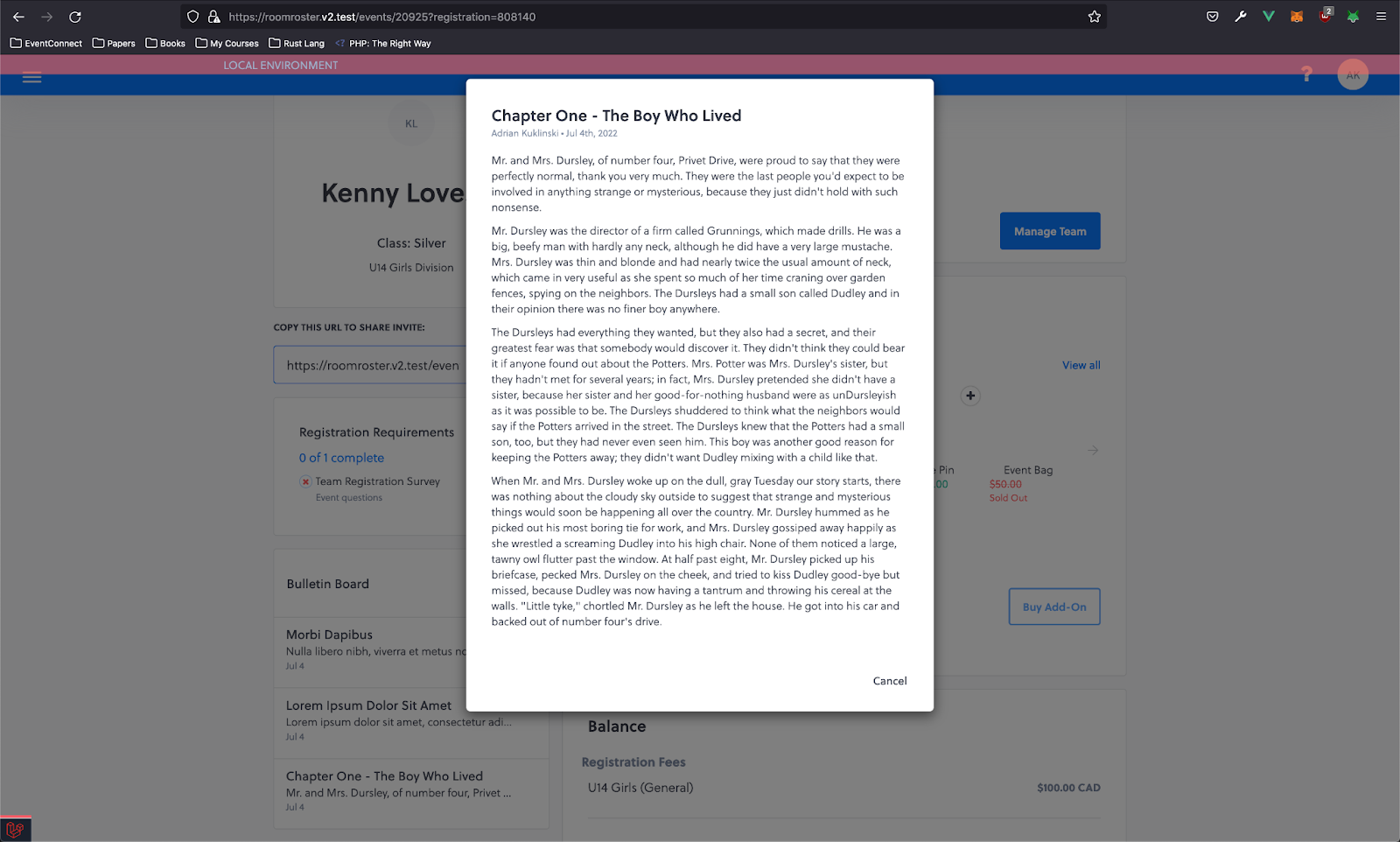 Be on the lookout for future updates on this feature too. We'll be adding the ability to show "Read" and "Unread" post notifications. 
2. Additional registration charges
We have a pleasant surprise for you if you need to cover costs and drive additional revenue. Admin and event owners can now add additional registration charges to their events' registration after registration. Great feature when you need to add costs for things such as game fees or costs for bringing more coaches to an event. This new "Add Charge" feature can be accessed through the following pages:
Association Manage Registrations page: select one or more teams, and an "Add a Charge" button will appear in the bottom bar.
EO Registration Report: select one or more teams and select the "Add Charge" dollar bill icon on the right-hand side menu.
EO Registration Dashboard: Click the "Payments & Dues" tab and select "Add Charge" from the "more actions" dropdown menu.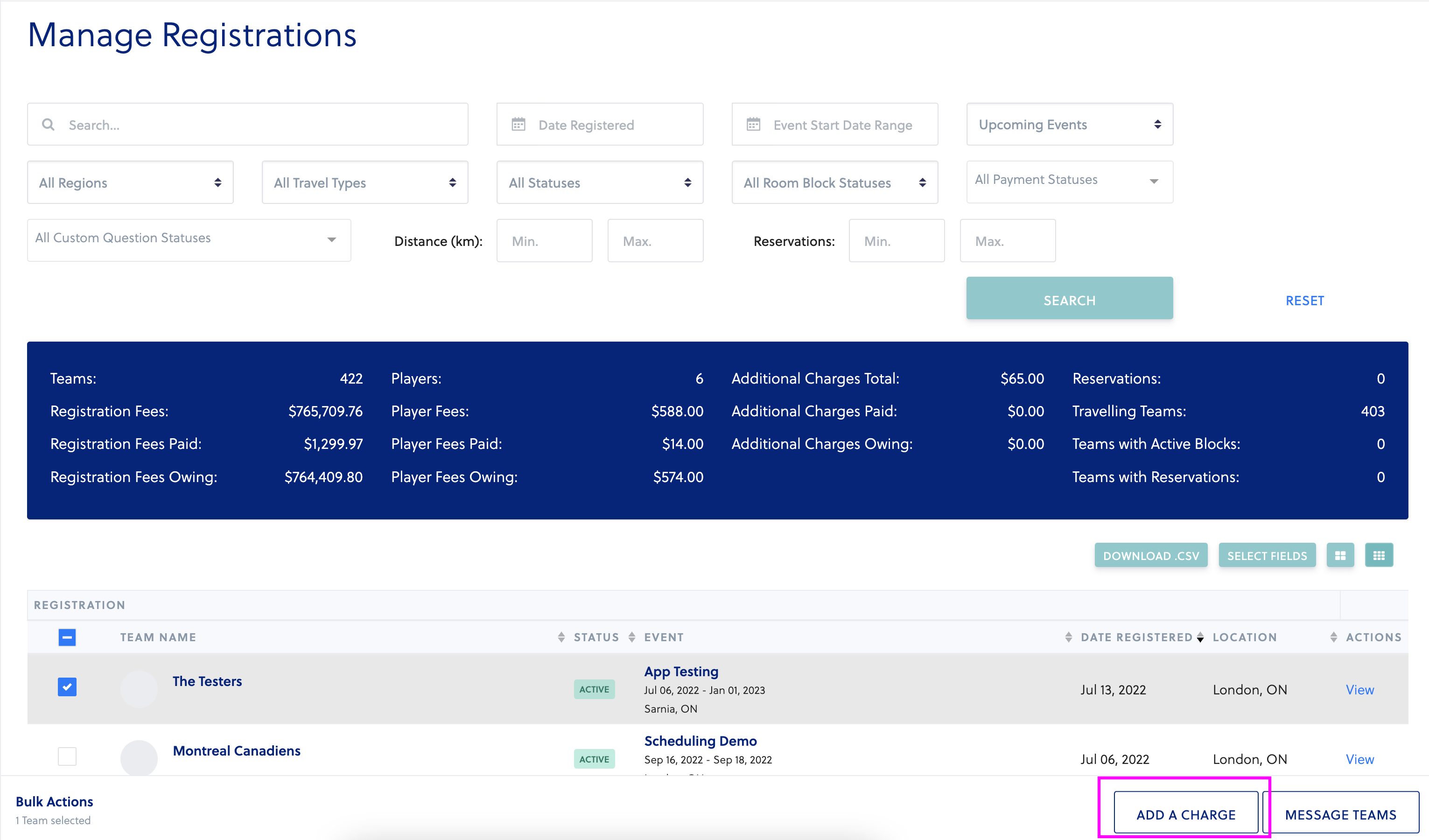 Remember that this update requires the "registration charges" feature toggle to be enabled first.
Adding a charge will allow you to add the price, the name of the charge, and an optional description that can be seen on the brand new "Payments & Dues" balance card. This charge gets lumped in with Registration costs. Team managers can see any added charges in a breakdown on their Tournament Payment page.
Reporting has also been updated to reflect additional charge costs owing and paid.
3. Disable partial payments
We have added a setting in the event financials page to disable partial payments if you wish (the default is that participants can pay partial payments). This option is handy when you want to get more cash upfront to fund your event and simplify your financials—no more running around trying to get the rest of the payments.

If enabled, on the payments page forteams, they are not able to modify the amount they are paying; they can only choose what they are paying for.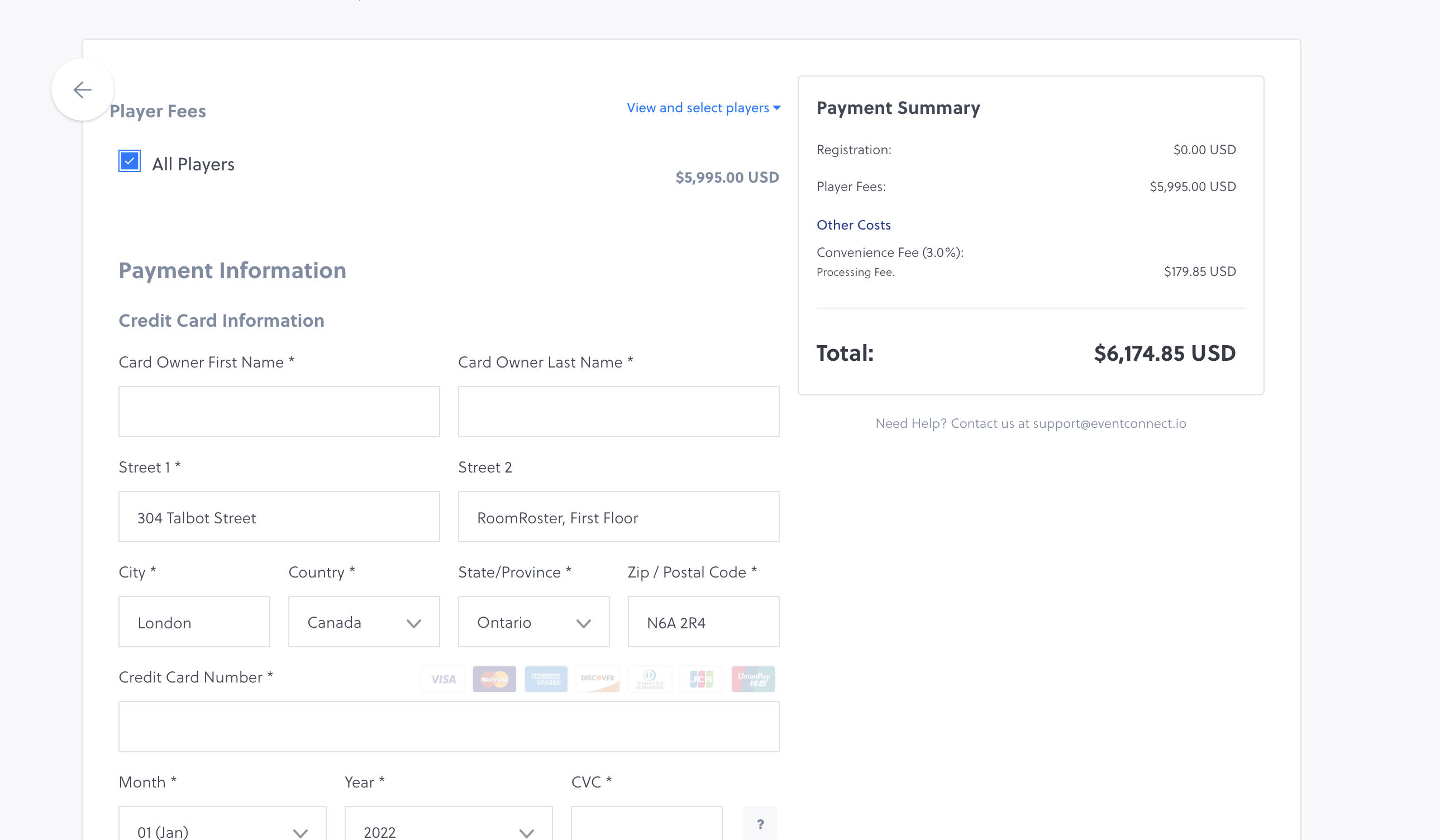 For example, they can pay the first $500 of their $1,000 rate if partial payments are enabled. If an event has partial payments turned off, they'd have to pay the total $1,000.
4. SMS messaging templates
We store SMS Message templates in our system but didn't have a quick and easy way for event owners and admins to use them. Our partners wanted the ability to simply select from a dropdown of message templates on the messaging portal and have it pre-fill the textbox.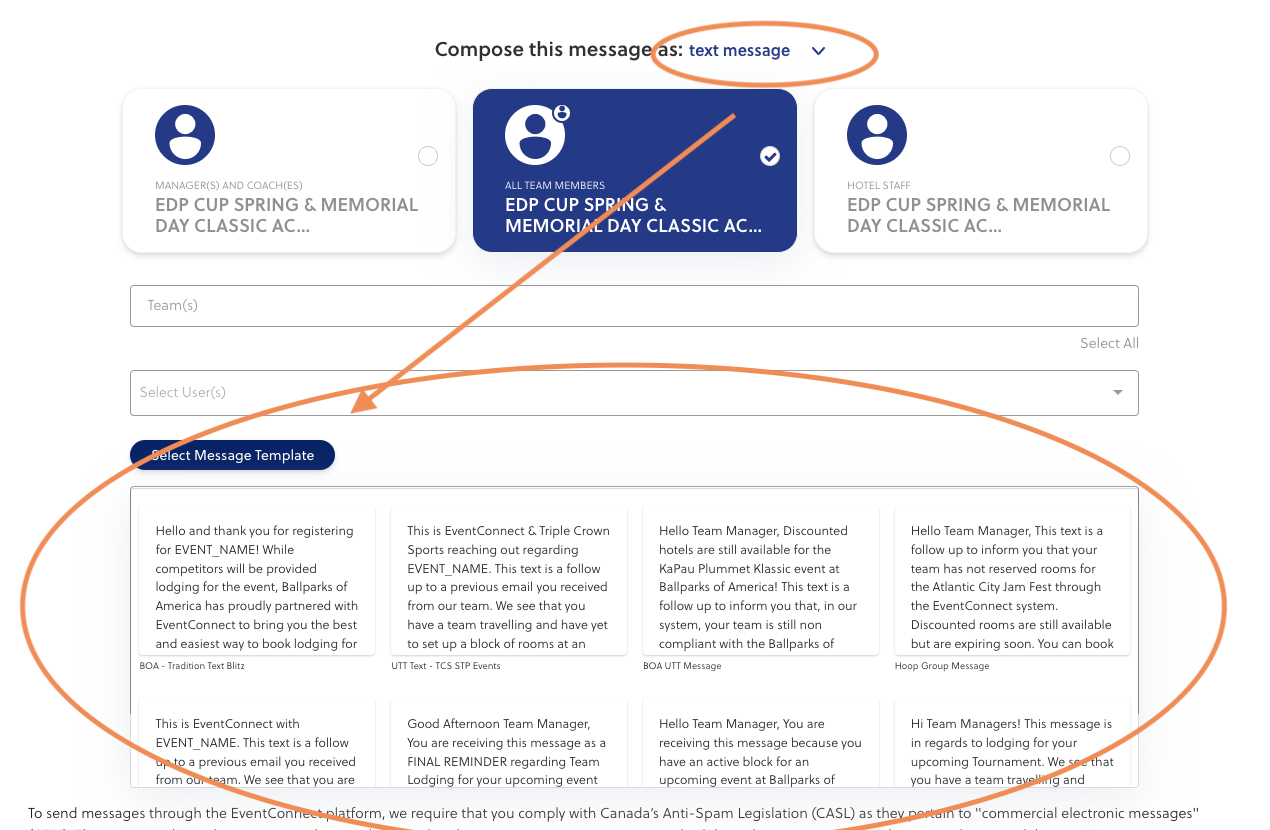 We listened, and now on the association and event owner messaging page, if a user has admin access, they can select any of our SMS template messages the same way they choose email templates. This option makeid="update1″s it much easier and quicker to send out mass communications to participants for updates and news.
5. Added Pre Auth Forms To Comp Rooms Table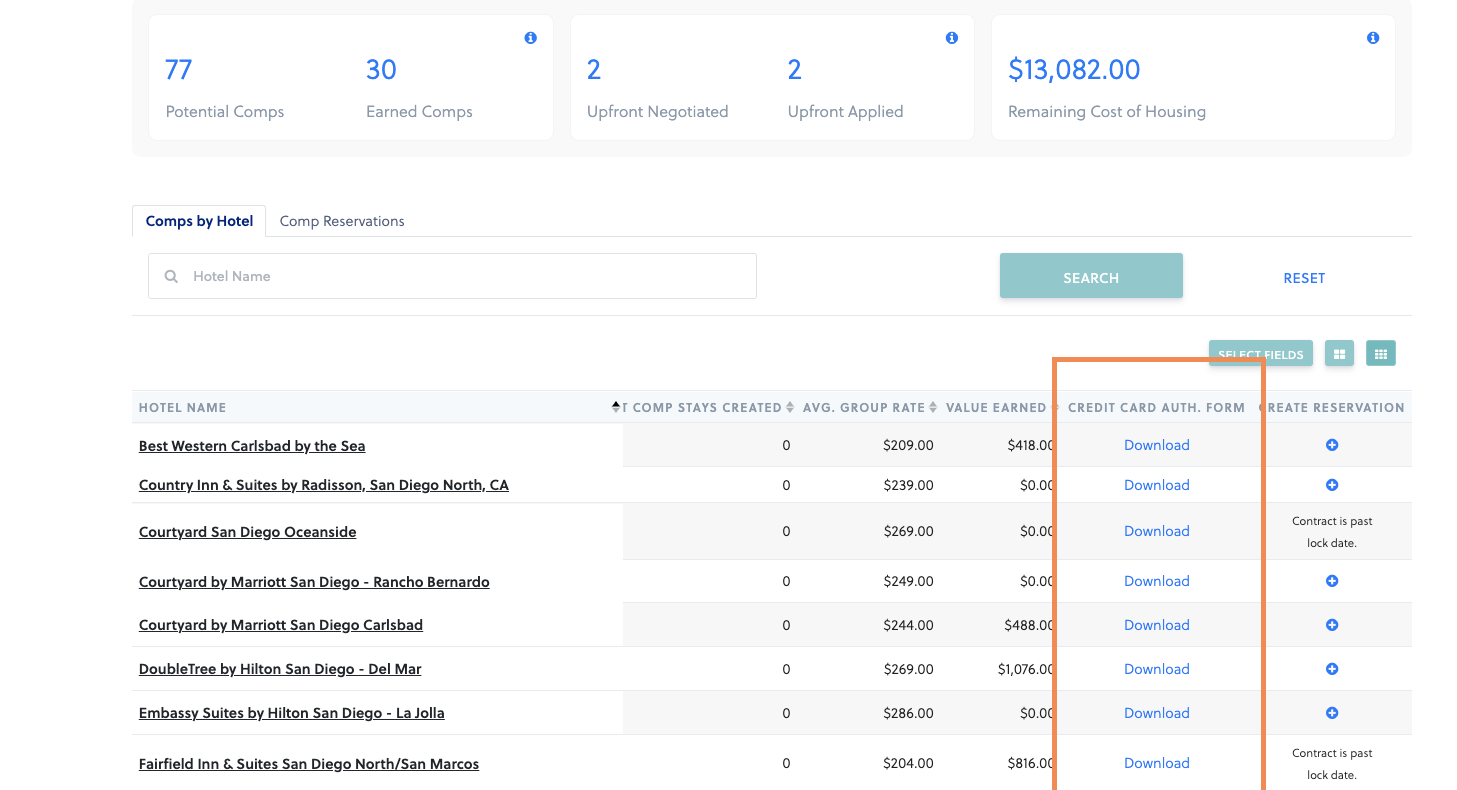 Event owners had trouble finding their credit card authorization forms that are auto-generated on the hotel event reservations page. Now, on the event owner comp reservation page, we've added a new column if there's an incidental credit card set on the event. It links out to the credit-card pre-auth form for each hotel, so it's easy to find.
6. Empty comp reservations notifications
With this update, EventConnect reminds event owners several times (14, 7, and 3 days before lock) about comps with missing information. Sometimes there may be comped reservations with missing data, and the last thing you want is to get charged for a room that doesn't get used or an unhappy participant.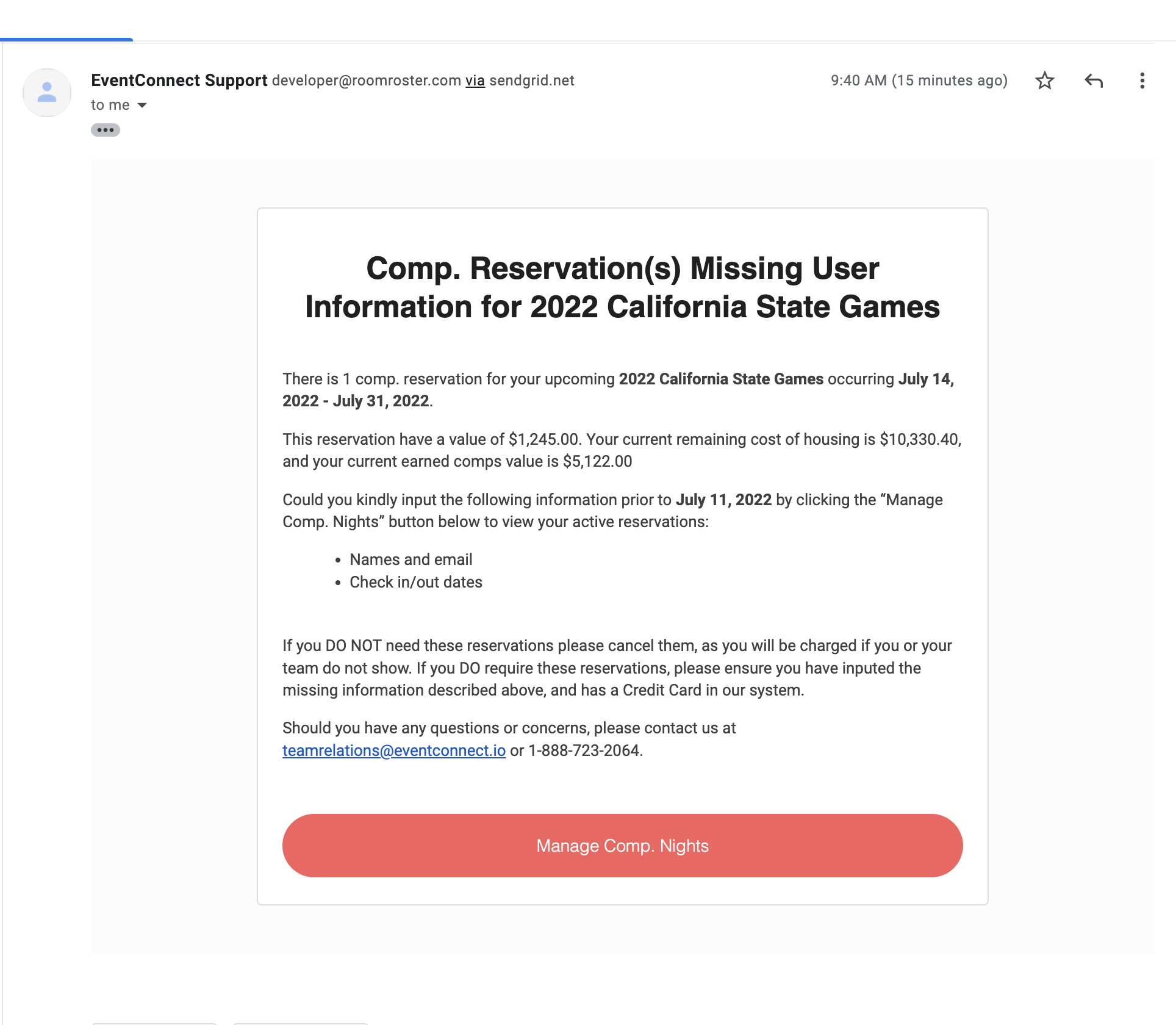 Event owners are alerted of reservations in our system with empty names and/or emails, to let them know that these are valid reservations, so they need to input the correct information or cancel the reservation(s) if they're no longer needed, or they will be charged.
7. Hotel feed sidebar filters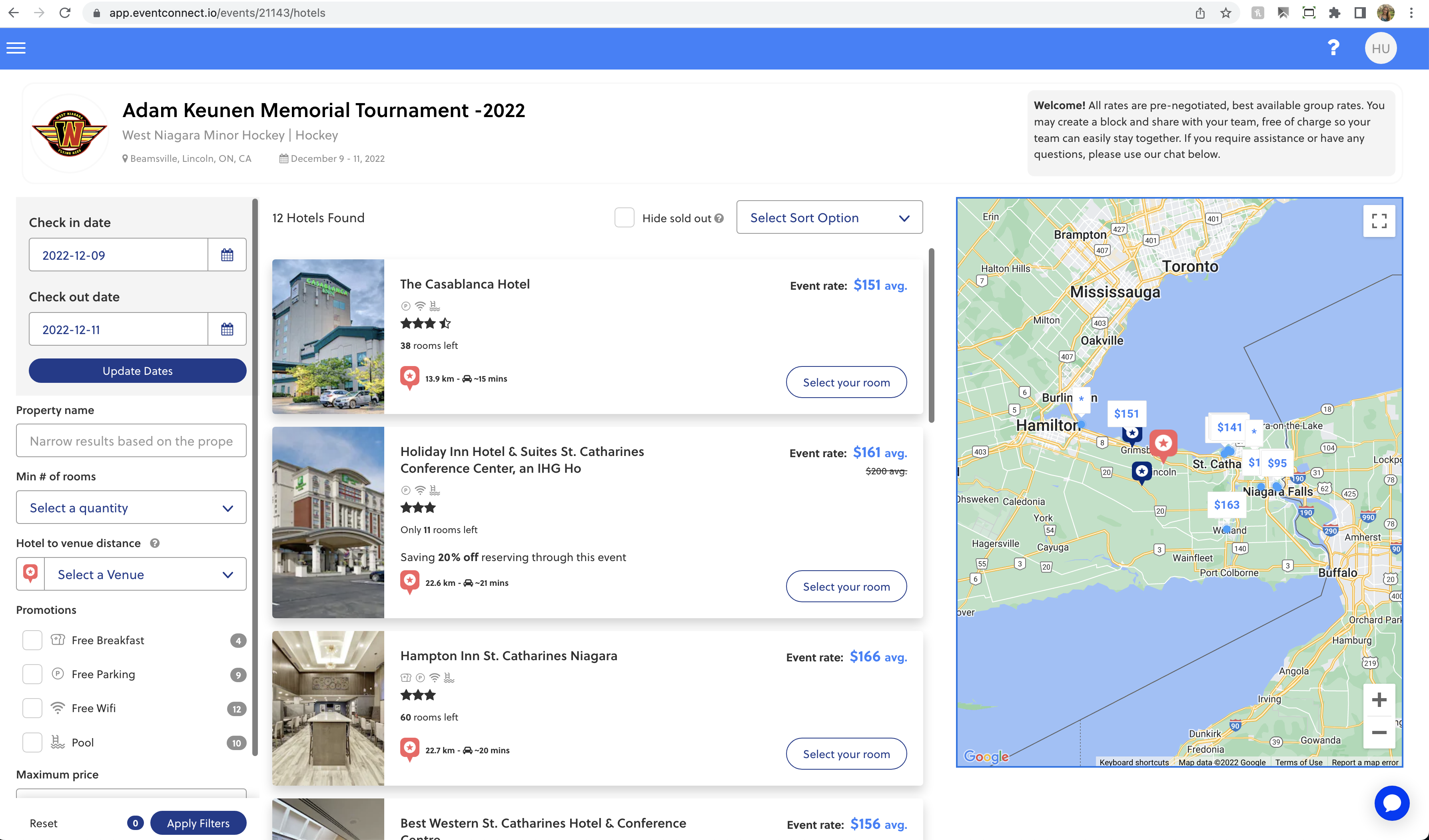 The hotel feed has been upgraded! The filters can now be found in a sidebar on the left. Your event participants will have a better time navigating available hotels to their liking.
8. Individual merchandise redemption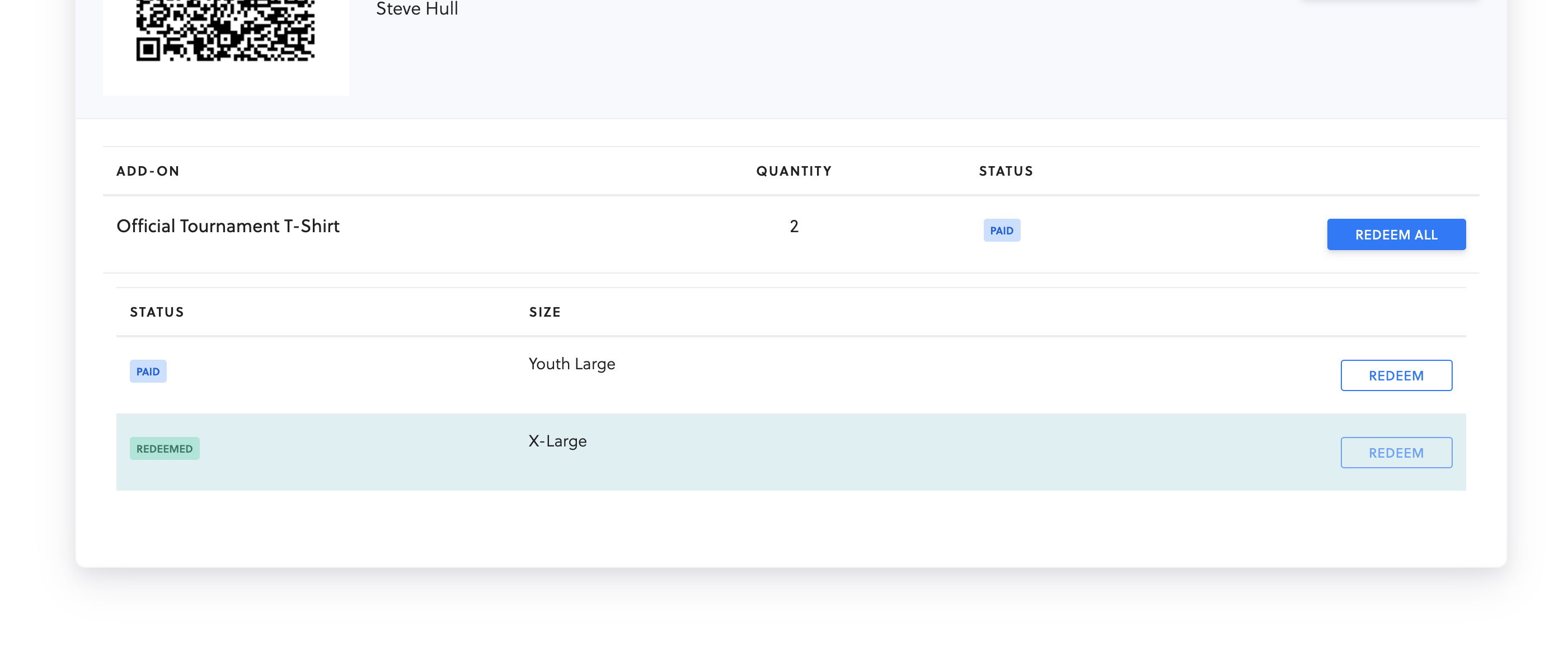 We've updated the event owner merchandise order page so that partners can redeem partial quantities instead of an entire order item. For example, like above, you may want to just fulfill a particular sized line item (the t-shirt) instead of all. This option is useful when you run into inventory issues and don't have everything on hand.
9. User home purchase history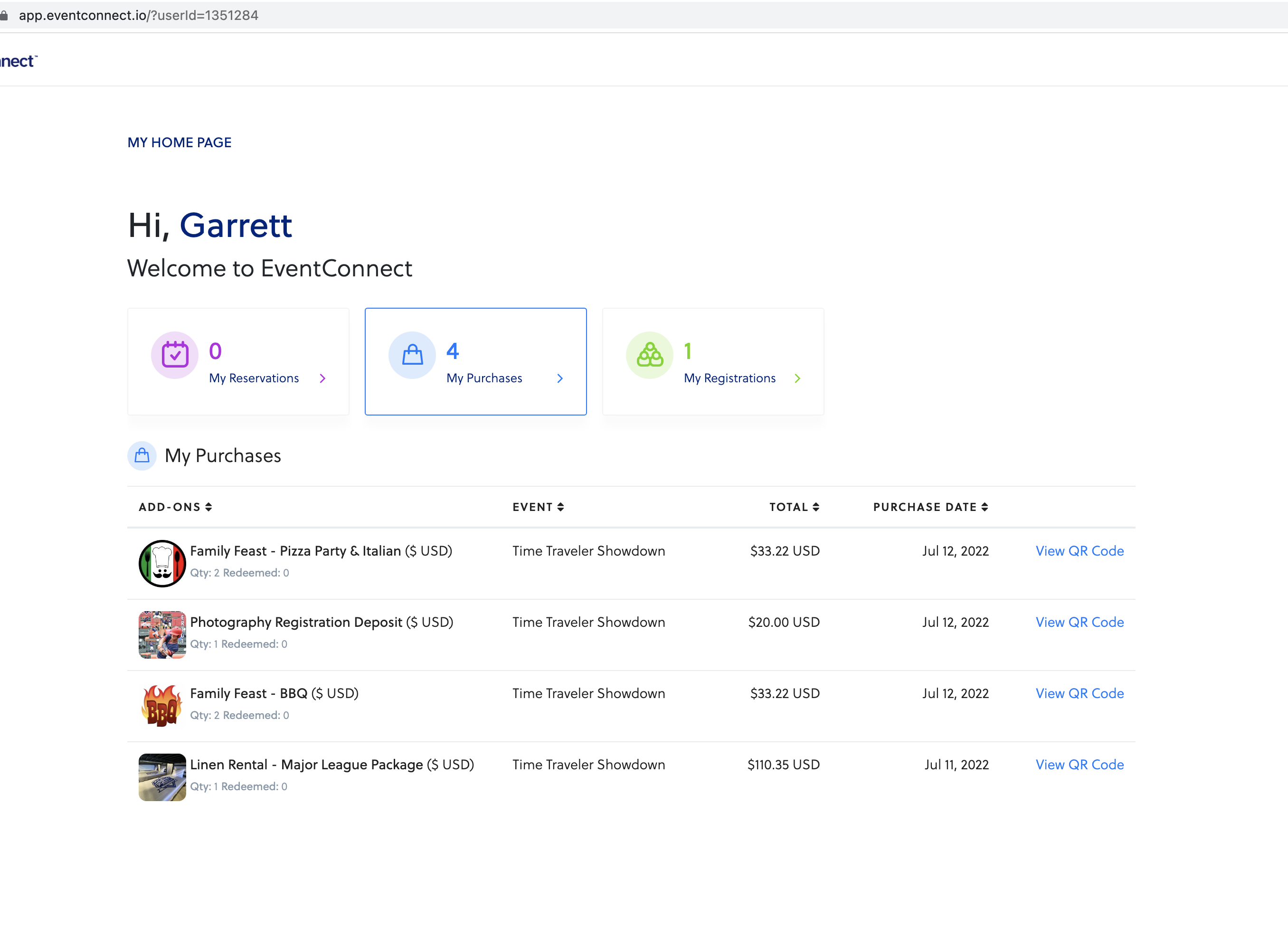 Can't remember if you've pid="update1″aid for a parking ticket or add-ons? No problem! Our team has added a card to the user's home page to see all purchases (merchandise orders) quickly.
10. New room type management page
Hoteliers! We've added a new page for editing room-type information on the hotel dashboard. This option organizes rooms on a table and allows mass editing of room info. You can use this to save time when room changes, occupancy, etc.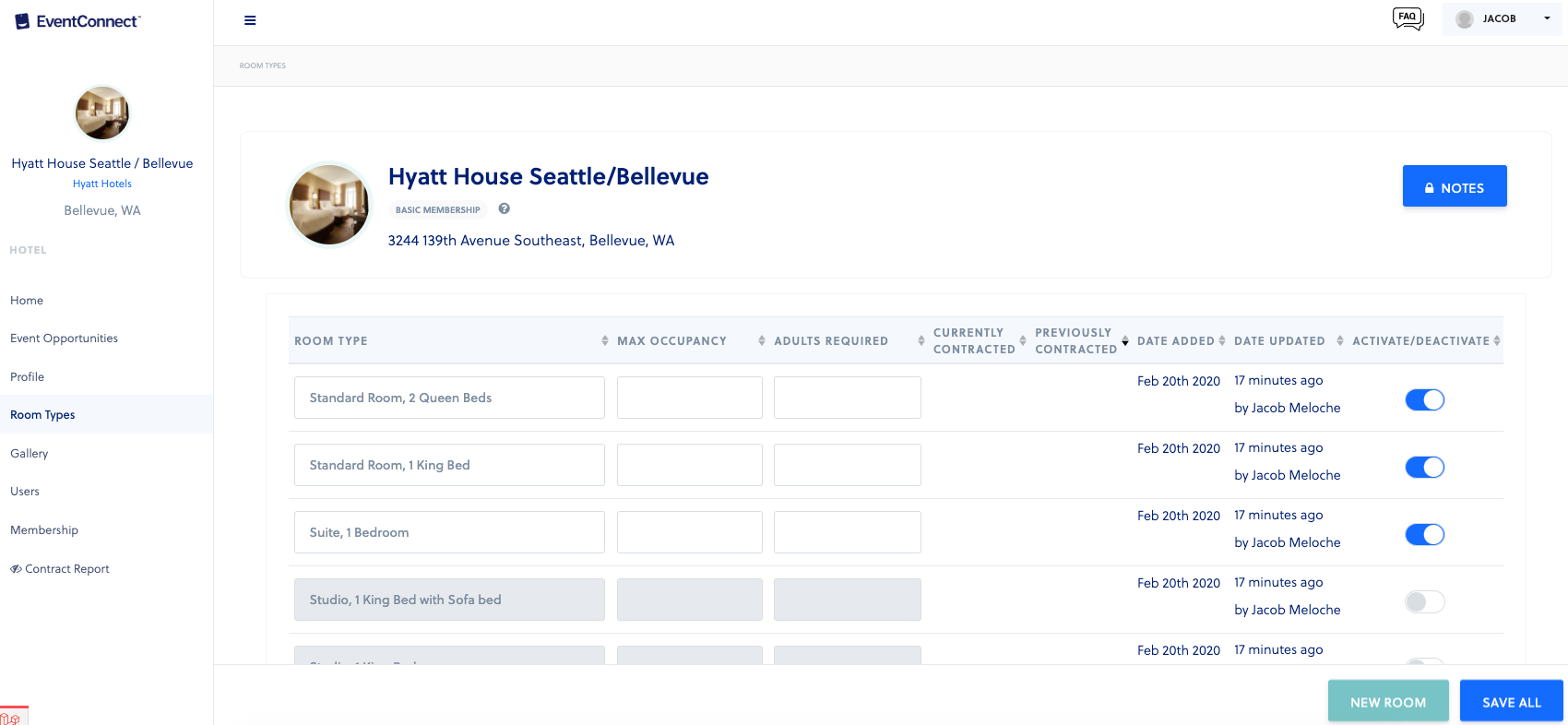 11. Hotel quick navigation
We wanted to allow hotel users to quickly switch between their different hotel dashboards without having to go back to the user home page, wait for it to load, click hotels, and then click into the hotel they wish to look at.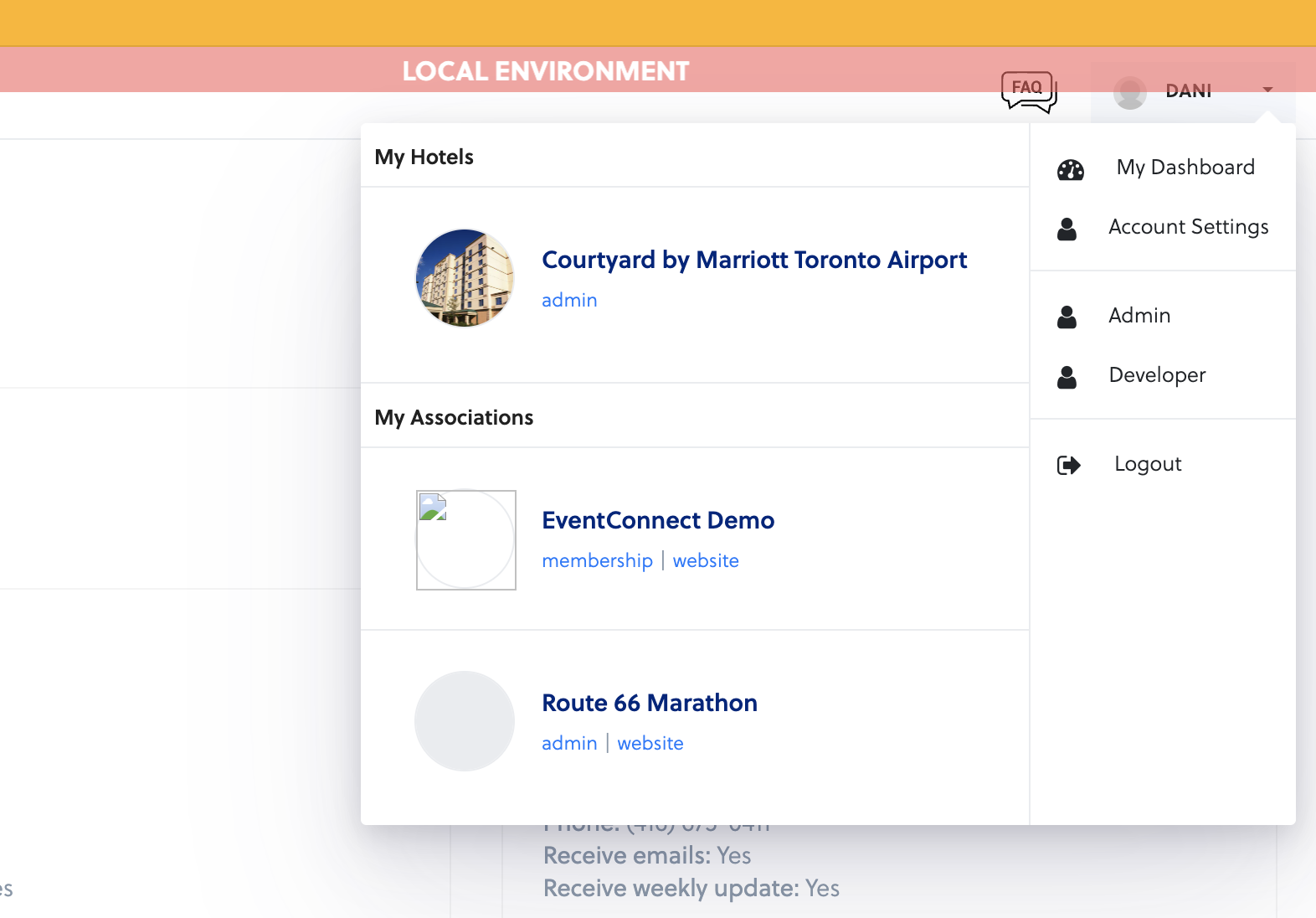 Currently, in the user nav box (top right of the page), if the user is attached to any associations, there's a little blurb to the left of the user nav listing all associations. Now, we do it for hotels which will also be listed before associations.
Wrapping up EventConnect's monthly product updates
The EventConnect team is constantly working on improving our software to create a better experience for you and participants across the board. If you want to see how EventConnect can make managing tournaments pain-free, schedule a demo today or browse our features.