What if we told you that there was a way to manage your tournaments and enjoy them without hefty transaction or processing fees? You know what we're talking about: event management software that ends up cutting into your bottom line. Since merchant accounts already take a percentage, expenses can add up.
That means small amounts of your budget are taken away from other important factors: securing the best venues, providing ideal accommodations, and making sure participants have the best experience.
Luckily, there's a solution. EventConnect offers a full suite of event management software that is practically free. You can't find anything else like it on the market.
Follow along as we show you why processing fees are a thing of the past for organizers and why you never have to worry about them again.👇
What are processing fees, and how do they work?
Credit card processing fees have always existed. Think of PayPal, Stripe, Square, etc. All of these services take a small cut every time an organizer uses them to collect payments for registrations, merchandise, and other ways you make money.
Here's a cool fact: Visa is the top card network in the U.S. and processes a whopping $1.5 trillion every year!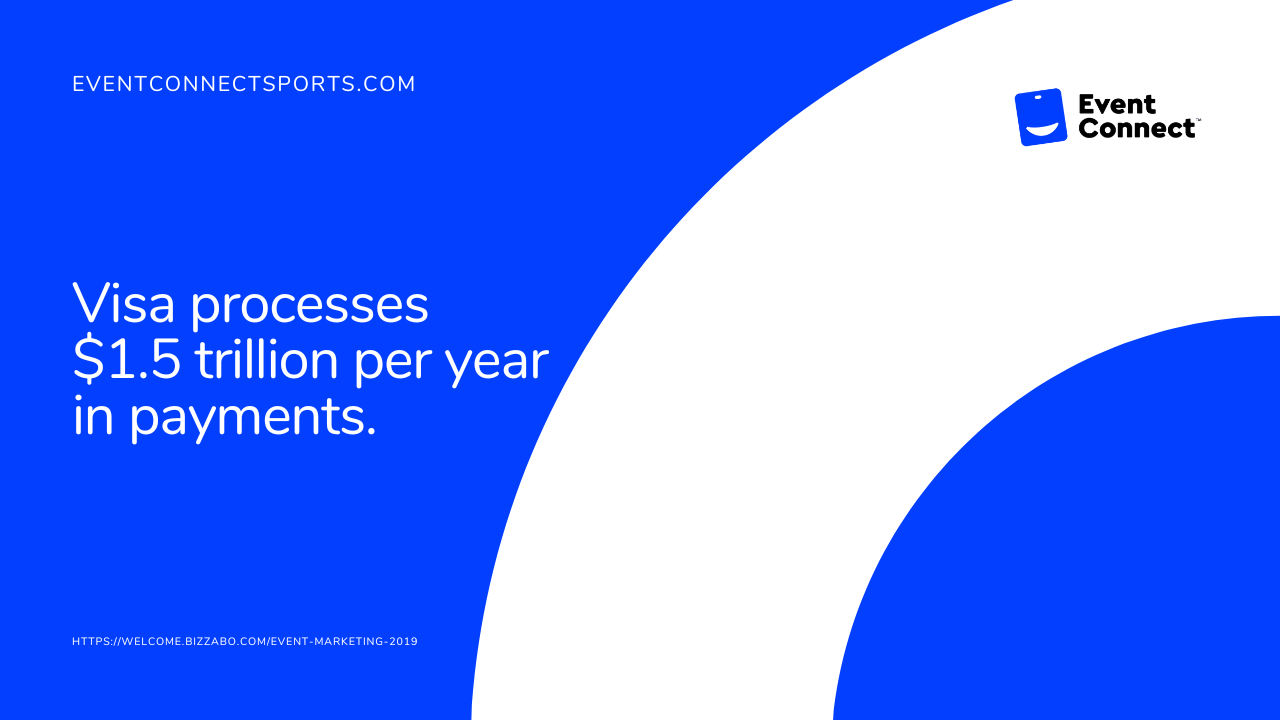 These fees can add up. Consider a sporting organization that is generating millions of dollars per year. 1-3% of that seems small in the short run but can mean big bucks in the long term. Heck, even a tiny league will start to feel the costs of fees over time.
Every event management software on the market requires membership subscriptions on top of merchant accounts and processing fees. They also take a percentage of merchandise sales. It's how they drive profit. Don't be surprised if they charge $2-5 per team while scheduling events too.
Not EventConnect, though. We are a leading event management software you can use to manage tournaments hassle-free and save money. With some of the lowest processing fees (starting at 2.7% + $1.50/registration), you can collect registration payments with peace of mind. The more transactions you process through EventConnect, the larger the discount you will receive.
This fee also gives you access to everything EventConnect has to offer. You gain access to our full suite of software tools that include:
Registration that's connected directly to housing.
Hotels and room blocking.
Scheduling and scoring.
And much more!
It doesn't stop there. We've built deep relationships with hotels over many years. Combined with our industry-first technology, we get the best rates for ourselves and our customers. Because of this, we have a 99% booking experience and offer 24% lower group hotel rates on average. You win, we win, everyone wins.
EventConnect's processing fees go towards ensuring you get the lowest online group rates with the best amenities. Here's the kicker: bookings are refundable through EventConnect if an event or division is cancelled and players get points or rewards as a refund if they cancel.
How EventConnect takes away the pain of processing fees
While physical cheques are nice (yes, we can make cheques work, too), it takes time to deposit them or visit a bank consistently. Odds are as a coach or event organizer; you'd prefer the convenience of online payments: Visa, MasterCard, eCheck, etc.
You can manage your tournament financials under "Event Setup" and "Financials" from the EventConnect dashboard. This is where all of your registration payment options can be found along with settings for donations, convenience fees, and multi-registration discount codes.
You can also set up different payment options for individual divisions. Click the blue plus icon to create a new division or the edit button to adjust an existing one. Set the name, limit, sport type, rate, and pricing. You can also set the rate type (group or individual) and its amount.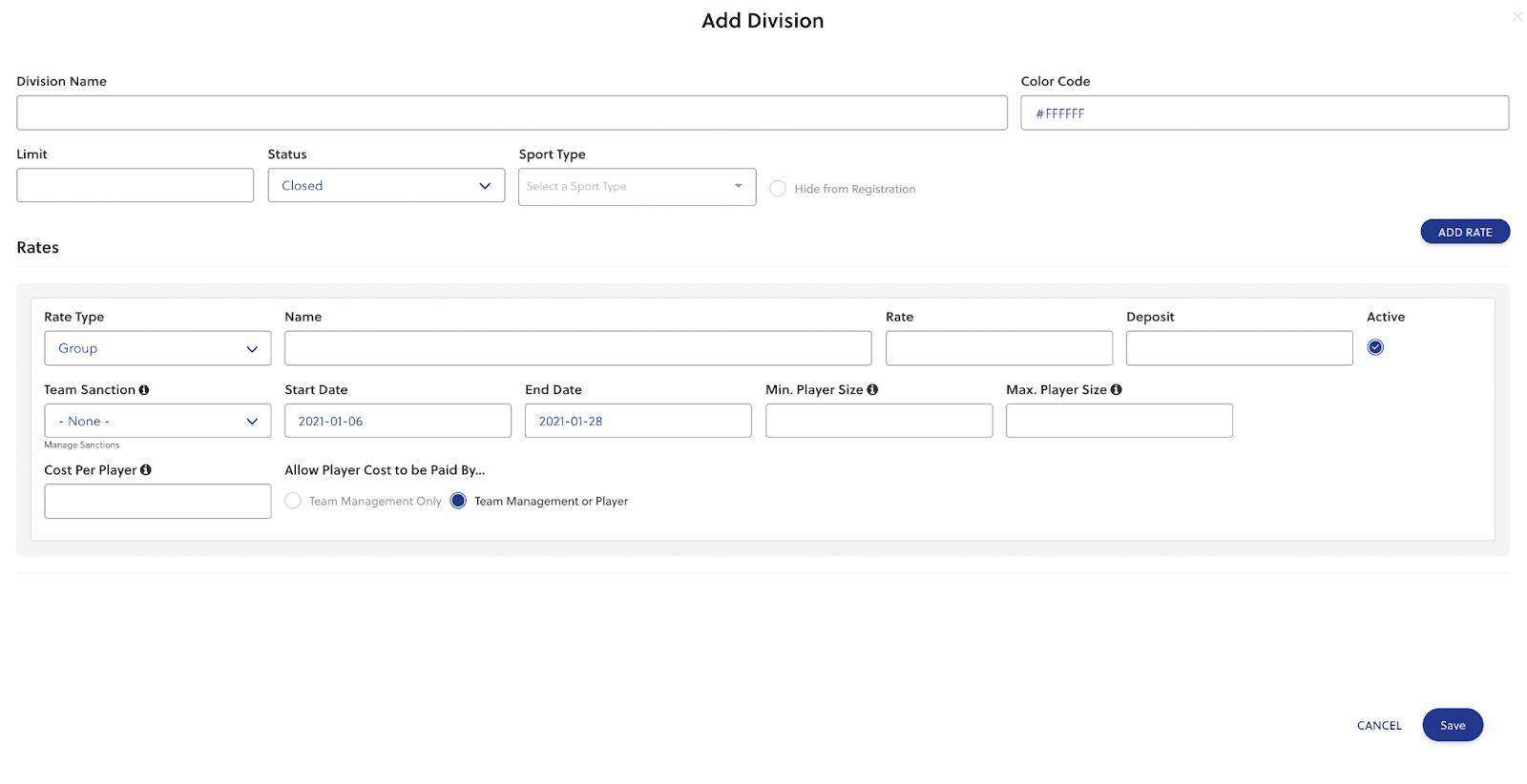 Tournament organizers can add deadlines for when final payments are due. Cheque, credit card, email transfer (Canada), or eCheck (United States) are available. We easily integrate with your merchant account, and do you know what the best part is? There are no administration fees. This means you only receive the merchant fee from processors. If you'd like to hedge that, set up a convenience fee for events as a percentage or fixed dollar amount at the bottom of the page.

The bottom line on youth sports processing fees
If you manage tournaments for youth sports, you can agree that transaction and processing fees can be a real pain in the butt. While it's just a tiny amount, it does add up over time. That money could be spent on accommodations, housing, and making sure participants have a great tournament.
Processing fees include what PayPal or MasterCard charge to event management software itself. Many options on the market also require monthly subscriptions. Not EventConnect.
While most solutions have exorbitant processing fees, EventConnect offers volume discounts to save you money as you scale. Our fees (which are some of the industry's lowest) pay for all of the software while ensuring the lowest online group rates with the best amenities. Everybody wins! EventConnect also provides refunds for bookings if events or divisions are cancelled.
EventConnect is a platform built by industry experts that event owners can use to collect payments, organize tournaments, and more all in one place. Want to see the power of EventConnect for yourself? Schedule a free demo today.