Hotels are in a constant state of change after the changes these past two years. They need to be at the forefront of technology to meet their customers' needs and demands. Hotel occupancy is forecasted to increase by 30.5% in 2022, and the market is expected to increase by 32.2%. Hotels need the right software to capture more potential revenue per available room!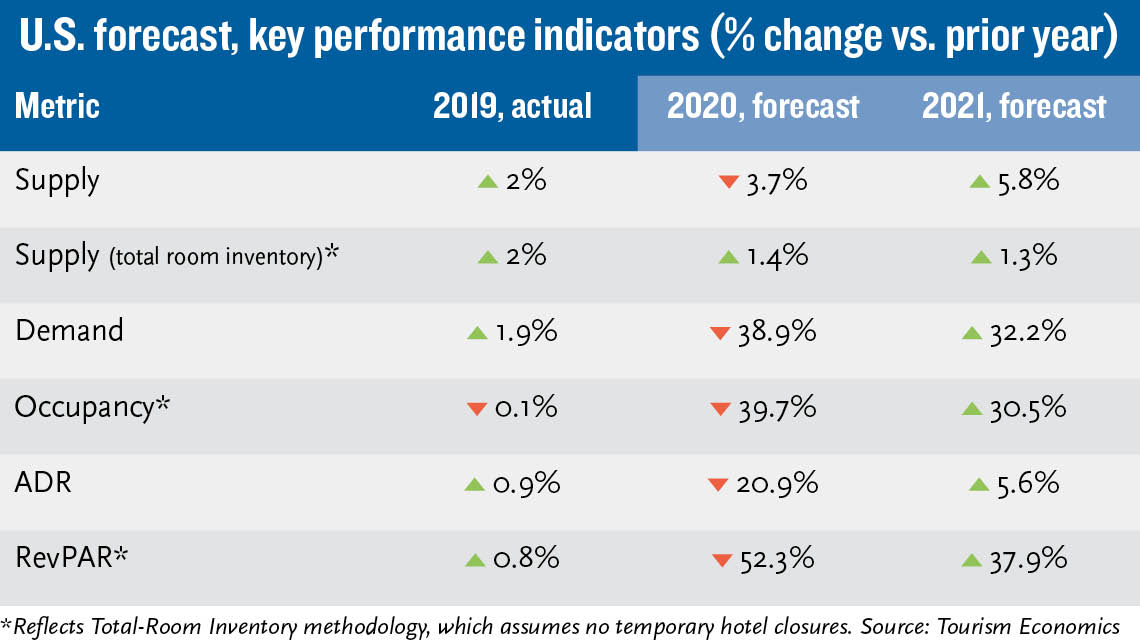 It's easy to rely on spreadsheets and outdated systems that cause headaches. With event management software like EventConnect, hotels can improve connectivity, generate additional revenue, manage fluctuating inventory, receive in-depth analytics on guest experiences, and reduce time across group travel team demands.
Let's dive into why hotel owners should invest in better hotel technology and how to get started.
What is hotel technology?
Hotel technology refers to any type of solution or software that a hotel may use to operate and maintain a hotel location. The hotel industry has been implementing new technology into properties for years, but it's never been more critical. A majority of hotels are considering or have already adopted different types of tech.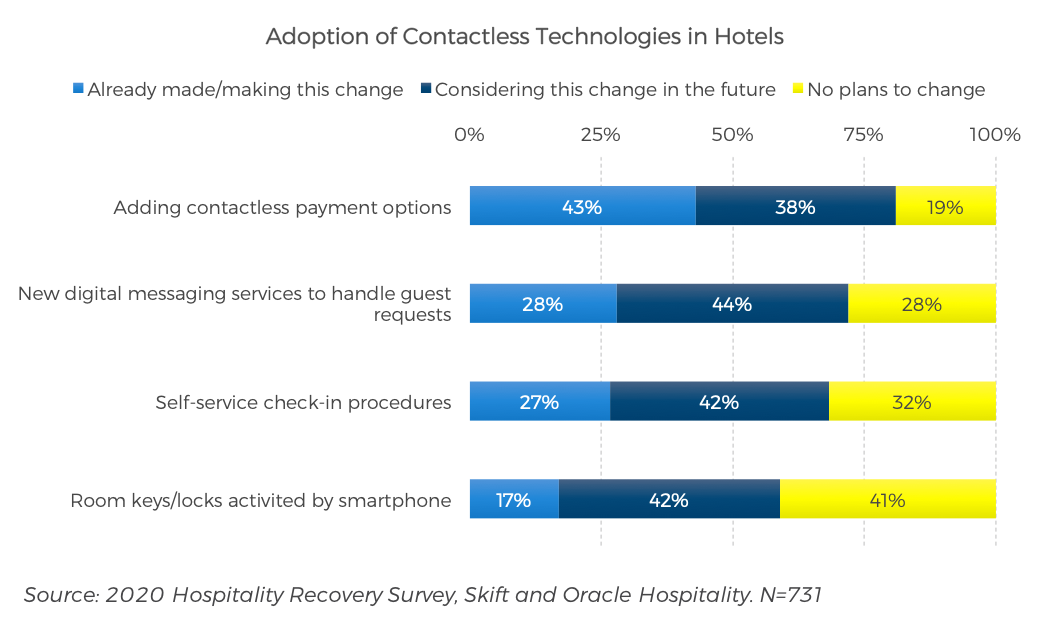 In particular, there is sports event management software like EventConnect. One of the most significant benefits we offer for hotels is our unparalleled, two-way connectivity. 
We connect everyone involved in amateur sports events under one platform, including organizers and managers, athletes, families, destinations, and hotels. At a glance, you can see reservations, unaccommodated teams, total inventory, and revenue, all in real-time.
Why hotels need better technology
Next, let's dig deeper into the benefits of investing in better technology as a hotel.
Gain access to incredible connectivity
Connectivity is the most significant upside to software like EventConnect. Wouldn't you want your tools, data, and information in one place? You don't have to juggle through spreadsheets, browser tabs, and different platforms. Hotels and destinations gain access to a private portal where they can see all of their reporting, economic impact, hotel inventory, and key metrics in real-time, not to mention access to dedicated support, so they're never left hanging.
Give customers and event owners better service
Hotels can provide better customer service and ultimately increase revenue with our sports event management software. Participants can book their own rooms, select amenities, cancel, receive refunds, check their playing schedules, and edit reservations.
Thanks to our fully connected solution, family and athletes don't have to worry about inflated hotel rates and scattered communications to ensure they have what they need. 40% of people expect hotels to have technology that helps save them money in some way too.
Gain valuable insights with analytics and real-time data
You don't just want data and insights and predictable group revenue as a hotel. You need them. It helps you make better decisions, find ways to drive more revenue and improve guests' experiences. EventConnect provides you with unmatched transparency through measuring:
Registration pacing
Preferred amenities
Room requests by team
Live blocks
Projected travel teams
Unaccommodated teams
Reservations
Hotel pick-up
That's just scratching the surface, though. Hotel partners can visualize revenue, average tournament rates, nightly reservations, and hotel inventory in real-time months and years in advance. You can also use EventConnect to access data on:
Total hotel revenue
Total teams
Nights booked
Hotels booked
Event rates
Team locations
Final pick-up
That brings us to our next point.
Less paperwork, time, and headaches
As a hotel, think about all the paperwork you go through daily related to group sales. RFPs, contracts, invoices, and others are your everyday life trying to make sense of the chaos and changes while serving customers' needs. While it seems like a part of the job, it doesn't have to be so painful. The right hotel technology can reduce the paperwork and daily headaches you must deal with. 
For example, with EventConnect, you can:
View all reservations from a single dashboard.
Make multi-event RFP submissions.
Visualize how much revenue has been generated in any given period.
Manage live blocks.
Handle requests from teams, individuals, and event owners.
See your total available and booked inventory.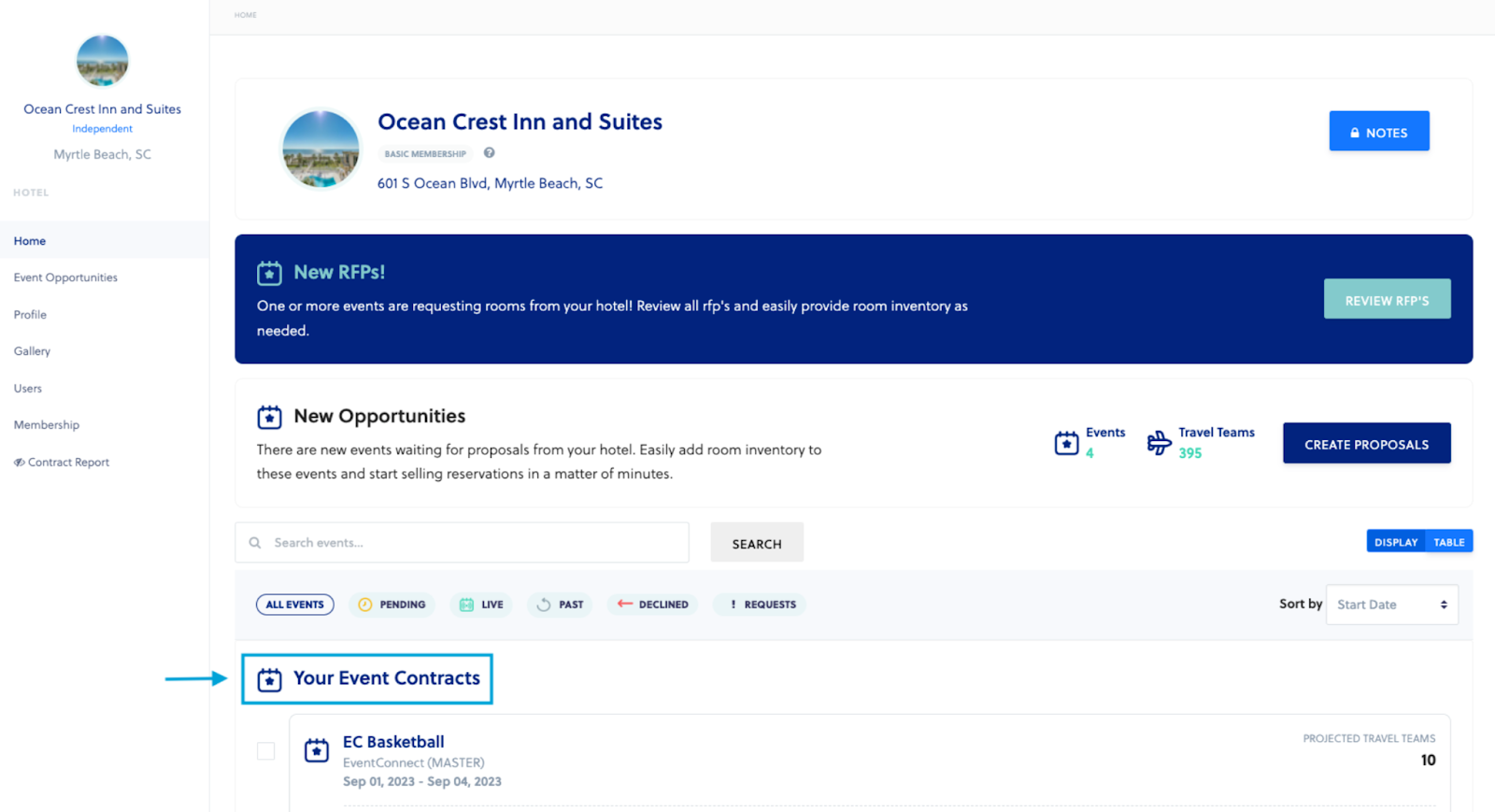 An example of EventConnect's hotel dashboard.
Technology is an expected part of the hotel experience
Good tech isn't just a recommendation. It's essential. If you can offer features that make someone's stay more convenient and effortless, they'll have the best possible experience—making them want to return and recommend you to others. Here are some interesting numbers to keep in mind: 60% of guests expect technology that helps their check-in/check-out and access better accommodations.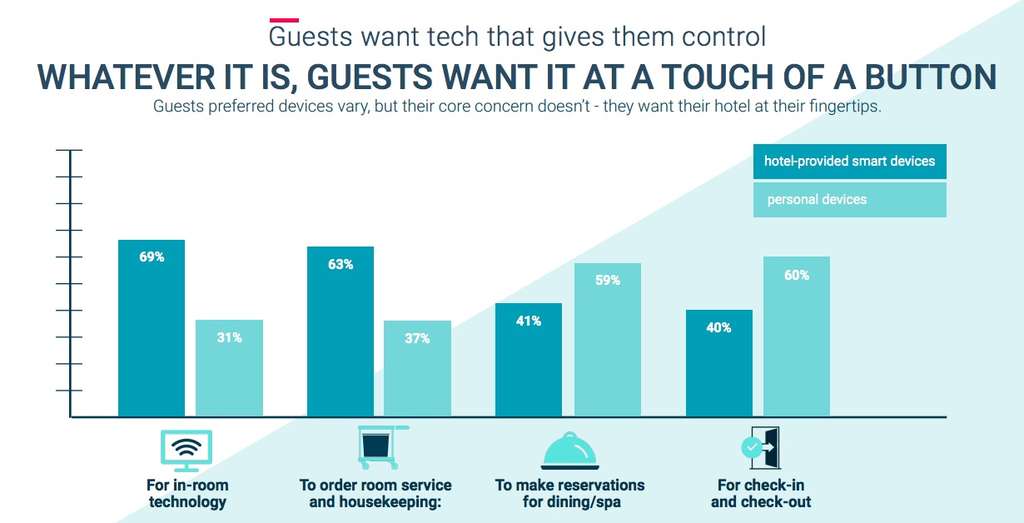 While most hotels offer features like in-room technology and room service, EventConnect takes it to a new level related to group sales. You will stand out from competitors and provide unmatched group-travel experiences that ensure inventory is sold. 👍
Final thoughts on hotel technology
It's 2022. Using old and outdated work methods will result in more headaches and time spent on little tasks. As a hotel, adopting the right technology like EventConnect provides numerous benefits. Firstly, connectivity is the most significant upside. All of your customers, data, and tools are in one place. You get real-time updates and data, so you're always on top of tasks and business performance.
By gaining access to a custom portal, you can have customers log in to view all of their reservations, schedules, and other information. They can request other rooms and amenities, contact you for information and ultimately give them a better experience. One they come back to again and again.
These things lead to less paperwork, saved time, and more revenue. We can win together if you have event partners or regular tournaments that visit your hotels and might benefit from all of this!
Want to see how EventConnect can transform your daily operations and drive growth as a hotel? Schedule a free demo today.