SportsEngine HQ is a league management software for sports leaders and event organizers. It gives you the tools and resources to increase registrations, invoice, manage teams effortlessly.
It's used by 45,000+ sports organizations and 1.2 million+ teams and has protected over 7 million children with industry-leading background checks. Oh, let's not forget that using event software is also proven to save 223 hours per year! You and everyone involved in the youth tournament could enjoy their sports more with that freed time.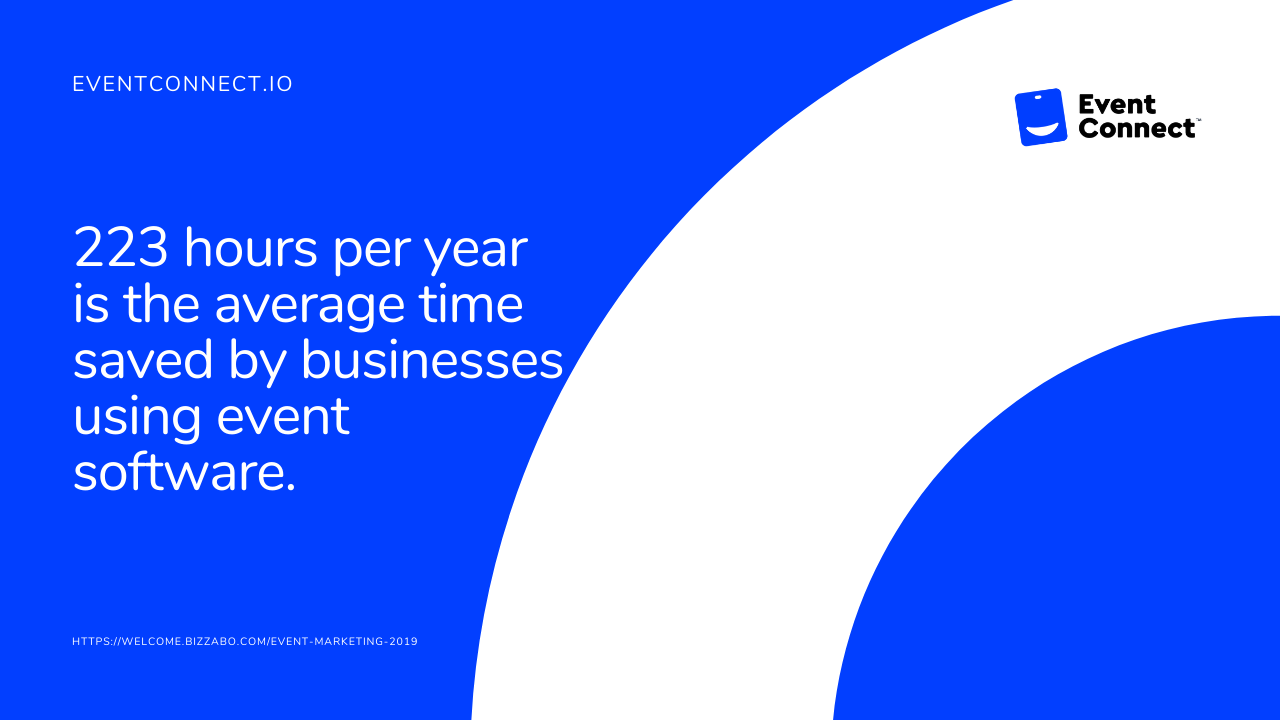 If you're interested in using event management software like SportsEngine HQ to take your tournaments to the next level, you're in the right place. This SportsEngine HQ review will reveal its features, pricing, and how it stacks up against competitors. 
What is SportsEngine HQ?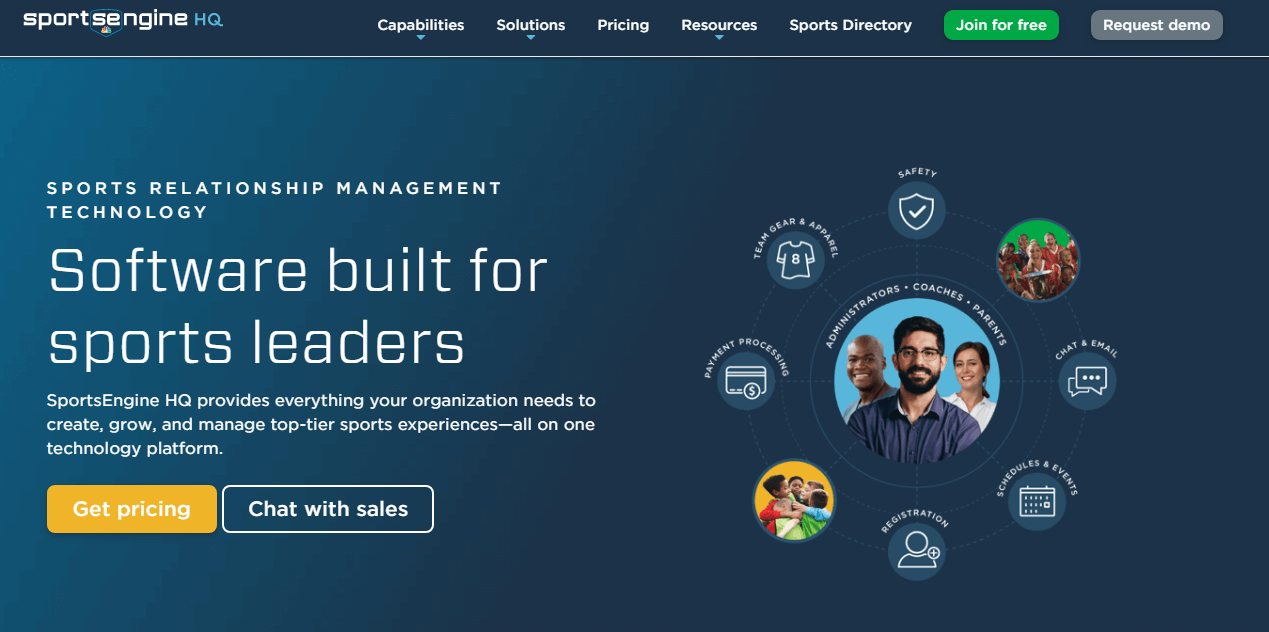 SportsEngine is league management software for youth and amateur event organizers. Associations, teams, clubs, and governing bodies can use it to make scheduling, rostering, and reporting easier. It is well received by its customers, scoring an impressive 4.4/5 stars on Capterra across 172 reviews!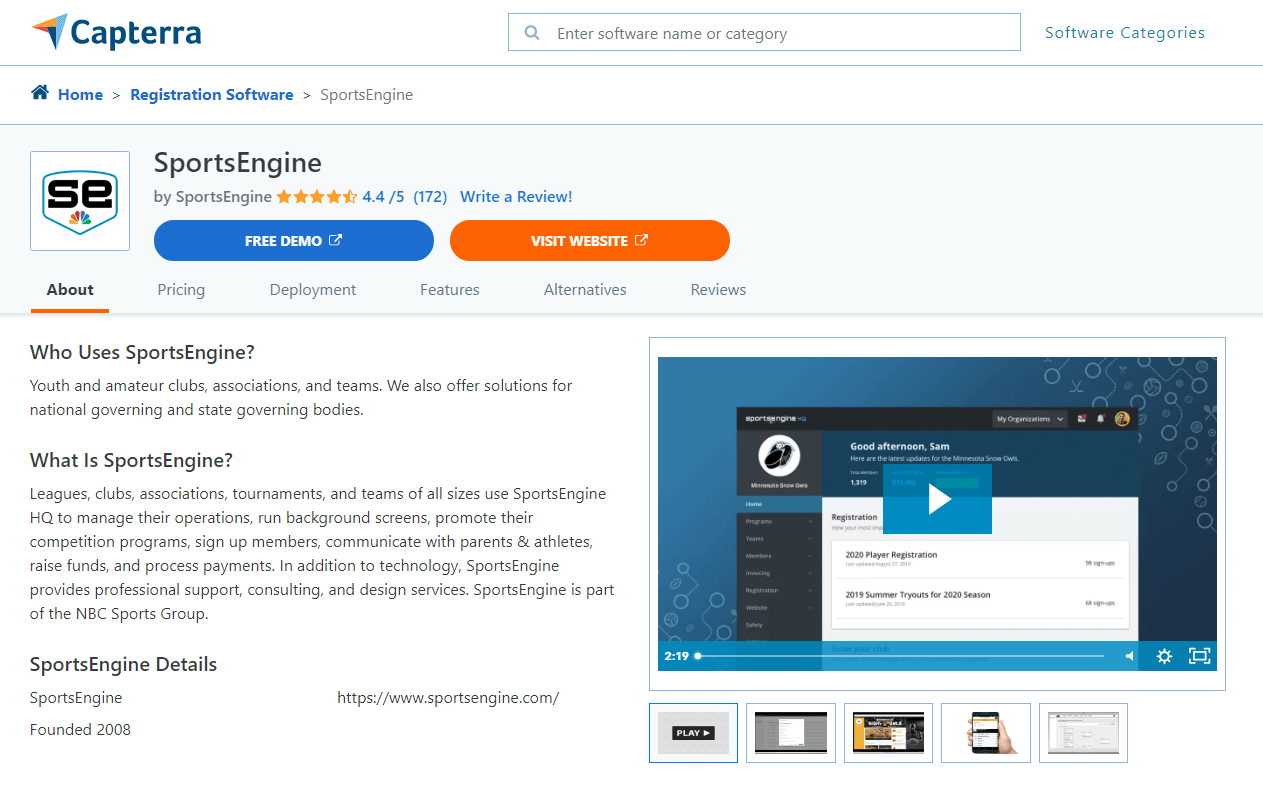 Some of the best reviews dub SportsEngine as the "gold standard" of league management software.
Oppositely, some reviews claim the software can be buggy, difficult to figure out, and has slow customer support.
Take this with a grain of salt. Most people rave about SportsEngine, but it's always good to hear the opposite side of the coin to make the best purchasing decision.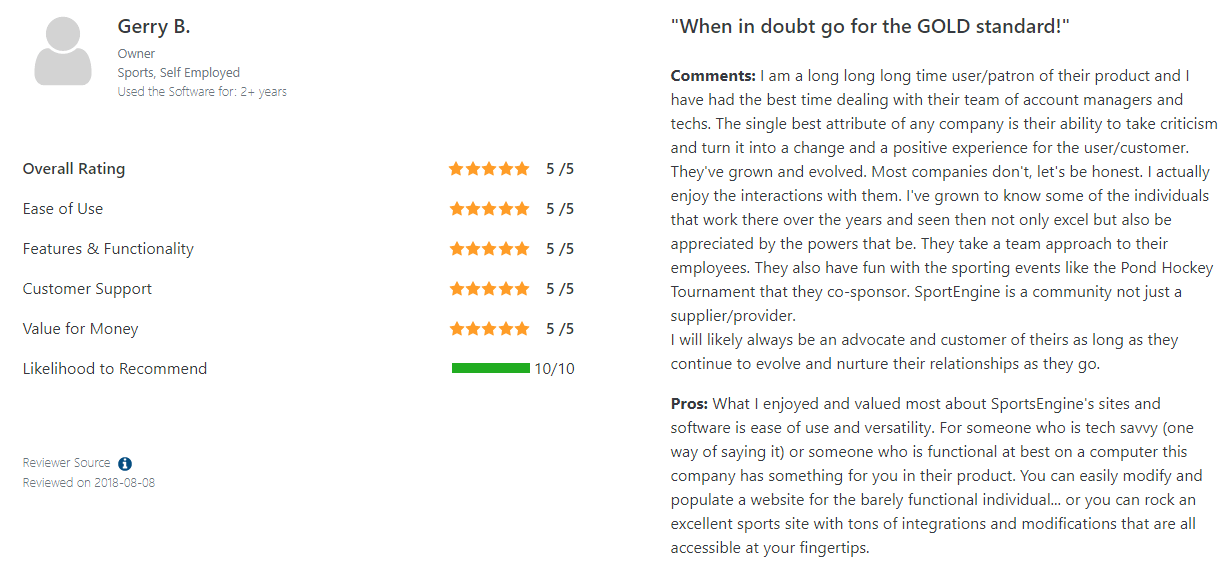 Nonetheless, what exactly does SportsEngine offer? Let's dive into that next.
SportsEngine HQ features
These are some of the main features you'll gain access to when you become a SportsEngine HQ customer.
Invoicing and payments

Securely track every dollar your organization spends and collects. Managing tournament finances isn't everybody's cup of tea. Take the headache out of finance by collecting registration payments, sending invoices, and tracking bills in one secure place.
If centralized finances and reporting are a pain-point if your organization, learn more about EventConnect's paying processing product EventCollect.
Online registration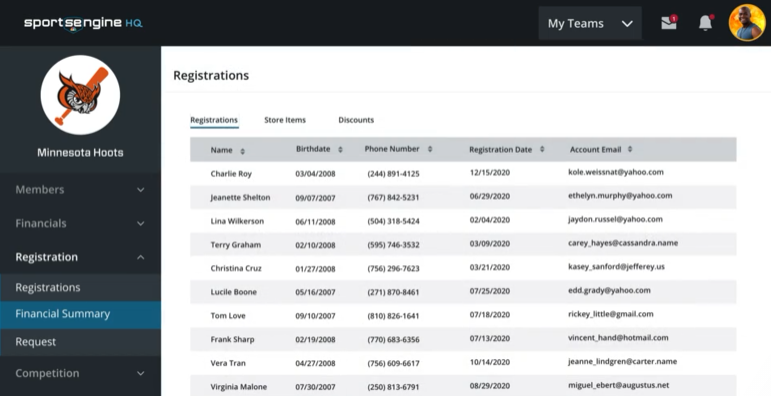 Stop chasing down payments and struggling to maximize sign-ups for events. SportsEngine HQ's registration features help you create seamless registration flows for tournaments. Run reports, offer payment plans, and securely process money inside of the software.
Mobile app
Hate constantly needing your laptop or desktop to run tournaments and organize events? No problem. SportsEngine HQ offers a mobile app that keeps everyone up to date, helps submit RSVPs for athletes, share schedules, and quickly add athletes to rosters.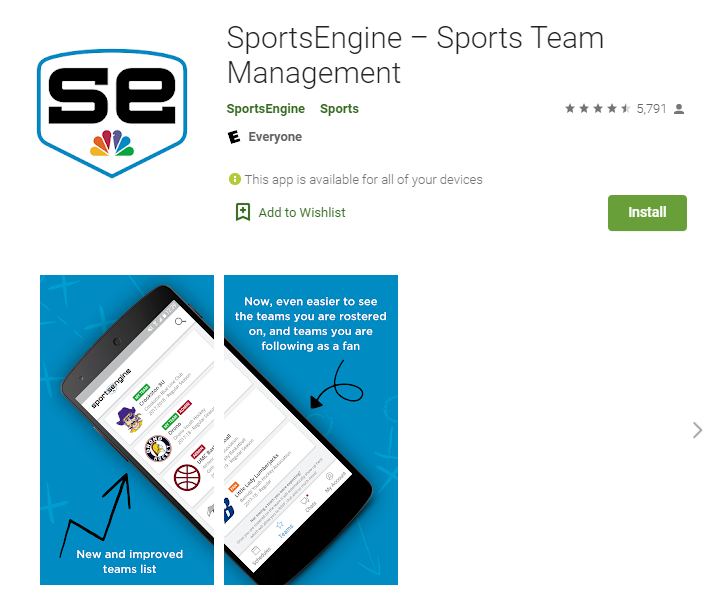 EventConnect also offers branded mobile apps that give you and participants all of our sports tournament software features while keeping your brand on the front end.
Mobile-response websites
Do you need a website that helps you boost registration, how many people you reach, and scales your organization? SportsEngine HQ features an intuitive website builder that builds lasting relationships and first impressions. Simply choose a design, use the drag-and-drop builder to customize it, and look like any other professional organization without needing to code.
League and team management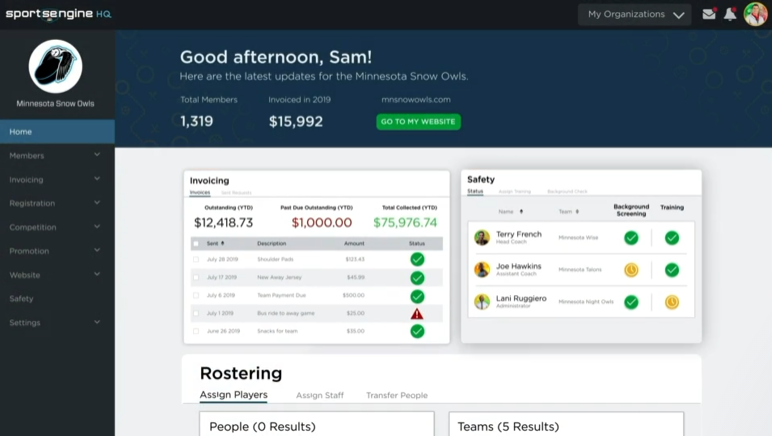 Are you struggling to manage leagues, teams, and rosters? SportsEngine HQ eliminates the need for paperwork and scribbling on pads or using spreadsheets. Create teams, schedules, and seasons like a pro in less time. Set up fully detailed rosters, manage contact lists, and track standings in real-time.
Messaging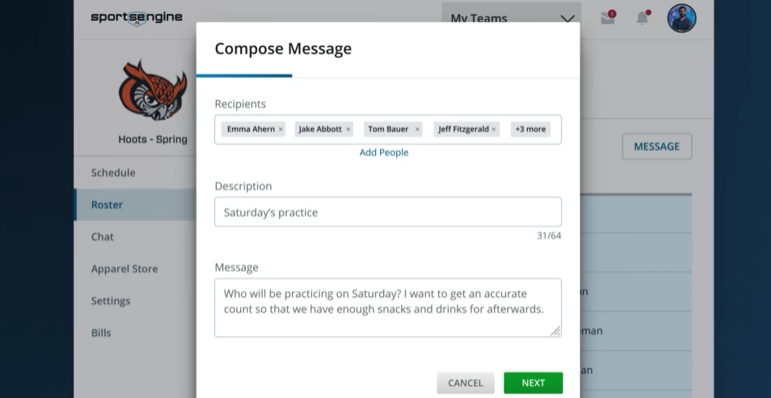 Keep teams, families, and staff in the loop with SportsEngine's built-in team communication tools. You can send out newsletters, emails, and texts to share news, content, offers, and updates—segment groups based on roles and interests to deliver highly contextual messages that give participants the best experiences.
Fundraising
SportsEngine HQ's software has helped thousands of clubs raise millions of dollars. Customize pre-written proposal letters right inside SportsEngine HQ, pitch local businesses, and begin creating long-lasting relationships. Work with sponsors to identify partnerships through website ads, discount codes, sponsorships, and other ways to grow together.
You can also raise money by selling apparel that allows event participants to show their team spirit. Or, grab the attention of partners and donors with stunning graphics inside the Design Center that you can use on social media and email channels.
Safety
Everyone wants to make sure kids, athletes, and everyone involved in youth sports are safe. You will have peace of mind with SportsEngine's safety features. These include safety mandates, volunteer tracking, background checks, safety partners, and more. 
SportsEngine HQ pricing
How much do you have to pay for SportsEngine HQ? There is a free version for new and small clubs looking to increase registrations and grow tournaments. However, it includes a processing fee (3.5% + $2.00), which may cut your bottom line.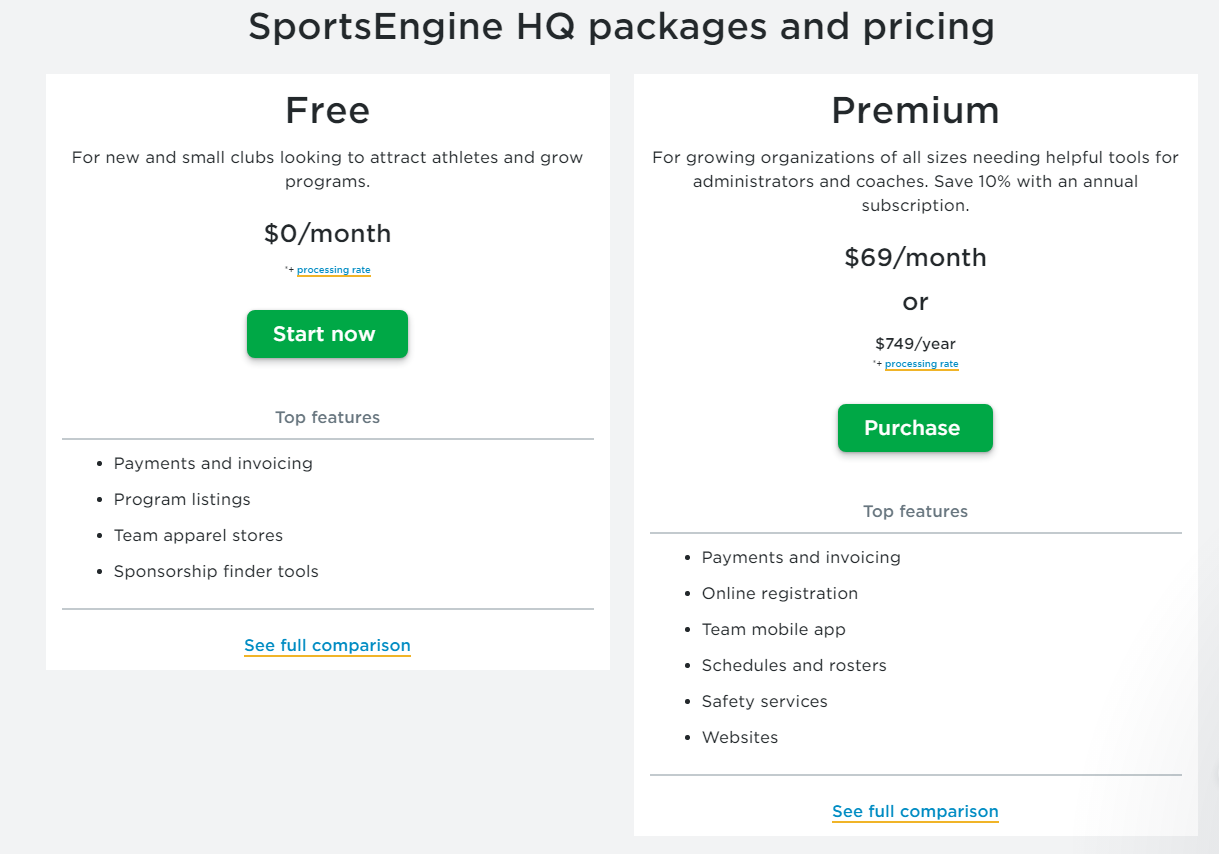 The free version of SportsEngine HQ includes:
Payments and invoicing
Program listing
Team apparel stores
Sponsorship finder tools
SportsEngine HQ's Premium plan is priced at $69/month. It's made for growing organizations that require tools to scale. You can also save 10% if you choose an annual subscription. Note that this package has a processing fee of 3.25% + $2.00.
Premium will also give you schedules and rosters to manage when and where teams play on top of the Free plan's features. Safety services help you ensure that players and participants are healthy and safe. Customized websites allow you increase brand awareness, increase registrations, and drive revenue.
Need a custom solution? No problem. SportsEngine HQ offers custom plans for organizations with more options and specific needs. Contact them for a custom quote.
Overall, SportsEngine HQ offers a free simple version of their software which is a nice touch. Nonetheless, the Premium package is more expensive than many other options on the market, like the ones we've reviewed and compared on the EventConnect blog.
SportsEngine HQ alternatives
Want to know what other options you have? These are some of the best alternatives to SportsEngine HQ that you may want to look into. They offer many of the same features—if not more—with different pricing and packages.
Wrapping up our SportsEngine HQ review
SportsEngine HQ is a fantastic tool for event organizers and stakeholders who want to improve how they manage their day-to-day activities, including registration, scheduling, invoicing, marketing, and other tasks.
Organizers can use SportsEngine's free version, which includes basic features and limits. Free is an excellent choice to see if you enjoy using the software based on your organization's goals and needs. The Premium package, which offers much more features, is priced at $69/month, considerably more than other options on the market.
If you're interested in trying out other sports tournament management software, schedule a demo with EventConnect. Our software helps you experience less paperwork, costs, and management so you can enjoy your sports more. Not to mention it's free!