Reporting on data is everything. Without insights into your sports tournaments, you won't be able to make the best decision. You also won't be able to generate reports for CVBs and sports commissions to show the economic impact of your events. 
That's where EventConnect comes into the picture. Our software offers extremely detailed reporting on every aspect of your tournaments. This data flexibility is thanks to connectivity that centralizes all of your data and information in one place. Not in a million spreadsheets.
For example, here's the registration report on the Event Owner dashboard. This report is one of our most dynamic and well-used pieces of reporting. It includes all available details for every registrant in your tournaments, like name, contact information, division, the rate paid, and their registration date. Here you can also dig deep into the report and customize the filters to suit your needs best.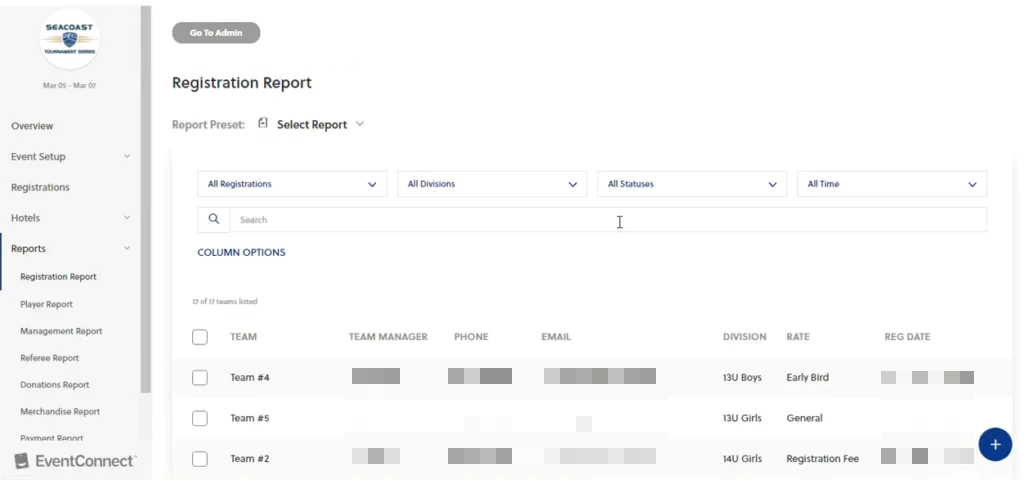 Having all team/participant information in one well-organized home brings a new level of efficiency to event management software. Now you no longer have to spend time tracking down team/player details or contacting hotels to see which traveling team has hotel room blocks. All of these details and more are now readily available to you and can be exported (if you choose) with the click of a button.

That's just the tip of the iceberg with our software. You can also generate reports on the following:
Players
Management
Payments
Officials
Add-ons and merchandise
Donations
Hotel impact
And more
Book a demo of EventConnect to see first-hand how our retailed reporting can help you make more informed decisions.