The world of amateur sports has changed drastically with technology. Gone are the days when you could just show up to a game and play without registering first. 
There is an app for everything–from registration to payment–that can be done from different devices. As a sports complex, that's just the tip of the iceberg of what you must manage daily.
That's also where technology like tournament management software comes into the picture. This article will help you understand why it is essential for your sports complex to manage its technology to become more efficient, drive more revenue, increase connectivity and simplify your day-to-day operations.
What is tournament management software for sports complexes?
Let's get back to the basics. Sports tournament management software is an all-inclusive tool for sports complex owners. It contains features such as registration and payment processing, team rosters with player data, game schedules, digital scorecards, and more to help you run events smoothly.
Sports complexes are struggling to remain competitive because they don't have the right tools or software connectivity expected by event owners and attendees. 92% of event organizers believe event software makes it easier to achieve business outcomes. That's not to mention that 63% agree registration tools are the most helpful feature!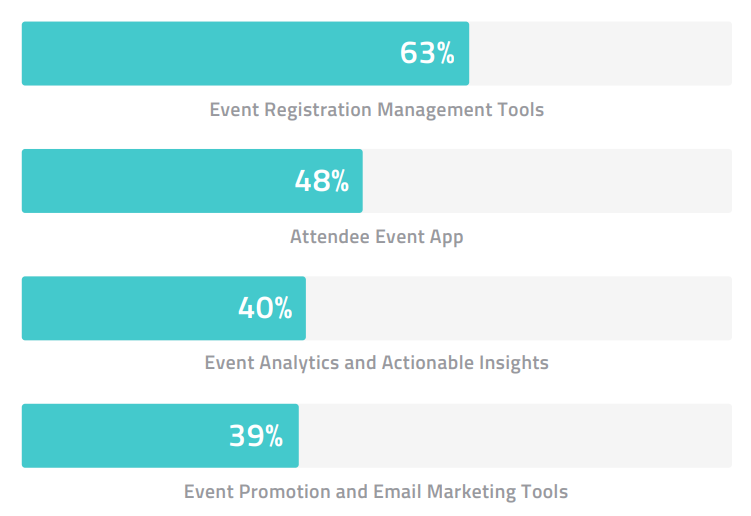 Want to see what seamless registration flows can do for your organization's productivity and revenue? Schedule a demo with Event Connect today.
Next, let's discuss the benefits of event management technology for sports complexes ahead.
Why sports complexes need better technology
These are why sports complex organizations need technology in 2022 and beyond to grow and remain more connected.
1. Save time and stay organized
Sports complexes will save precious time and remain more organized by using event management software. You can quickly communicate the essential information to staff members, helping keep your complex running efficiently.
Transparency is also a considerable benefit of event management software. When you have all this data in one place, it's easy to see the economic impact of events, how events and teams are performing, where teams and participants are staying and from where they are travelling. 
For example, here's a glimpse of EventConnect's economic impact report. It includes local hotel revenue, total teams, nights booked, and more to share with CVBs and partners!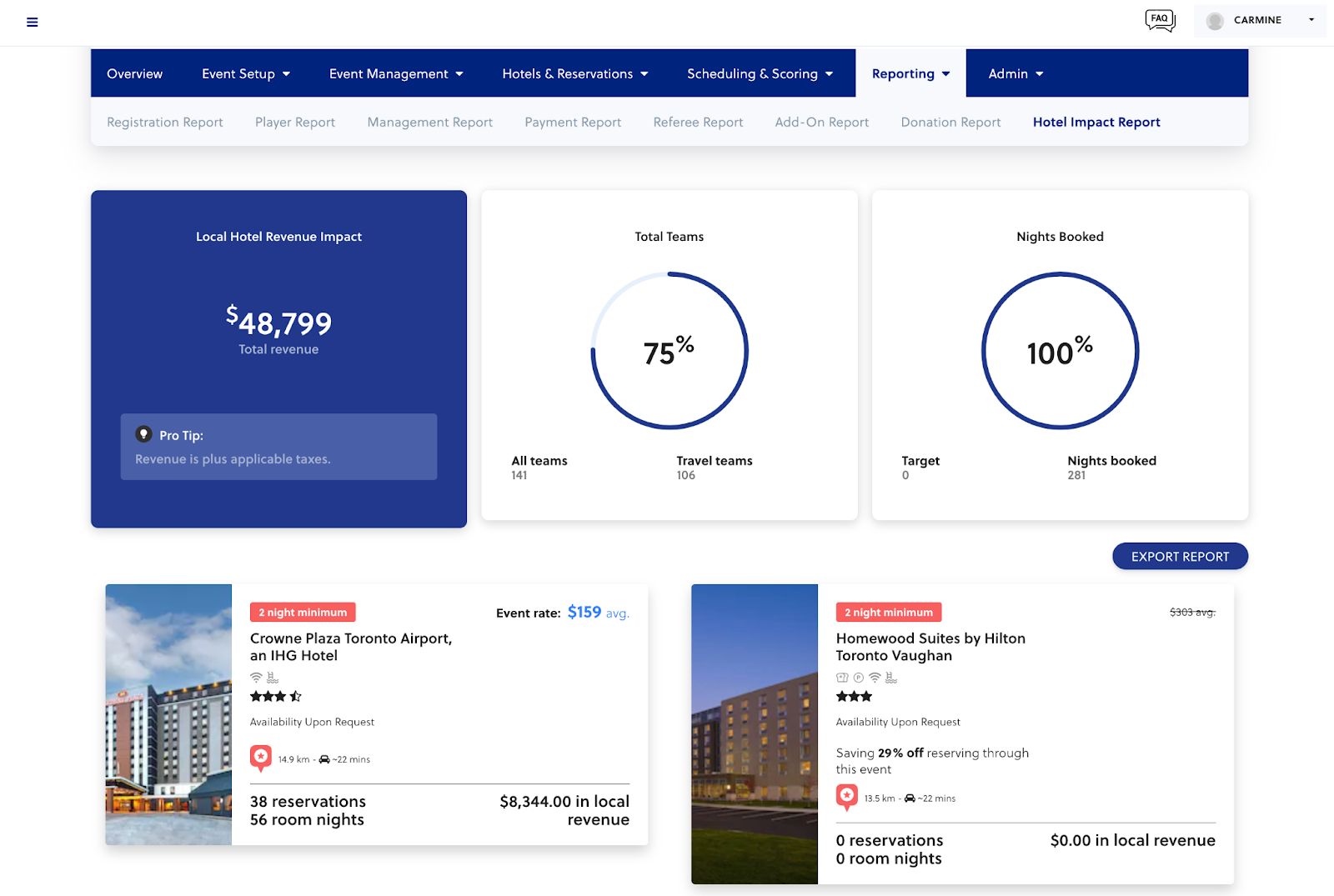 2. Improved event registrations and revenues
Who doesn't want to drive more revenue? Event management software helps make you more money through increased registrations. You'll be able to offer registration packages, collect participants' information for marketing efforts, and sell swag for people to show off during events. 
Let's be honest, though. Times are tough. The sports industry has lost $2.4 billion from the decrease in tourism to youth sports events during the pandemic: the more opportunities to drive extra revenue, the better.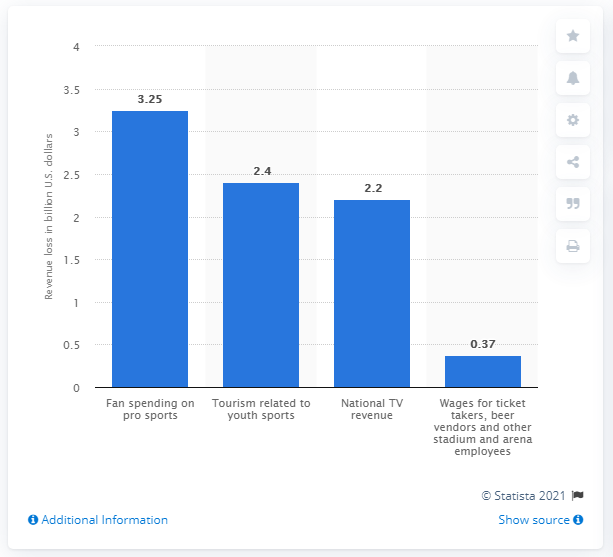 But that's where EventConnect's registration flows come to save the day! You can upsell or offer pre-orders for merchandise and give all of the information participants need to register for tournaments easily. 
Another way event management software can help with revenues is by keeping track of all payments. For example, with EventConnect, all your finances are in one place. No need to run after payments or scramble after old invoices. Send payments and reminders, and see exactly how every event performs in a single dashboard.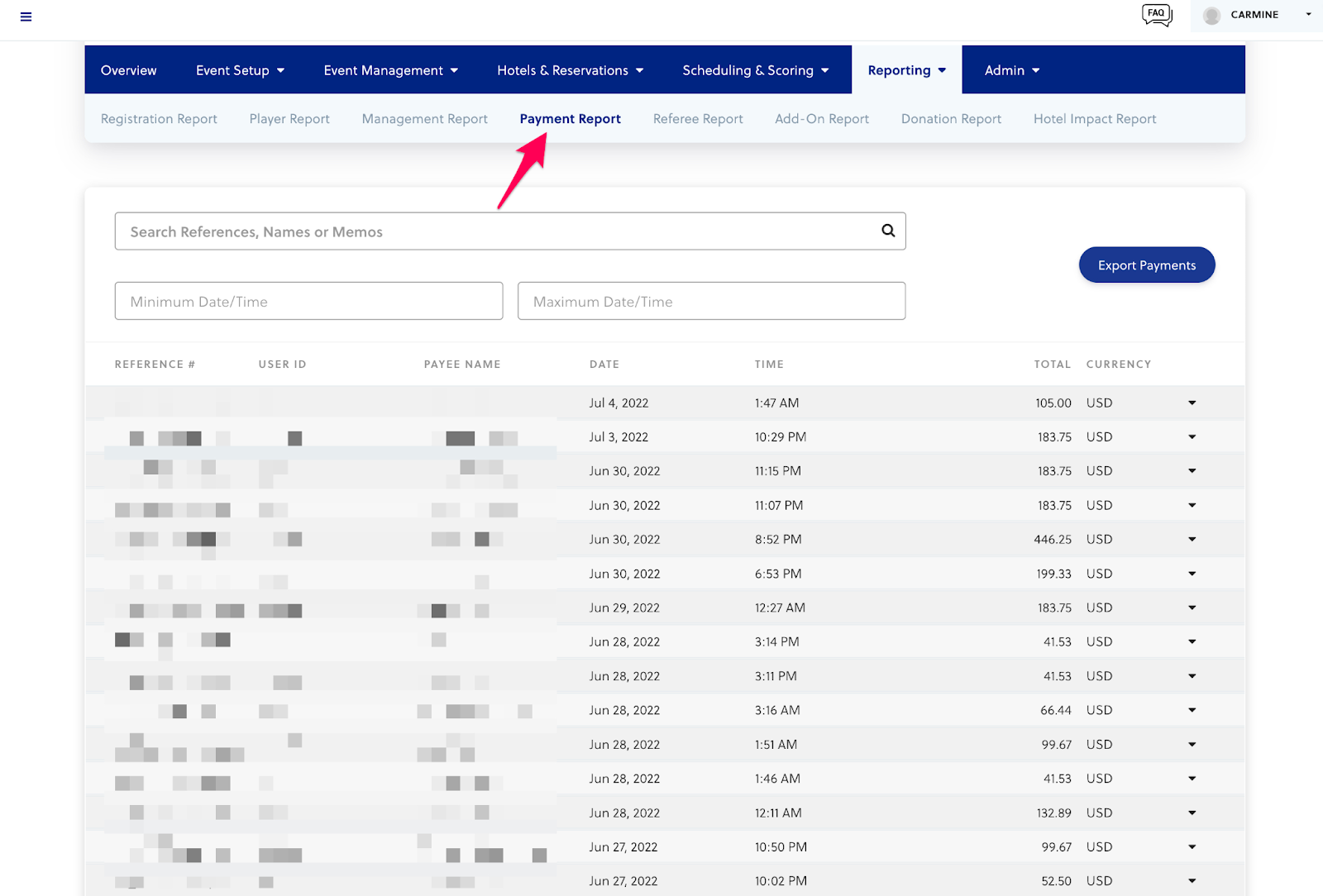 Example of EventConnect's payment report.
Learn more about EventCollect, our payment processing solution for sports tournaments, while you're at it.
3. In-depth analytics, data, and reporting
The right technology gives you the data and reporting to make better decisions. You'll be able to see which events are selling out fast, what your most popular registration packages are, how many people use a particular ticket type (e.g., Family Pass), and other insights that will help you make more money.
It doesn't stop there, though. With EventConnect, you get reporting on every area of your organization.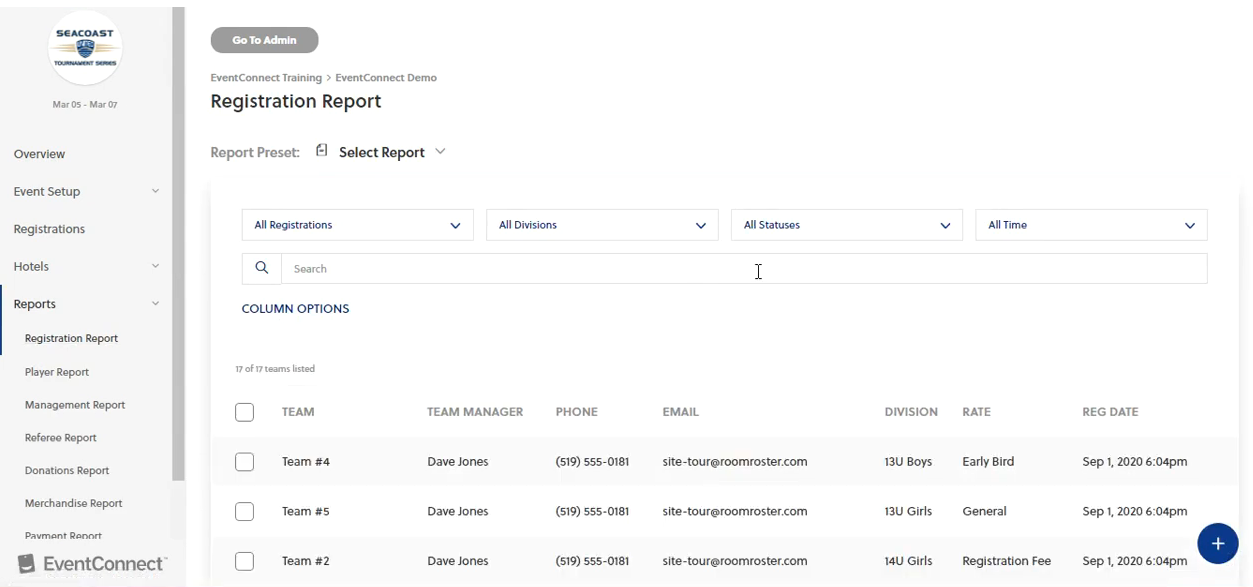 Reporting includes profound insights into:
Registration
Players
Management
Referee
Donations
Merchandise
Payments
And more!
Your local hotel partners can also log in to their dashboard to view live blocks, reservations, requests, and more. As they get to know the types of events that frequent the complex, the transparency and increased RevPar for your events keep everyone happy.
4. Stay connected with desktop and mobile apps
We're all glued to our phones. We use them to keep in touch with friends, stay updated, and communicate with coaches. Here's a crazy fact, too: there are 3.8 billion people with smartphones!
EventConnect has branded mobile apps so you and participants can stay connected wherever, whenever. You get all our software's features with your brand on the frontend. And, If a problem arises during an event or hotel booking process, EventConnect and our service team are always ready to help. You'll also have access to the latest analytics data from our dashboard—no need for manual entry.
After all, the last thing you want is for families or participants to miss games or get lost on the way to venues. Many things can happen last minute with youth sports, and the mobile app can always be a lifesaver.
5. Accurate and up-to-date info for athletes
Athletes need access to accurate and up-to-date information about the venue, the field they may be playing on (or switching to) and their team's performance. Whether an athlete or a parent, it is convenient to find out when your next game will be played, where the gate entrance is located, what time the complex closes, and how much parking costs.
These are essential to play a role in how enjoyable sports and events are for everyone involved: players, families, parents, referees, volunteers, you name it. Having all this information available improves the experience for everybody and makes youth sports more fun.
Most, if not all, solutions on the market for sports technology include dashboards, apps, and other channels for participants to stay in the loop regarding schedules, scores, and news.
6. Schedule games easily and manage tournament scores
When you have event management software like EventConnect to schedule games, it becomes easy for your organization (not to mention participants!) to see when the next game is scheduled. You can also manage tournament scores so that all teams are on equal ground.
Here's what a tournament's schedule and standings look like with Eventconnect: 
Unfortunately, many sports complexes still use pen and paper to manage their event schedules. This legacy process is time-consuming and leaves out essential information for players who might have conflicts in game times or gate opening hours (e.g., those with jobs).
In addition to having access to an easier way of generating schedules, you must protect your athletes from burnout by staggering the number of games played per week. Overplaying kids can lead to injuries and mental fatigue – two things nobody wants!
Final thoughts on why sports complexes should manage their technology
The sports complex industry is growing and evolving, but many owners struggle with a lack of data, disorganization, and doing all their work through spreadsheets.
Event management software can help make managing your complex easier than ever before. With event management software like EventConnect, you can do everything in one place: create intuitive registration flows, schedule & scoring, a convenient mobile app, process payments, and more.
Want to see how our robust suite of tools can transform the productivity and growth of your sports organization? Schedule a demo today.