There's no shortage of things to organize as an event owner. Handling event schedules and scoring games are two things that can be a massive headache. How do most coaches approach this? They go back to the drawing board with pencils, pads, and spreadsheets. They manually organize it. Or (maybe worse), they use expensive and clunky software.
You know first-hand scheduling and scoring is repetitive work. But, luckily there's a solution. EventConnect's scheduling and scoring take the hassle out of the two. We want participants and organizers to have more time to love their sport. Follow along and you'll see how. 👇
Managing tournaments easier with EventConnect's scheduling and scoring.
If you want to keep participants happy and for an event to perform its best, you need a great scheduling and scoring platform.
After all, how will teams know where to go and when to leave? How will they know how they're performing in real-time? EventConnect's platform helps coaches efficiently distribute schedules and scoring brackets. That way, everyone can have peace of mind and plan their days accordingly.
The best part? It's fully customizable. Here are a few of the nifty ways our software will make your life easier as an event organizer.
Manage pools, brackets, and the format of play
No tournament or game is similar. Each tournament or event organizer and sports all have unique pools, brackets, and types of play. For example, you might have four different pools for a single-elimination round robin. You can easily create and manage pools and brackets inside of EventConnect.
For illustration, navigate to one of your events and click "Scheduling & Scoring."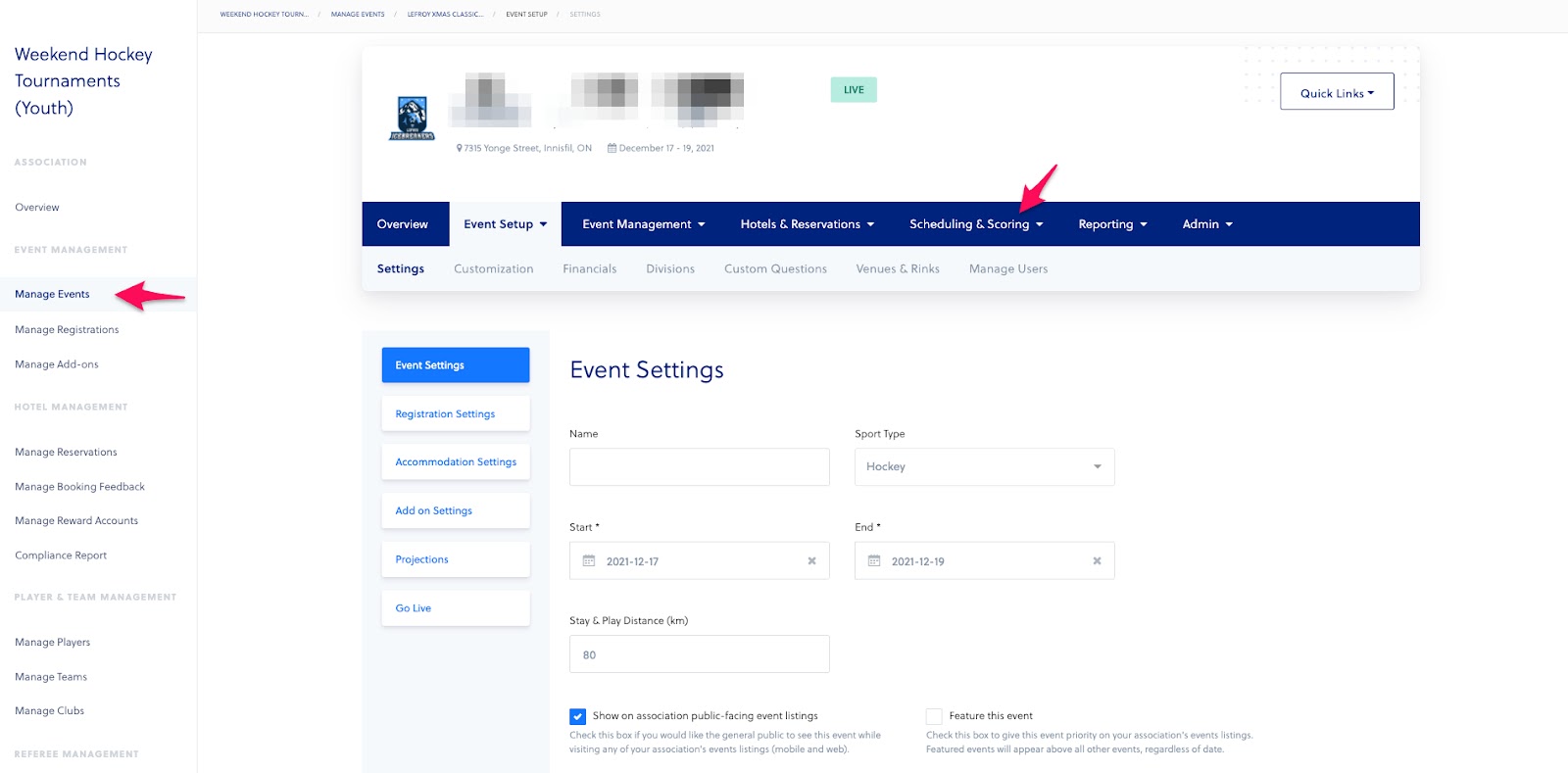 From the dropdown, select "Pools & Brackets" to create or view pools and brackets.

Clicking an individual bracket will display its teams, pools, and scheduled games. Click "Standings" to get more information. Learn more about EventConnect's rostering here.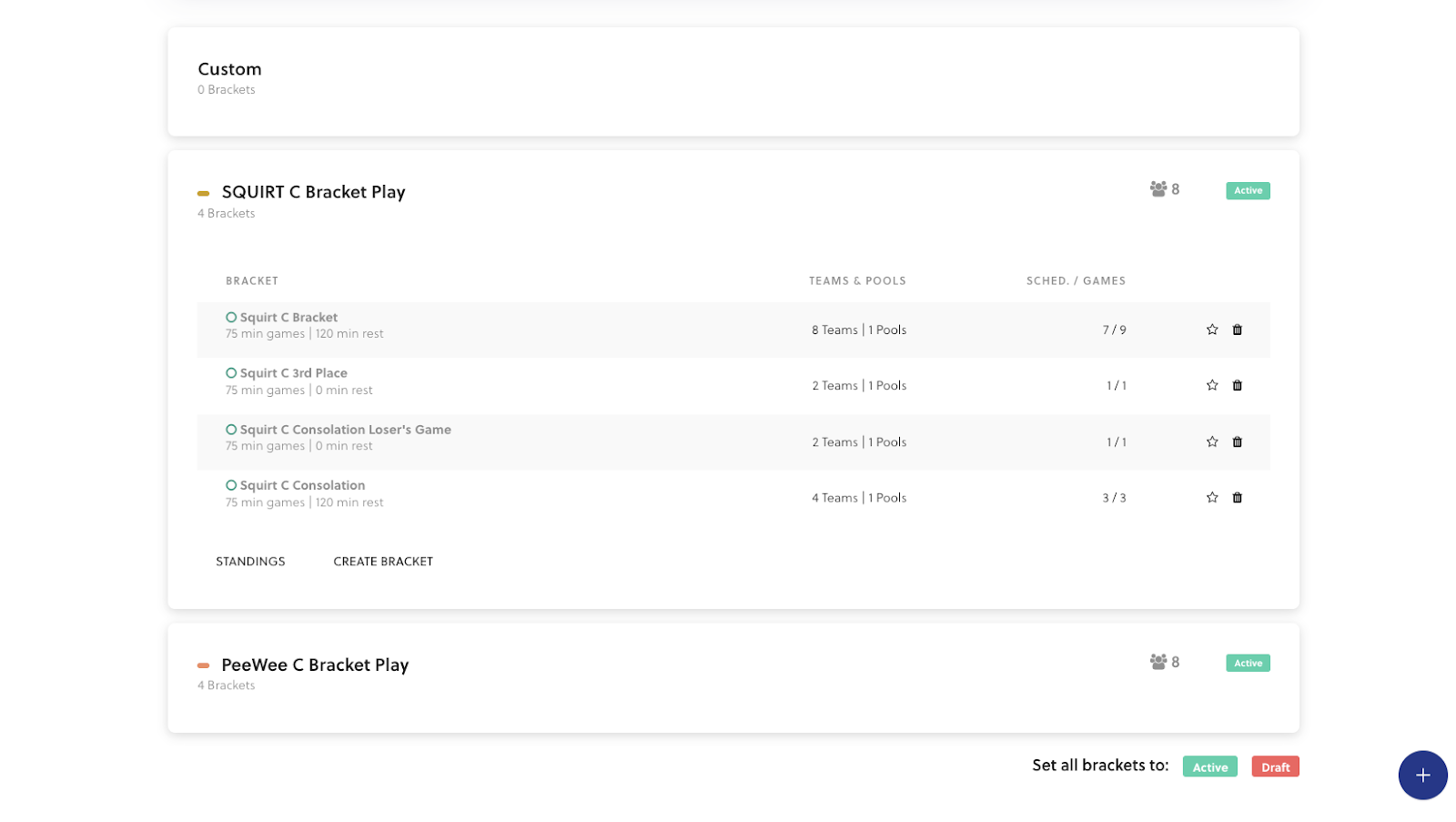 Select a division and EventConnect will first show you the pool's standings.

Below this, you'll find the division's game scores.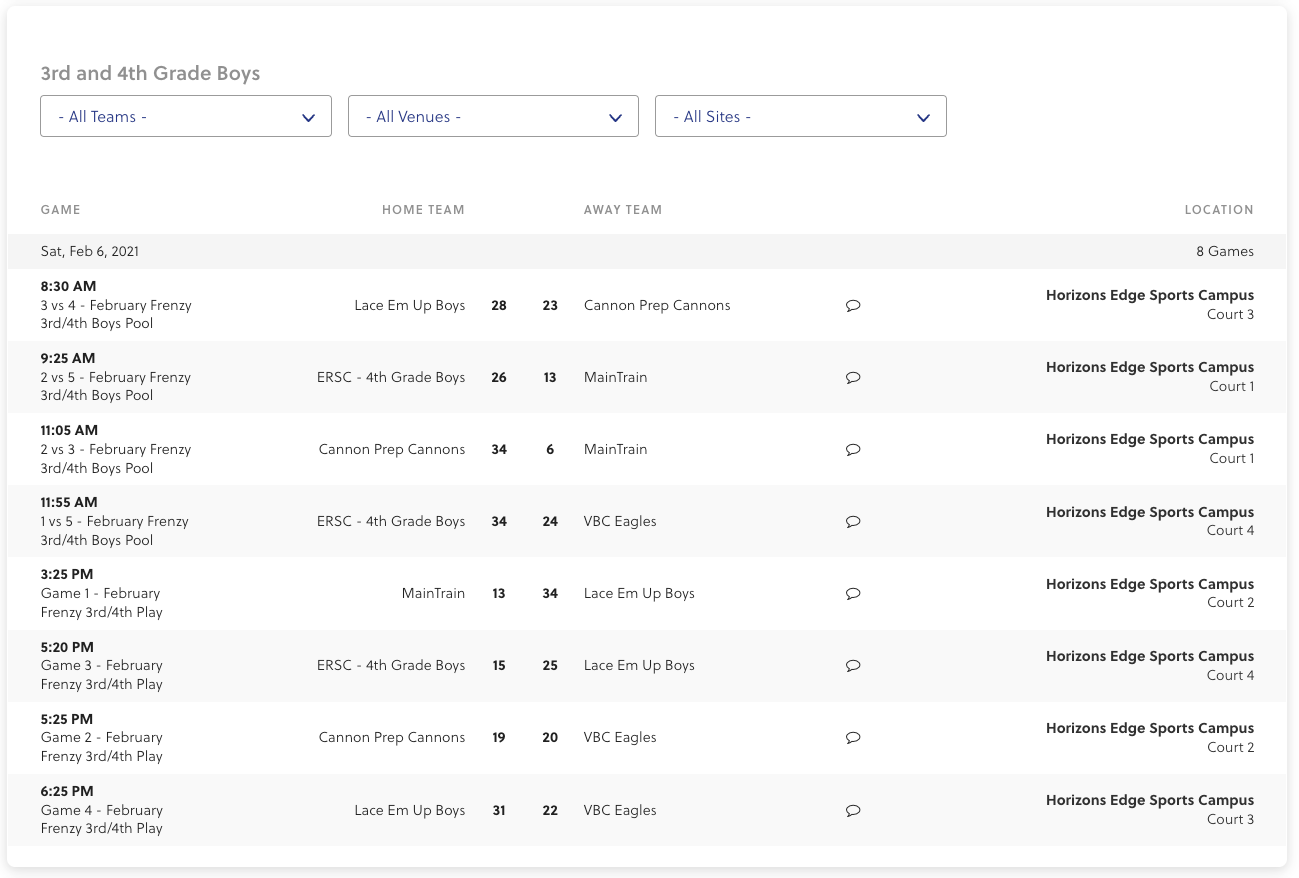 Finally, you'll see a chart that visualizes eliminations (all of which you can export or print to share.)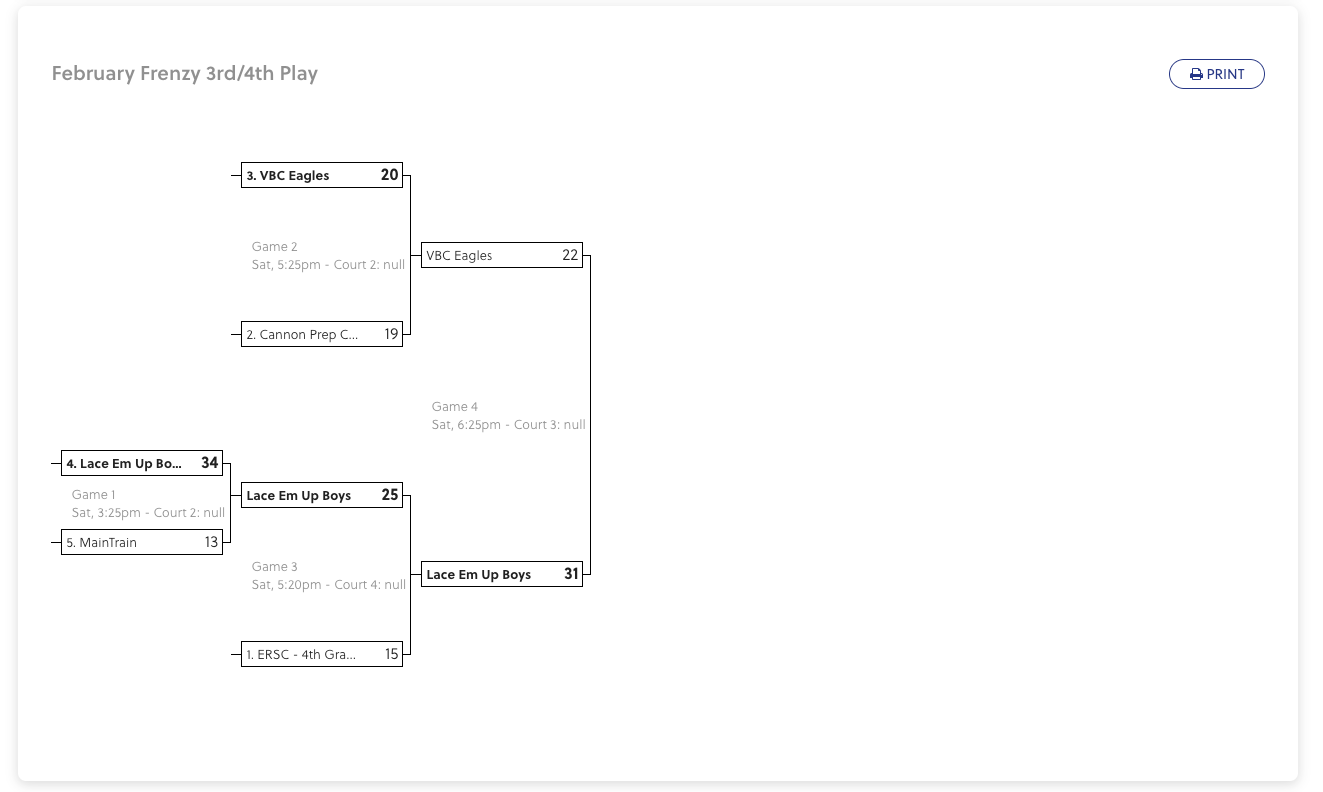 If you'd like to create a new bracket, click the blue plus button in the bottom right corner.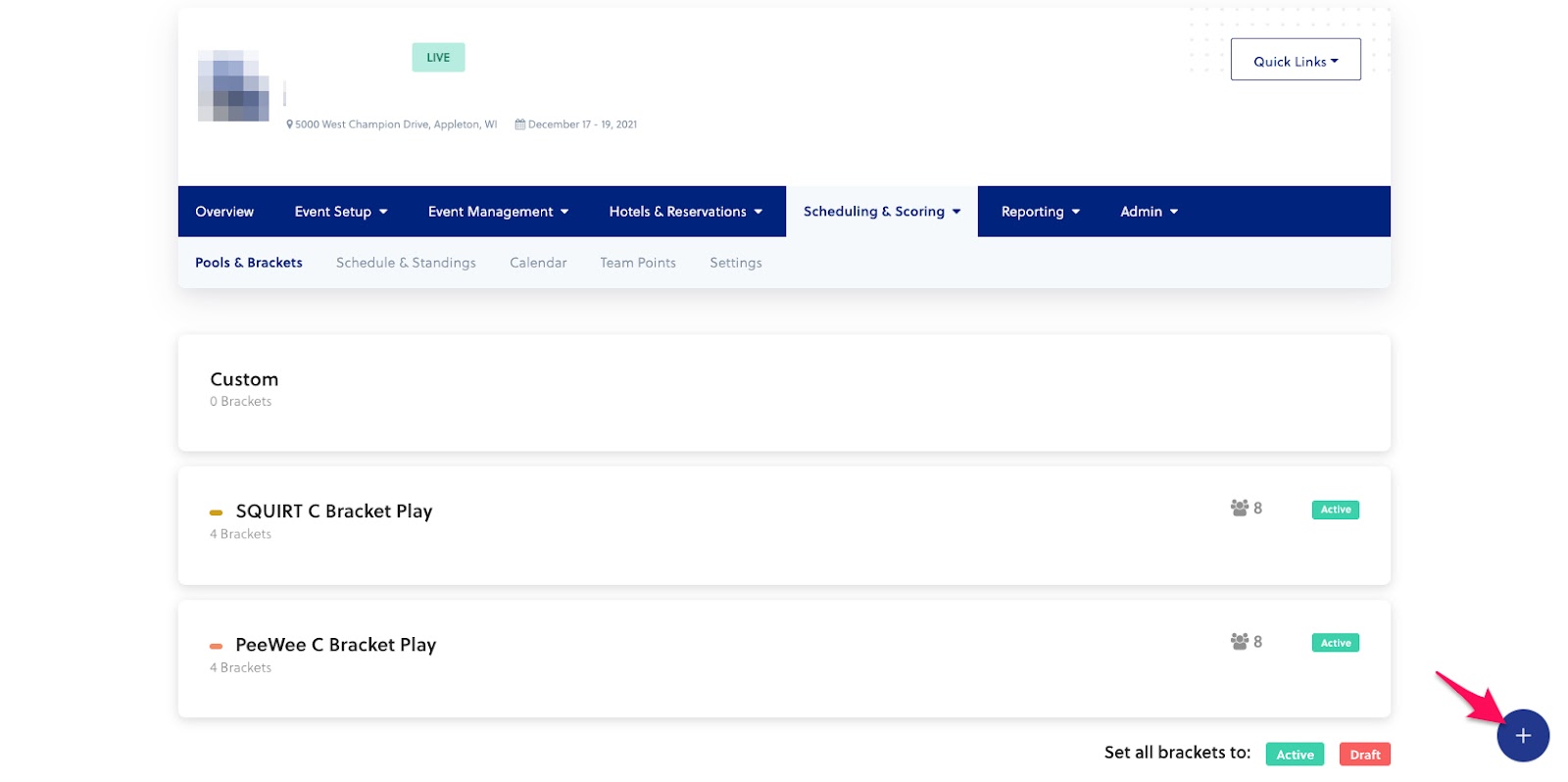 Give the bracket a name, format, game length, and rest time. Click "Create" when you're finished.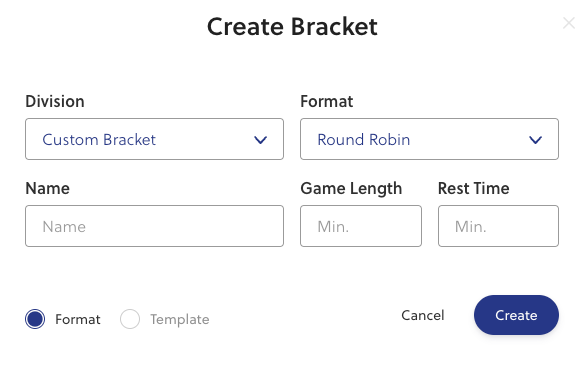 Yep, it's that simple. There's no fee for adding extra teams to an event either.
View schedules at a quick glance
Need to check standings of schedules and divisions instantly? No problem. Inside of EventConnect, you can finalize, view, and share standings and schedules anytime you need. With all of this information at a glance, you know exactly who's playing and when.
Select "Scheduling & Scoring" from the dashboard and "Full Schedule."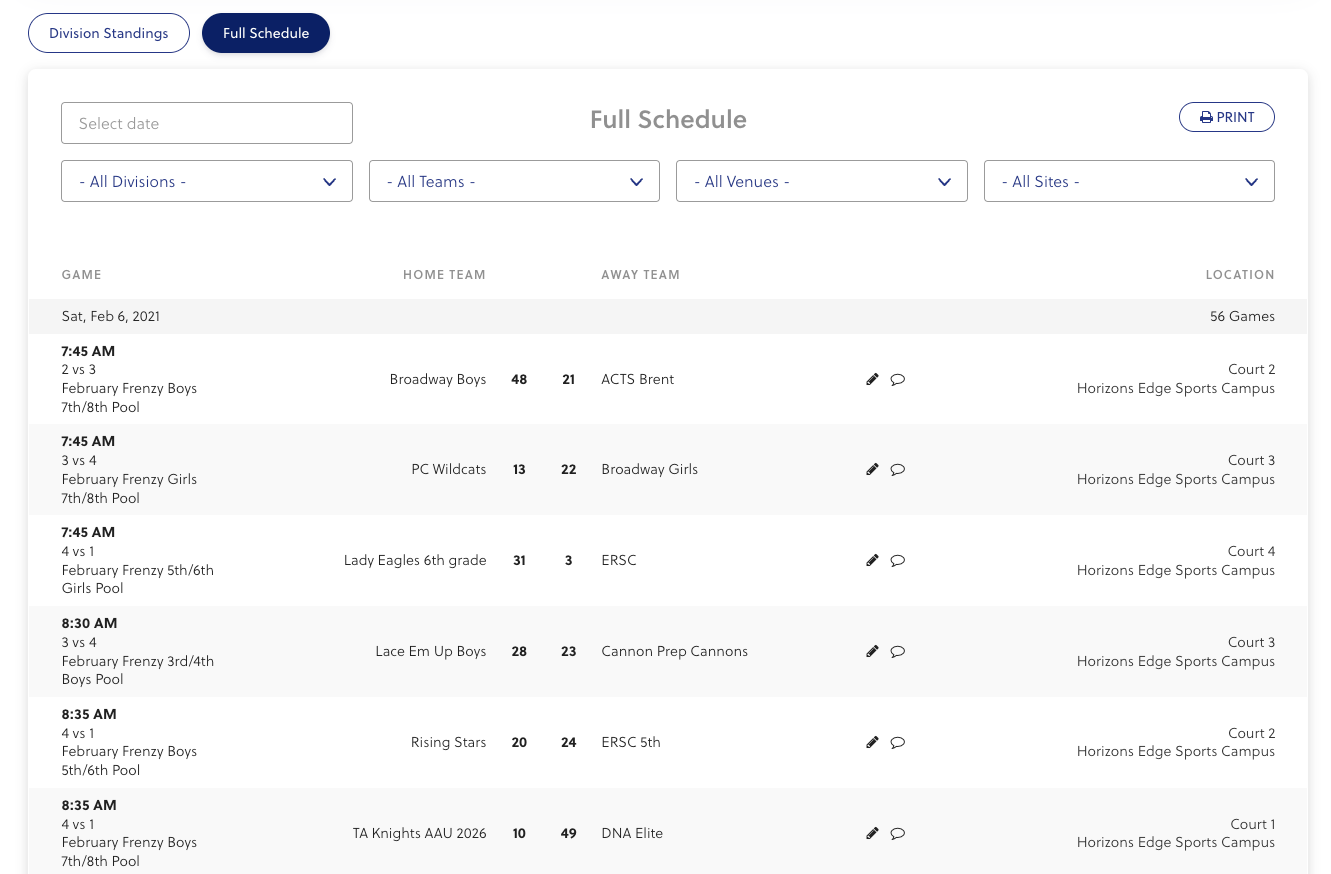 Feel free to filter the results by division, date, team, venues, and fields if you need a specific schedule. You can also view the event's entire calendar via "Calendar."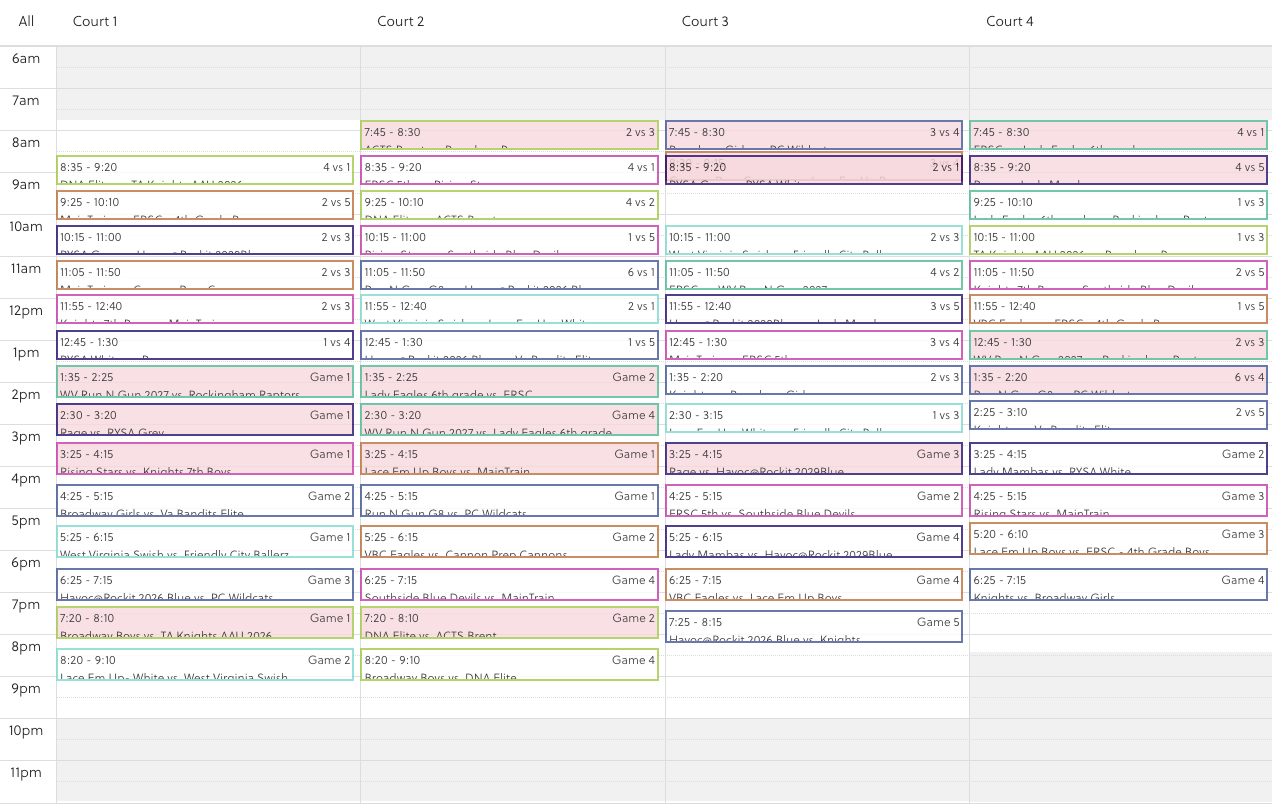 Use the built-in auto-scheduler to save time by selecting a bracket, the number of games, date, and fields.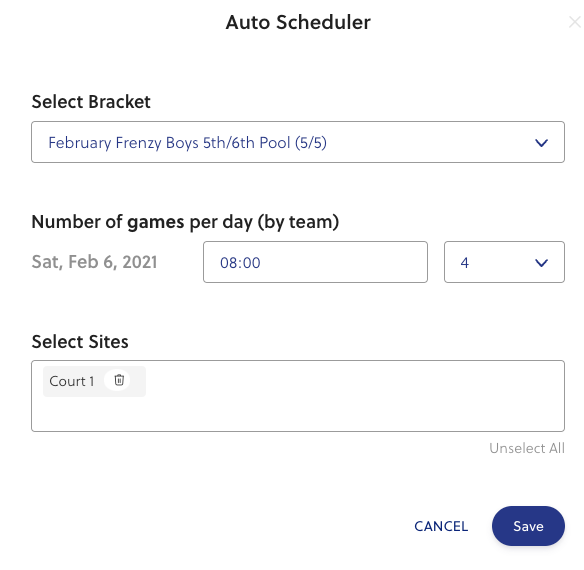 Oh, you can also hit the "Quick links" button up top to instantly get links to registration, events, and more that you can share with participants, families, etc.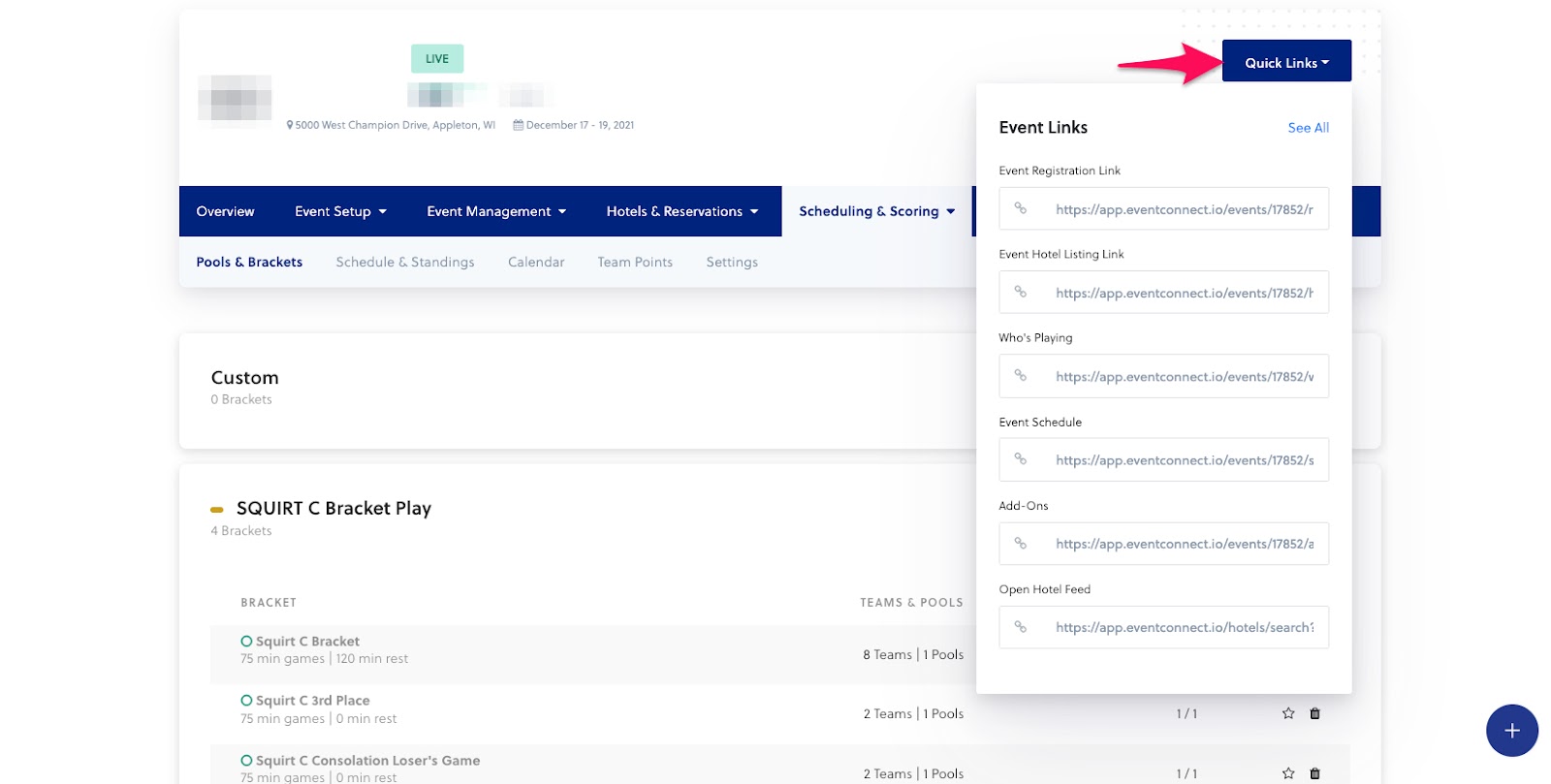 You can share this with participants via the EventConnect app, so participants, coaches and family members are always in the loop. It's no surprise that businesses save 223 hours per year by using event management software.
Read our ultimate event owner checklist to get the most out of your tournaments.
Have more fun with customized point and score systems.
Many event organizers want the flexibility to create custom point and scoring systems for a tournament. Not many tools on the market offer this level of flexibility, making you manage everything across laboriously built spreadsheets. Our software makes it easy and efficient for both organizers and participants. Build out custom points for wins, losses, and ties for specific divisions from "Scheduling & Scoring" and "Settings."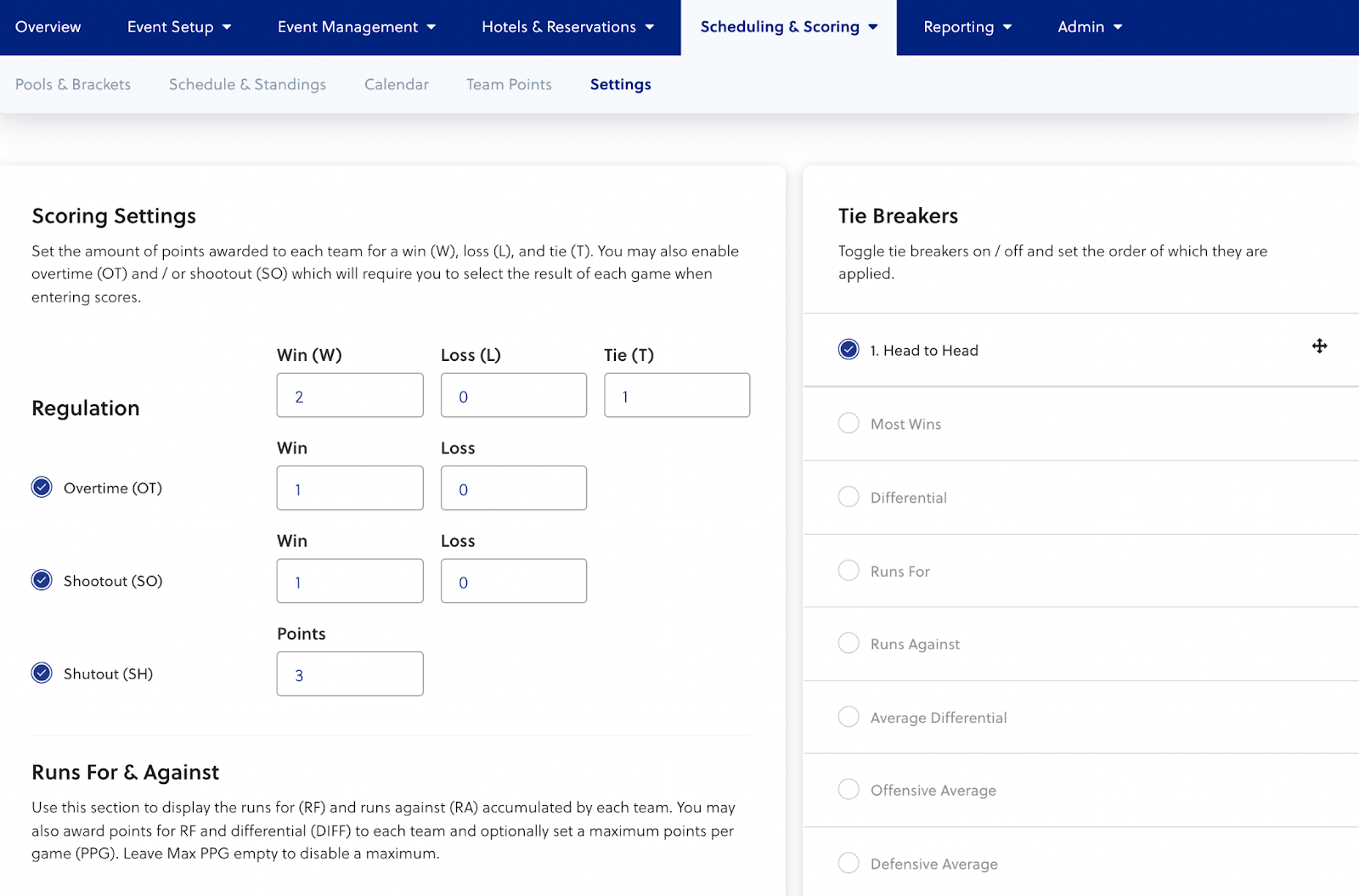 Create more fun and competitive tournaments by enabling options like overtime, shootout, or shutout. Get the crowd at the edge of their seat with tiebreakers like head to head or most wins. Read our article on increasing participation in youth sports to learn more.
You can also click "Show Advanced…" to display the runs for (RF) and runs against (RA) accumulated by each team. Innings played can also be toggled and displayed.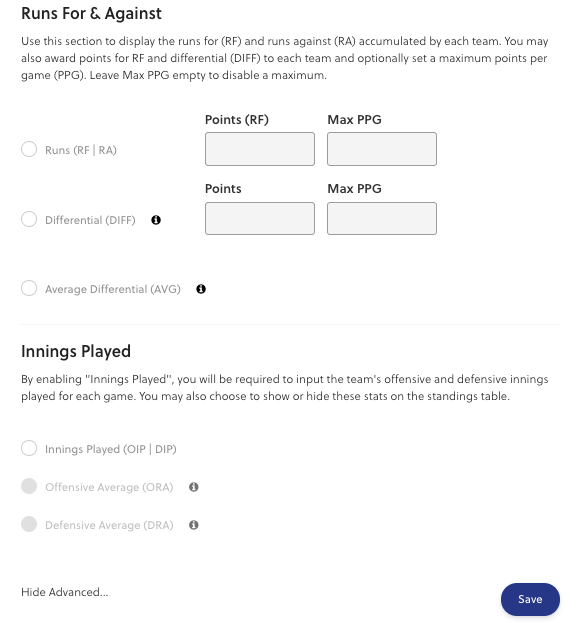 Edit each venue and field individually.
As an event organizer, you know that there can be many different fields, courts and rinks, for example, inside a single venue. It can look fine on paper, but things change quickly: limitations, rules, weather, etc. That's why event owners can effortlessly manage venue availability inside EventConnect.
You can also promote locations and venue information to attendees, so they're always in the loop. No more clunky messaging systems or participants being out of the loop.
Click "Add Venue," and you can select a venue integrated with Google Maps. This Google integration will automatically pull the location.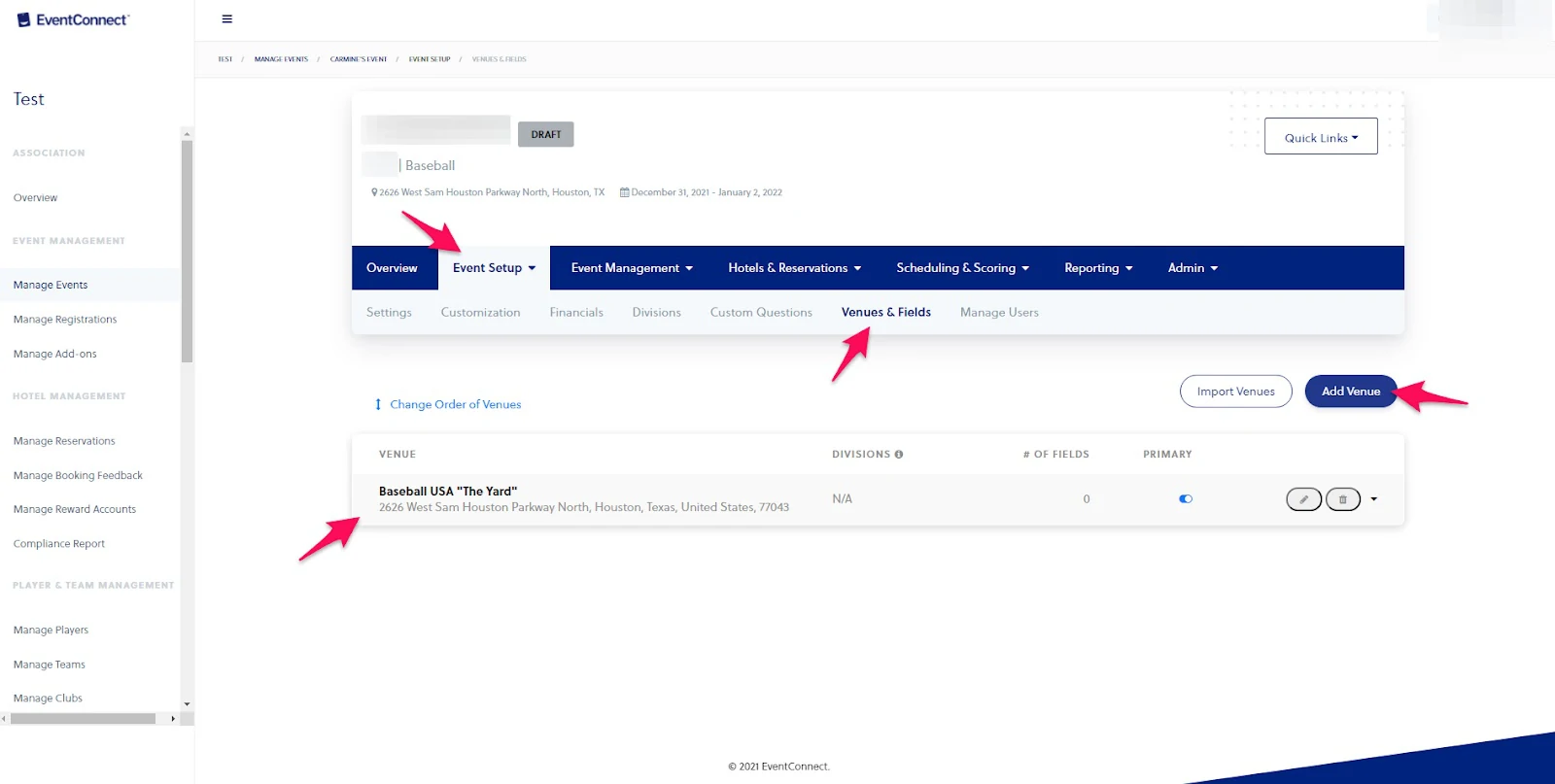 You can then add fields by clicking the down arrow on a venue and "Add Field."

Customize the field or rink name along with its availability each day.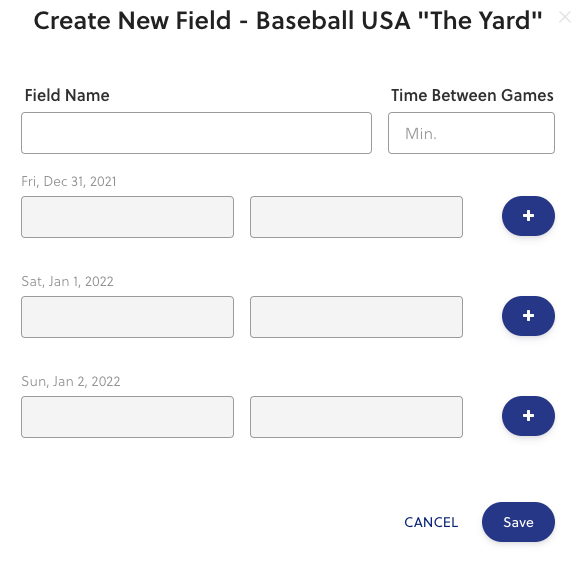 However, things don't always go your way. If event owners need to update the availability of all fields or rinks in a venue, you can do mass updates to save tons of time. Restrictions can be added if venues are unavailable for specific times and are displayed on the calendar, notifying participants.
Learn how EventConnect's tournament housing feature helps make travel teams happy with a 98% positive booking experience and a 24% average group hotel discount rate.
Managing divisions without headaches.
Another aspect of EventConnect's software you won't find anywhere else is the ability to add specific divisions to each venue. This feature helps display and communicate to teams exactly which venues a division will be playing.
Simply click the pencil icon next to a venue, search for a division, and add it!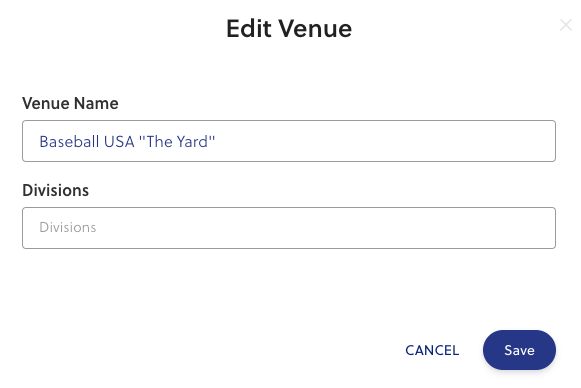 Your hard work will pay off even more after doing this. Why? Because you can use EventConnect's embedded feature to place schedules on your website or other assets. Just copy "Event Schedule" from the quick links dropdown.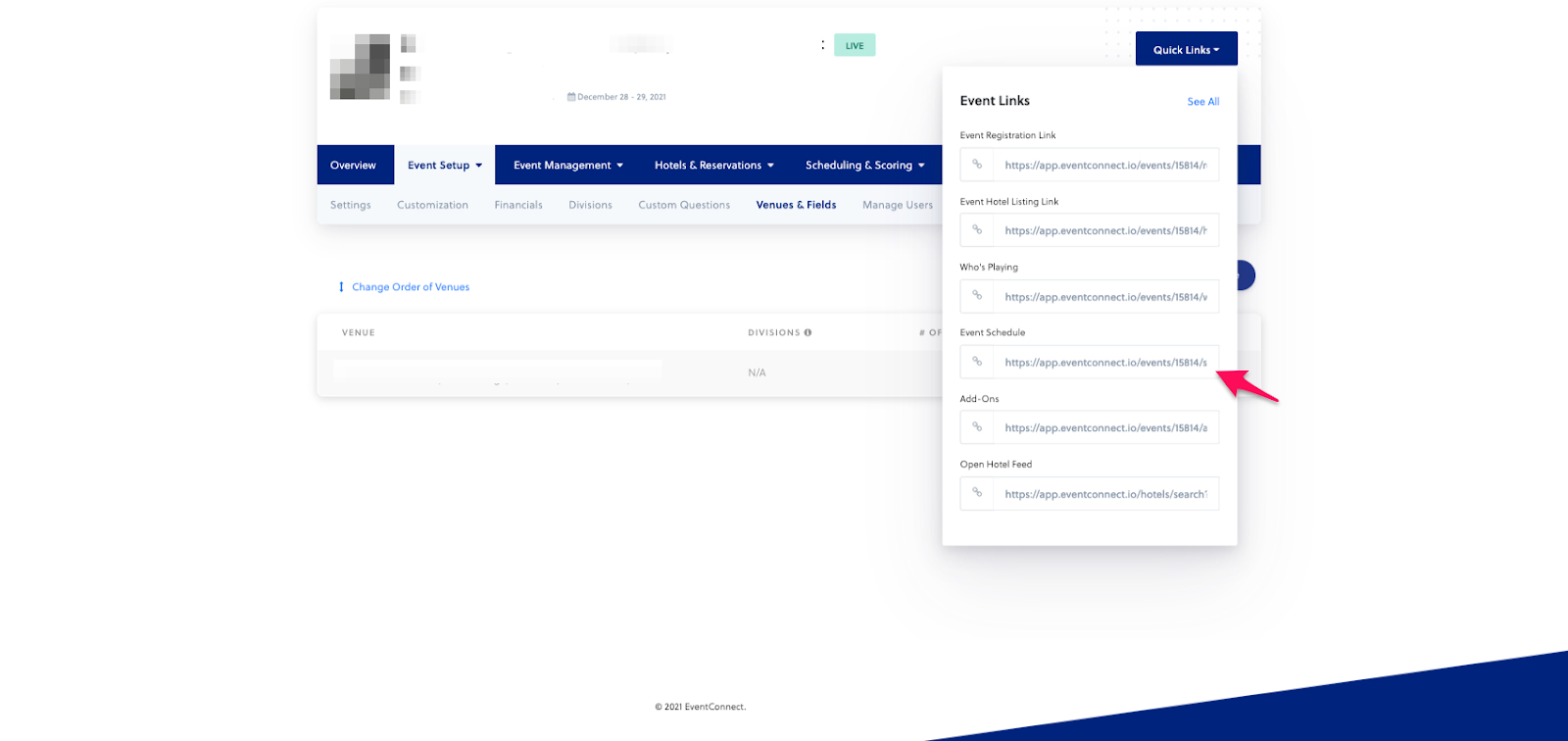 Attendees can easily see where they should be and when.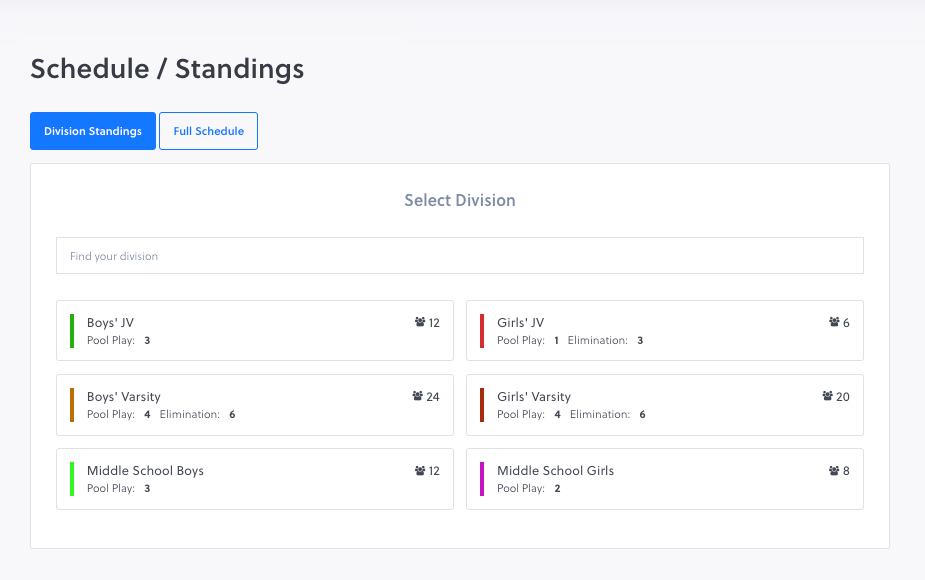 Final thoughts on scheduling and scoring
"Where are we playing?" and "Where are we staying?" are a couple of the questions running through people's heads when they attend or play at a tournament. They, along with everyone watching, want to know their scores and how well they're doing. If you're used to tracking these things on an old scribbled piece of paper or clunky spreadsheet, you're in luck. 👏
EventConnect's no-cost tournament management software includes super convenient scheduling and scoring capabilities. Firstly, it allows you to manage individual brackets, divisions, and different forms of play. Are you running an odd number or brackets or something specific like a round-robin? No problem. You can plug it into EventConnect with a few clicks.
Users can also see schedules and standings at a glance. Ensure you know precisely where participants should be and when—no more guessing, miscommunication or being late.
Tournaments can include customized point and score systems. This flexibility helps you create unique games that are more fun for participants and attendees. Assign custom points for wins, losses, and ties.
You know as a coach that there can be many different fields and rinks inside one venue. It can be a real pain to manage them too. Not with EventConnect. Simply add and edit fields and rinks inside venues to change availability whenever needed.
Want to see how EventConnect can make teams happy and help you grow? Sign up for a free demo today.