Are you looking for the best tool to help you organize sports and tournaments? You're in the right place. Today we're making a comparison of LeagueApp versus TeamSnap.
Both of these software platforms can be used to make your day-to-day operations easier as an event organizer.
You might've thought, "What makes one different or better than the other?" sending you down a rabbit hole. Don't worry. Today you will learn the pros and cons of both LeagueApp and TeamSnap so you can finally make the right decision.
Let's get into it!
LeagueApps

LeagueApps is used by over 20,000+ sports organizers 10+ million programs and has generated $1 billion in revenue for customers. It provides youth and local sports leaders with the tools and a community to grow their organizations quickly.
Let's take a look at the features that LeagueApps has to offer.
LeagueApps features
The LeagueApps platform can be broken down into four main features: Launch, Promote, Manage, and Invoice.
LeagueApps helps you optimize program capacity, create custom payment plans, and make it as easy as possible for players to register.
Since one size doesn't fit all, LeagueApps helps configure registration based on the kind of program you're operating. Offerings are built for tournaments, leagues, camps, classes, clubs, and one-time events.
The platform also reduces the number of steps to register. Saving time means more money in your pocket with fewer obstacles for attendees.
You can offer custom payment terms so customers can pay by instalments or a payment plan, so you never miss a payment.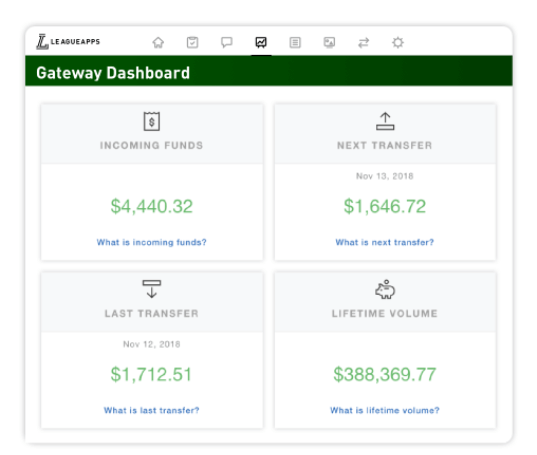 The LeagueApps waitlist feature allows you to set registration capacity limits and deadlines, while the software's promotion features help you drive registration growth.
While we're on the topic, read our article on marketing your event like a pro to learn more about techniques for successful event marketing.
LeagueApps gives you the tools to build an online brand through the LeagueApps Design Shop. After all, websites are the new business card. Use it to generate revenue, facilitate registration, take payments, and tell your event's story.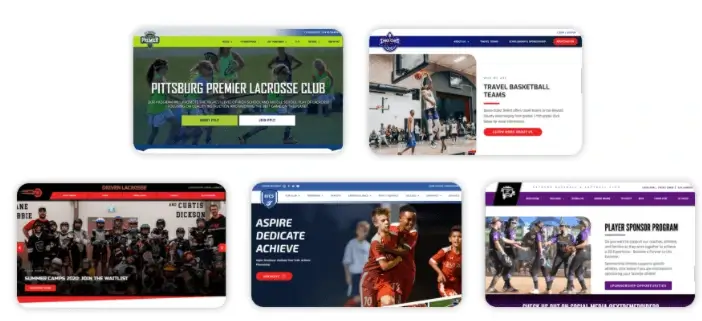 The mobile app helps you communicate with teams, parents, and coaches.
EventConnect also offers a whitelabel app you can offer EventConnect's entire platform to participants. All under your brand and name.
With all of these things in mind, it's easy to get bogged down as a coach or event stakeholder. LeagueApps gives you a suite of tools like payment processing, team communication, and reporting to make your life easier.
Get a free demo to see what we're all about.
Another huge reason to choose LeagueApps (which also makes them different) is their community. They have in-person and online events and groups that are great for relationship building.
They launched the first-ever youth sports conference that brought together more than 300 industry leaders for two days of workshops and discussions. You can also join LeagueApps' Slack or LinkedIn groups to connect with peers and find ways to collaborate.
LeagueApps pricing
So, how much do you have to dish out to get LeagueApps? LeagueApps doesn't have pricing explicitly listed on its website. You have to request a quote here.
This link will take you to a form to fill out based on your preferences. You will then receive a custom quote.
However, you didn't think we'd leave you hanging, did you? Upon further research, we discovered that GetApp.com lists LeagueApps at $495 for a one-time license fee.

Book a demo of EventConnect to see how our tournament software can help grow your business and make managing tournaments effortless.
TeamSnap

Let's dive into LeagueApps competitor next, TeamSnap. On their website, they want to take the work out of play since sports are fun and organizing seasons are not.
TeamSnap gives you a range of tools to manage registration, invoicing, rostering, and scheduling.
Here's precisely what they offer.
TeamSnap features
TeamSnap is broken down into a few different solutions. They are Clubs & Leagues, Teams, and Tournaments.
Over 19,000 sports league organizations use TeamSnap's Clubs & Leagues feature.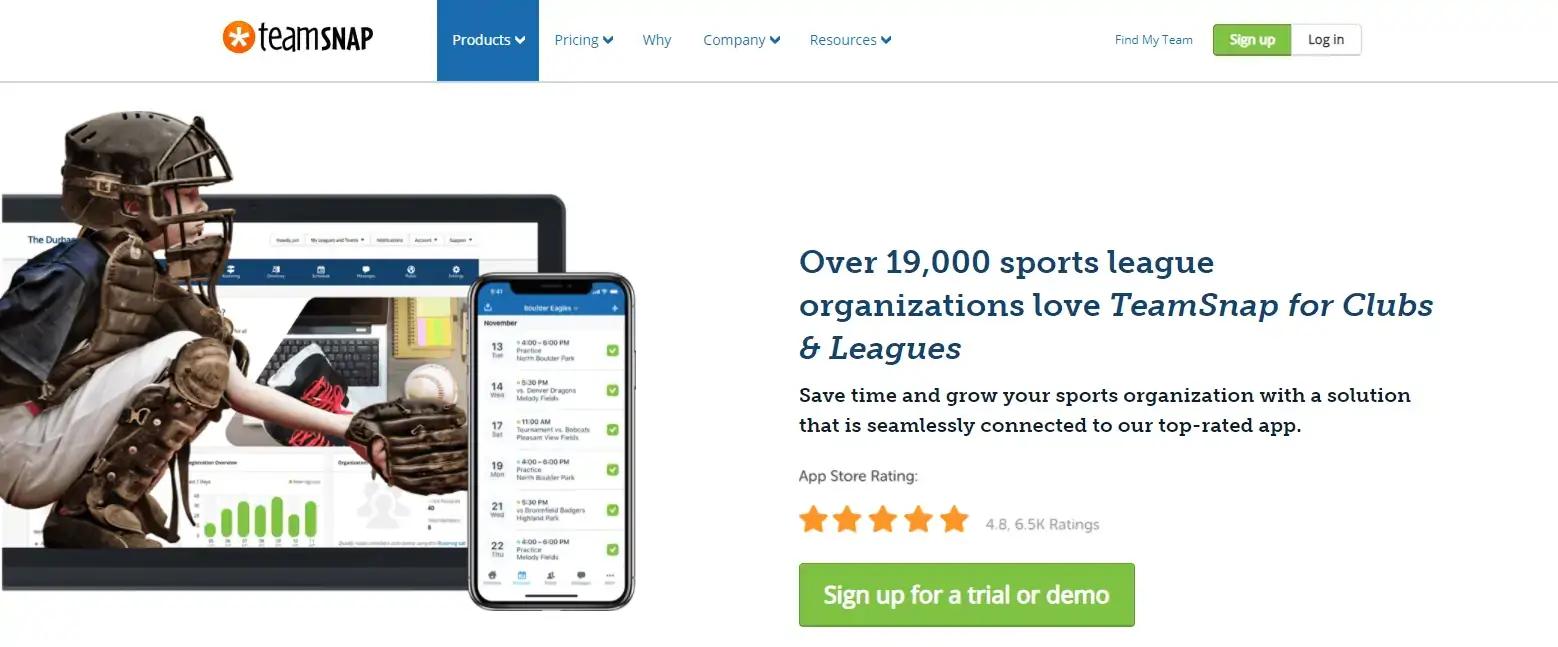 It offers straightforward and flexible registration software to collect members' information, offer account credits, and keep on top forms.
EventConnect is the only sports management software to connect housing directly to registration. Participants can secure room blocks with the lowest online group rates all in one seamless flow.
View and edit contact information on the go with member databases that can be imported or exported in the snap of a finger.
Generate schedules for games or practices in a few clicks. TeamSnap supports multiple divisions, fields, locations, and teams.
TeamSnap also gives customers a professional website to improve branding, reach, and growth. They are sleek, mobile-friendly, and optimized for SEO out of the box. If you aren't the most prominent tech wizard, this will save you hours of headaches.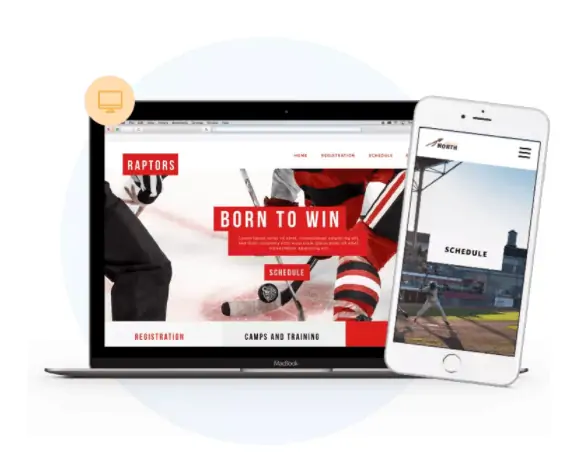 The "Teams" solution included team chat, alerts, scheduled payment collection, and game sharing. You can choose from different plans depending on your exact needs.
Watch this video to learn more:
Finally, TeamSnap's "Tournaments" solution covers everything from registration to scheduling and management. Stop stressing over building a seamless registration process, venue conflicts, or who's officiating events.
Let's talk about how much TeamSnap is next.
TeamSnap pricing
The "Teams" solution ranges from free to $17.99. Note that if you pay annually, you will receive a discount. 👍
The free version offers 15 roster members, health checks, scheduling, TeamSnap Live!, messages, invoicing team chat, and assignments.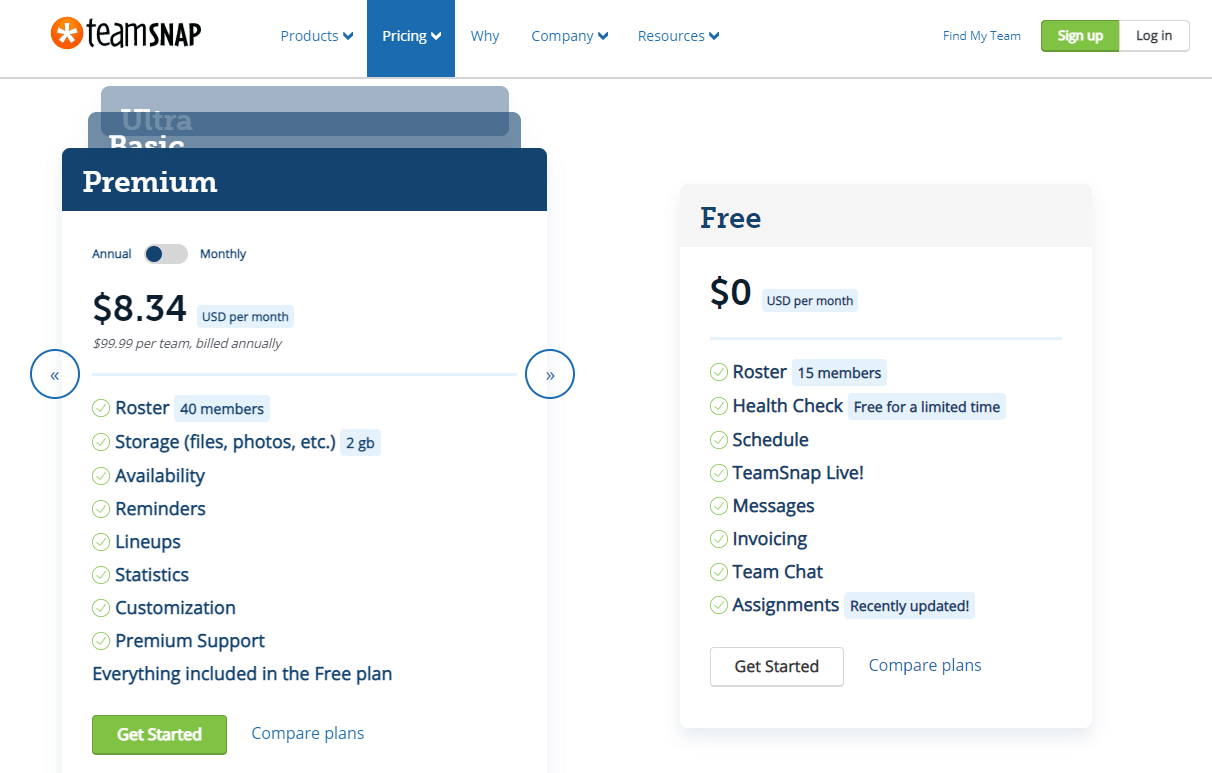 The features and limits continue to increase as you move from Basic to Premium and Ultra. Choose one based on your individual needs as an event organizer. Make sure to try out the 21-day trial as well.
The "Clubs & Leagues" pricing is built per quote. You will have to schedule a demo and contact TeamSnap to learn more.
TeamSnap takes the cake here nonetheless. They are considerably more affordable than LeagueApps and offer a free version to try. You should also consider using EventConnect's no-cost event management software if you're open to other options.
The verdict on LeagueApps vs TeamSnap
Okay, let's recap. TeamSnap and LeagueApps are event management software that makes organizing youth sports tournaments hassle-free. They include features for collecting payments, scheduling, messaging teams, and more.
Both solutions have nearly identical features and benefits. What makes them different? For starters, you gain access to a host of community options with LeagueApps. If you value networking and connecting with other sports professionals, this might be a deal-breaker for you.
Secondly, TeamSnap wins in terms of pricing. It offers a free version a free trial and is cheaper month to month. LeagueApps is more expensive for a one-time license.
While these are great options, there's something even better to try: EventConnect. Our no-cost sports tournament software gives you proprietary technology and unmatched service to drive more revenue, create efficiencies, and reduce headaches.
We're the only tournament software that offers connectivity to the registration process, resulting in 30% more room night bookings and 24% lower online group rates.
Get back to enjoying your sports and get started with a free demo today.