Remember the process for organizing a game as a kid? You would pick teams, make some rules, and play! Even as we grew older, managing games and tournaments haven't evolved much. But technology has.
There are various tools at our fingertips to schedule tournaments, collect payments and communicate with players. They have the power to make our lives easier and tournament management more enjoyable.
51% of children aged 5 to 14 play sports and participate in 2.6 games per week. That means more ridesharing, coordination and memberships to organize.
There are many options in the marketplace when it comes down to tools that help us accomplish these tasks. They all have different features, benefits and prices. How can you choose the best one? Two of the most popular choices for coaches and organizers are Heja and TeamSnap.
In this article, we will compare Heja against TeamSnap to give you an overview of how the two event management software stack up against each other.
What is Heja?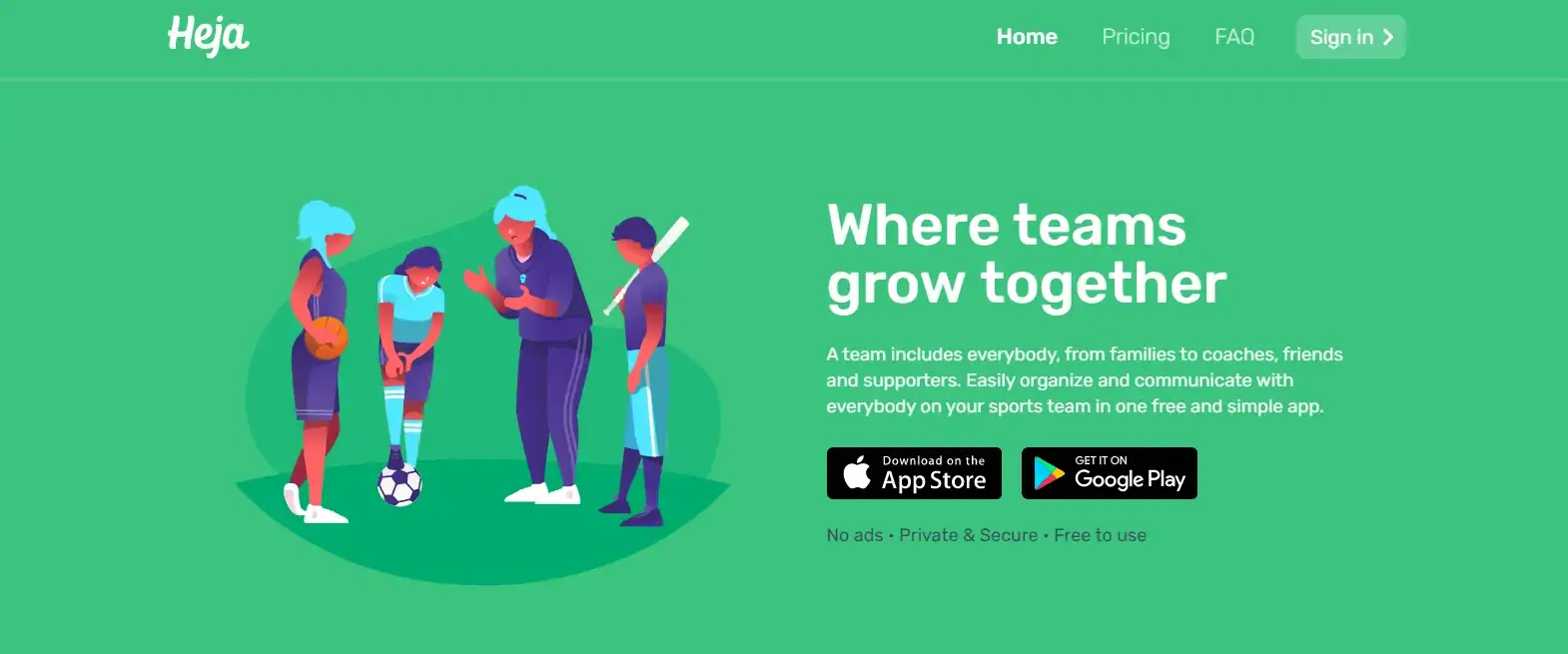 It's available on both Android and iOS. Heja is very popular and well-received, sporting over 8,800 ratings on the App Store with five stars. Heja is a sports management and communication app that helps keep teams on schedule. You can easily plan upcoming practices, games, and team activities for everybody to see. Sending out reminders can be a pain, but Heja makes it easy. It also saves you time from sending out emails and text messages manually.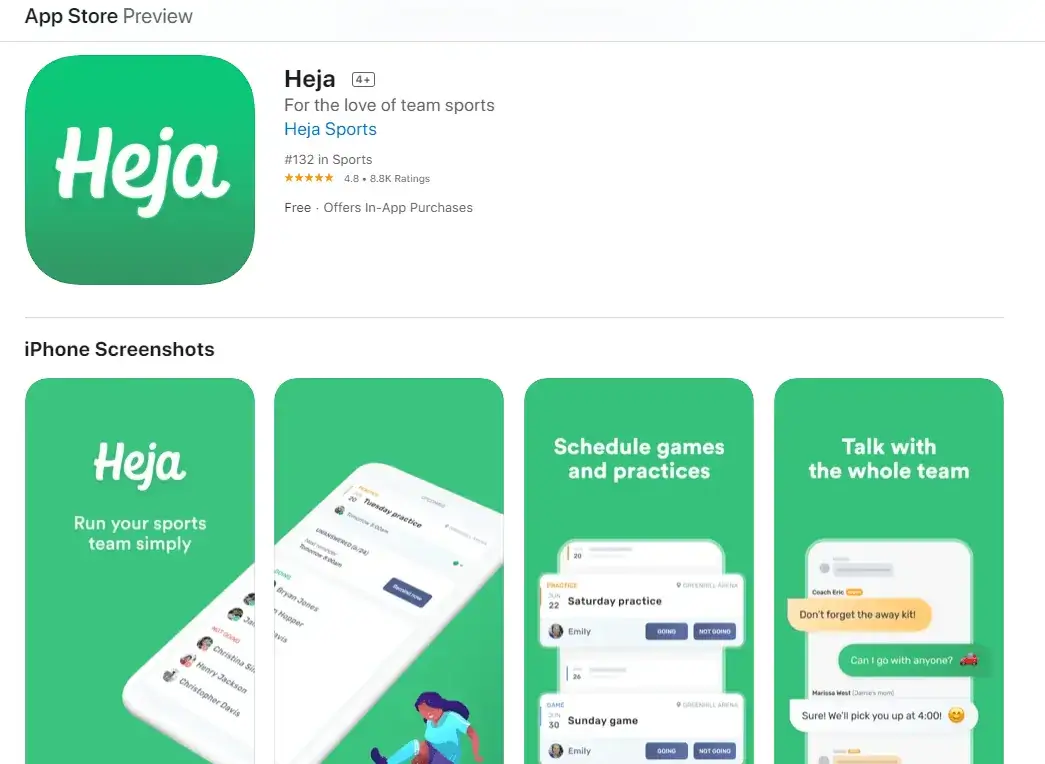 Heja's app brings everyone together. Players and families no longer have to communicate solely through their team manager. Heja allows you to manage communications, carpooling, and more within a single app. You can also say goodbye to the clutter of emails, phone calls, and texts. Your entire team will be brought together under one app.
Book a demo of EventConnect to see how our tournament software can help grow your business and make managing tournaments effortless.
Heja features
With team schedules synced to personal calendars, you are always in the know – you'll no longer forget about games or where to be. You can also decide who gets access to team information and what they can see. Read our event owner checklist to ensure you're fully prepared before every tournament.
Heja pricing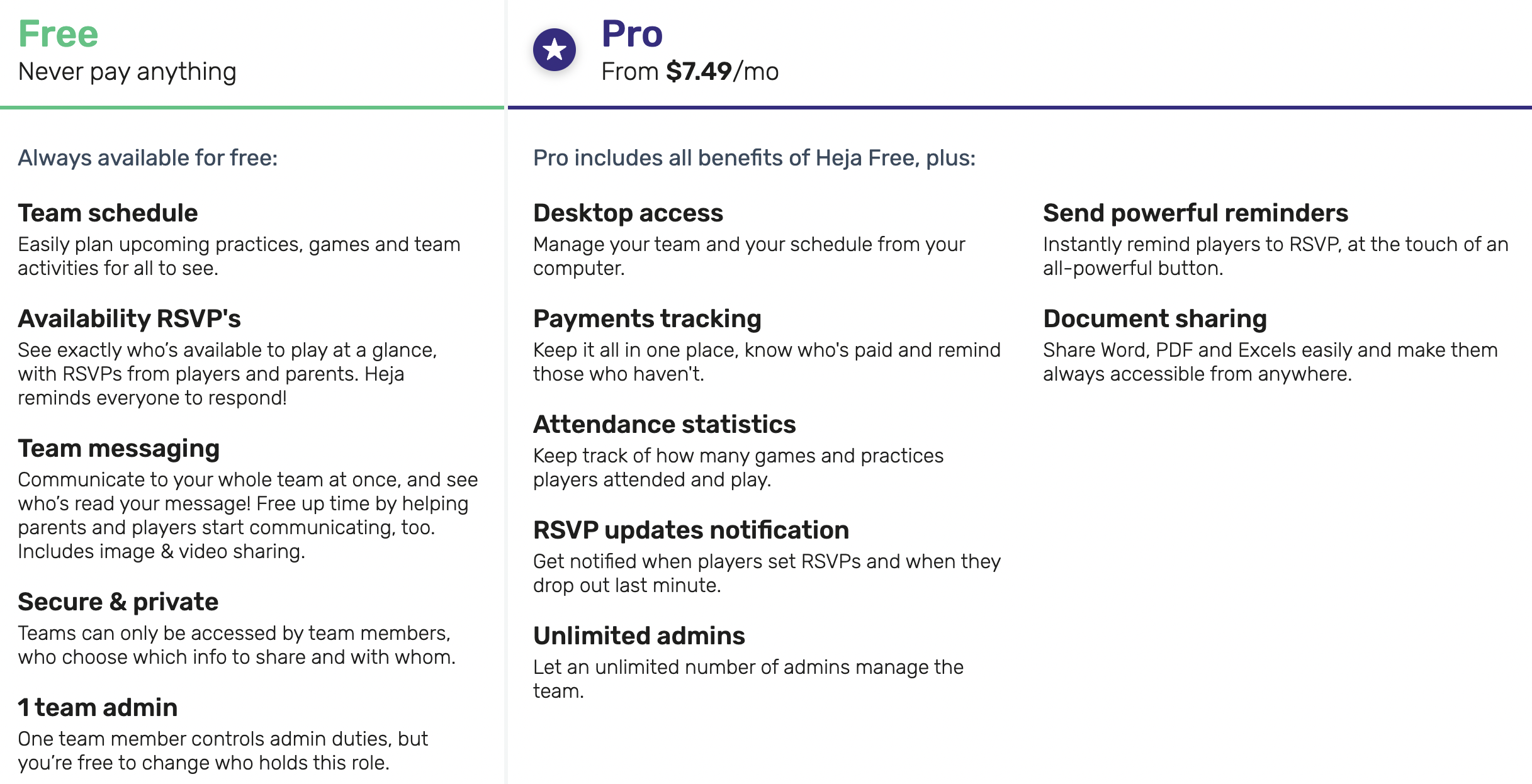 If you've been thinking about using Heja, naturally, you might've thought, "How much does Heja cost?" Here are their current pricing plans:
Team scheduling: Easily plan practices, games, and team activities. The free version includes:
Availability: See who's available to play.
Team messaging: Help parents, teams, and players communicate in one place.
Security: Choose who gains access to information and messaging.
One team admin: One person can control admin settings, but this can be changed freely.
Heja's Standard plan costs $49.99/year and includes all of the free features plus:
Attendance statistics: Get valuable data on how many games and practices each player attends.
Manual RSVP reminders: Send instant reminders to players who haven't RSVP'd to increase participation.
RSVP notes: Get answers from team members if they're leaving early, arriving late, etc.
Document sharing: Share Word Docs, PDFs, spreadsheets, and other useful files, so teams are always in the loop.
Three team admins: Have up to three admins managing the app, teams, and workload.
Finally, the Pro plan costs $7.49/month. It includes all of Standard's features plus:
Desktop access: At home on the computer? Manage teams and schedules from your desktop.
Payments tracking: Keep payment information in one place, know who's paid, and send reminders for late payments.
RSVP updates notification: Get instant notifications when players RSVP or cancel.
Unlimited admins: Set as many administrators as you need to manage teams more easily and reduce workload.
What is TeamSnap?
Next up, TeamSnap. They produce event management software that helps make event management a simple and more enjoyable experience. There's a significant difference between Heja and TeamSnap to note right away: Heja is a mobile app, while TeamSnap is a software platform with a more extensive range of features. Both have benefits for different use cases.
TeamSnap boasts a four-star rating across 37 reviews on the software review website G2. It's been praised for its ease of use, support quality, and setup.
TeamSnap features
Let's dive into the nitty-gritty of what TeamSnap has to offer and outline some of its main features and benefits.
Firstly, it offers online registration capabilities. You can collect custom member information and payments using  TeamSnap's form builder. No more manual importing or wasting time.
Secondly, users can invoice and manage their payments in one place. Get paid upfront directly into your bank account. Use this for monthly memberships or tournament fees.
Similar to Heja, TeamSnap also offers communication tools to receive and send updates to teams or custom groups of people like coaches, managers, or volunteers.
You can use TeamSnap's automated scheduler to save time scheduling clubs, leagues, and games. There is also a website builder, league rosters, background checks, and a merchandise creator.
TeamSnap pricing
So, how much does this puppy cost? That's a great question. The Clubs & Leagues solution has three pricing plans that require you to request.
These are the three plans:
Basic: Online player registration, invoicing, league-wide messaging, calendar, custom health checks, and basic Team features.
Premium: Everything in the Basic plan and TeamSnap's scheduler and premium Team features.
Ultra: Everything is included in Premium plus Ultra Team features.
The TeamSnap solution is a more straightforward software for coaches and small organizations. They offer a 21-day free trial to see what it's like hands-on. The pricing ranges from $5.84 to $10.84/month, and there's a simple free version you can try before upgrading.
Final thoughts on Heja vs TeamSnap
Phew, that's a lot to take in. Let's go over the main takeaways from today's comparison of Heja vs TeamSnap. Heja is a mobile app that helps teams, coaches, and families stay organized. You can schedule events, send invoices, and communicate with everybody on your team.
TeamSnap, on the other hand, is a fully-fledged event management software. It includes all of the features of Heja along with a desktop version, website builder, and other elements that help organizers improve tournaments and participation.
Both have free versions. You can try to get your feet wet too. Heja has slightly better pricing, but if you need a full suite of tools, the slight difference gives TeamSnap the advantage. Coaches and organizers needing a simple tool they can take with them on the go will find Heja more reliable.
If you're interested in alternatives to Heja and TeamSnap, request a demo of EventConnect.
EventConnect's free tournament management software aims to reduce the cost of amateur sports with the industry's lowest processing fees and most robust set of features. We're also the only solution that connected tournament housing to the registration process, providing many, 30% more room night bookings per team at a 24% lower cost than typical online rates.