Event organizers have a lot to keep track of when planning and executing a successful event. There are many factors to make an event run smoothly, from the venue to marketing or hotel logistics.
However, one of the most important aspects of any event is measuring success by tracking key performance indicators (KPIs). This blog post will discuss the KPIs that EventConnect partners commonly measure through our software to maximize event success!
Event Revenue
Event revenue is one of the most important KPIs for any event organizer. It measures how much money your event has earned and is a good indicator of a successful event. After all, you need to generate money to fund future events and provide a better experience for participants. 
Tracking event revenue inside EventConnect is simple. Simply go to your event overview page for an overview of your event's registration and hotel revenue.

Click "View more details" for a more detailed breakdown. Below is the tournament hotels page.

You'll find hotel performance and a contracting summary on the Tournament Hotels page of your dashboard. Navigate through the different tabs like "Teams & Reservations" to see specific data.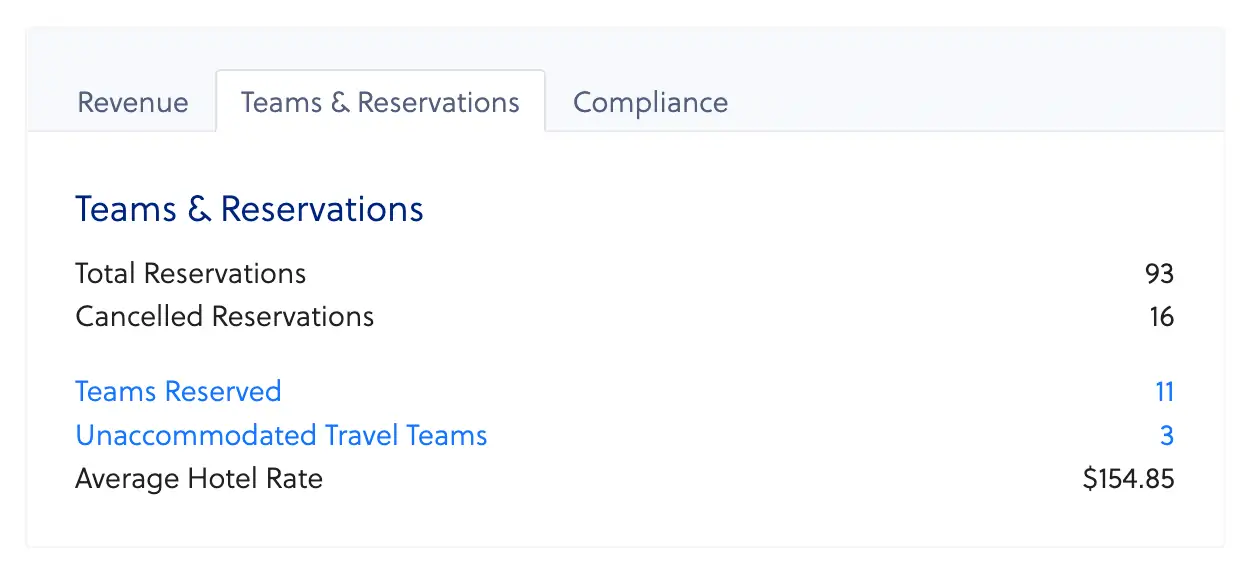 Your dashboard's Division page displays each division's status, registration pacing, and revenue.

Leverage this to focus your efforts on the divisions or sport types that drive the most growth for your tournaments.
Add-on and merchandise sales
One of the great new features of EventConnect's platform is the ability to sell merchandise and add-ons to your attendees.
You can track add-on and merchandise sales on your dashboard's "Add-On Report" page, under your event's "Reporting" menu. Here you will see a list of all the items you have for sale and how many have been sold.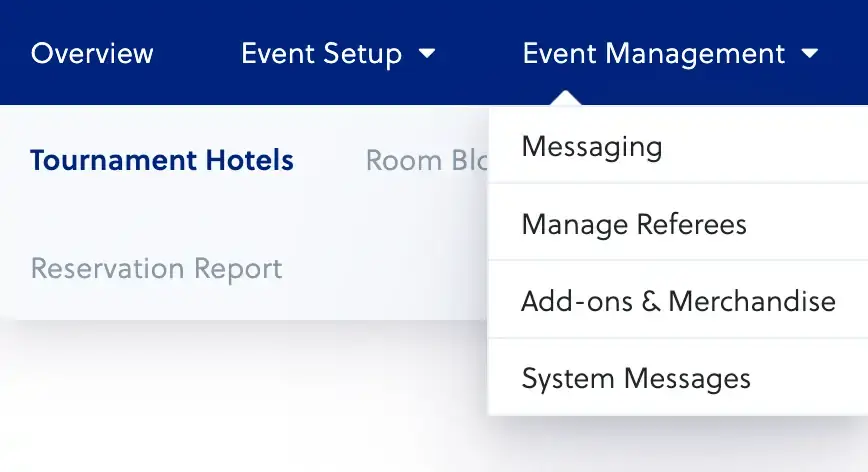 Click "Add add-on" and fill out the item's information like title, price, and where it should be shown (during registration, on the dashboard, etc.)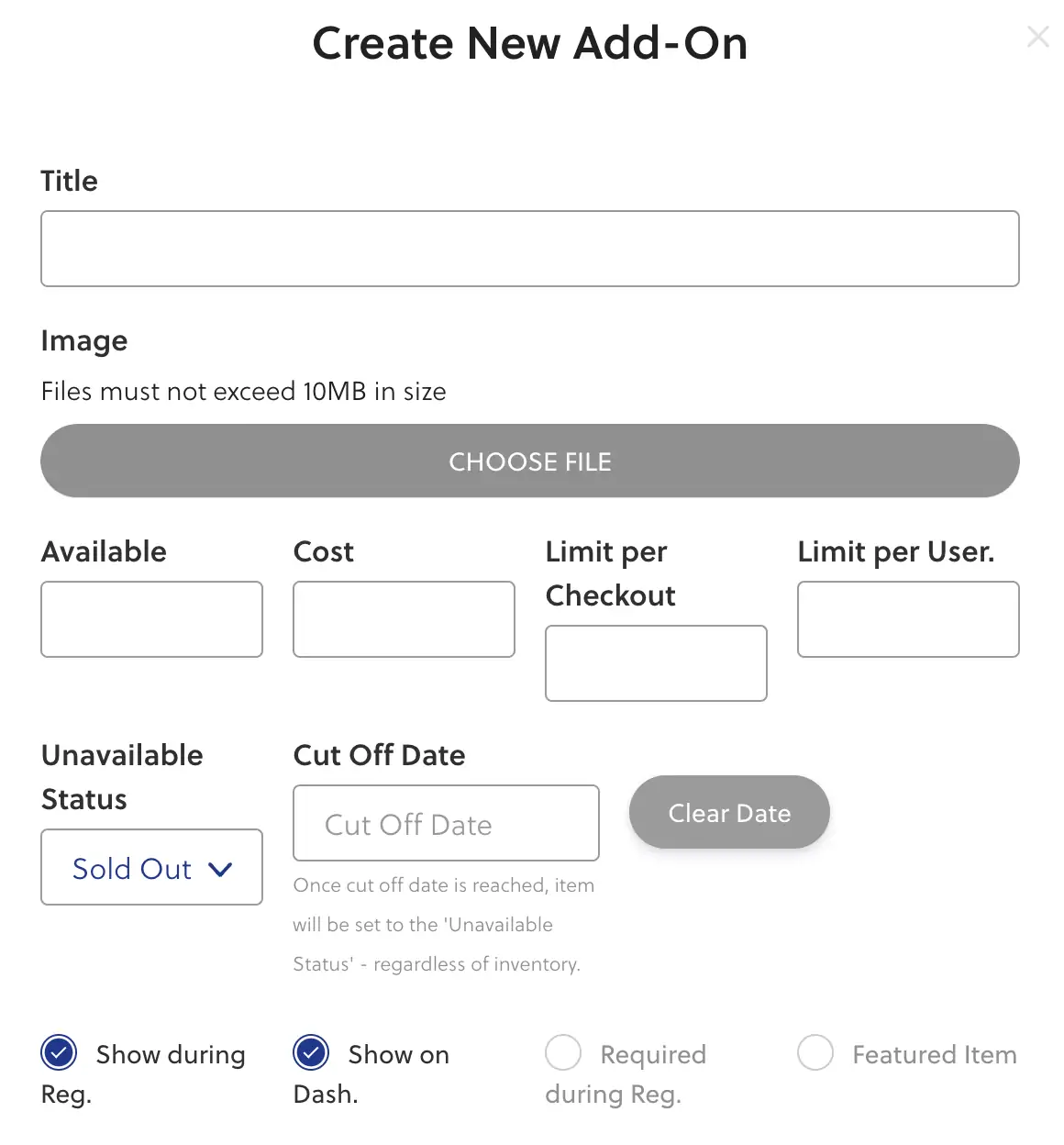 To track add-on and merchandise sales in EventConnect, go to your "Add-On Report" tab under your event's "Reporting" section. Here you will see a list of all the items you have for sale and how many have been sold.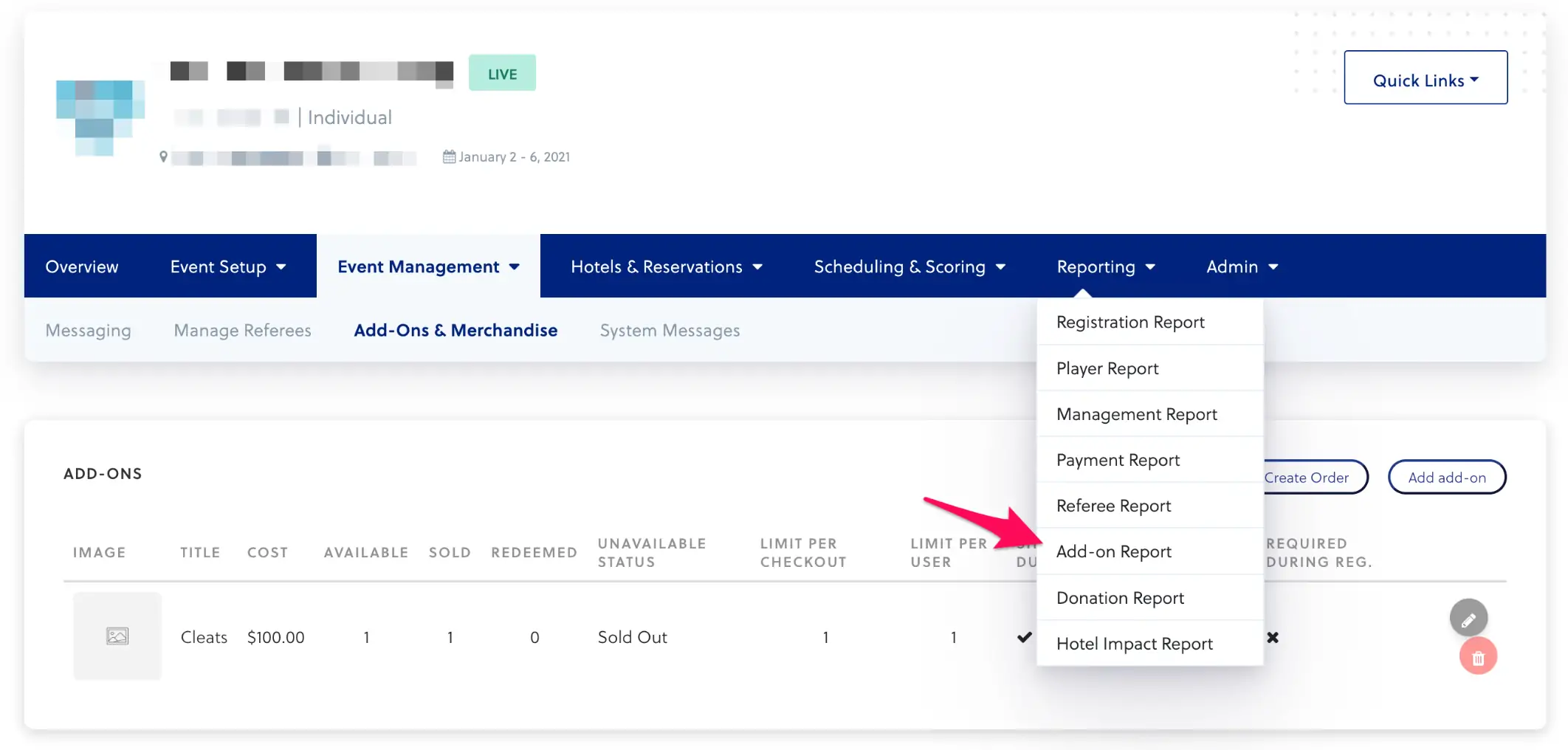 Registration
Registration is another important KPI to track inside EventConnect and indicates whether or not your marketing efforts are working.
To track registrations in EventConnect, go to the "Registration Report" page accessed from the "Reporting" menu. Here you will see a list of all registrations and an overview of their information.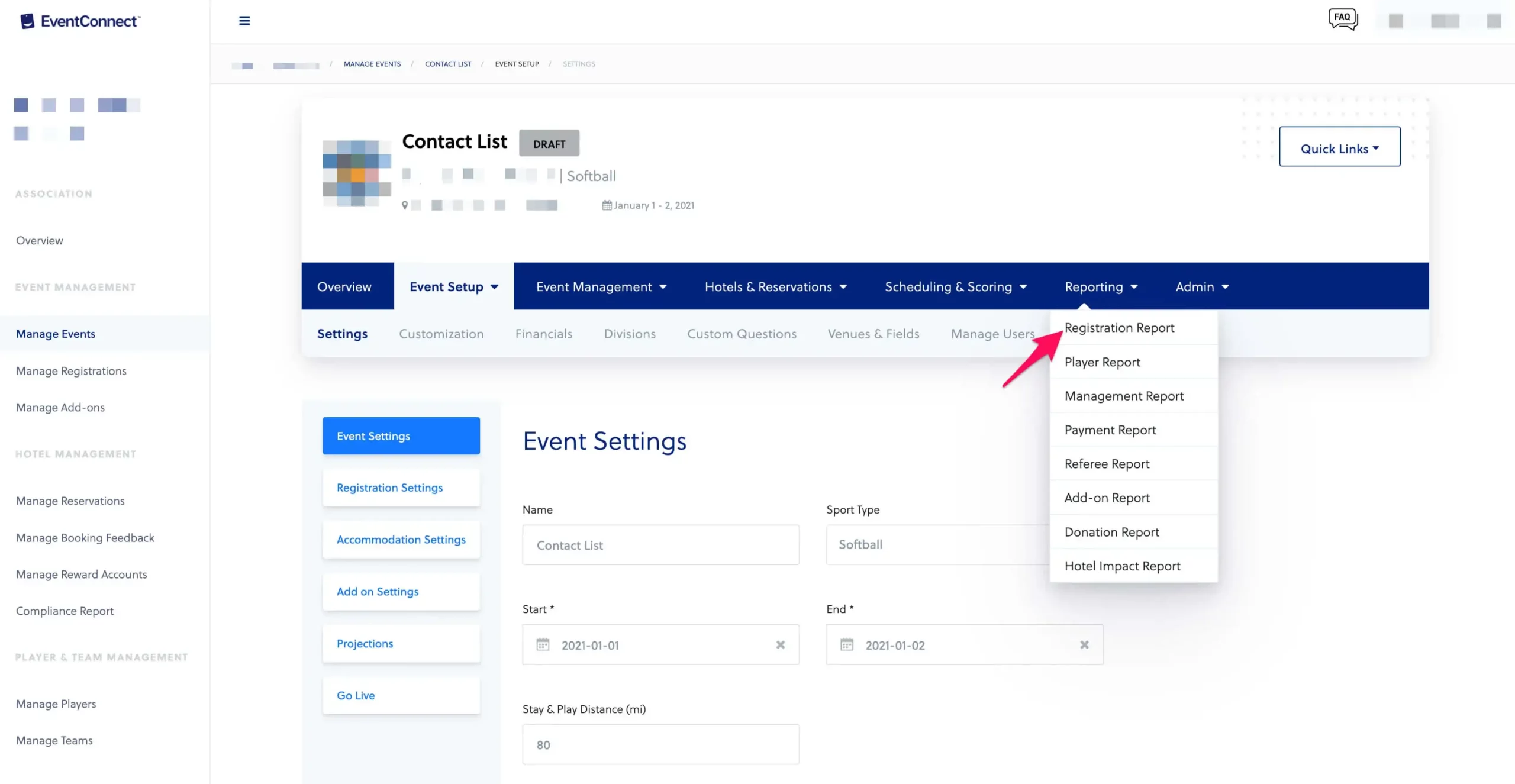 You can also filter this list by registration type, division, travel distance, etc.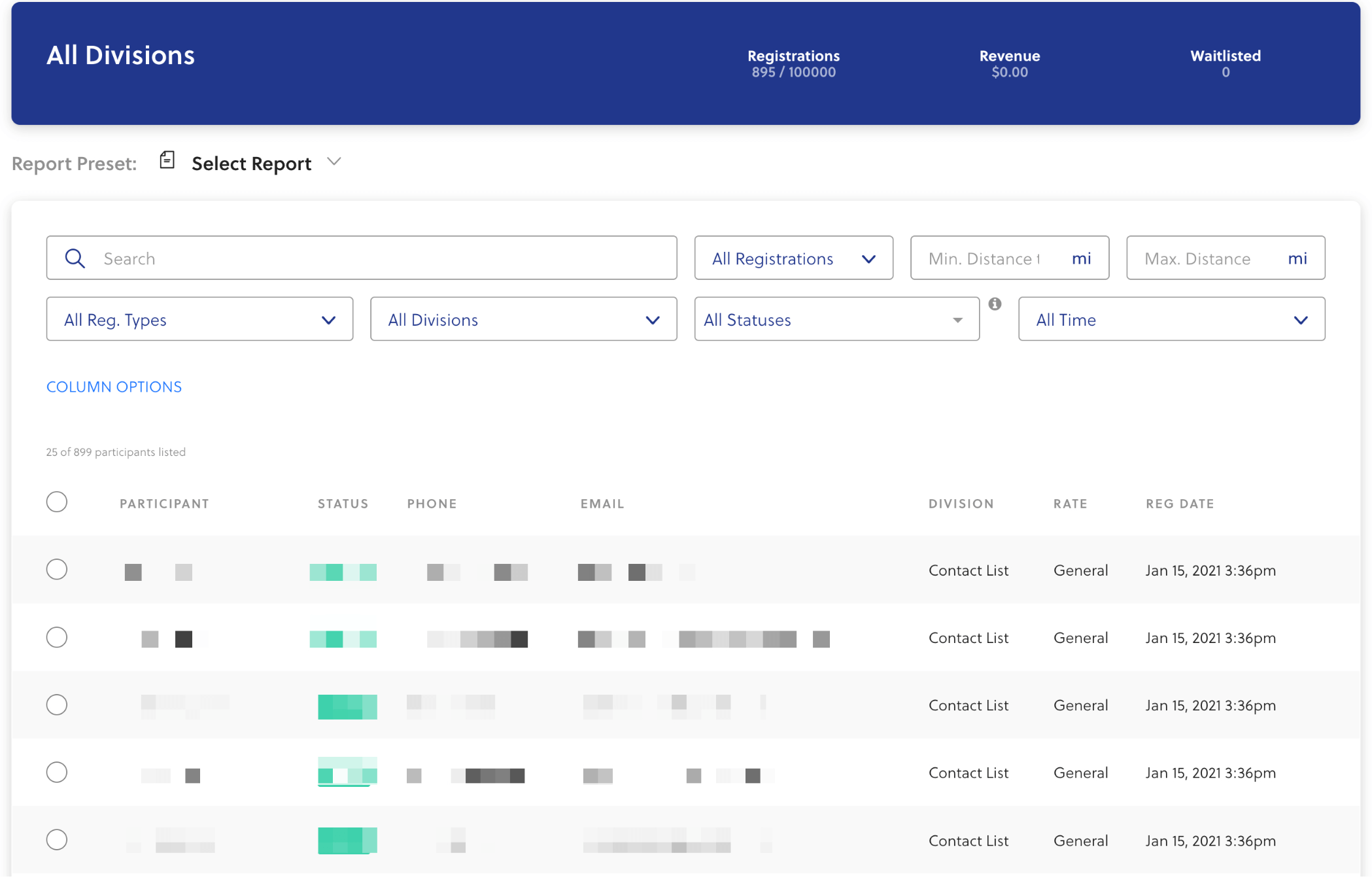 The best part? We've included top-used reporting presets to save you time via the "Report Preset" tab.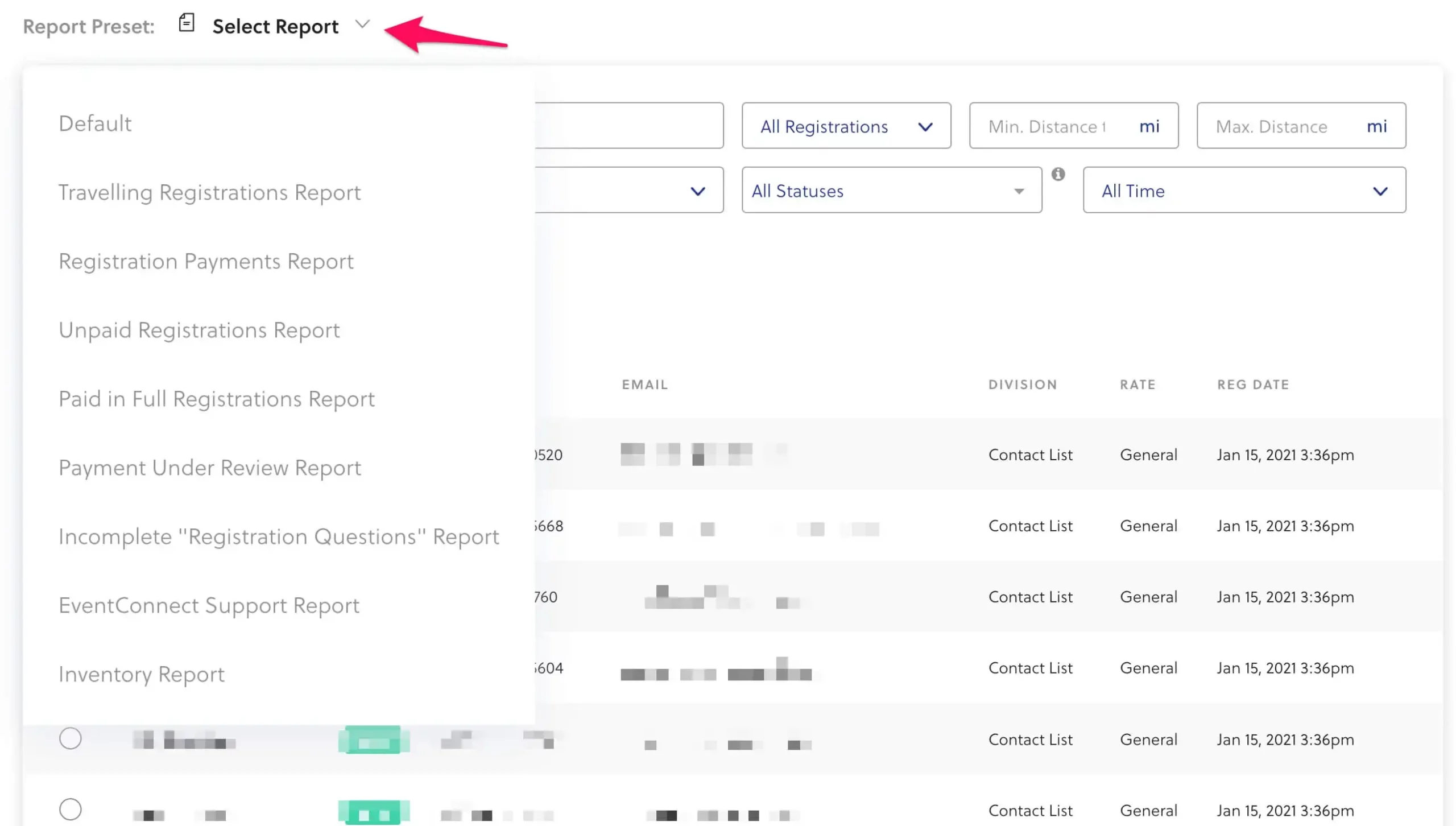 These will instantly apply filters, so you find the data you need faster.
Economic impact
Sport events generate a lot of revenue and growth to cities and destinations. Having the ability to report economic impact to your Convention and Visitors Bureau (CVB) can be essential to securing approval or funding for future events. You can obtain an economic impact report with EventConnect via the "Hotel Impact Report", accessed from the "Reporting" menu.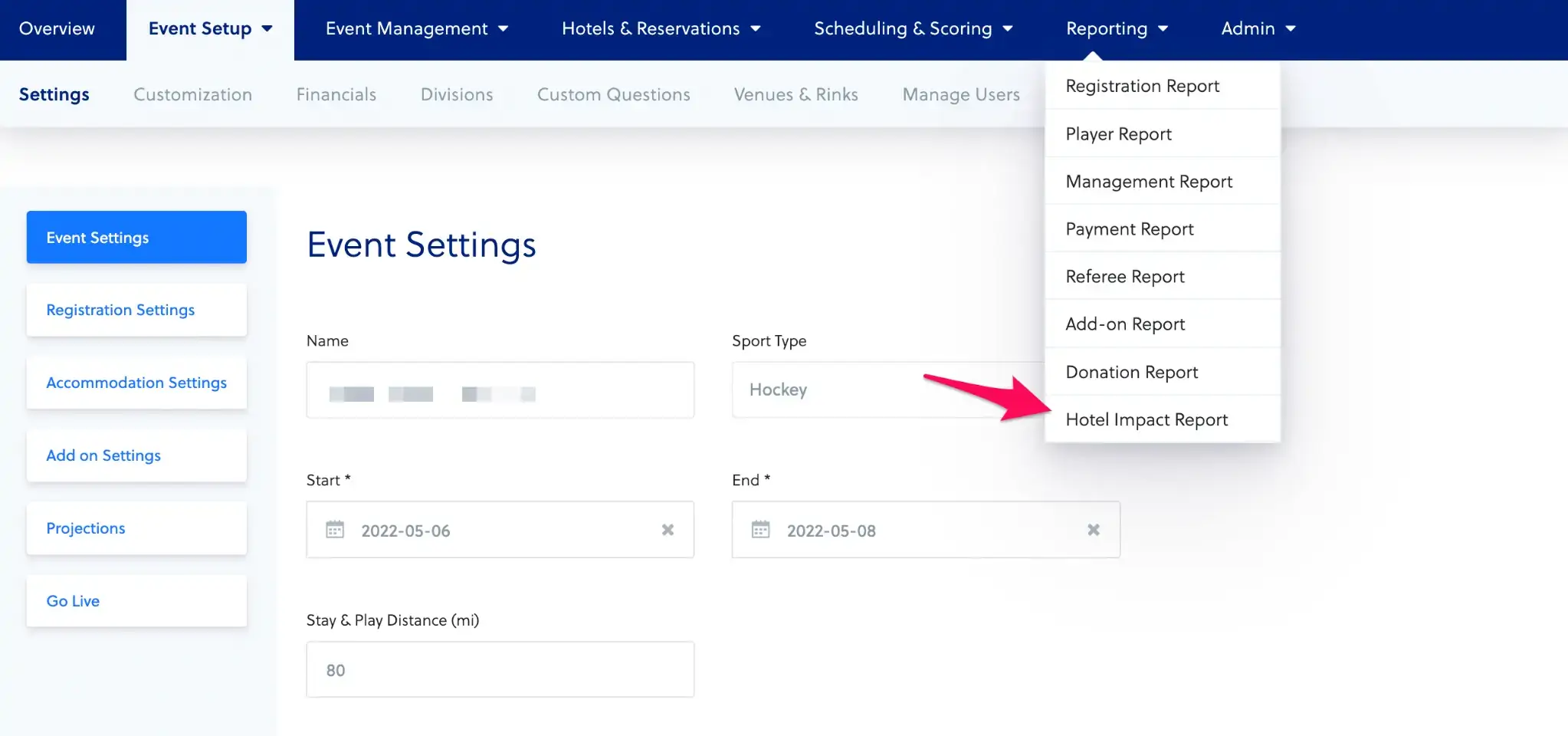 At the top of your Hotel Impact Report, you will find totals for hotel revenue, teams, and nights reserved.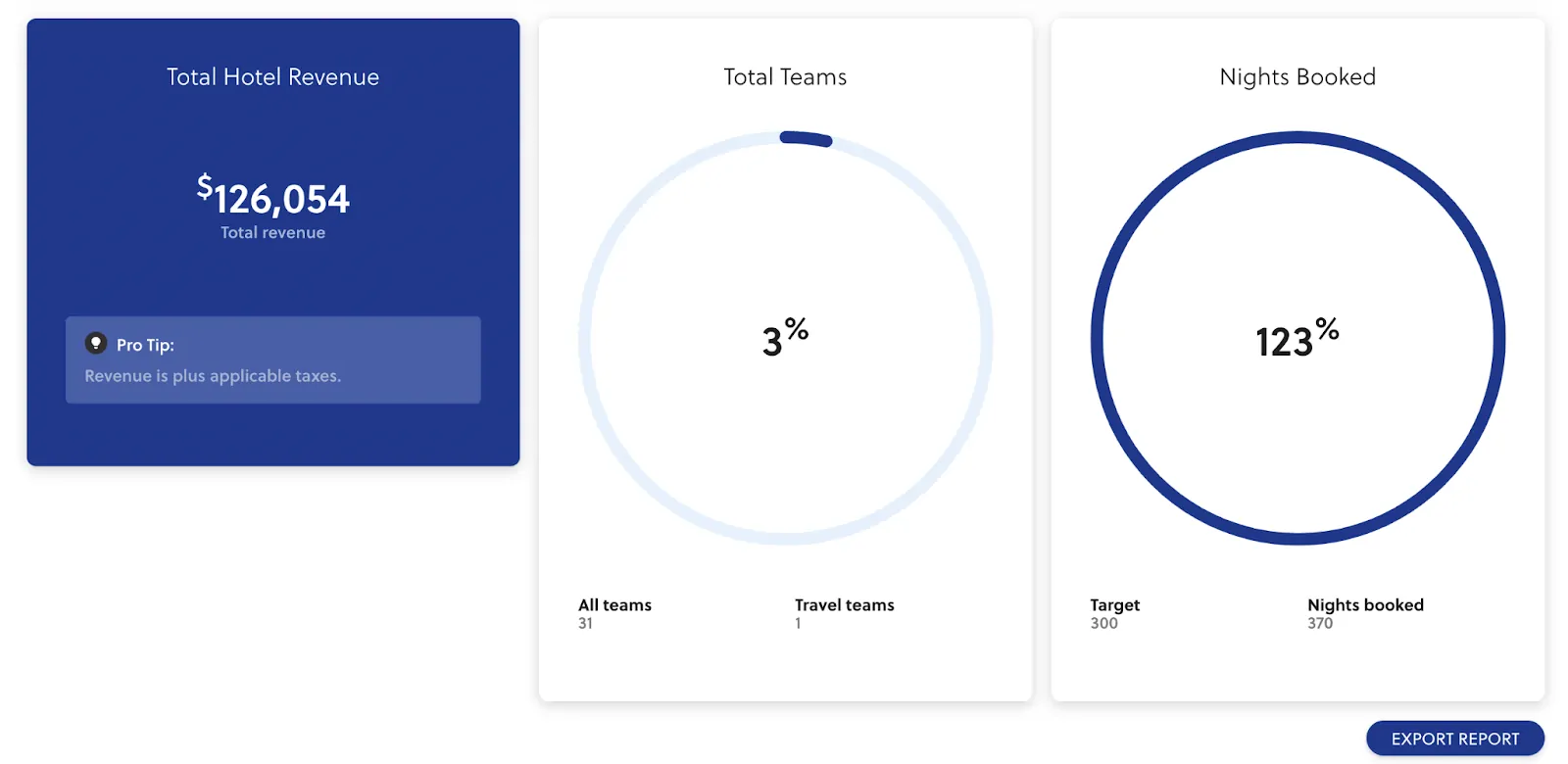 Below this, individual hotels and their revenue are displayed.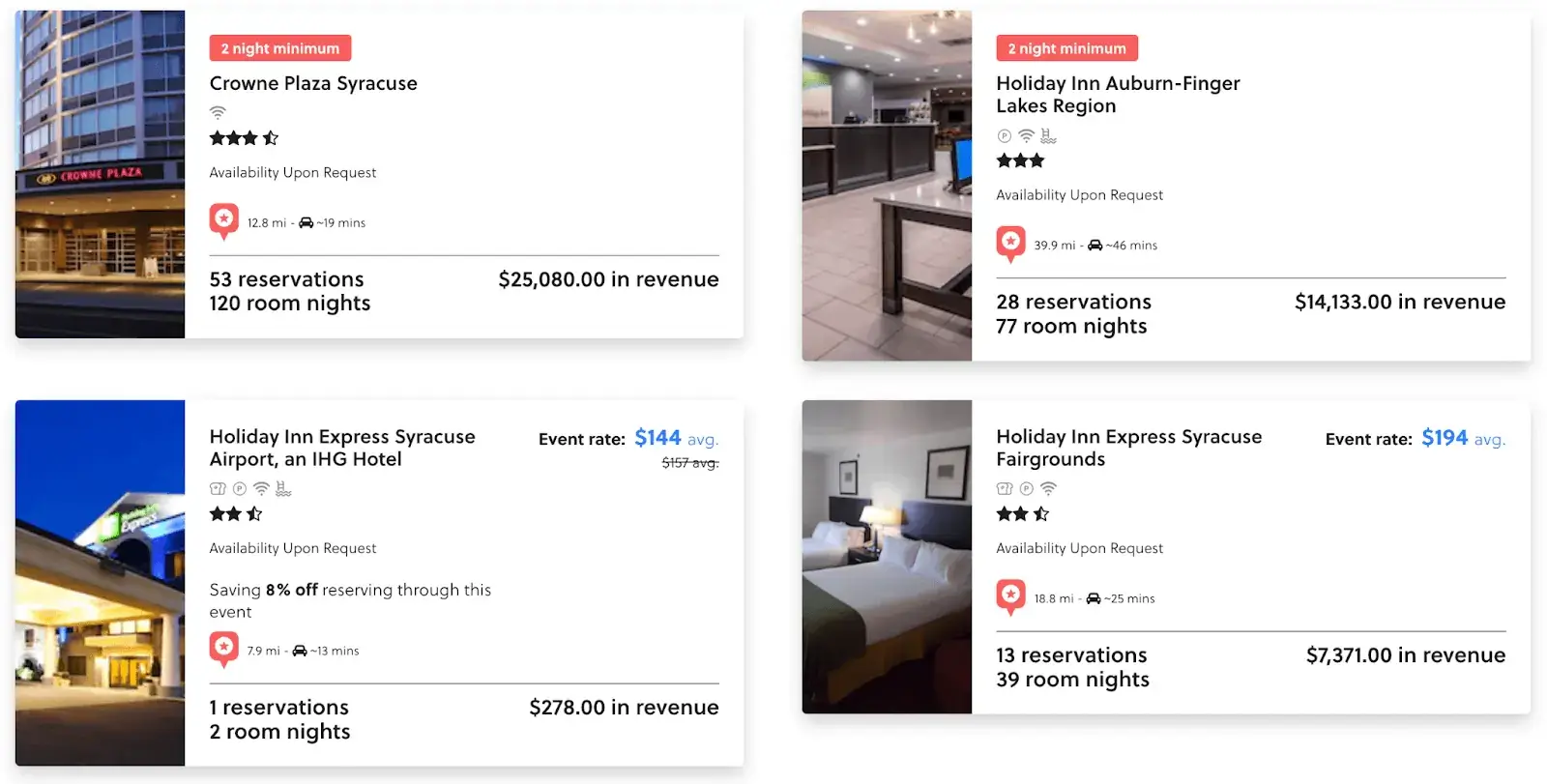 Click the "Export Report" to download this data as a CSV file that you can easily share with your team or CVB.
Sponsorships
EventConnect's platform includes all of the marketing features you need to activate partnerships and sponsorships. You can feature sponsor logos on your registration landing page, sell partner products as add-ons, and promote them to participants via EventConnect's text and email messaging feature. You can also use EventConnect's advanced reporting metrics  to report back  to your partners to demonstrate return on investment. 
Below, you can see an example of a hotel promotion integrated into the event's registration page.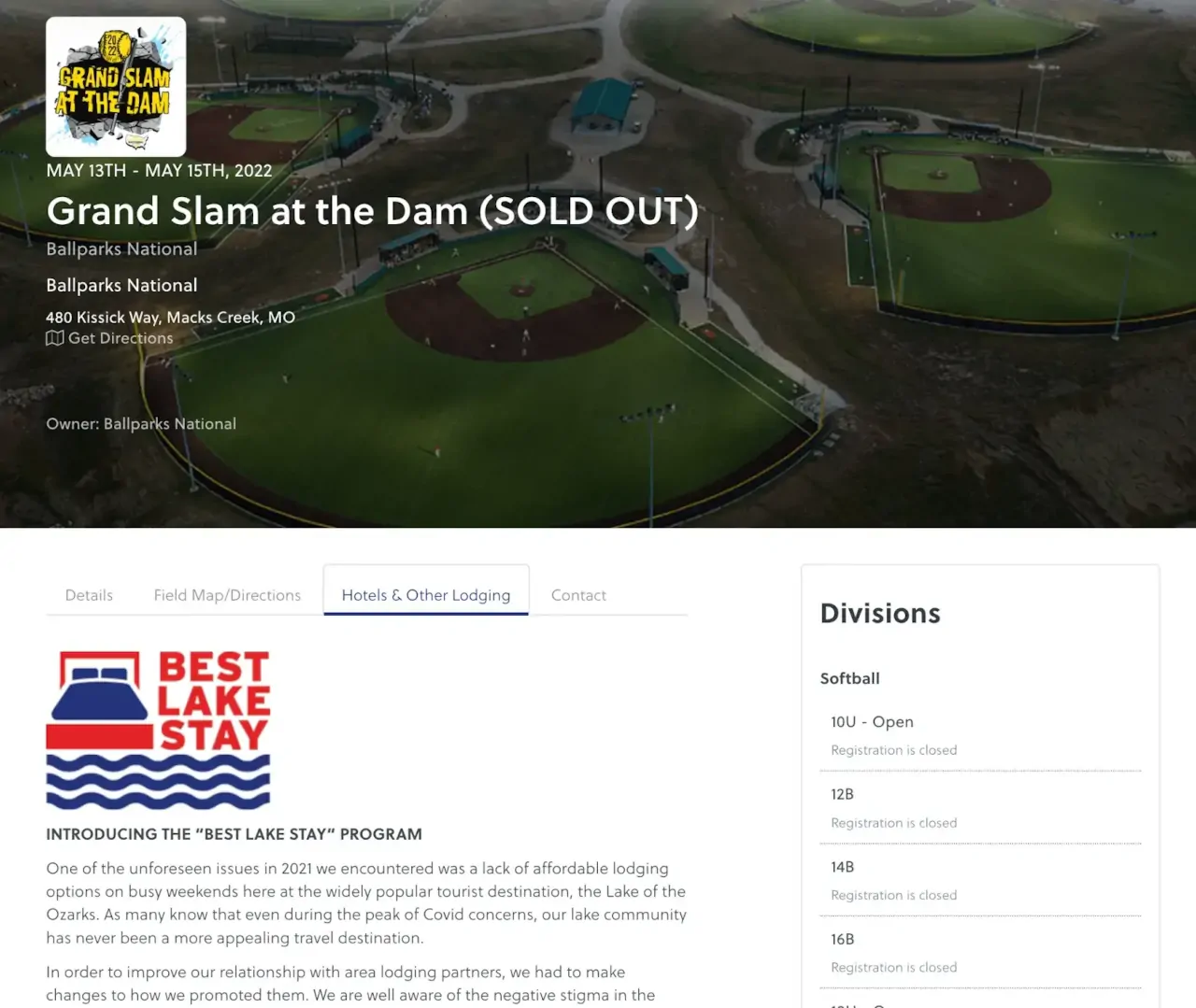 You can message participants to promote sponsors via "Messaging" under "Event Management" on the EventConnect dashboard. Choose between email or text, write your message, and send. 
You can message participants to promote sponsors via the "Messaging" feature accessed from the "Event Management" menu.
The bottom line on KPIs to measure with EventConnect
Measuring the success of sports tournament management begins with having clear key performance indicators to quantify. KPIs help event owners and operations staff measure event performance. EventConnect's platform provides  rich access to data, allowing event owners to track, achieve and exceed the goals they have set for their events. 
By tracking the KPIs we outlined in this article with EventConnect, you will make informed decisions about your event management strategy. Not only that, but you'll be able to provide valuable insights to sponsors, CVBs, and other partners.
Want to see how EventConnect can create efficiencies and help you better manage sports tournaments? Book a demo today.