Let's be honest. Managing tournaments through spreadsheets can be a real pain. They're difficult to organize, it takes tons of your time, and important information can get lost in the mix.
Not to mention everything else that goes into being an event organizer: managing teams, registrations, accommodations, communication, marketing, invoicing, and scheduling. Every person involved has roles, tasks, and information to handle, from players to managers and staff.
That's why 52.6% of event professionals invested in using event technology more than the previous year.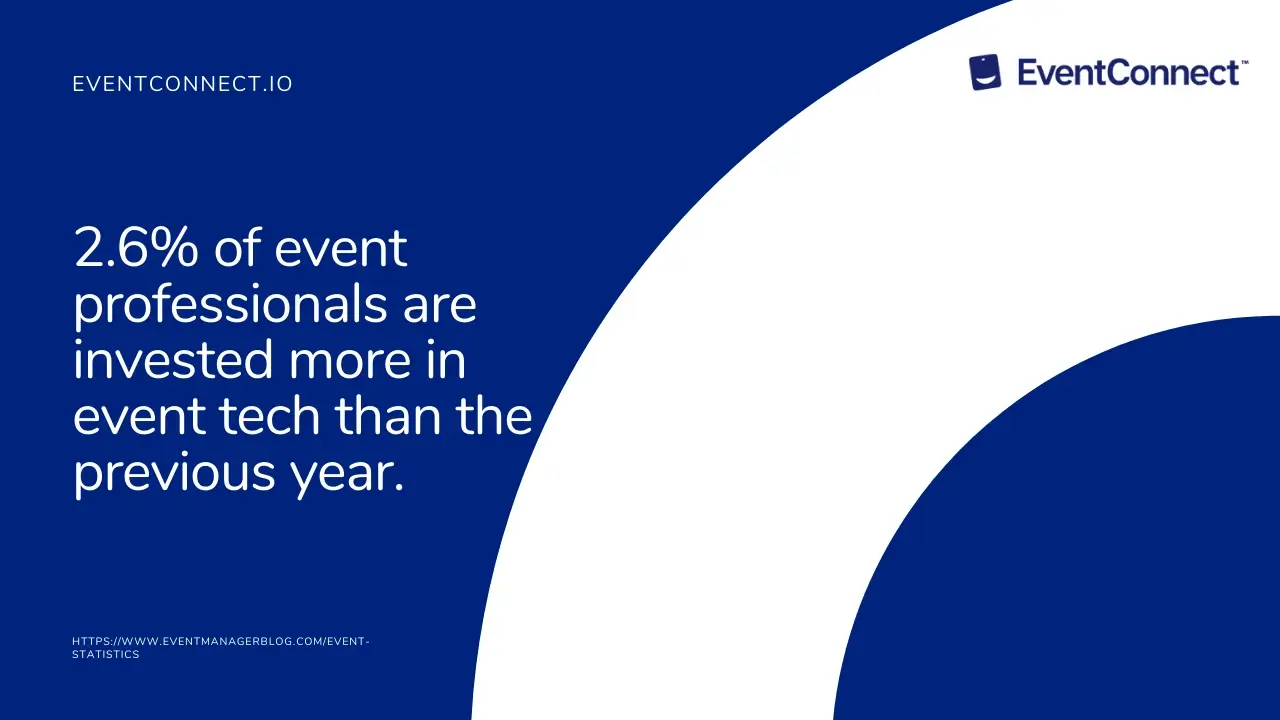 If you've ever thought, "If only there were a way, all in one place…" you're in luck. Today, we will outline how to create efficiencies for tournaments and staffing by taking advantage of digital connectivity and integrated software.
What is event management software?
Event management software is exactly what it sounds like: software that gives you the tools to manage better, organize, and play tournaments. These tools include invoicing, scheduling, scoring, tournament housing, and more.
The problem? Most event management software solutions are lacking in certain areas. You have to juggle using many different platforms to get things done. Then your entire team, players, and participants all have to participate in a fragmented approach, relying on tools and apps that don't always carry their weight. Not to mention the fact that they can be costly.
That's why you need software with unparalleled connectivity. What is connectivity? We're glad you asked.
What do you mean by "connectivity?"
Connectivity is how software features communicate and integrate within and across various platforms. While most coaches and event organizers are busy juggling several tools and apps at once, their time and energy could be better spent enjoying their sport and making their tournament more memorable for players. It makes event management and data reporting more complicated than it needs to be.
That's where connectivity comes in to save the day. It allows stakeholders to keep all their data, reporting, and information in one location. We've developed EventConnect's software to offer unmatched connectivity. Users can easily integrate their financial, communication, and registration needs with EventConnect and access it anywhere.
We're also the only event management software connecting tournament housing seamlessly directly to player registration. Participants can secure room blocks with the lowest online group rates, period.
How to leverage EventConnect's connectivity to make tournaments more efficient
Want to get more done in less time? Get a free demo of EventConnect and see the power of its connectivity for yourself. In the meantime, let us show you how much time and energy our free platform can save you.
Get clear insights into your event's performance all in one place
Do you know how well your tournament is performing? How much revenue is it generating? Which teams are participating and have paid? Data is achieved through efficient reporting and analytics.
Often, coaches and organizers use event management software that has lacklustre reporting. It's hard to customize reports to get exactly the data you want. That's why we created EventConnect; to offer detailed and customizable reporting for all your tournament needs. Our reporting features provide a collection of information about teams, players, coaches, and more.
For starters, you will see a registration and reservation overview on the "Overview" tab of the dashboard.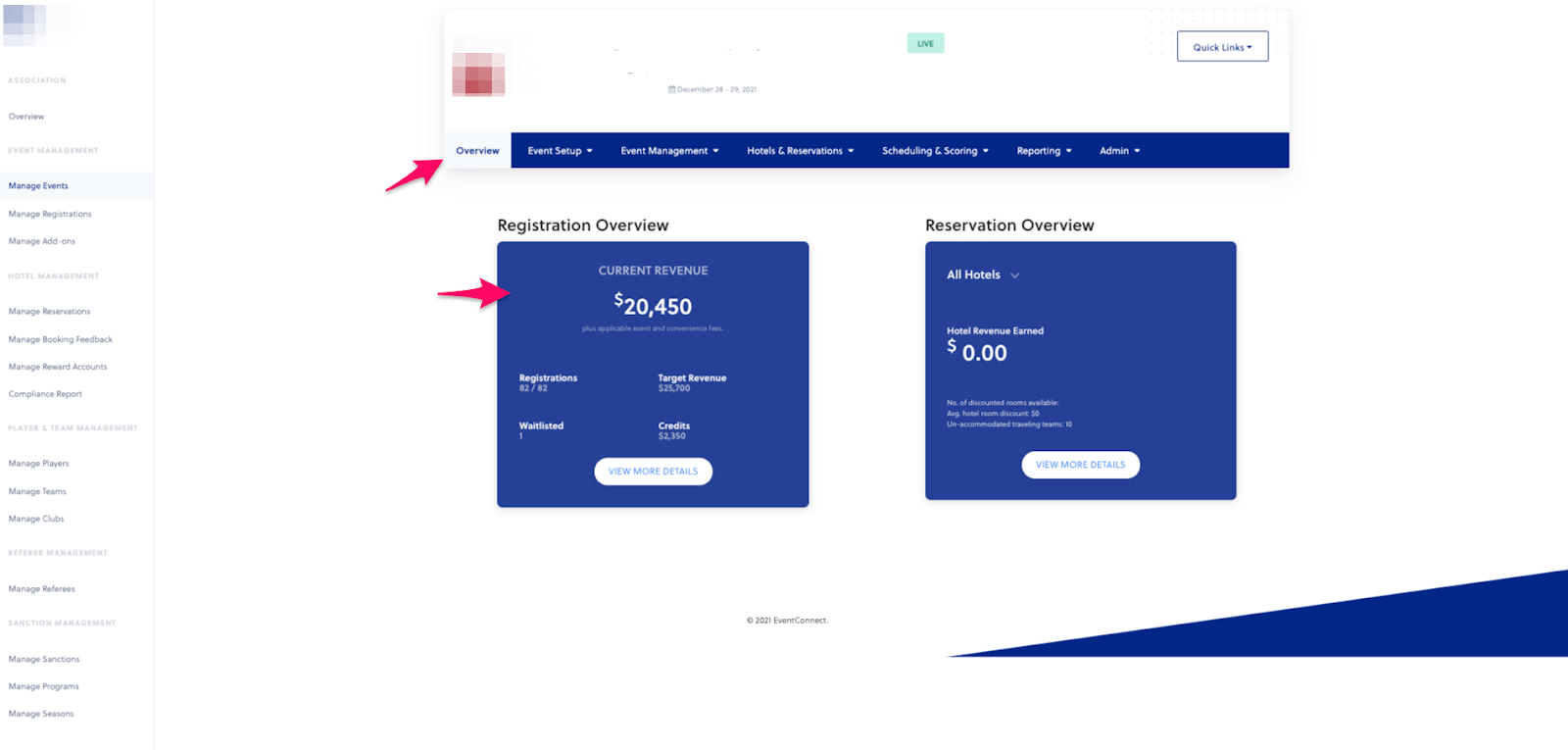 You can also build endless reports on tournament registration, hotels, and economic impact and more. Whether you or a partner needs to see specific data, you have it at your fingertips! Just click "Reporting" and choose one of the options.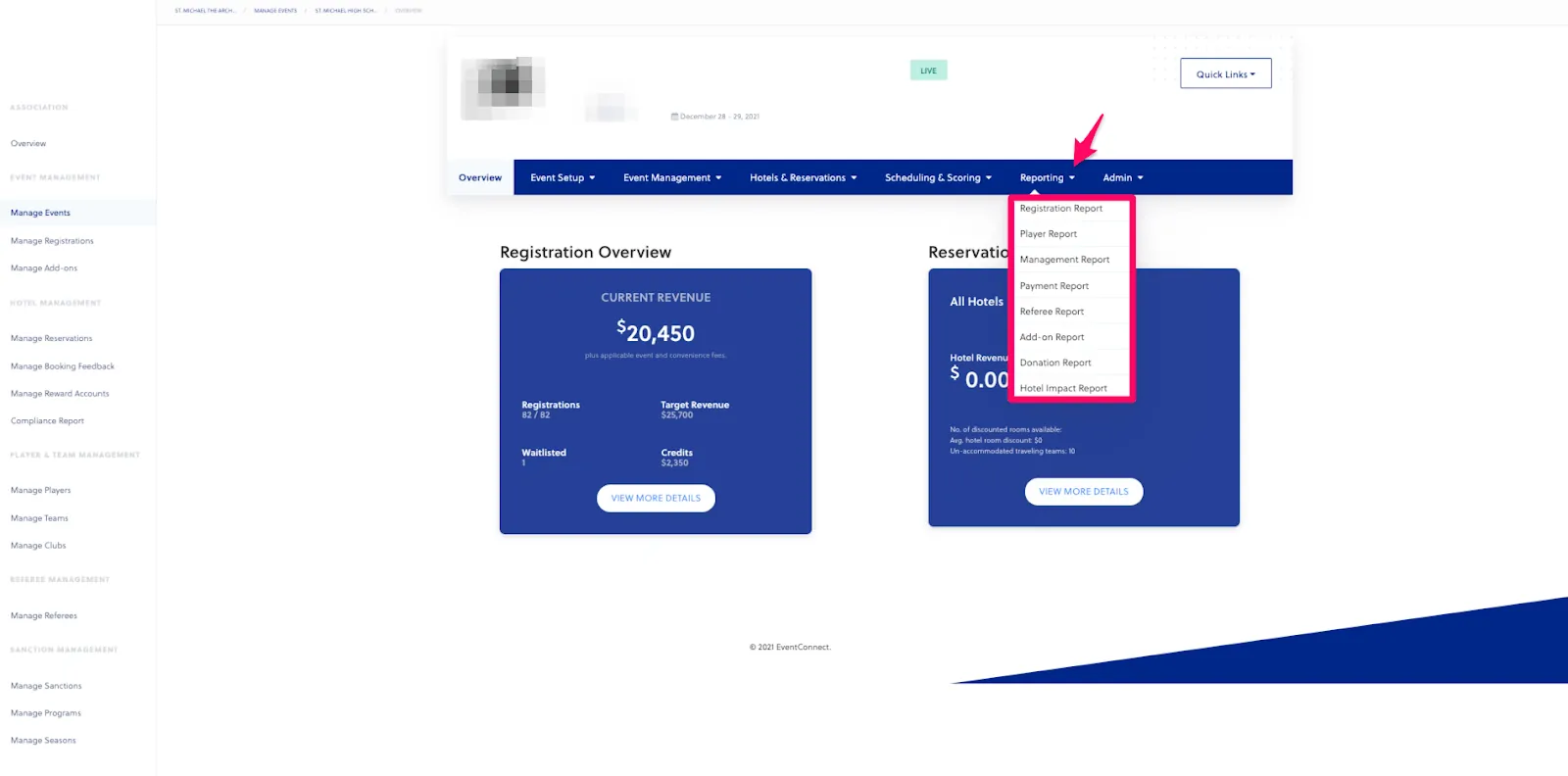 Create customized reports looking at specific data. You can adjust each column with dozens of different data points and export reports with the click of a button.

Additionally, message the teams/players you need information from if you generate a registration report. Simply click "Messaging" under "Event Management" and create an email or text message.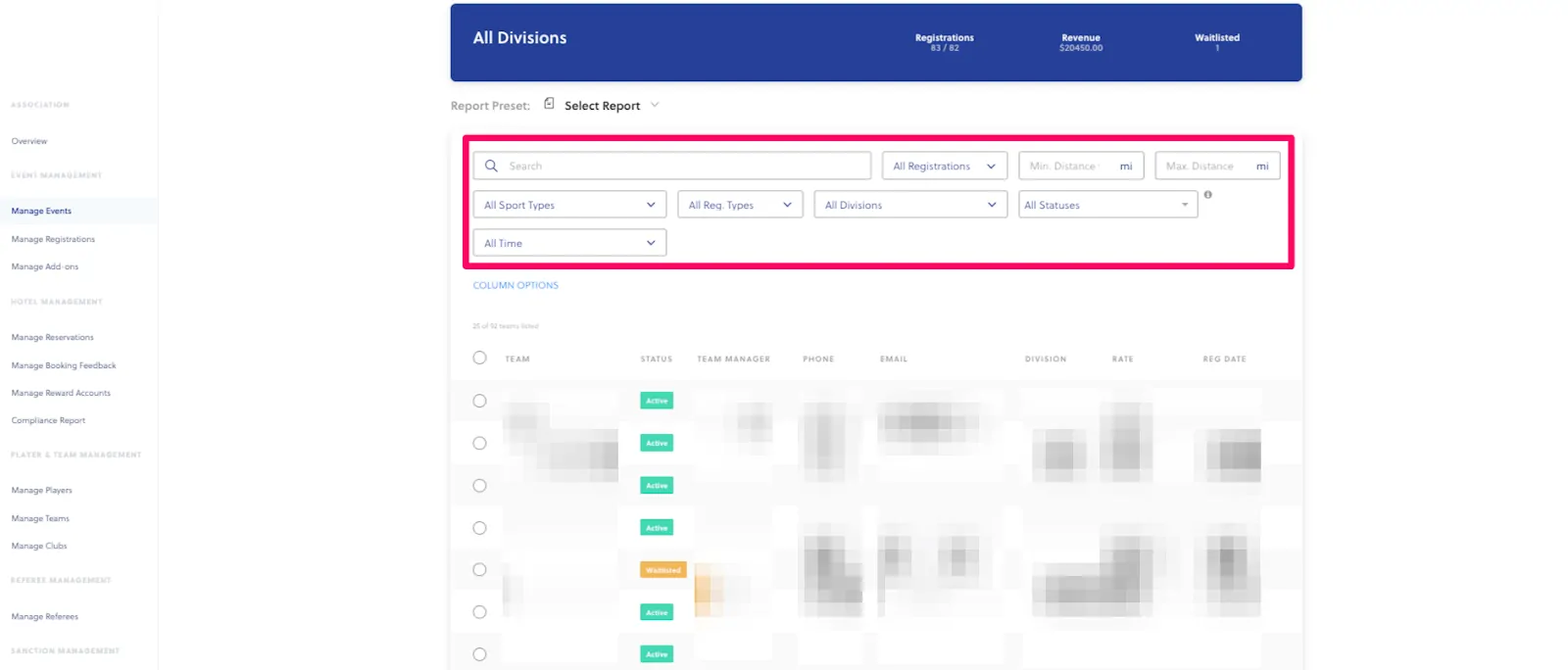 Choose the team or users that will receive the message and write the subject line (for emails) and message. Try out our templates to save time while you're at it. Click the send button once you're finished.
Establish better communication with participants, teams, and venues
There's no shortage of things to organize as a coach or tournament organizer. Workload includes teams, venues, registration, merchandise, and everything in between. Of course, people naturally have to be in the loop, such as participants, players, staff, etc.
EventConnect gives you the tools to keep in touch with everybody involved in the tournament process. This includes text, email, reminders and surveys. Each partner also gets a white-labelled app for iOS or Android that extends these features to you and participants.
Manage tournament financials without headaches
How much revenue are you generating? How much of that came from the merchandise? Did all of the participants pay for registration on time? These are some of the questions you probably ask yourself when managing tournament financials. Since it's not everyone's cup of tea, we've made it hassle-free with EventConnect.
Management your tournament financials under "Financials" and "Event Setup" from the EventConnect dashboard.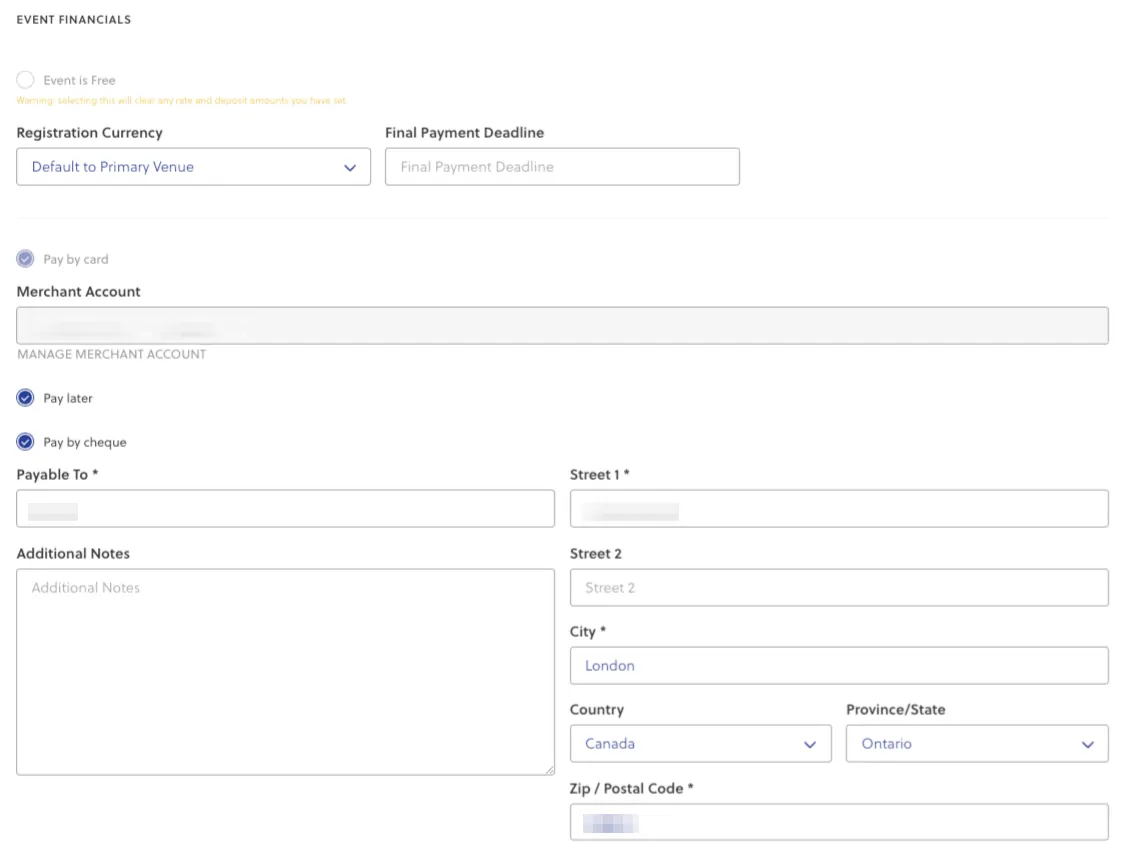 You can also enable payment via credit card and attach a merchant account like Stripe or our payment gateway we call EventCollect. Paying later and cheques are also available. Fill out the form for whom cheques should be paid to. Add an email and answer if you wish to accept email transfers.Here you will find all registration payment options, donations, convenience fees, and discount codes. Choose your registration currency and final payment deadline at the top.

Feel free to enable the donation option if you want participants to contribute to a good cause!

Create coupons to offer people more value and see all of your existing codes below this.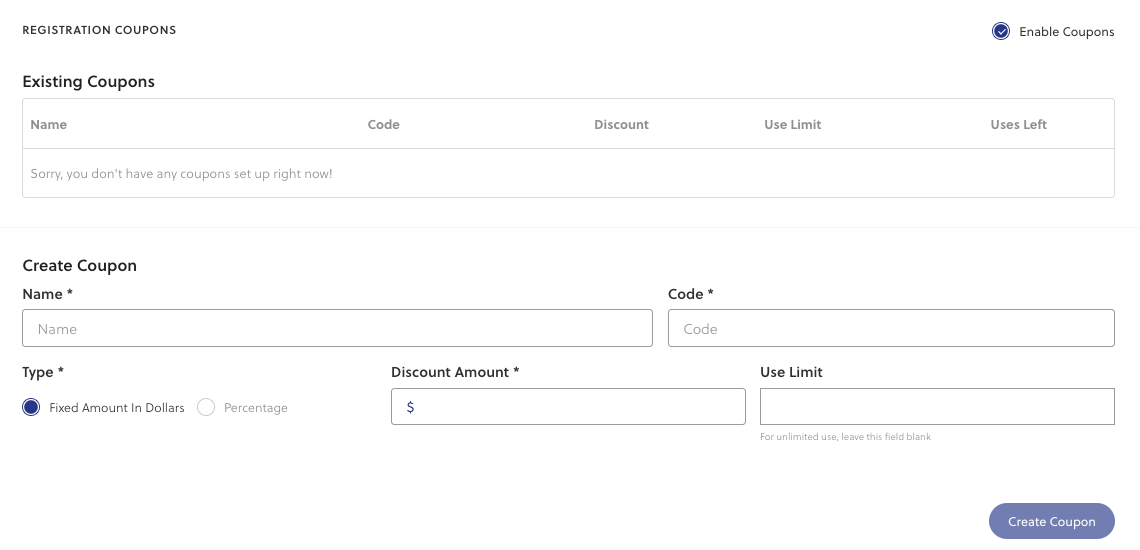 Since payment gateways like Stripe take a percentage, add a convenience fee to hedge this.

Stop stressing about scheduling and scoring
You can agree as an event organizer that one of your most significant pain points is scheduling and scoring. Scribbling down points on a piece of paper was great when we were kids, but not when we manage finances, payments, teams, and significant events.
Luckily for you, EventConnect includes the industry's best custom scheduling and scoring capabilities. Do you have unique pools, types of play, or brackets? No problem. You may have different pools, such as round-robin or single-elimination. Simply click "Scheduling & Scoring" to begin.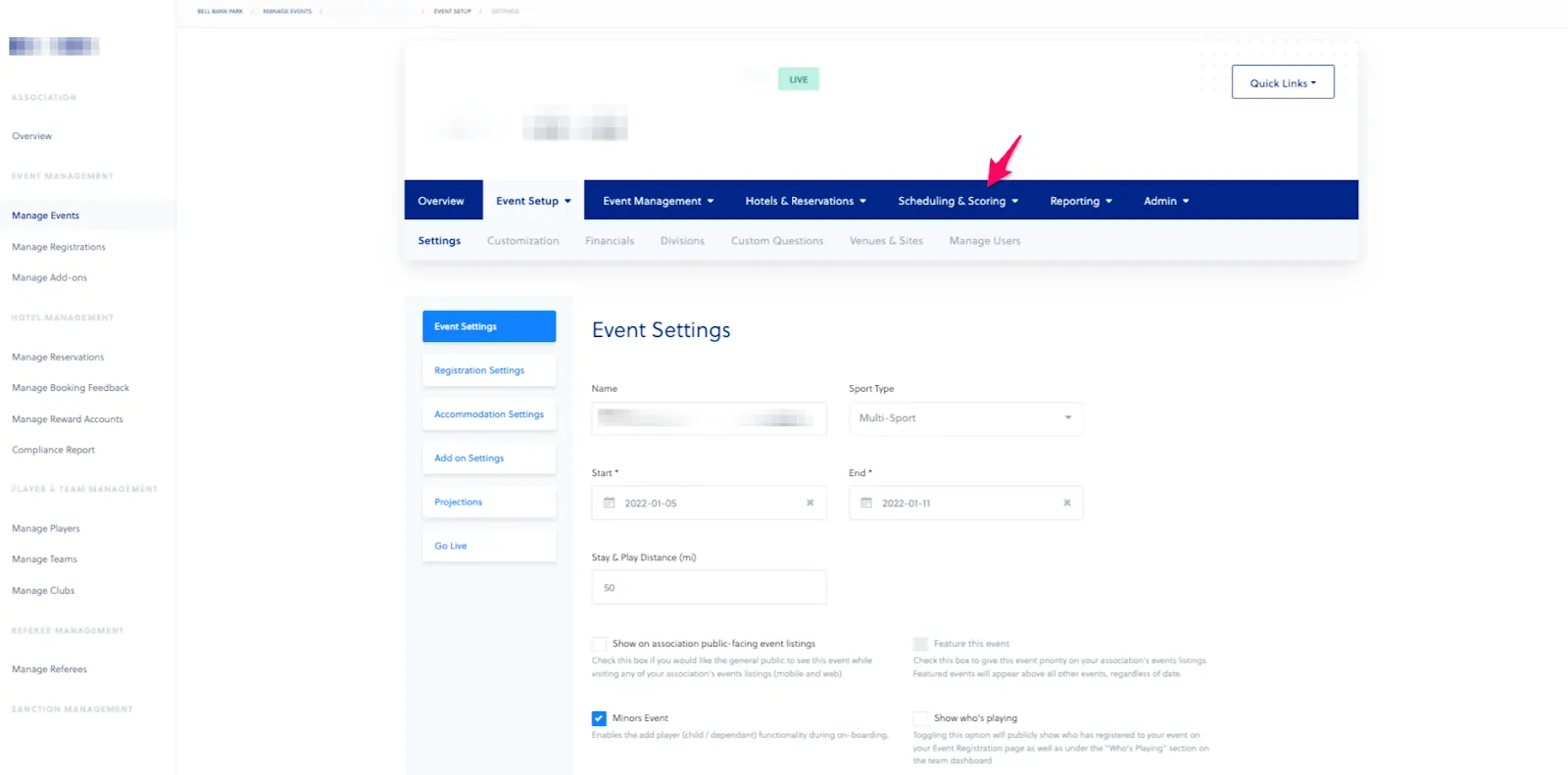 See standings and schedules at a glance, so you always know who is playing and when. Share this with participants and athletes so they are on time and aware. Our dynamic scheduling feature also helps organizers set and edit dates if they have to be changed on the fly.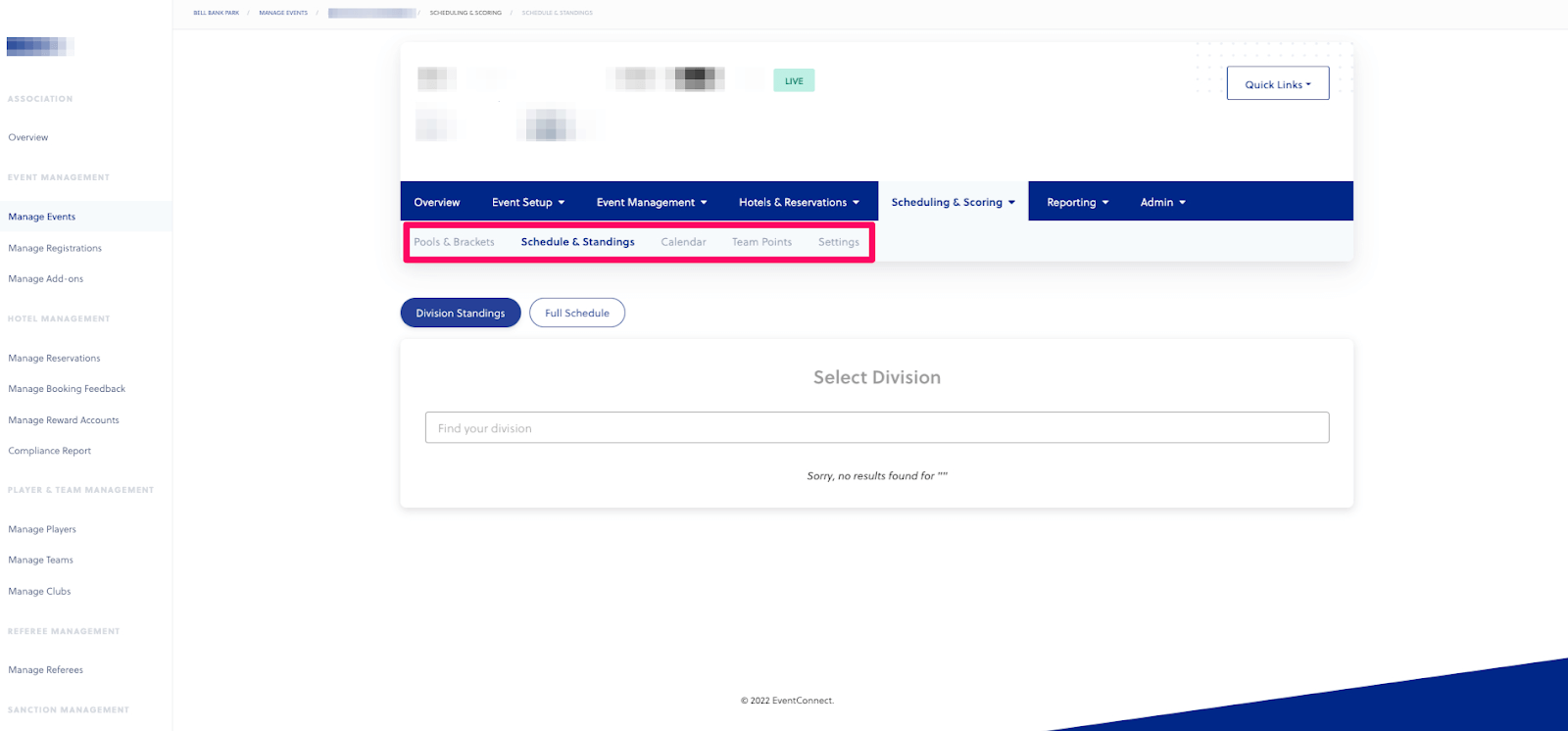 Everything can be accessed directly from the navigation above. That includes managing pools & brackets, viewing full schedules, and creating custom scoring systems!
Final thoughts on creating tournament efficiencies
Tournaments have dozens of cogs and wheels that make them work. If you were to create more efficiencies for staff, participants, and everyone involved in events, the payoff could be huge. Imagine generating 30% more revenue, having fewer headaches, and speeding up daily processes. That's possible thanks to software like EventConnect.
Our solution makes managing youth tournament sports much easier so everyone involved can enjoy their sports more. There's a reason that over 20,000 hotels, 12,000 clubs, and 800 destinations choose EventConnect.
You can look forward to improving communication with all tournament participants, the lowest group hotel rates available online, reporting that gives you clarity and earning more revenue. Want to see what EventConnect has to offer? Schedule a free demo today.