If you've ever found yourself in a situation where you needed a comprehensive list of registrations for an upcoming tournament, then you're probably familiar with our detailed reporting system. If not, then you're familiar with sifting through a landslide of emails and Excel sheets to compile a list of all registrants – and then updating it over and over until event day.
If you're part of the latter, it's time to treat yourself to effortless event management software. We're going to showcase our reporting system and explain how it can improve the way your business handles information gathering.
TOURNAMENT REGISTRATION REPORT
This report is one of our most dynamic and well-used pieces of reporting. It includes all available details for every registrant in your tournaments like name, contact information, division, the rate paid, and their registration date. Here you can also dig deep into the report and customize the filters to best suit your needs.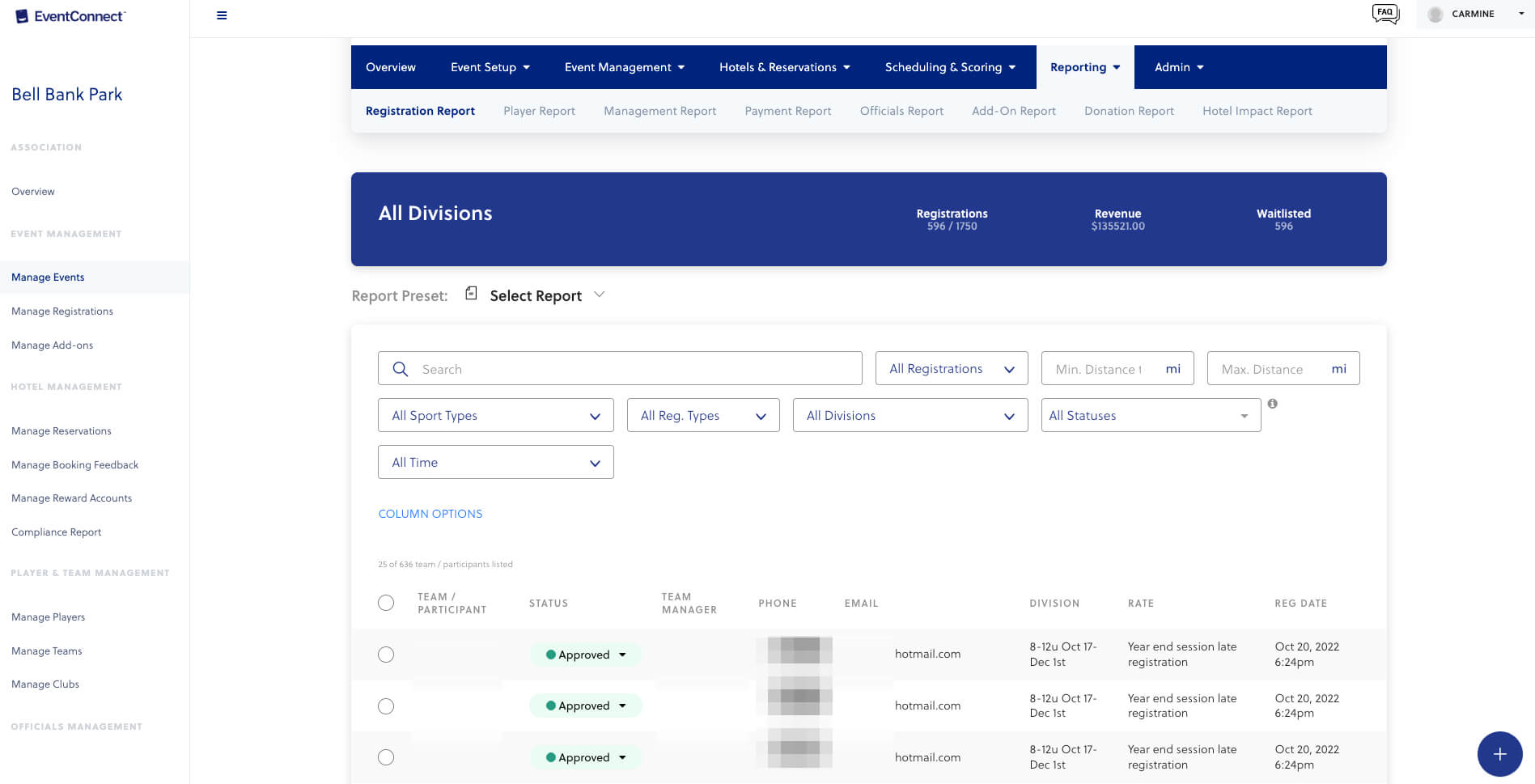 For example, the Travelling Teams Report will provide you with every participant who is traveling to your tournaments and the details of their accommodations. This report shows how far they're traveling, from what city/state, their total hotel room blocks, reservation count, total room night count, the revenue for those room nights, and also the hotel(s) associated with their stay.
By having all team/participant information in one well-organized home brings a new level of efficiency to event management software. Now you no longer have to spend time tracking down player details or contact hotels to see which traveling team has hotel room blocks. All of these details and more are now readily available to you and can be exported with the click of a button.
When pulling reports you can specify exactly what you want to see by setting the Column Options. These options will dictate what your report reflects like amount owing, coupons applied, player reports, country of residence, and more.
Having this knowledge readily available will give you full transparency over your tournaments and allow you to make well-informed decisions based on accurate real-time data. With this information you can drive room night revenue, collect past due payments, and easily monitor hotel pickup in live time.
MERCHANDISE REPORT
The merchandise report is a comprehensive list of all merchandise orders placed by your teams. This basically acts as a giant receipt where you can view every transaction in detail. It can be very beneficial for your business to monitor these sales as they reflect how much engagement your teams have. As you look at this report you can see what teams are high performing and which are lacking in sales. With this information you can direct teams in the right direction towards improving their sales.
Watch this video of our CEO walking through our e-commerce functionality and reporting:
Here you can see a complete overview of all payments made from each payee including; reference number, user ID, their name, date of transaction, total price, and the currency used to pay. You can also expand the payment to show a more detailed breakdown of each person's transaction.
Inside of the breakdown you'll find information like item type (registration, fees, merchandise, etc), description of the item (division type, fee type, merchandise item, etc), and also a subtotal for each item.
These reports together will give you a crystal clear picture of your tournament's performance and are available at any time. By having instant access to these reports your business will have actionable data to make informed decisions, making organizational tasks a breeze. With this data you can identify year-over-year trends and improve your business model based on what's actually working.
If you want more insights into your event's data and performance, book a demo of EventConnect today.