If you are in charge of a youth sports league, then you know that a lot of paperwork and hours go into making it successful. You also know that there are a lot of benefits to using technology to help your organization. That's where youth sports league apps come into the picture. 
The sports technology market is exploding and is expected to be worth $40.2 billion by 2026. More and more event owners are realizing the power of good tech for their businesses.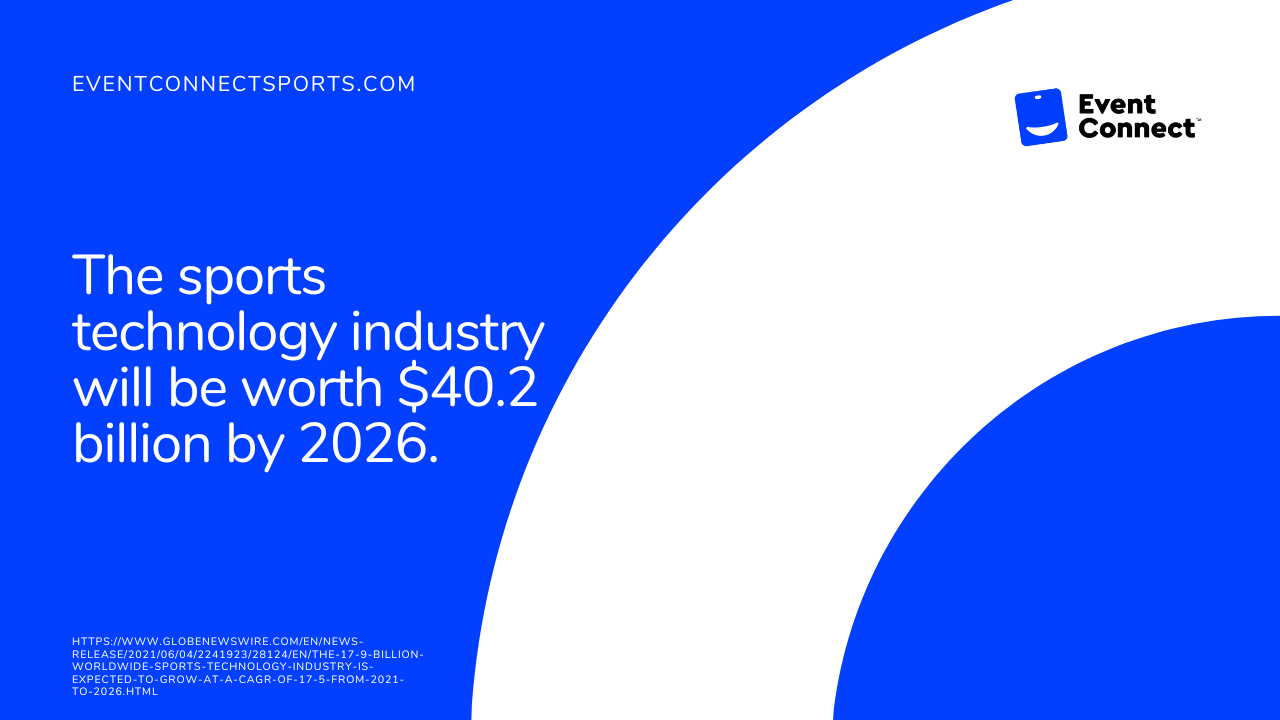 In this blog post, we will discuss the best apps for youth sports leagues and explain the pros, cons, and pricing of each app. Let's jump into it!
What are youth sports league apps?
Youth sports league apps are software designed to help with the organization and management of youth sports leagues. They can help with scheduling games and practices, tracking player stats, communicating with parents and coaches, and collecting payments. You can use most of them on both desktop and mobile or other devices.
Why should you use youth sports league apps?
There are many benefits to using youth sports league apps. They can save you time by automating tasks that would otherwise be done manually. They can also help you track progress and identify areas of improvement for your business. Additionally, these tools can improve communication between parents, coaches, and players. If you want to create efficiencies and drive more revenue, you need one. Plain and simple.
Best apps for youth sports leagues
These are some of the best youth sports league apps you can get your hands on.
EventConnect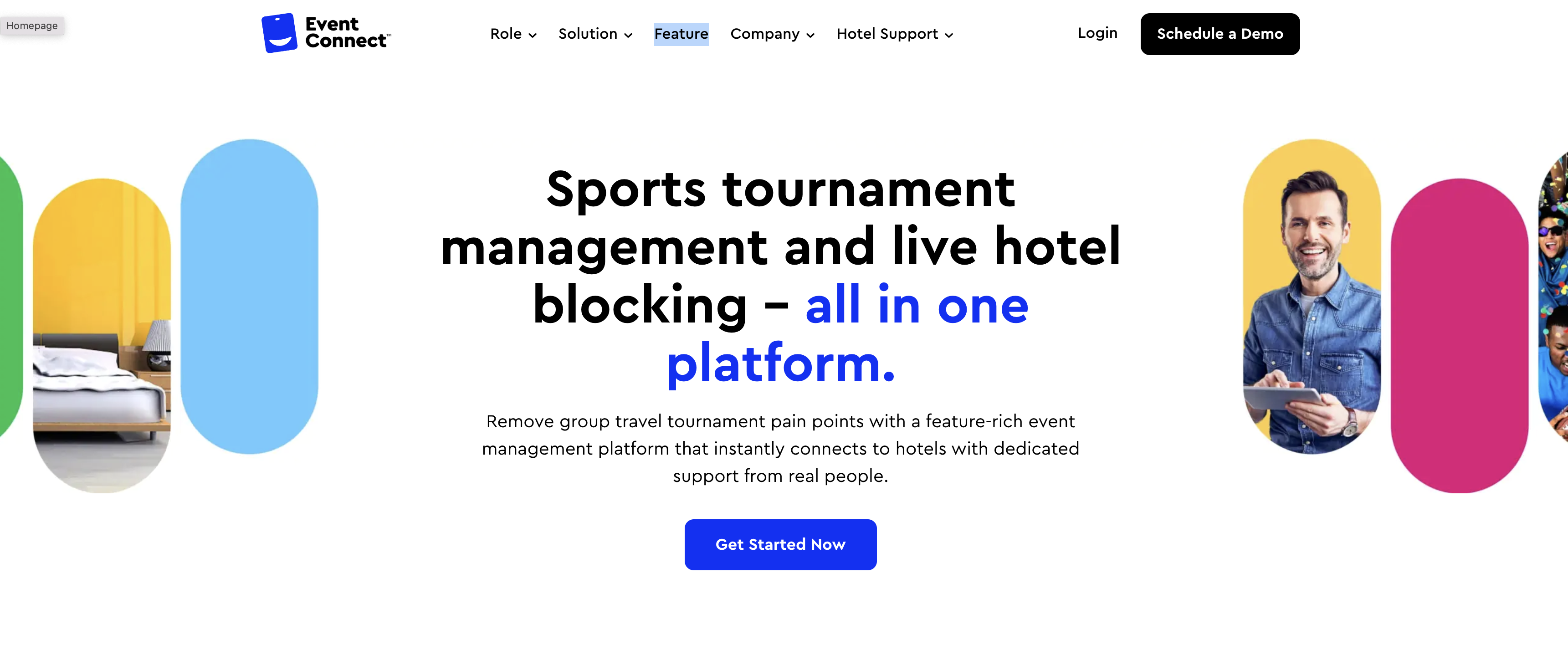 EventConnect is a leading sports tournament software solution designed for everybody involved in the tournament process. We have every feature you need, all in one place. We're talking registration, payments, scheduling, scoring, and even your own Whitelabel app. Not to mention registration connected directly to housing and some of the lowest processing fees on the market. 
The best part? It's free! Schedule a demo and see how it can help grow your youth sports organization today. You can also see how we stack up to other solutions on our comparison page.
TeamSnap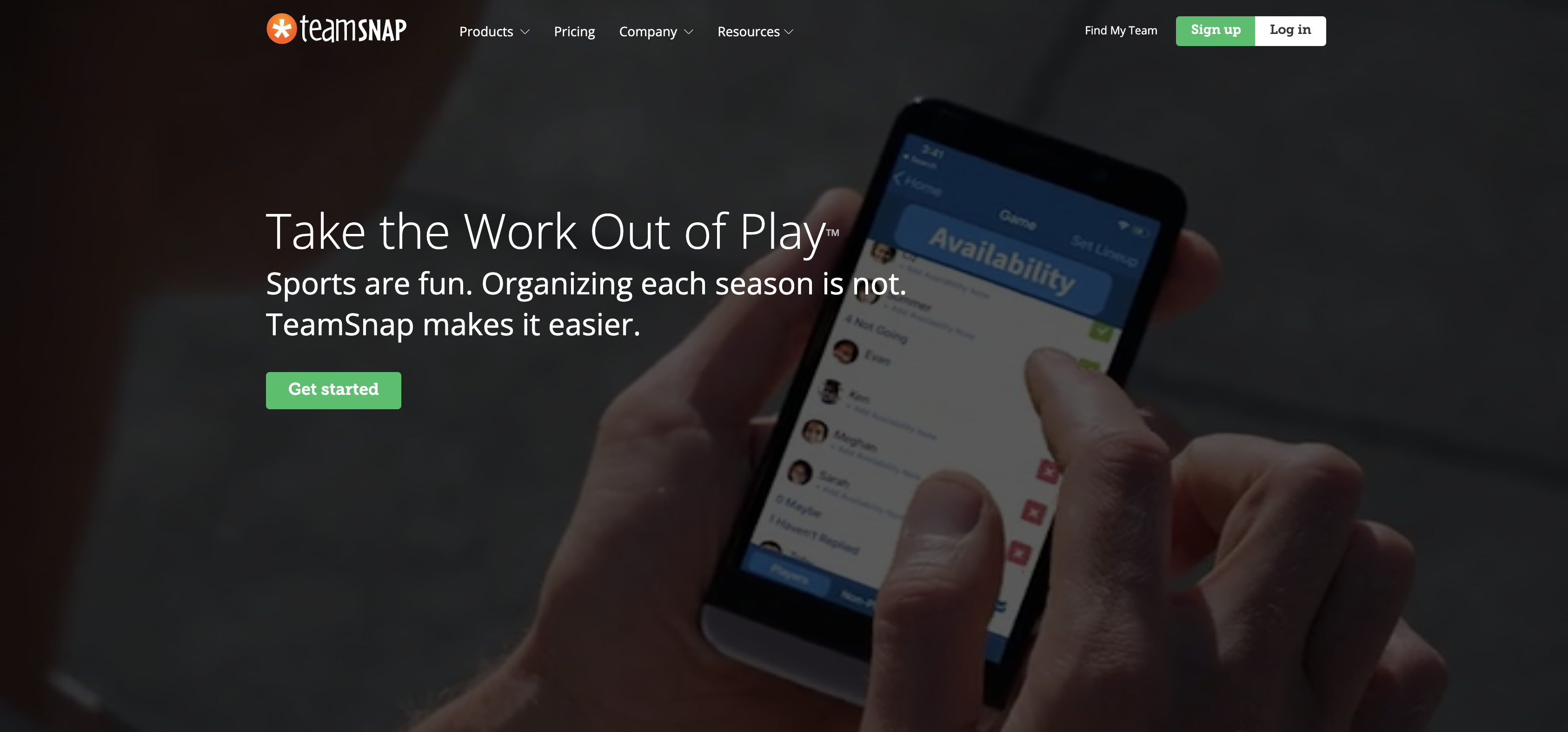 With over 24 million users, TeamSnap is one of the go-to apps for managing youth sports leagues. It's simple to use and perfect for busy coaches, parents and team administrators who need a better way to manage their teams and events. Some of the features include scheduling, messaging, member management, payments, and more. 
Their free plan gives you basic features to manage a youth sports league, such as scheduling, invoicing, team chat, and game sharing.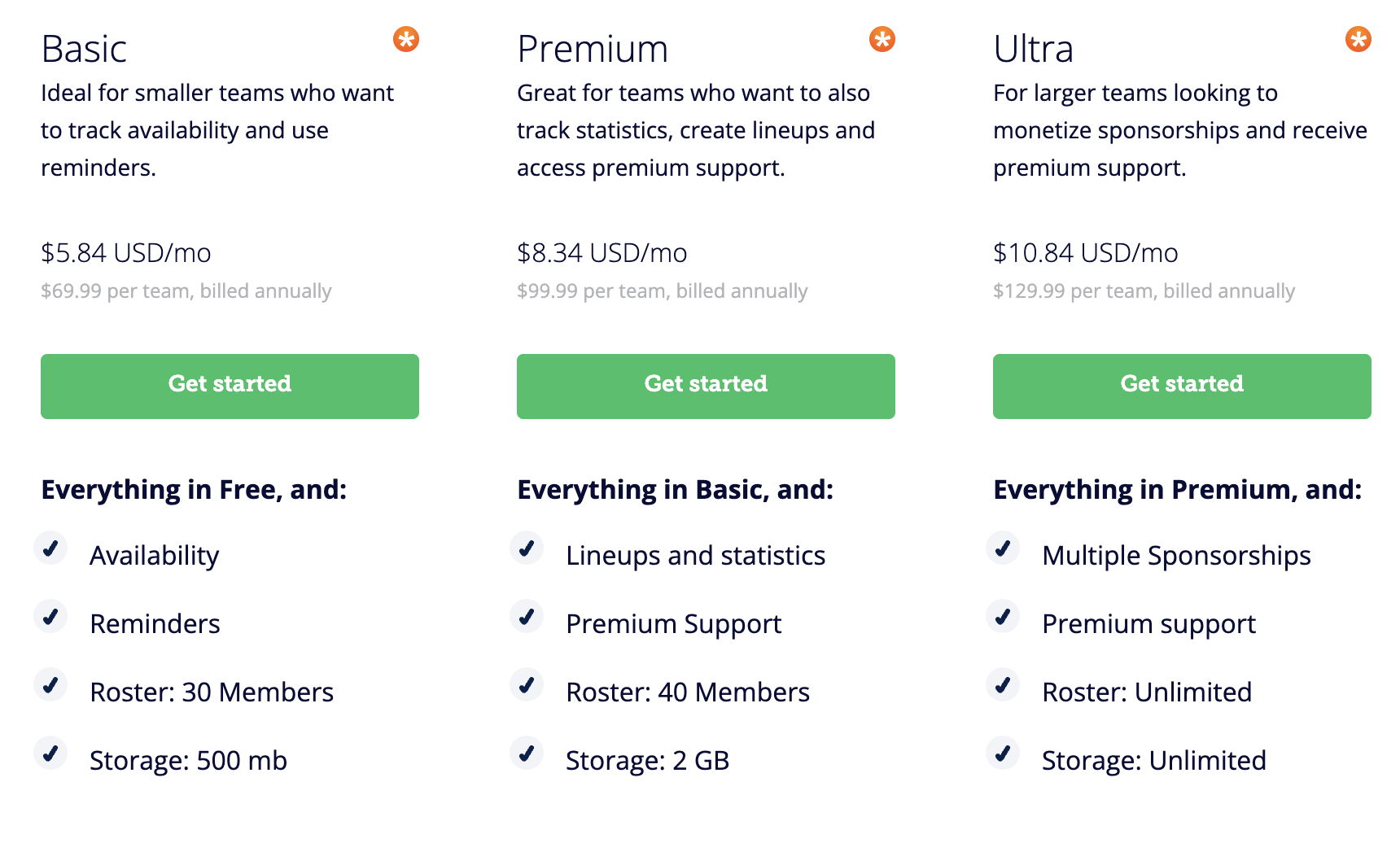 If you need additional features, you can upgrade to:
Basic ($5.84/month): everything included in Free plus availability, reminders, 30 member roster limit, and 500MB of storage.
Premium ($8.34): Everything included in Basic plus lineups and statistics, premium support, 40 member roster limit, and 2GB of storage.
Ultra ($10.84/month): Everything included in Premium plus multiple sponsorships, premium support, unlimited roster limit, and unlimited storage.
When compared to other youth sports league apps, it's one of the more affordable paid options.
Heja

Heja is an all-in-one youth sports app used by 200,000+ coaches, parents, and players. An interesting thing about Heja is that it's only a mobile app. It's not software like EventConnect that's extremely robust and multi-platform. It's a convenient mobile app to track and run events from your phone. 
They have a free plan that includes most of the features you need, or you can upgrade to the premium plan for $7.49/month to get more.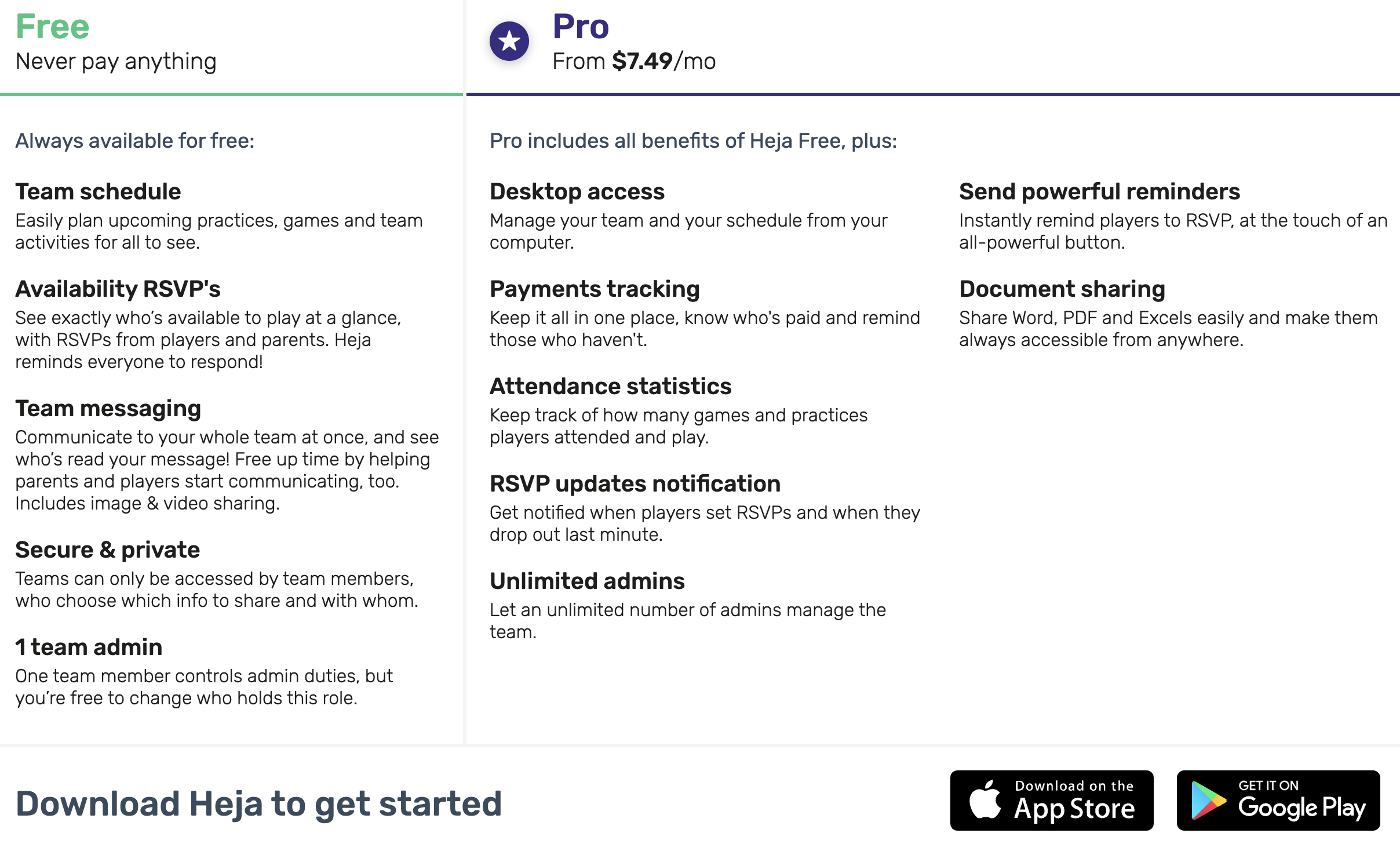 You can also contact Heja's team for a custom quote if you need their app for several different clubs. 
LeagueApps

LeagueApps is a sports management platform for every role in the tournament process. From online registration to real-time scoring, LeagueApps has everything you need to run a successful event. They offer solutions tailored to different sports and roles to maximize your success as well.
You can request a demo to see the software live in action and get a quote. Unfortunately, they don't have pricing listed directly on their website. However, we do know that they have a one-time setup fee and take a percentage of all your transactions. So, keep that in mind.
SportsEngine
SportsEngine HQ is sports relationship management software built for sports leaders. It gives you everything you need to grow a sports organization, including:
Payment collection
Team and league management
Communication and marketing tools
Fundraising and crowdfunding
And more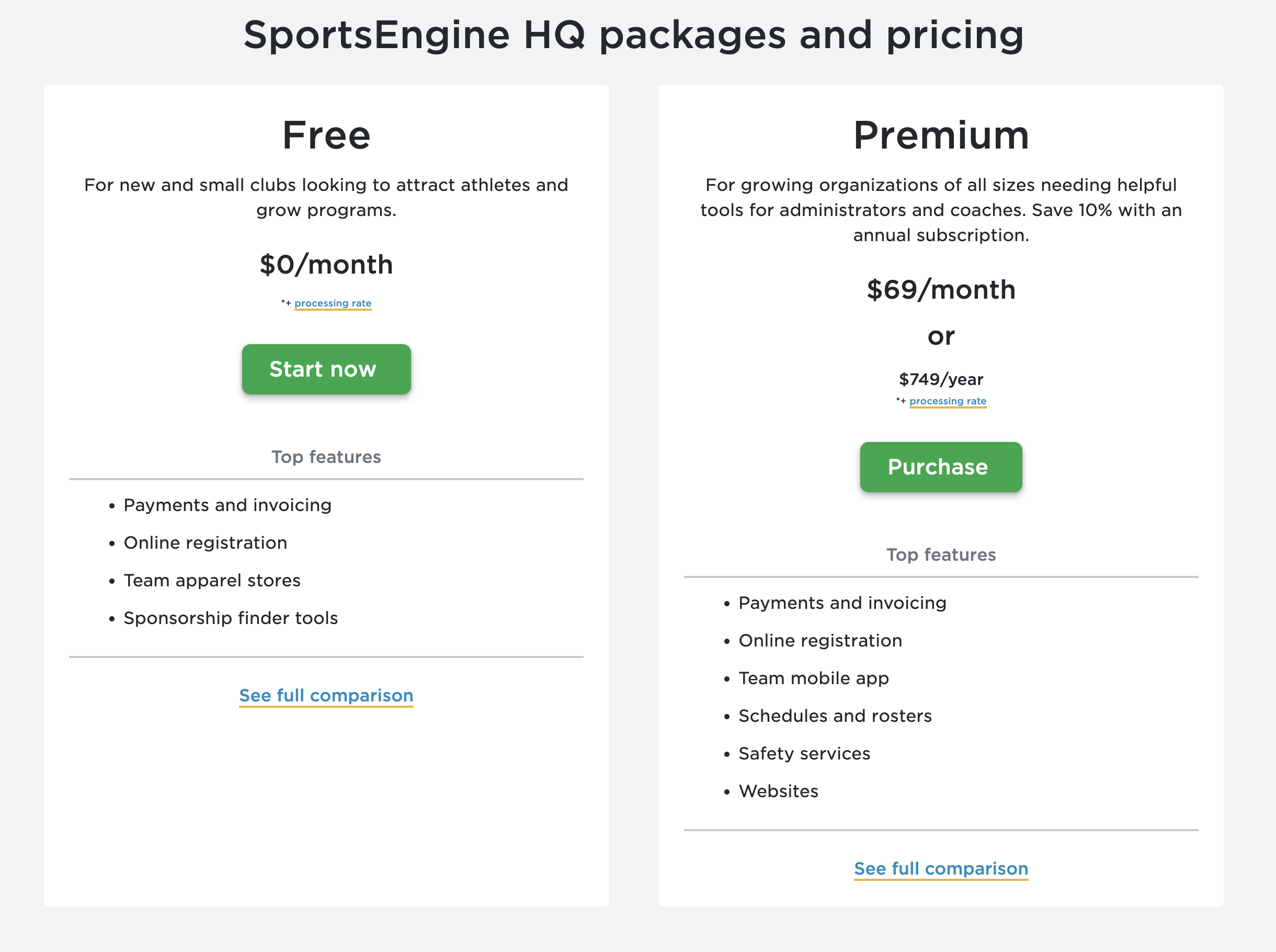 You can start for free and get invoicing online registration, an apparel store, and a sponsorship finder tool. You'll need to upgrade to Sportsengine HQ's $69/month Premium plan for more features, though. You can contact them for a custom solution and quote too.
Engage Sports
With Engage Sports, you can create beautiful websites for registration, tournaments, and selling apparel. You can also customize registration workflows that support multiple payment methods.
Engage Sports is one of the more pricey youth sports apps on the market, however. It starts at $149/month with a one-time setup fee. This gives you support, website templates, unlimited player and team registrations, and unlimited broadcast communications.
If you have more than $50,000 in registration revenue, you can contact them for scheduling tools and custom solutions. It's ideal for larger organizations with bigger budgets and the need for their own website.
Team Sideline
Next up, Team Sideline. This league management software offers a one-stop shop for registration, game scheduling, communication, and other youth sports needs. You can get started with their software for $499/year, which is about $41/month. It falls in the middle of the spectrum in terms of pricing. 
You get many support methods such as phone, email, online training videos, an article database, and even screen share meetings to ensure you get the most out of Team Sideline. 
Wrapping up the best apps for youth sports leagues
There's a lot of work and time that goes into running and growing a youth sports organization. You know this. Why not make your day-to-day work and operations easier? Youth sports league apps give you everything you need to schedule games, collect payments, sell merchandise, and more. The apps we reviewed in this article are some of the best choices on the market.
Schedule a demo of EventConnect to see how our software can power up your tournaments and take the stress out of managing leagues.